Last Updated on July 3, 2020 by Chef Mireille
Strawberry Rose Red Pepper Jam
This is a delicious twist on your classic Strawberry Jam with ginger, crushed red pepper and rose. So delicious with both sweet and savory foods.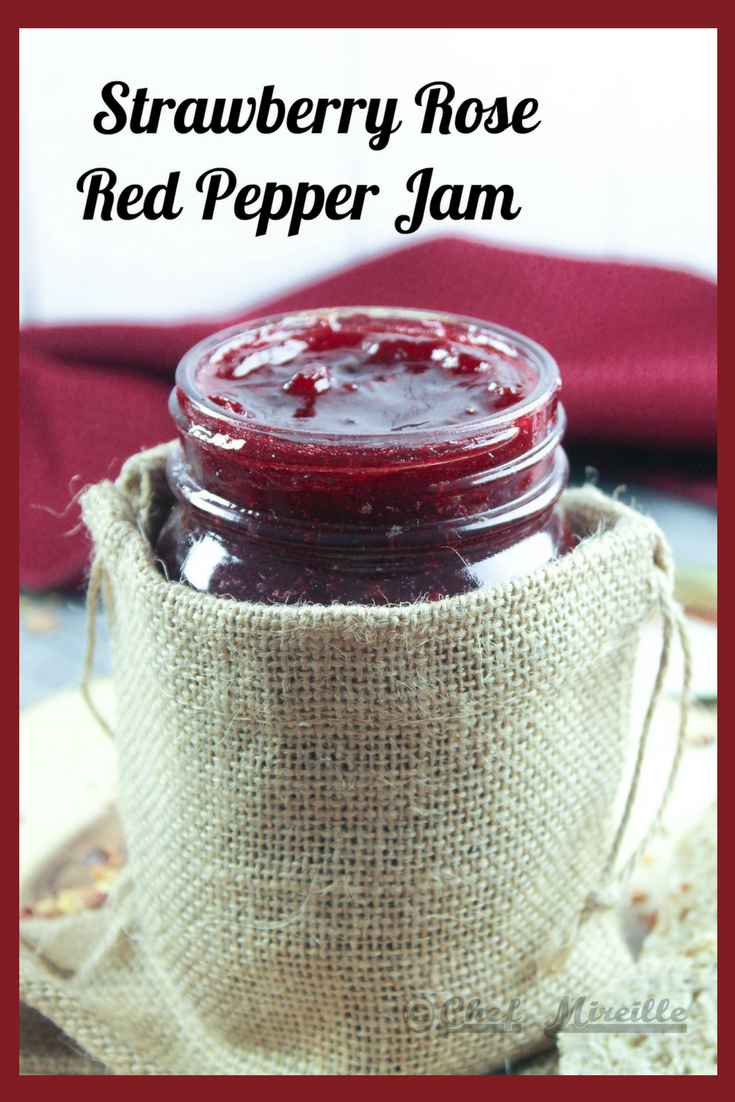 I used to think jam was such a complicated affair needing a lot of canning equipment, but making a small batch of jam for home use is so fast and easy. All you need is a heavy bottomed pot.
Making it yourself allows you to customize the flavors and control the quantity of sugar. Pectin, agar agar and other thickeners speed up the process a bit, but aren't essential. I have some jam recipes that use nothing to thicken it. Those versions just need to be cooked a little longer.
Strawberries are pretty much available all year round so this jam can be made at any time of year. However instead of just plain old boring strawberry jam, I spiced mine up here and I can't tell how how amazing the addition of ginger and rose works with the strawberries.
How long will this jam last?
This fresh jam should be stored in the refrigerator in a glass jar. This small batch jam can last up to 8 weeks in the refrigerator.
Before we get to today's recipe, let's take a look at some other recipe you can try.
JAM RECIPES
IN THE MAKING – HOW TO MAKE STRAWBERRY RED PEPPER JAM
This jam, with it's slight spicy kick, is a wonderful complement to savory foods as well as bread.
It went along great with this rustic Viking Bread.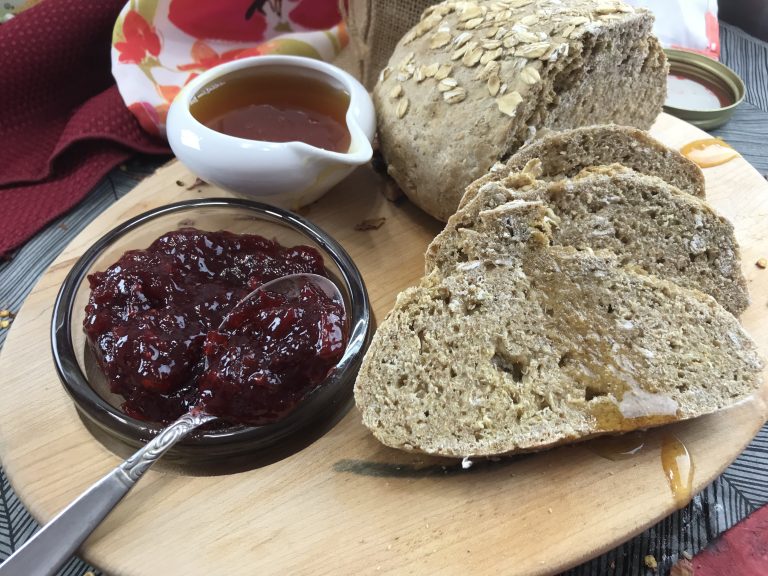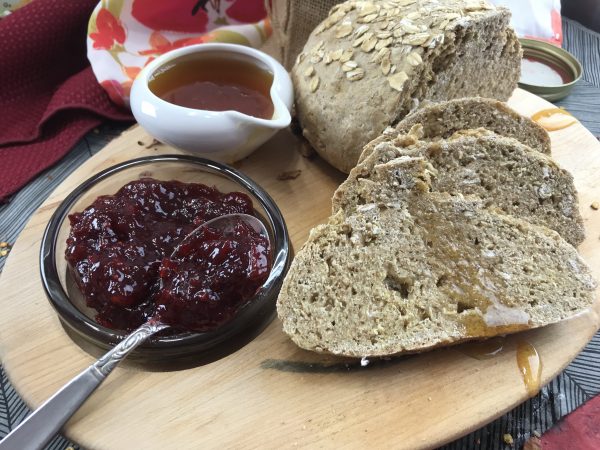 Strawberry Rose Red Pepper Jam
This isn't any ordinary strawberry jam. This spiced up version with chile, ginger, nutmeg and rose is a compliment to any sweet or savory meal.
Instructions
Combine all

ingredients

except the agar agar in a large, heavy bottomed pot and bring to a high, rolling boil.

Simmer on medium hjigh heat for 25 minutes, stirring often.

Add agar agar. Simmer for another 10 minutes, until thickened and the jam starts to leave the side of the pan when pulled back with a wooden spoon.

Do not let it get too thick as it will continue to thicken as it chills.

Turn off the flame and let cool.
Did you try this recipe? Leave a comment below.
Please follow me on Instagram @chefmireille or tag me #chefmireille with your pics! I'd love to share them!
DO YOU YUM? SAVE IT BELOW!
Yum
ARE YOU EXCITED TO TRY THIS RECIPE? PLEASE HELP ME CONTINUE TO PROVIDE YOU WITH DELICIOUS RECIPES BY SHARING IT AND SHOPPING FOR YOUR FAVORITE PRODUCTS WITH INCLUDED AFFILIATE LINKS!
PIN IT FOR LATER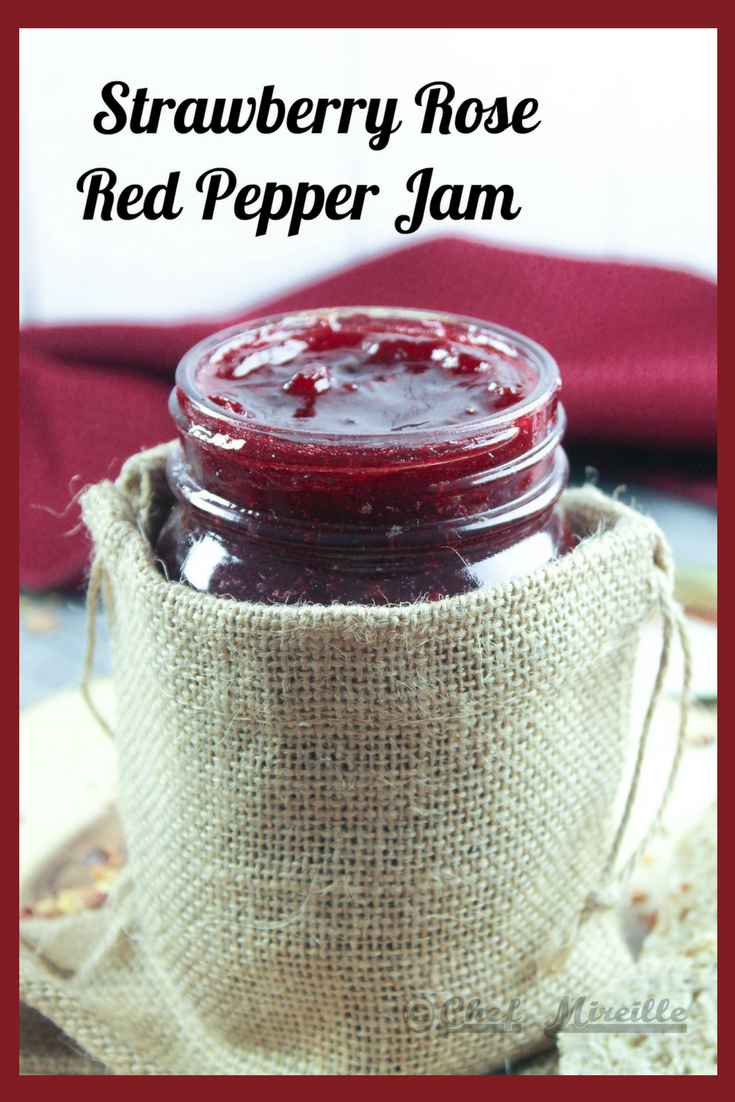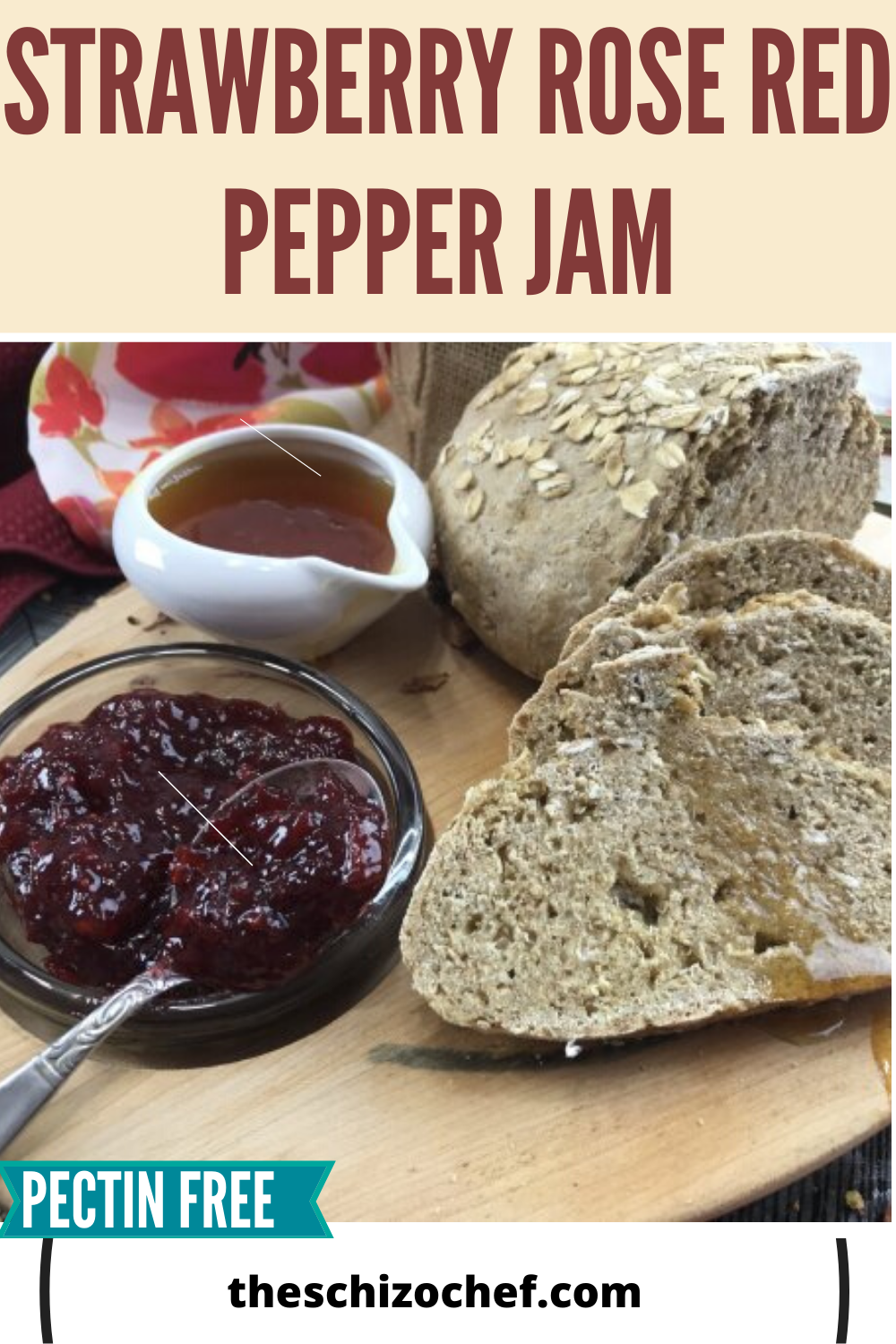 NEED MORE INSPIRATION? CHECK OUT MY RECIPE INDEX WITH OVER 1000 INTERNATIONAL RECIPES FROM AROUND THE WORLD
Don't forget to tag me @chefmireille #chefmireille on Instagram so I can see your recreation of this delicious recipe!
DISCLAIMER: This website includes affiliate links. You don't pay a penny more, but I earn a small commission to keep this site going with delicious content!