Vegan Beet Apple Berry Smoothie – This thick and frothy smoothie is full of so many health benefits – potassium, fiber, iron and calcium.

It's 2016 and most of us have planned to get in better shape in the new year right? Eat healthier and lose some pounds. It's definitely on my agenda as I am going on vacation next month and plan to spend 2 weeks eating my way through Southeast Asia. To prepare, I plan on losing 10 pounds before I leave. Here is one delicious smoothie to help you achieve those healthy goals!
I am always so surprised to meet people who have never tried beets and even more, when I meet people who don't like beets. I LOVE BEETS and they are so versatile, able to be used in everything from smoothies and salads to soup and dessert. Both the greens and the root vegetable itself can be used in so many various ways. Not to mention, they are full of lots of health benefits as they are rich in iron, iron, fiber and folate. They are especially good to eat for pregnant women.
Whether you have weight loss goals or just want to live a healthier lifestyle, you can't go wrong with this drink. Add a little ground flaxseed and chia seed if you would like for more protein and fiber, as well as giving it a little more body which will make it more filling.
This delicious smoothie is a great way of sneaking more beets into your kids' diet.

Let's have a look at some of the different ways we can utilize beets in our daily diet.
Beet Recipes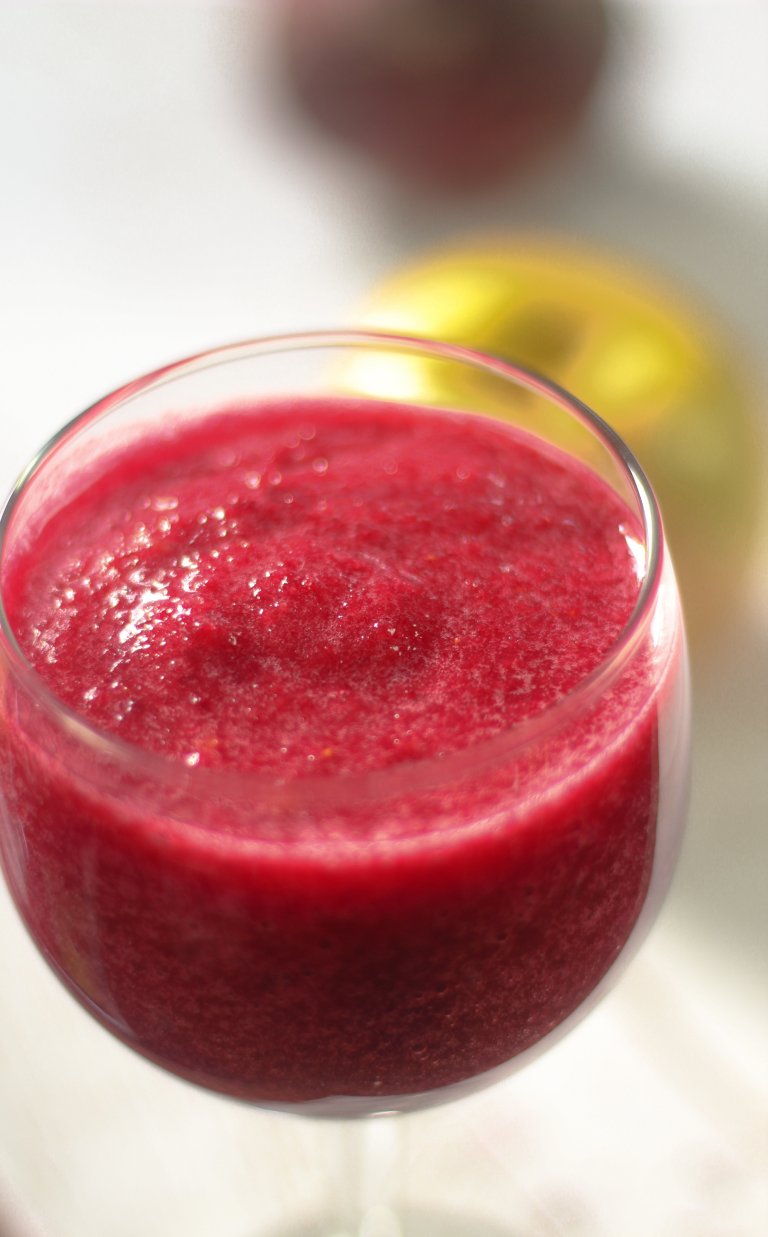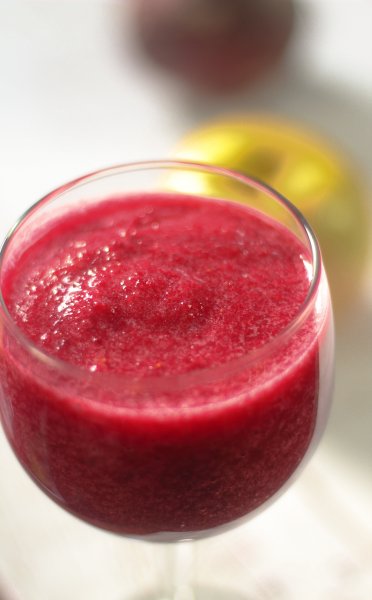 This smoothie also makes a healthy late night snack!
Print Recipe

Vegan Beet Apple Berry Smoothie

Vegan Beet Apple Berry Smoothie - This smoothie is both delicious and healthy - full of iron, potassium, calcium and fiber.

Ingredients

1

small peeled beet

about the size of a large apricot

1

medium apple

8

oz.

frozen strawberries

1

very ripe banana

1/2

cup

orange juice

Instructions

Combine all ingredients and process well in a blender.

Strain, if desired

Nutrition

Calories:

176.9

kcal

|

Carbohydrates:

45.01

g

|

Protein:

2.1

g

|

Fat:

0.68

g

|

Saturated Fat:

0.12

g

|

Sodium:

4.6

mg

|

Fiber:

6.63

g

|

Sugar:

28.93

g

If you like this recipe, please leave a comment and subscribe!
Sign up for our updates!
Subscribe to get our latest content by email and get your FREE Pantry Cheat Sheet - Learn the basics to cook any International cuisine!