Last Updated on May 20, 2020 by Chef Mireille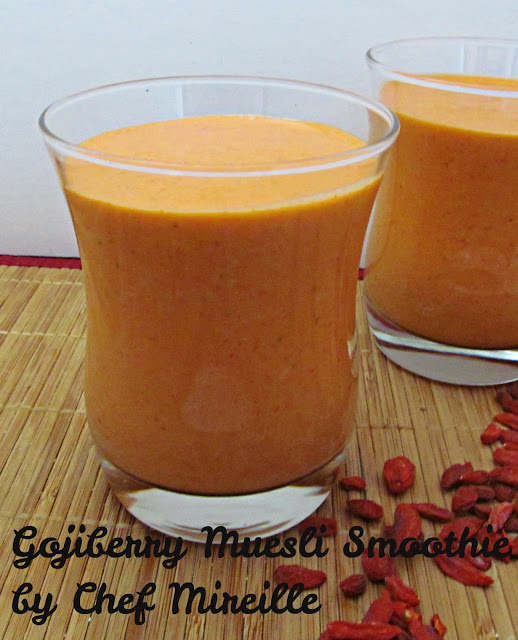 Blogging Marathon #25
Theme: Cooking with Alphabets – S, G, N
Today, I am ending my BM theme with G for Gojiberries.
This super food is loaded with antioxidant power.
Recently, I showed you how easy it was to make your own muesli instead of buying the packaged ones with my recipe for Blackberry Muesli. With this recipe, I converted a muesli into a tropical flavored, filling breakfast smoothie.
Gojiberry Muesli Smoothie
Serves 4
Ingredients:
1 cup oats
1/2 cup dessicated coconut
1/2 cup gojiberries
1/4 cup slivered almonds
1 apple, peeled, cored and grated
3 1/4 cups milk (I used 2% lowfat)
1 banana
10 oz. frozen mango, defrosted (you can also use fresh mango, but in the middle of winter in NY now, ripe mangoes are difficult to find)
1/4 teaspoon nutmeg, freshly ground
1 teaspoon vanilla extract
Combine oats, coconut, gojiberries, almonds, apple and 2 1/4 cups of the milk in a bowl with a cover and place in the refrigerator overnight.
Puree in a blender with the rest of the milk. Add the rest of the ingredients and puree.

If desired, garnish with juicy gojiberries.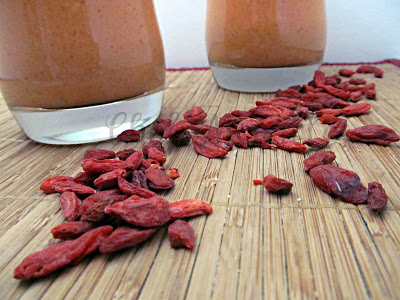 Check out the Blogging Marathon page for the other Blogging Marathoners doing BM#25
LIKE THIS RECIPE? LEAVE A COMMENT..I LIVE FOR THEM!
Chef Mireille
Like me on FACEBOOK!
Follow me on TWITTER!