Last Updated on June 3, 2015 by Chef Mireille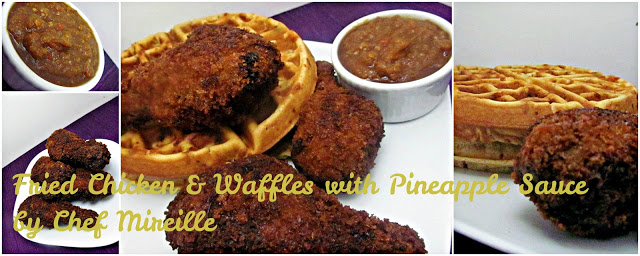 This week I am really epitomizing the name of this blog with global creations. Earlier in the week, I took you to both Haiti and Malaysia and today I am giving you a piece of Americana.
I am one of those annoying people that waitresses at diners would rather not have to serve. I don't like sweet and savory foods mixed on the same plate. Some kind of meat – either bacon, sausage or ham is a standard accompaniment to waffles, pancakes and french toast at any diner. However, I don't want my savory meat touching the sweet syrup that I will pour over my waffles, etc. Maple smoked bacon – no thank you!!! It's really weird because I don't mind sweet fruit in combination with savory- Malaysian Pineapple Fried Rice or Mango Chicken – I can enjoy a plate of that any time, but bacon or sausage with the cloying sweetness of syrup – makes me nauseas just thinking about it. So I always ask for my meat on a separate plate and I am greeted with expressions of exasperation and head shaking, which I choose to just ignore!
I remember the first time I saw Fried Chicken & Waffles on a menu, I was equally surprised. Must be a savory waffle, right? No, apparently this is a very common item in Southern/Soul Food cuisine. Savory fried chicken with breakfast waffles smothered in sweet syrup served on the same plate, with the chicken touching the syrup. I was having dinner with my roommate at the time, who was from Indiana but will familial roots in the South. We were having dinner with one of her friends, visiting from Indiana. They were in awe that I had never heard of the Chicken & Waffles combo. Why would I? I live in NY and the only Southern/Soul Food restaurants that I ever ate at were BBQ!
Here is my version of the southern classic, however with a savory waffle to satisfy my dietary idiosyncracies.
Panko Fried Chicken
Serves 6
Ingredients:
6 skinless chicken drumsticks
2 teaspoons ground mustard
1 teaspoon garlic powder
1 teaspoon onion powder
1 teaspoon dried thyme
2 teaspoons dried parsley
1 tablespoon paprika
1/2 teaspoon cayenne pepper
1/2 teaspoons salt
l/2 lemon
1/2 cup all purpose flour
1 cup buttermilk
2 cups Panko breadcrumbs (I used 4C brand seasoned breadcrumbs)
oil, for frying
In a large bowl, squeeze the juice of the lemon over the chicken. Add
all of the spices and the salt. Toss to coat well with the spices.
Marinate for at least 1 hour. (overnight would be ideal)
Heat enough oil so that the chicken will be 1/2 way submerged when you add it.
Set up 3 plates/bowls. One with the flour, one with the buttermilk and one with the breadcrumbs. Toss the chicken pieces first in the flour so that it is well coated on all sides. Then dip in the buttermilk. Finally coat the chicken pieces well with the breadcrumbs.
Place in the hot oil and fry on medium-high heat for 5 minutes on both sides.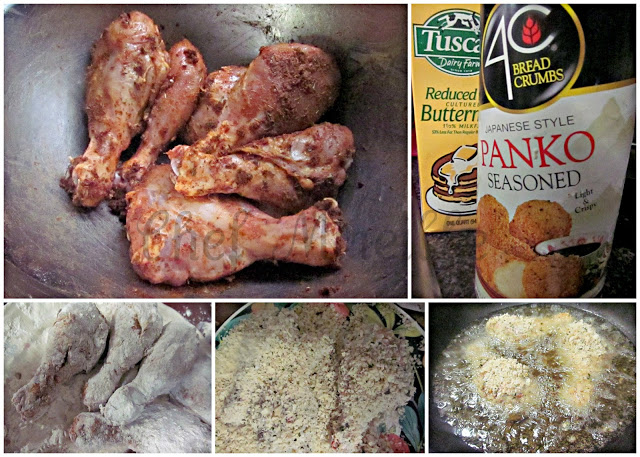 Drain on paper towels.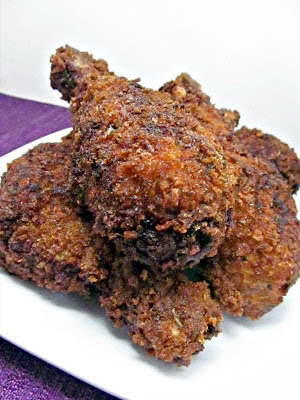 This chicken was so crispy on the outside, due to the use of Panko. As far as I am concerned, Panko is Japan's greatest contribution to the United States. Crispy on the outside and juicy on the inside, it is delicious with all the spices used in the dry marinade. The longer you marinate it, the more flavorful it will be. Mine marinated for about 4 hours.
Savory Waffles
Serves 6
Ingredients:
3 scallions, chopped
1 bird's eye chile, finely chopped
1 bell pepper, chopped
2 teaspoons dried chives
1 1/2 teaspoons salt
1/4 cup Gruyere cheese, grated (or any firm cheese like Cheddar or Monteray Jack)
1 cup all purpose flour
3/4 cup whole wheat flour
2 eggs, beaten
2 teaspoons baking powder
1/2 cup evaporated milk
1 cup lowfat milk
1/2 cup peanut oil
Mix the vegetables and cheese with the dry ingredients. Add the eggs and the milk and mix well. Add oil and mix until just combined.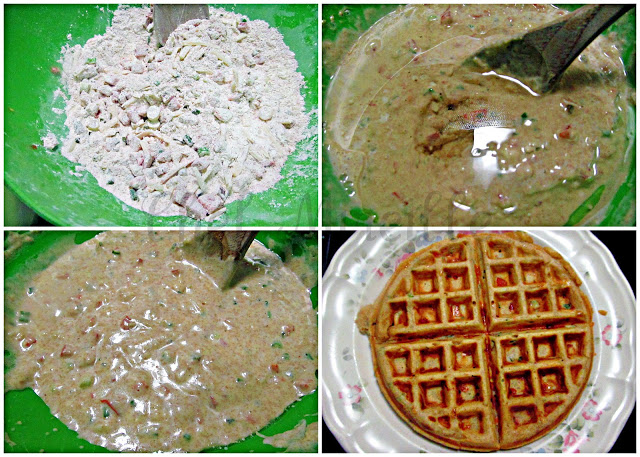 Spray a waffle iron well with non stick spray and cook, according to your waffle machine instructions.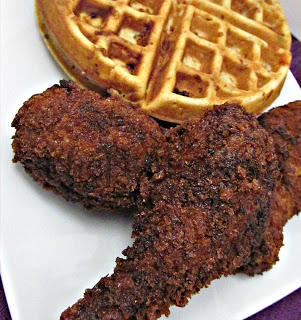 Instead of syrup, I made this Southeast Asian inspired barbecue sauce.
Indonesia Inspired Pineapple Sauce
Ingredients:
5 shallots
3 cloves garlic
2 bird's eye chiles
1 tomato
1/2 pineapple
1/4 cup Kecap Manis (sweet soy sauce)
2/3 cup water
1 teaspoon ground coriander
2 1/2 teaspoons salt
Combine pineapple and tomato in a blender and puree.
Using a food processor, combine the shallots, garlic and chiles. Process well until chopped very fine.
In a saucepan, combine this with the pureed pineapple and add all other ingredients. Bring to a boil.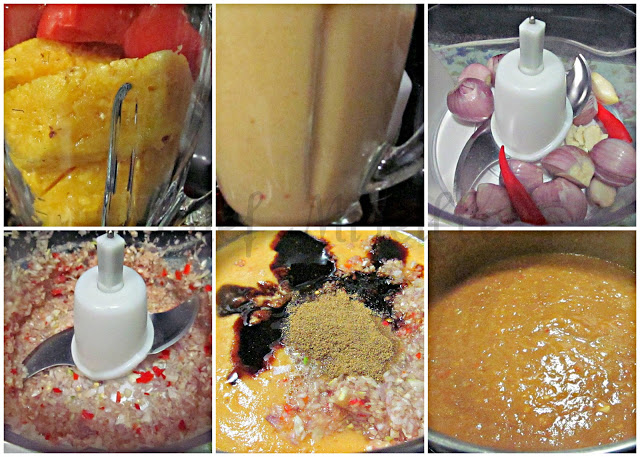 Reduce to a simmer and cook for 15 minutes. Let cool.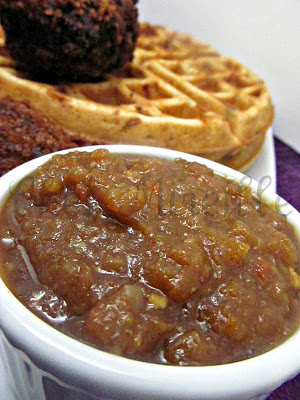 Fried Chicken & Waffles is especially popular among the African American population of the American South. I am dedicating my version of this soul food classic to all the men and women who died in the struggle for Civil Rights, as we celebrate Black History Month in February here.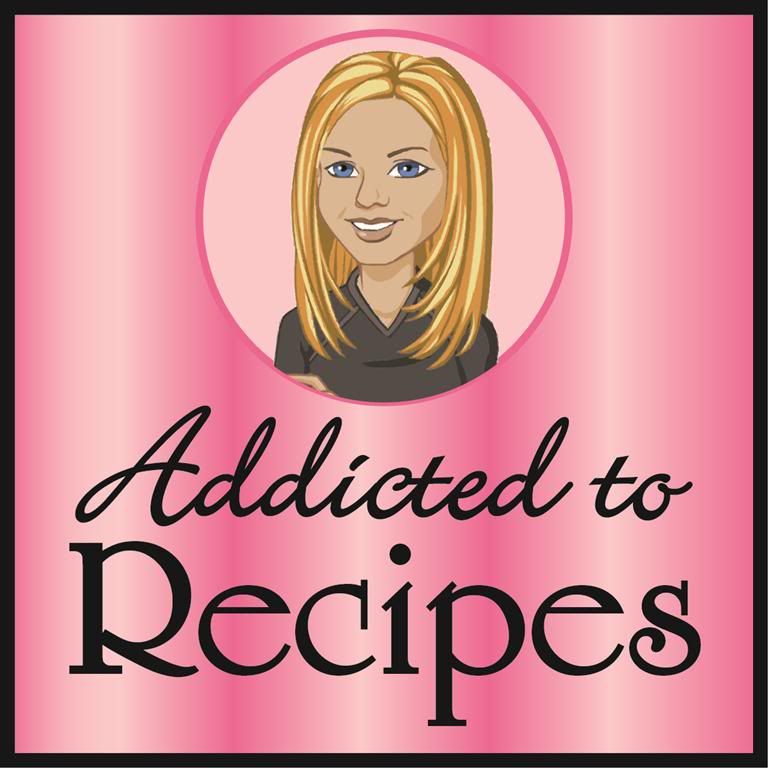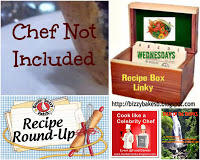 …linking to my own Taste of the Tropics event, Cook Like a Celebrity Chef, Addicted to Recipes, Recipe Roundup, Recipe Box & Chef's Day Off
LIKE THIS RECIPE? LEAVE A COMMENT..I LIVE FOR THEM!
Chef Mireille
Like me on FACEBOOK!
Follow me on TWITTER!