Last Updated on July 14, 2021 by Chef Mireille
Banana Date Smoothie with oat bran is a healthy and filling breakfast. This is not a snack smoothie, but a breakfast smoothie. This smoothie alone can be breakfast on it's own.
This Banana Date Smoothie is inspired by a traditional smoothie called Majoon. This Persian Banana Date Shake usually also includes nuts and coconut. However, since I am allergic to most tree nuts as are many people, I wanted to make a nut free Banana Date Smoothie so I used oat bran instead to still make this filling, delicious healthy smoothie.
For those of you with nut allergies, you can still enjoy this healthy Banana Breakfast Smoothie with dates.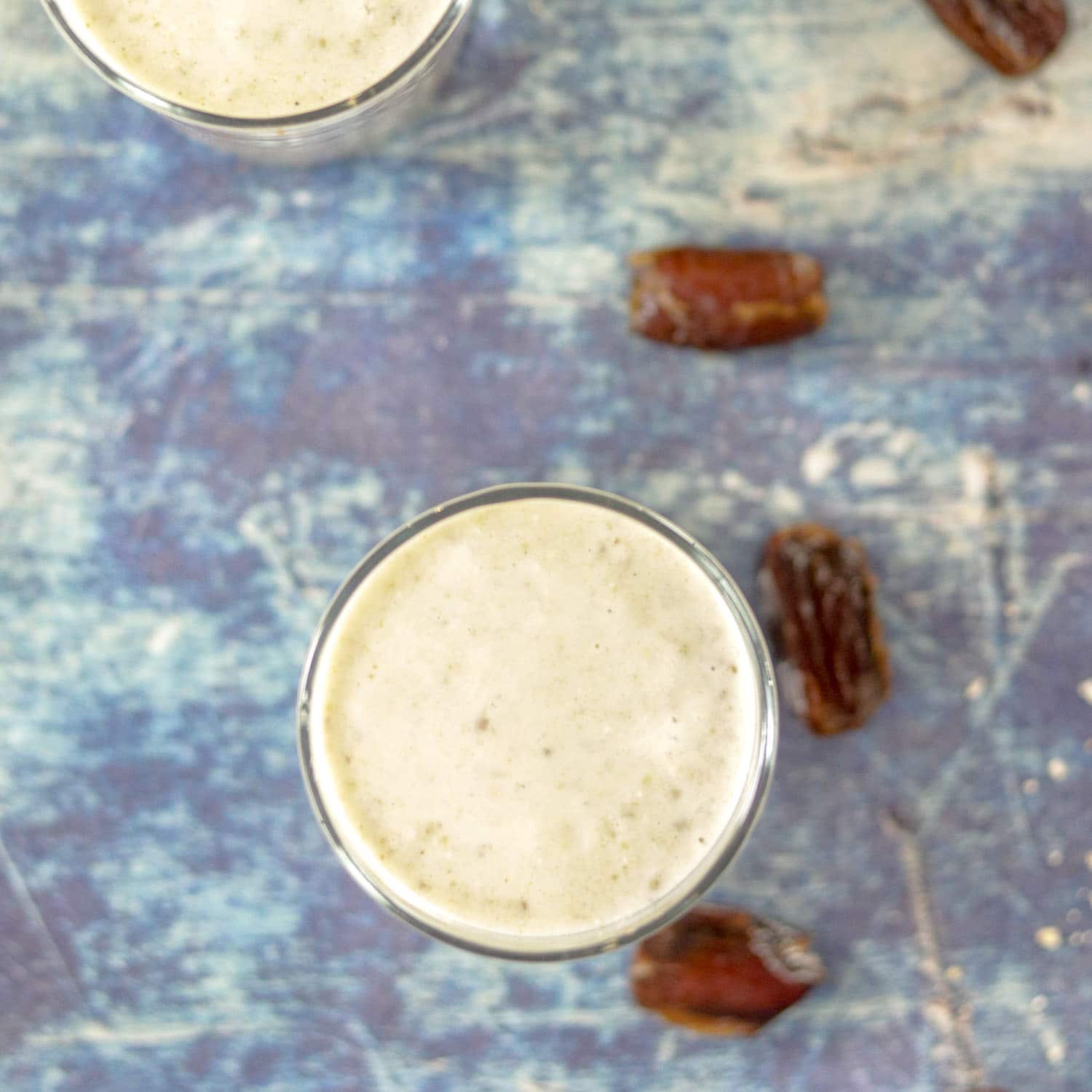 This post may include affiliate links.
Do you eat dates?
Dates are one of the healthiest ingredients, forever popular in Middle Eastern countries and Asian countries, especially. Recently, they have become one of the new superfoods not used often in American foods.
Dates are one of the sweetest naturally sweet foods so they are often used in sugar free desserts etc. to bring in sweetness without the need to add sugar, honey or other sweeteners.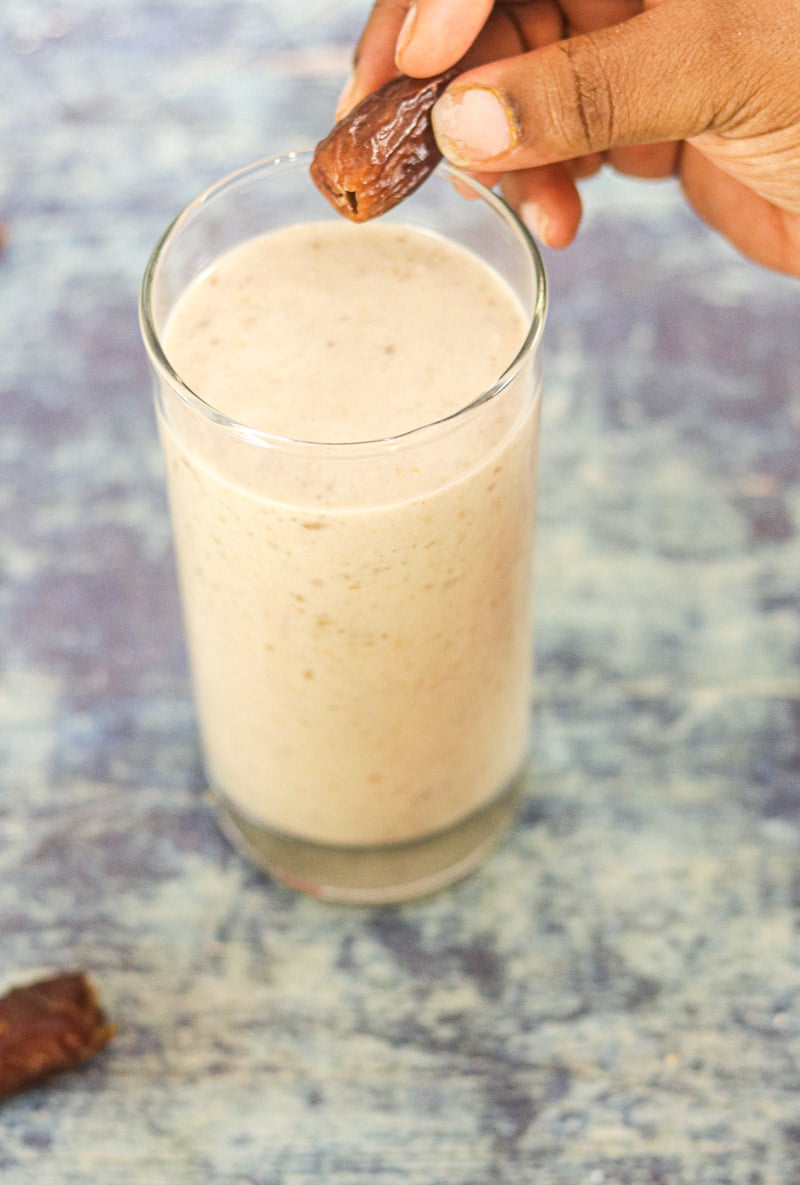 Types of Dates
There are two types of dried dates you may find, depending what market you are in.
They are both super healthy, however they have very different flavor profiles.
Red Dates – used more in Central Asian countries is more sour. Red Dates are used to make healthy teas like this Red Date Pear Elixir, which is loaded with anti oxidants to protect you from colds.
Medjool Dates are brown dates that are super sweet and depending how old they are can be eaten right out of the package if they are not too dry.
Health Benefits of Dates
High Fiber – Dates are very high in fiber, which helps maintain blood sugar. Despite their high natural sugar content, dates have a low glycemic index so are diabetic friendly.
High in Antioxidants – Date have high levels of flavanoids, caretenoids and phenolic acid. These anti oxidants helps promote heart health. They also may aid in preventing or combating diabetes, Alzheimer's disease and some forms of cancer.
Brain Health – Dates may promote brain health.
Natural Labor – Dates may aid pregnant women in dilation, when eaten in the last weeks of pregnancy. Dates may help pregnant women have natural labors instead of induction labors.
Not only dates, but the oat bran, which is the healthiest part of oats, also adds a powerful healthy punch to this Banana Date Shake.
Oat Bran is high in protein, fiber, iron and other anti oxidants.
Although oat bran is naturally gluten free, they may be cross contaminated with gluten products. If you are gluten free, it is best to use brands that are specifically labeled as gluten free.
Many people regularly enjoy this shake as a healthy filling smoothie. So if you need a filling breakfast smoothie, you've found it!
Dates for Weight Loss
With the benefit of dates as well as oat bran and bananas, this is a healthy breakfast smoothie. It is full of fiber and protein. SInce it is so filling, nothing else is needed. You should definitely include this as one of the healthy breakfast smoothies for weight loss you include in your weekly meal plans.
So now let's see what you need to make this easy filling breakfast.
The Ingredients
dates
oat bran – use brands labeled as gluten free, if you are gluten intolerant
bananas
coconut milk – use canned coconut milk for a thicker, creamier smoothie
Greek yogurt
ground cardamom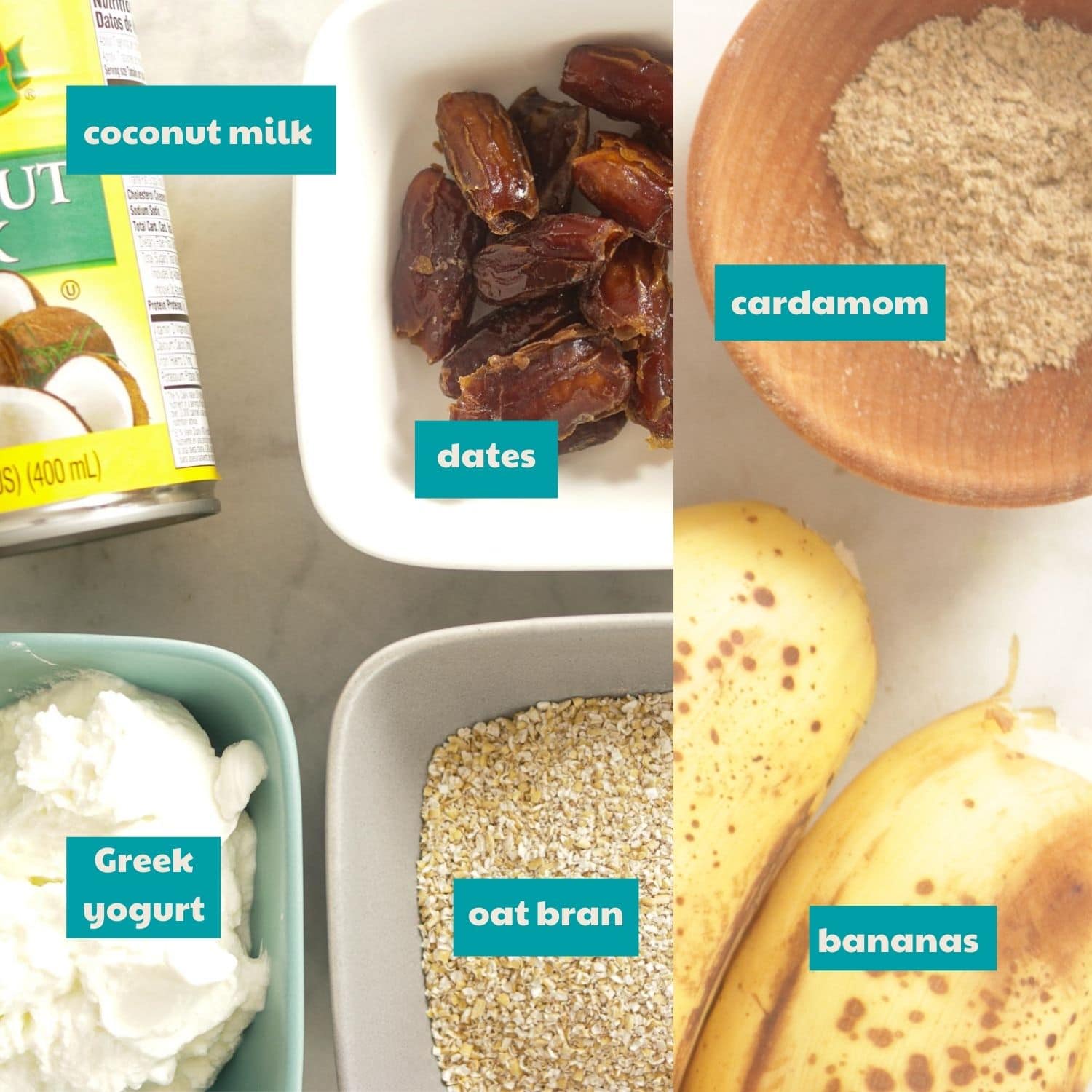 Have you tried instacart yet? It's how I get all of my fresh grocery items delivered within 2 hours!
Recipe Notes & Variations
Make it Vegan – Use vegan yogurt to make it vegan!
Non Dairy Milk – Other non dairy milks like oat milk, soy milk, or almond milk can be used.
Extra Protein – For added protein, you can use nut milks like almond milk or cashew milk. You can also add a tablespoon of peanut butter or peanut powder.
Best when made with very ripe bananas. With sweet ripe bananas and naturally sweet dates, no additional sweeteners will be needed.
How to make Banana and Date Smoothie for Breakfast
Soak dates and oat bran in coconut milk for 1 hour. This can also be done the night before in the refrigerator.
Add the rest of the ingredients and puree everything in the blender.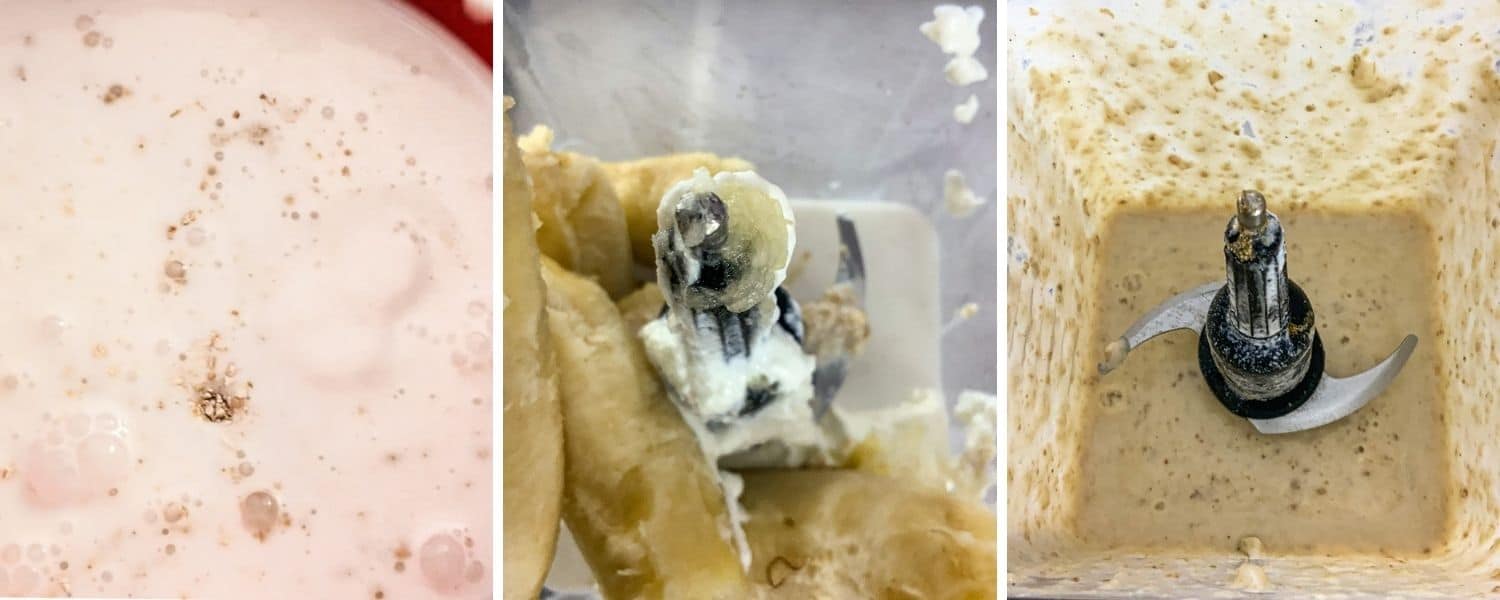 If you soak the dates and oat bran the night before, this smoothie takes less than 5 minutes for a quick and easy breakfast.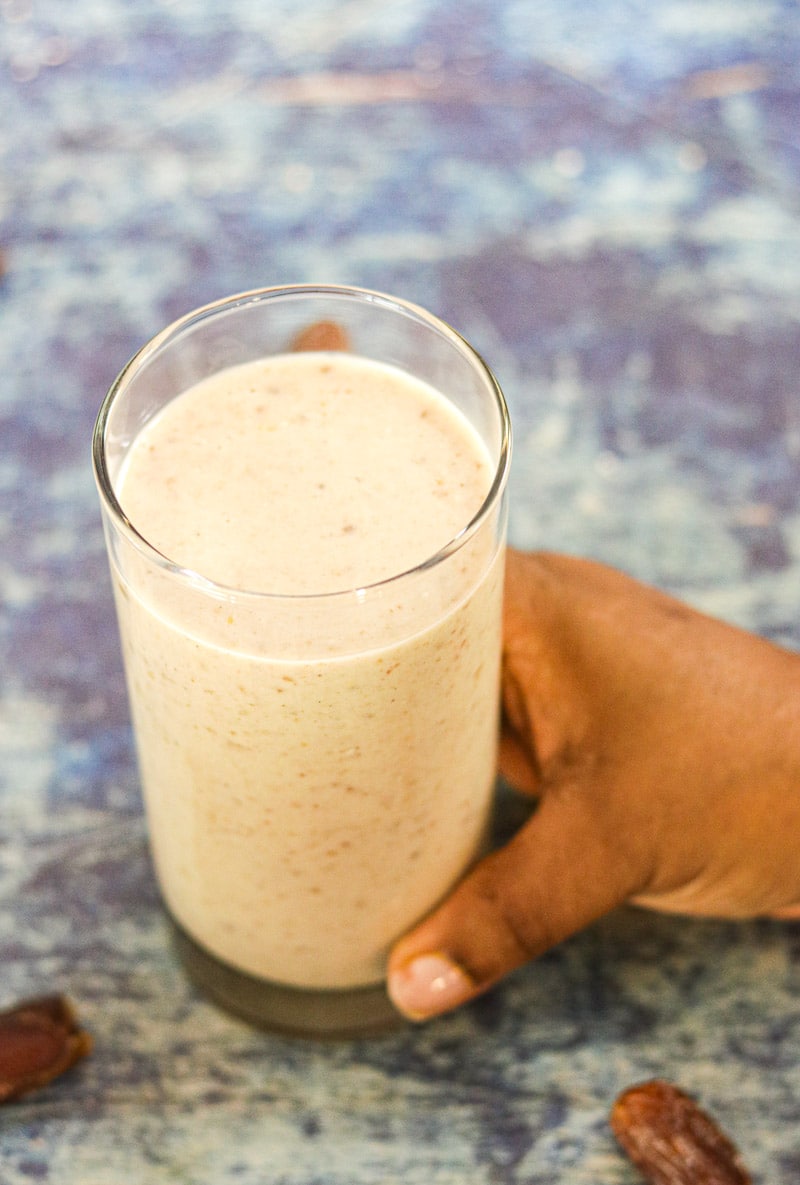 Banana Date Smoothie
Filling and healthy breakfast smoothie with yogurt is the best way to start the day, using only the natural sweetness of fruit.
Ingredients
12

pitted dates

6

tablespoons

oat bran

13.5

oz.

coconut milk

3

bananas

1

cup

non-fat Greek yogurt

1

teaspoon

ground cardamom
Instructions
Combine the dates and oat bran in a bowl.

Add coconut milk and leave to soak for at least 1 hour.

Combine the soaked ingredients with the Greek yogurt, bananas and cardamom in a blender.

Puree in the blender until smooth and creamy.
Notes
You can soak the dates and the oat bran overnight in the refrigerator.
Nutrition
Calories:
549
kcal
|
Carbohydrates:
74
g
|
Protein:
17
g
|
Fat:
30
g
|
Saturated Fat:
25
g
|
Polyunsaturated Fat:
1
g
|
Monounsaturated Fat:
2
g
|
Trans Fat:
1
g
|
Cholesterol:
3
mg
|
Sodium:
44
mg
|
Potassium:
1156
mg
|
Fiber:
10
g
|
Sugar:
35
g
|
Vitamin A:
81
IU
|
Vitamin C:
12
mg
|
Calcium:
133
mg
|
Iron:
7
mg
Did you try this recipe? Leave a comment below.
Please follow me on Instagram @chefmireille or tag me #chefmireille with your pics! I'd love to share them!
Don't forget to visit the RECIPE INDEX with over 1000 recipes from around the world including lots of Vegetarian Recipes and Gluten Free Recipes!