Last Updated on July 14, 2021 by Chef Mireille
This post may include affiliate links.
Passionfruit Mojito is so easy to make, now that passionfruit pulp is now available in the refrigerator section of many supermarkets. There is no longer an expedition needed to go in search of passionfruit. Of course, if you live in an area where fresh passionfruit is available, that is even better. For the rest of you, refrigerator or frozen passionfruit pulp works just as good for this Cuban Passion fruit Mojito.
Mojito is one of the most popular cocktails. Fresh mint & lime with a bit of sugar and rum is a bright, refreshing cocktail, especially great during hot summer days.
No wonder this delicious cocktail was created in the Caribbean, using natural ingredients easily available to bring the best of the Caribbean into one delicious cocktail.
It's time to enjoy Cocktail Hour Cuban style with this modern Coconut Mojito with Passionfruit.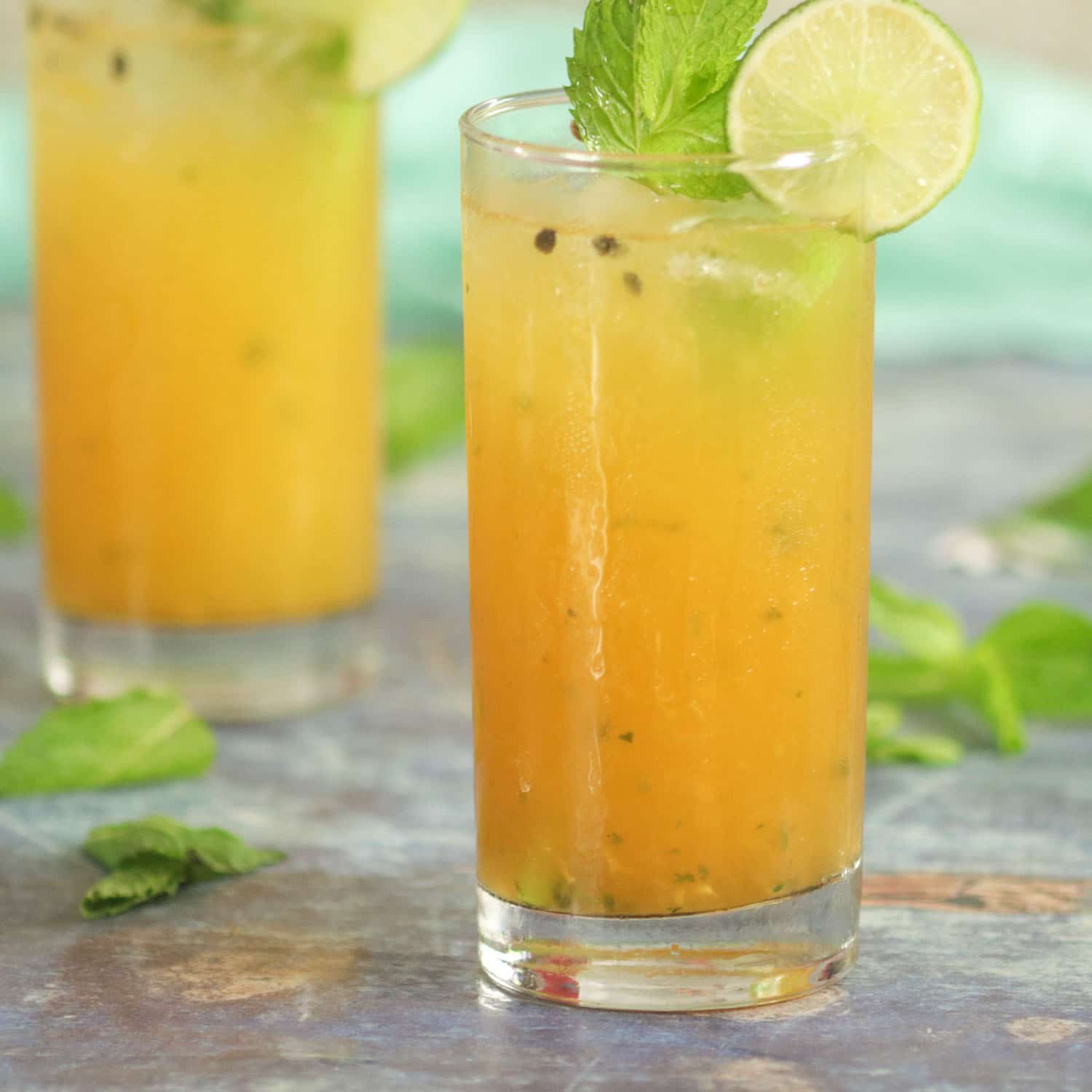 History of the Mojito
Although the Classic Mojito Recipe only includes a few basic ingredients, nowadays because it has gained so much in popularity, there are so many variations to the Cuban Mojito.
The mojito dates back to the 1500's when Sir Francis Drake was in Cuba to loot the country of its gold. His men suffered from dysentery and scurvy. The native Indians created a tonic made from agaurdiente, a liquor distilled from sugar cane, lime juice, sugar cane juice and mint.
This tonic worked and as it tasted so good, it grew in popularity. The aguardiente was replaced with rum, as rum became more popular and is also distilled from sugarcane. It later took on the name mojito, which most believe is named after mojo – the Cuban lime based marinade.
When the Bacardi Rum Company was created in the 1800's, the mojito was a big part of their promotions of their rum. Between them and Ernest Hemingway's discovery of the cocktail, the drink spread worldwide and now it is one of the most popular cocktails here in America.
What is the best rum for mojitos?
White Rum is the traditional rum for classic Cuban Mojito, but you can use flavored rums like the Coconut Rum I used in this version.
To maintain the freshness that the lime and mint brings, stick with mild white rum's instead of amber or dark rum.
Sweetener
Traditionally, raw sugar is muddled with the mint. I used raw brown sugar to add another level of flavor, however, it is usually done with white sugar.
However, you can use other sweeteners like simply syrup, honey or agave nectar to flavor up this homemade mojito.
Now let's go over all of the ingredients you will need to make the best Passionfruit Mojito.
What is in a Passionfruit Mojito?
fresh mint leaves
raw sugar
coconut rum (white rum is the traditional choice)
passionfruit puree
fresh lime juice
club soda
mint and lime, for garnish
ice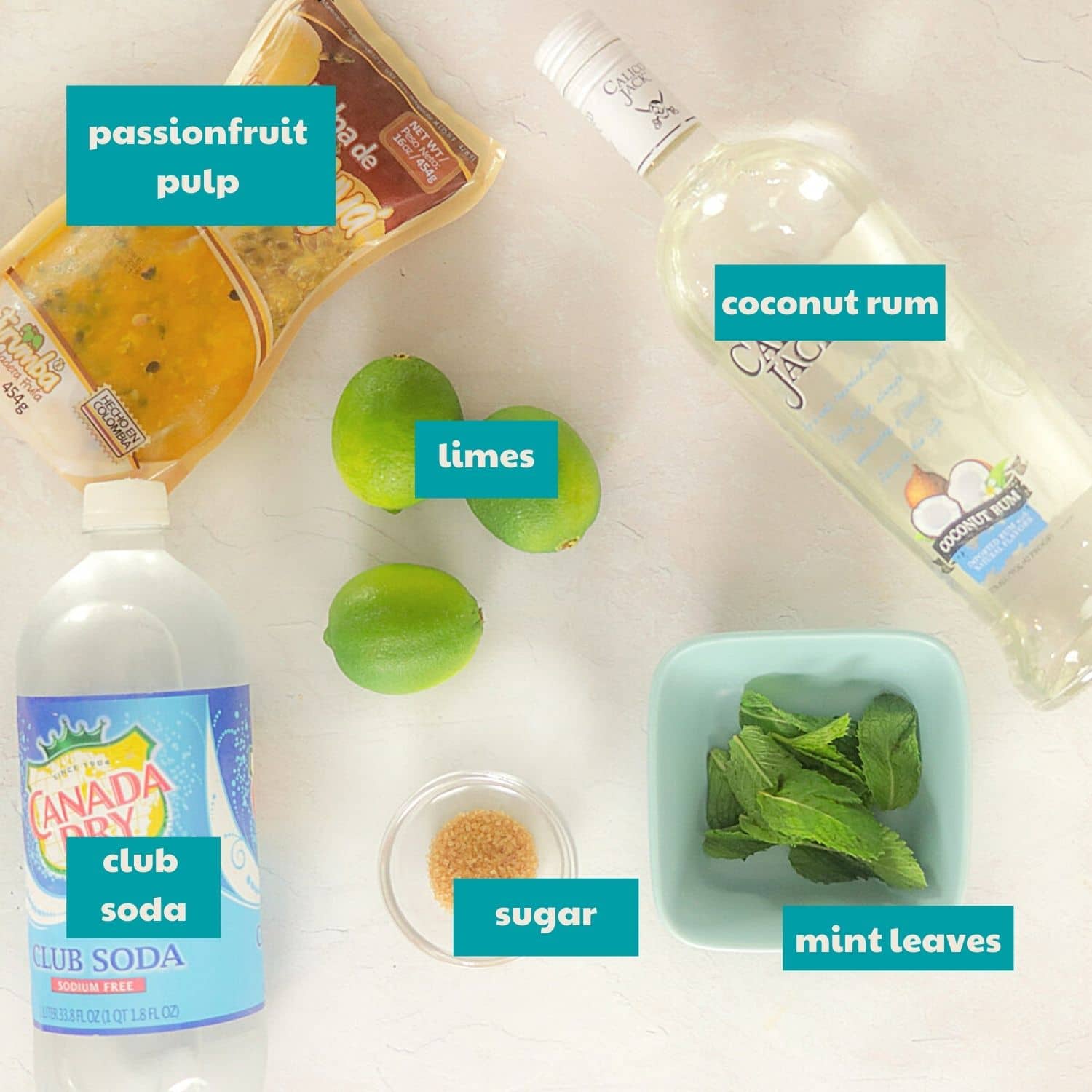 Having a home bartender set will make cocktail hour an easy chore with all the tools you need at hand. If you like to experiment with home cocktails like Jacmel Rum Punch, this cocktail set will make it a cinch!
Here's what you will use:
tumbler
citrus strainer
muddler
shot pourer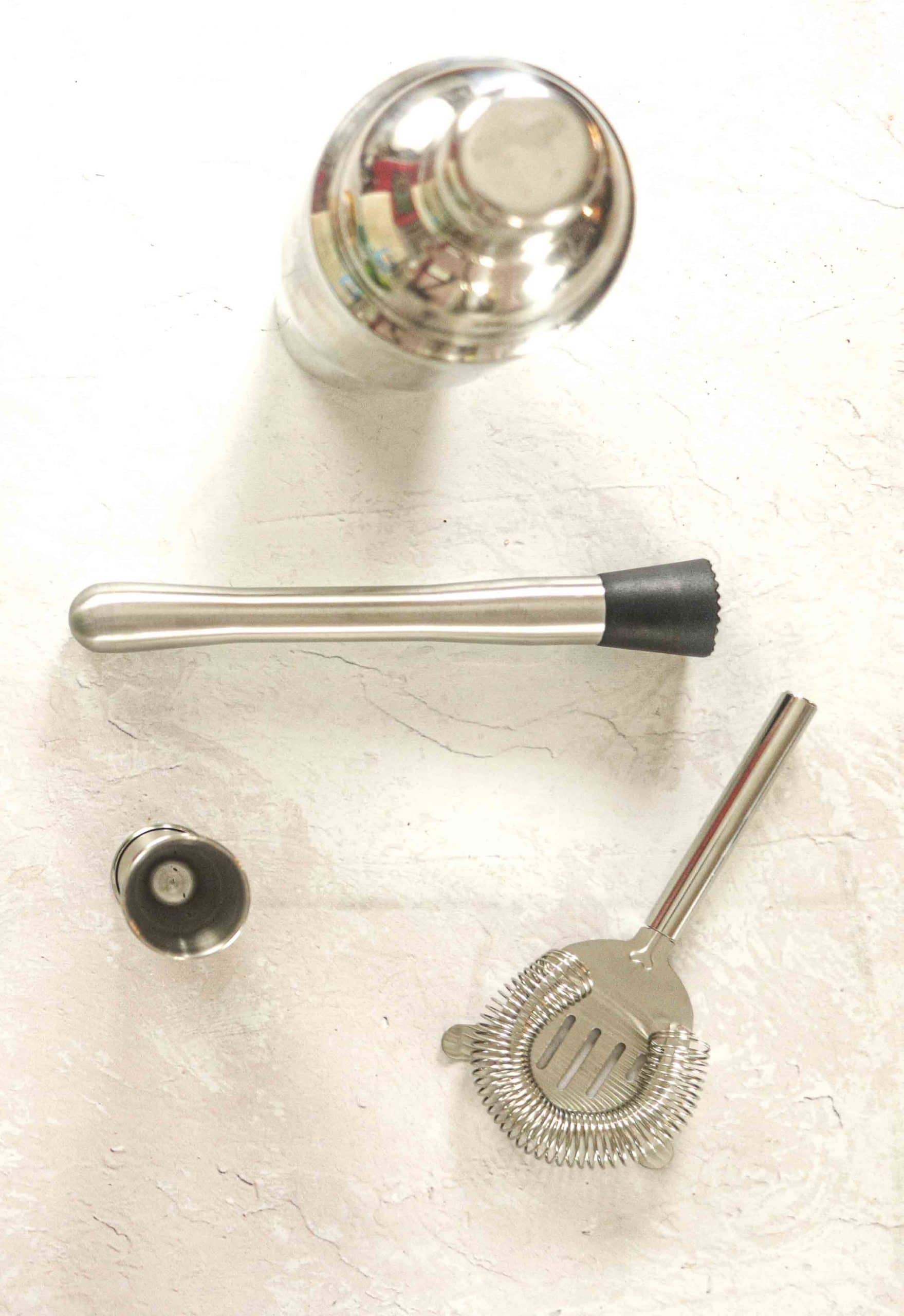 Tools
Before we get to the recipe, mojito's now come in a huge variety of flavors. Here are some others you may want to try, simply by replacing the passionfruit pulp with any of these flavors.
Mojito Variations
Cucumber Mojito
Basil Mojito
Mango Mojito
Ginger Mojito
Pineapple Mojito
Orange Mojito
The variety of flavored mojito's you can make are endless. What you can also do at your next party is to create a Make Your Own Mojito Bar.
Simply create a mojito mix by combining all of the ingredients above except the passionfruit. That is your base mix. Then have a variety of juices/pulps and people can flavor their own mojito's as they wish!
How to make a Passionfruit Mojito?
In a tumbler, using a muddler, muddle the sugar and the mint together to release the mint juices.
Add the rum, passionfruit puree and lime juice.
Add a little bit of ice and shake well.
Top the glass off with a little club soda.
Garnish with mint leaves and lime.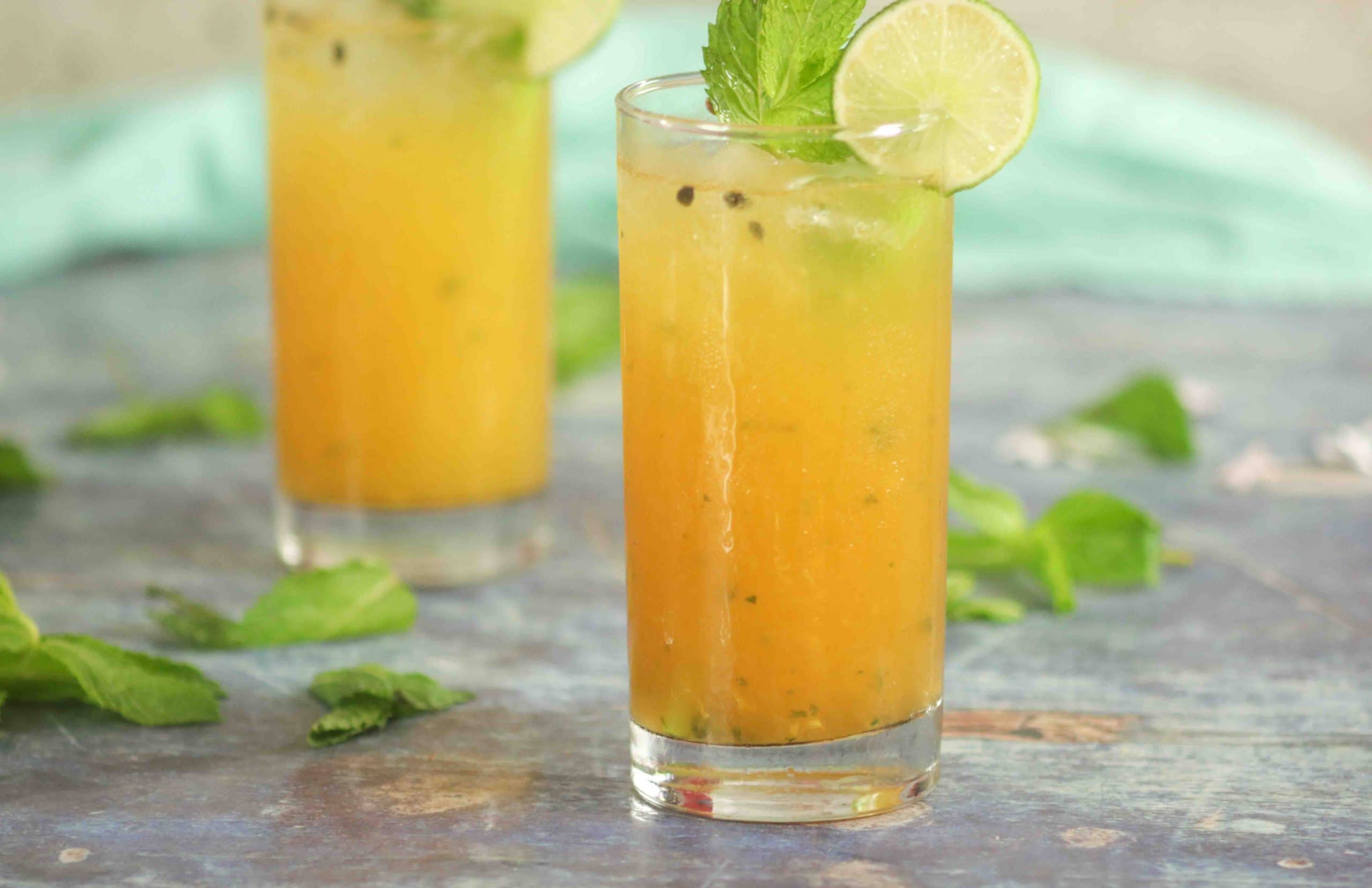 Although I love this formula, you can always customize your mojito by adding a little more or less rum as you desire.
Passionfruit Mojito
A refreshing Cuban cocktail with fresh mint, lime and the sweet tart flavors of passionfruit!
Ingredients
8

mint leaves

1

tablespoon

sugar

2

ounces

passionfruit pulp

4

ounces

coconut rum

or white rum

1

ounce

lime juice

¼

cup

club soda
Instructions
In a tumbler, using a muddler, muddle the sugar and the mint together to release the mint juices.

Add the rum, passionfruit puree and lime juice.

Add a little bit of ice and shake well.

Strain into a high ball glass with ice.

Top the glass off with a little club soda.

Garnish with mint leaves and lime.
Notes
You can make variations by replacing the passionfruit pulp with things like:
cucumber
basil
orange juice
pineapple juice
fresh ginger
Nutrition
Calories:
188
kcal
|
Carbohydrates:
14
g
|
Protein:
1
g
|
Fat:
1
g
|
Saturated Fat:
1
g
|
Polyunsaturated Fat:
1
g
|
Monounsaturated Fat:
1
g
|
Sodium:
16
mg
|
Potassium:
140
mg
|
Fiber:
3
g
|
Sugar:
9
g
|
Vitamin A:
538
IU
|
Vitamin C:
14
mg
|
Calcium:
17
mg
|
Iron:
1
mg
Did you try this recipe? Leave a comment below.
Please follow me on Instagram @chefmireille or tag me #chefmireille with your pics! I'd love to share them!
Don't forget to visit the RECIPE INDEX with over 1000 recipes from around the world including lots of Vegetarian Recipes and Gluten Free Recipes!