Last Updated on May 19, 2021 by Chef Mireille
This post may include affiliate links.
Haitian Rum Punch, also known as Jacmel, is a fruity rum laced cocktail that makes a delightful cocktail for summer picnics and barbecues.
What says summer more than a delicious fruity mixed drink?
Most Caribbean islands make a version of Rum Punch, since each island distills their own rum. With sugarcane being a major crop in the Caribbean, rum production is a natural result. Therefore, most Caribbean cocktails use rum as a base for cocktails.
We even make Vanilla Extract in rum, instead of vodka.
In fact, in English Speaking Caribbean Islands, bars are more often called the Rum Shop, unless it is a high end place. The Rum Shop is where you go for drinks and small snacks to eat.
However, there's a twist that makes Haitian Rum Punch a little different than most Caribbean Rum Punch.
Before we get to today's Haitiank Drink, don't forget to check out my complete collection of Haitian Recipes.
What is Rum Punch made of?
Rum Punch is usually a combination of rum, simple syrup, tropical fruit juices like mango, pineapple and guava.
The recipes can vary depending what juice you have about – it can be made with any combination of orange, pineapple, mango, passionfruit, papaya and guava. However, lime juice is always required.
Rum Punch is the most popular cocktail on English, French and Dutch speaking Caribbean islands.
I have already showed you the basic Rum Punch Recipe here, including a non alcoholic Rum Punch Mocktail variation.
However, the Haitian version has a twist – the addition of Grand Marnier. Orange flavored liqueur is something Haitians use a lot in cocktails or to add an extra kick to anything. In fact, when my Dad ate cakes like Haitian Orange Cake or Caribbean Spice Cake, he used to eat it with some Grand Marnier in a tea cup. He would dip the cake in the Grand Marnier as he ate it.
Rum Punch is one of the first drinks most Caribbean children will drink. Even before we are of drinking age, our parents would give it to us adding extra juice in it, at family parties. However, we were still not allowed to drink when we went out.
When my Dad would make this, he would just call it Haitian drink. It is only when I decided to present it here and I was doing a little research, I found out it goes by the name Jacmel. Jacmel, is a town located just south of the capital of Port-au-Prince in Haiti. It also just happens to be where my Dad was born.
If you like fruity mixed drinks, you're going to love this Rum Punch Cocktail.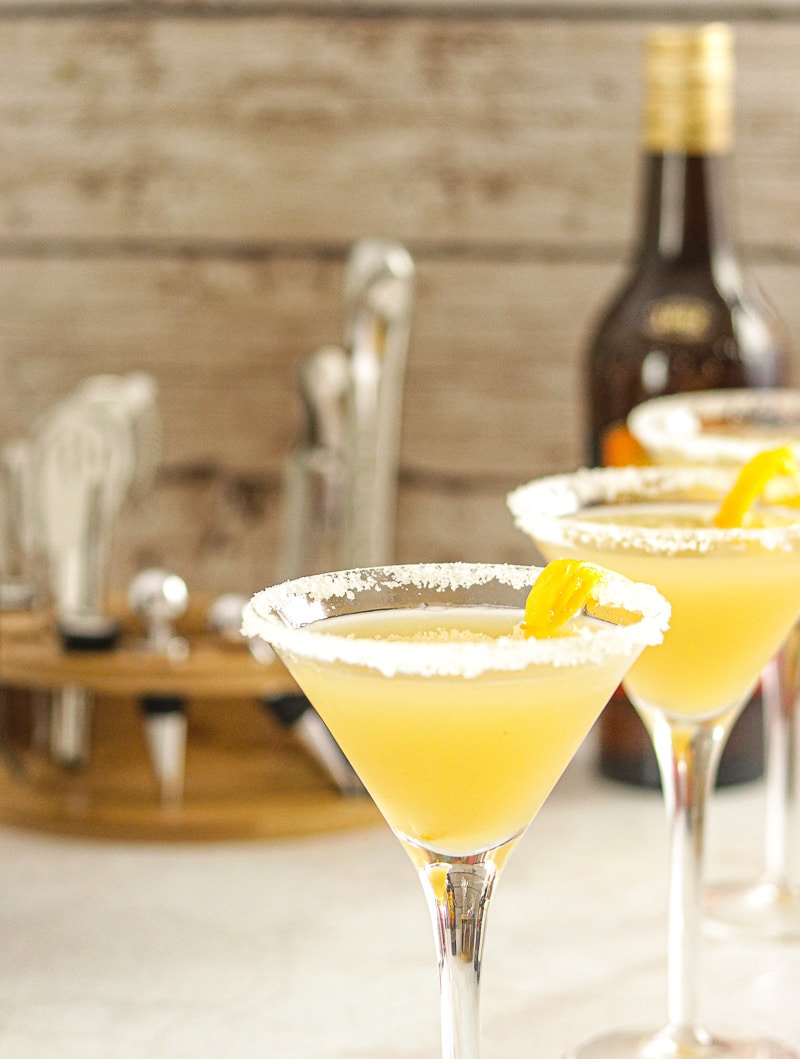 Which rum should you use to make Haitian Rum Punch Cocktail?
Every Caribbean island is extremely partial to their Rum – Trini's think Angostura is the best rum, while Jamaican's think Appleton's is the best. Bajan Rum Punch with Mount Gay Rum is the only way to go in Barbados. Therefore, for Haitians, we wouldn't think of using anything other than Rhum Barbancourt.
I am not going to say you can only make Haitian Rum Punch with Barbancourt because depending where you live, you might not have access to it. However, if your liquor store does carry Barbancourt, I suggest getting it for the rustic smoky tones in it.
Rum Punch is best when made with either dark or amber rum.
Ingredients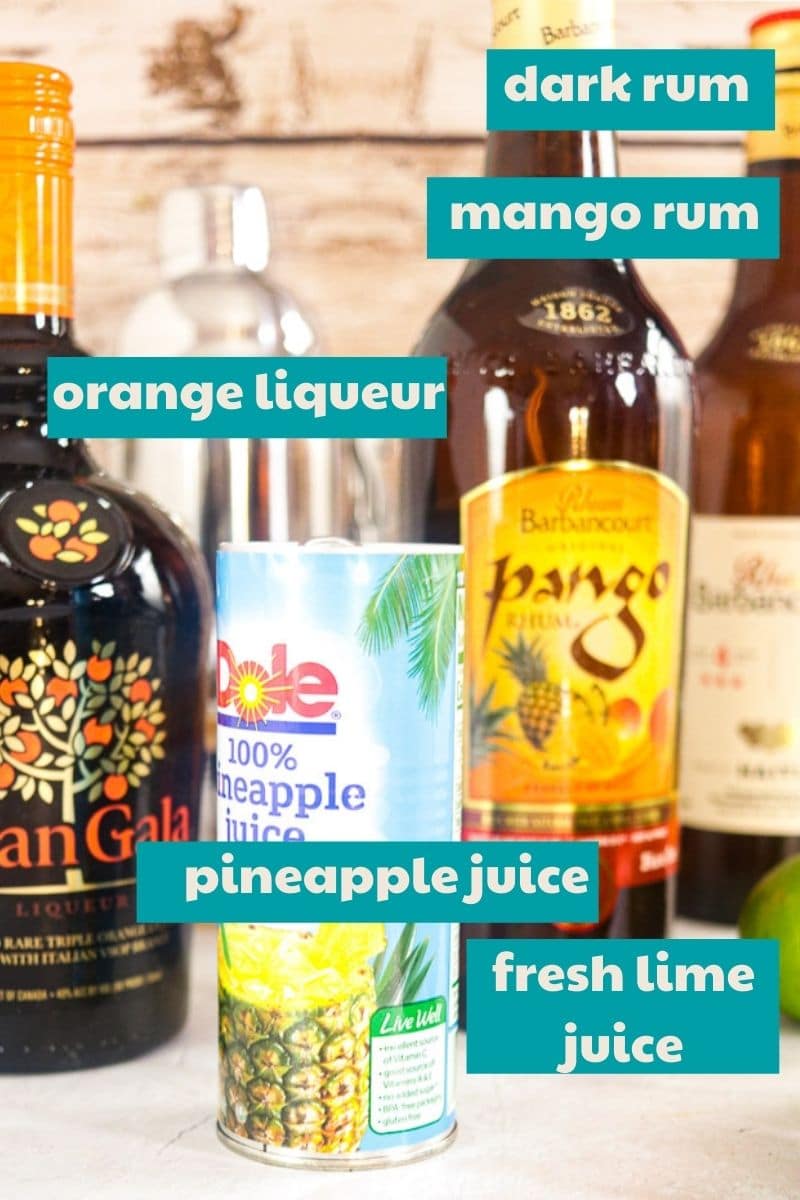 Dark Rum (Rhum Barbancourt Haitian Rum is the best)
Mango Rum (Pango by Rhum Barbancourt is a Haitian rum infused with mango and pineapple. However Bacardi also makes Mango Rum if Pango is not available)
Grand Marnier (Gran Gala is the same as Grand Marnier and is a fraction of the cost)
pineapple juice
fresh lime juice
pineapple wedges or mango slices, for garnish
flavored sugar for rim of the glass (optional)
grenadine (optional)
Useful Tools you may need:
Sugar Rim
Nowadays, there are many specialty shops where you can purchase a variety of flavored sugars. It has become a fairly popular ingredient. I had some Mango Habanero Sugar I picked up from The Spice & Tea Exchange when I was in Savannah.
Although sugar or salt on the rim of the glass is mostly associated with Martini's, it adds another flavor profile and can be used for other cocktails like this Haitian Rum Punch.
How to Rim a Glass
Cut a wedge of lime and squeeze the lime, while rubbing it along the perimeter of the glass. Make sure the glass is wet all around the rim.
On a shallow plate, pour out the flavored sugar.
Turn the glass upside down and place on the plate of sugar.
Twist the glass to make sure the sugar has adhered around the rim.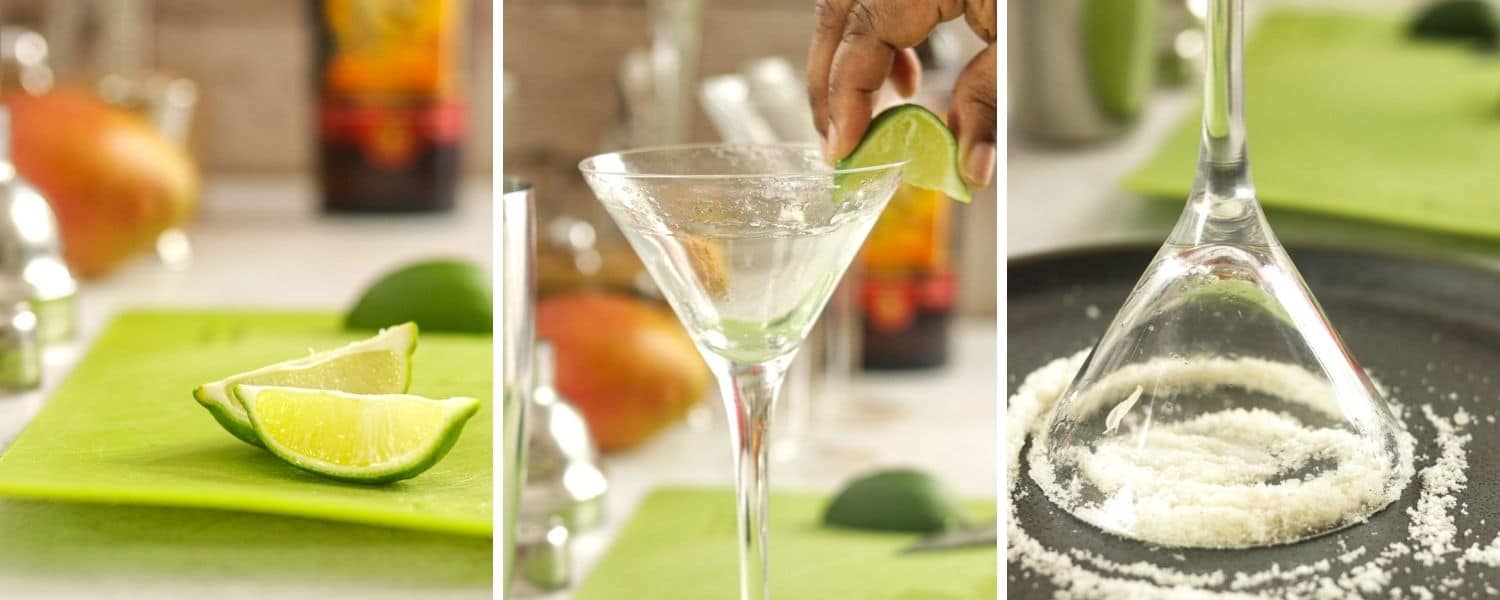 How to make Rum Punch Cocktail – Haitian style
Combine everything except the garnish in a shaker and fill with ice.
Shake well and pour into glasses.
Garnish with mango slices or pineapple wedges.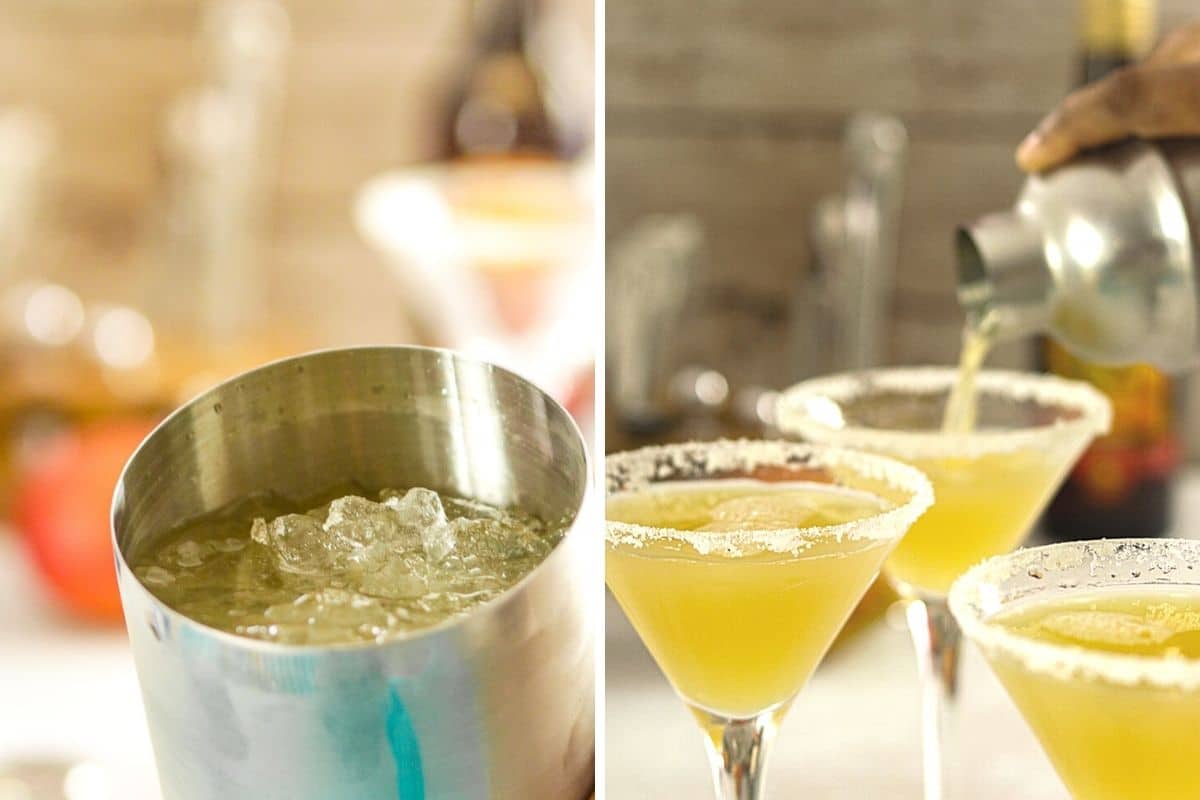 This cocktail recipe is one of the most popular Haitian drinks.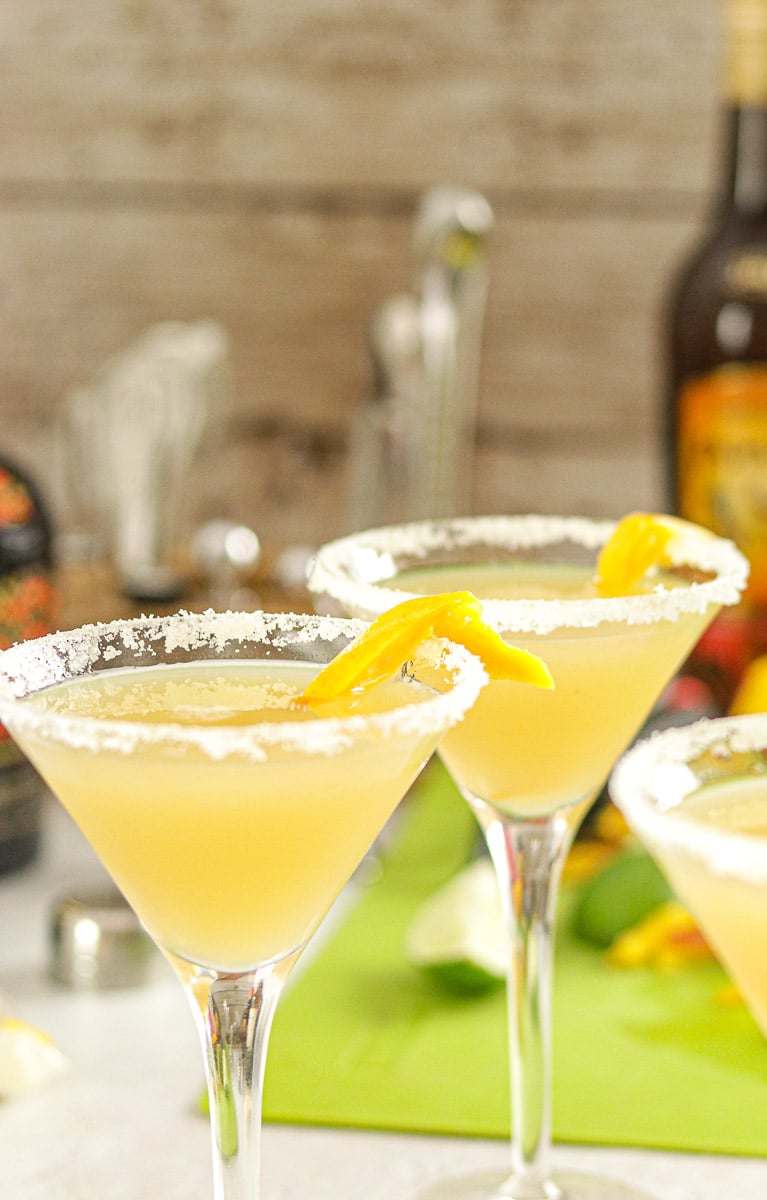 Haitian Tropical Rum Punch
Rum Punch Cocktail is a delicious combination of rum and tropical fruit juices. A fruity cocktail!
Ingredients
4

oz.

dark rum

5

oz.

mango rum

2

oz.

grand marnier

or any orange liqueur

4

oz.

pineapple juice

2

oz

lime juice

a few drops of grenadine

optional

flavored sugar

optional
Instructions
Rim the glass with sugar, if using

In your shaker, combine dark rum, mango rum, orange liqueur, pineapple juice, lime juice and grenadine (if using).

Fill the shaker with ice.

Shake well and pour into martini glasses or serve over ice in low ball/whisky glasses.

Garnish with fresh pineapple or mango.
Notes
If you are using a bartender set, each shot is equal to 1 liquid oz. or 2 tablespoons. If you do not have a bartender set, 2 tablespoons represent each liquid ounce.
Nutrition
Calories:
210
kcal
|
Carbohydrates:
9
g
|
Protein:
1
g
|
Fat:
1
g
|
Saturated Fat:
1
g
|
Sodium:
3
mg
|
Potassium:
59
mg
|
Fiber:
1
g
|
Sugar:
8
g
|
Vitamin A:
9
IU
|
Vitamin C:
7
mg
|
Calcium:
6
mg
|
Iron:
1
mg
Did you try this recipe? Leave a comment below.
Please follow me on Instagram @chefmireille or tag me #chefmireille with your pics! I'd love to share them!
Now I know you want to try some more Caribbean food! Check out my collection with over 100 Caribbean Recipes from the Caribbean diaspora!