Last Updated on August 23, 2021 by Chef Mireille
Making your own Homemade Vanilla Extract is quick and easy. You do have to make it ahead of time, but you get so much more bang for your buck by making your own DIY vanilla extract.
You can experience the full flavor of Pure Vanilla Extract, without having to settle for the cheaper bottles or artificial vanilla extract, which pales in flavor. In recipes, you often have to use double or triple the amount in recipes to get the flavor. So are you really saving money by purchasing the cheaper imitation vanilla extract.
Also, by starting to make it now in the Spring, it is enough time in advance for the extract to develop so that this will make great homemade gifts when holiday season comes around.
Don't forget to check out my collection of other Haitian Recipes here.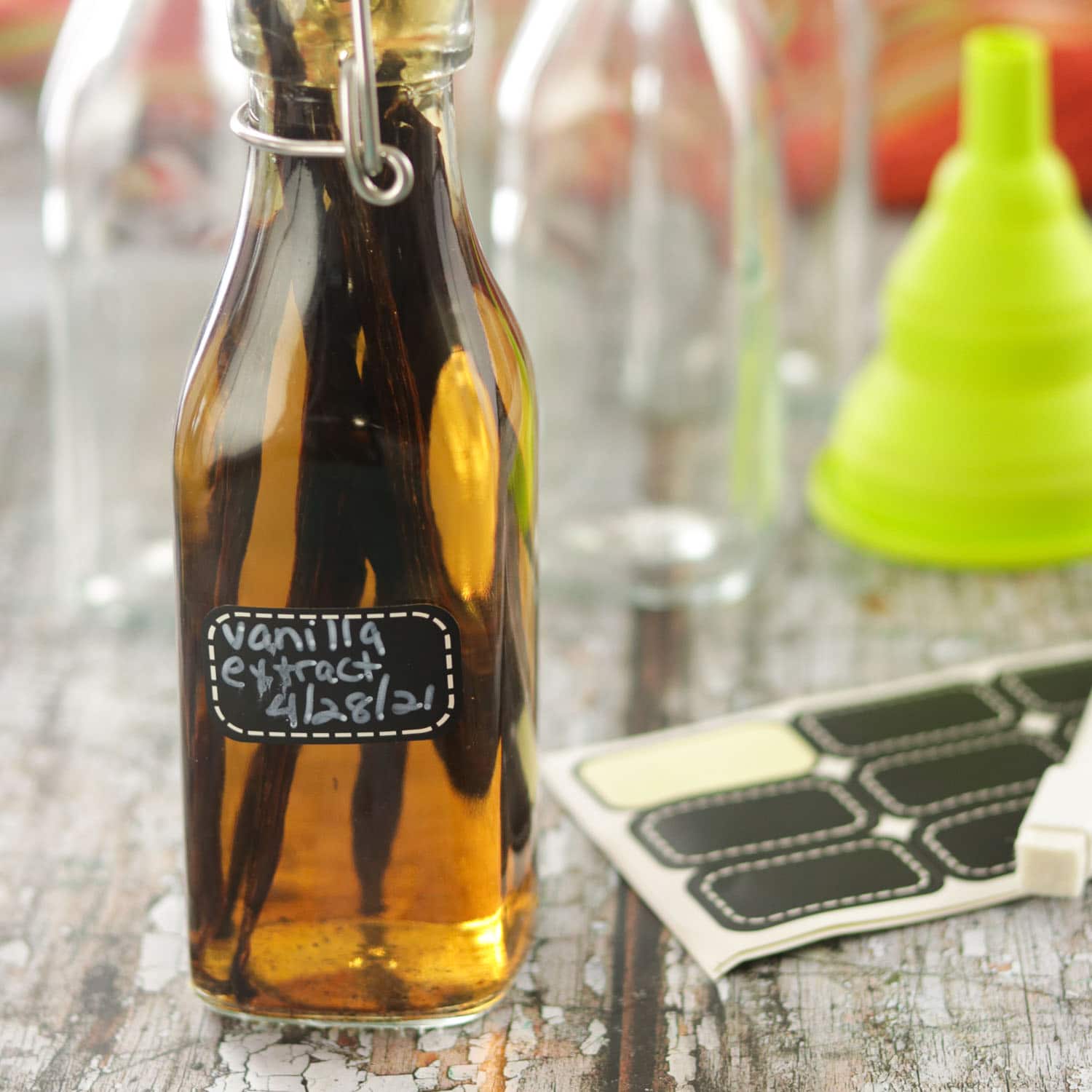 This post may include affiliate links.
I already know your first thought – why is this vanilla so much lighter than the ones you buy at the supermarket? Well what it lacks in color it makes up in flavor. The main reason is there are no artificial colors in the homemade version.
Before we get to how we make Haitian Vanilla Extract, we have to start with the core ingredient. You are going to need vanilla beans no matter what style of vanilla extract you make.
You may have seen Madagascar Vanilla Beans or Tahitian vanilla beans and wondered which is better.
Is Tahitian or Madagascar Vanilla better?
There are basically two types of vanilla beans – Madagascar Bourbon Vanilla Beans and Tahitian Vanilla Beans. First of all, to answer your first question, there is no bourbon in Madagascar Bourbon Vanilla Beans. It is a misnomer.
Madagascar Bourbon Vanilla was first found in Mexico. The French then cultivated it in Madagascar. The largest cultivations now grow in Mexico, Madagascar, Uganda, Hawaii and Indonesia.
The flavor of the vanilla is affected by where it is grown, so depending on the country of origin, each vanilla will taste a little different.
Tahitian Vanilla evolved from the same plant, however, when grown in Tahiti, more fruity notes and shorter broader vanilla beans resulted. Most Tahitian vanilla is now grown in Papua New Guinea.
Madagascar Bourbon Vanilla usually has a more earthy tone and is more robust and darker in color, while Tahitian vanilla usually is more sweeter and fruity. Madagascar Bourbon Vanilla Beans are longer and thinner.
One is not really better than the other – they just result in different flavors.
When making vanilla extract, I prefer to use both so that you get a more complex flavor from the mixture of both types of vanilla beans.
Why should you make your own Vanilla Extract?
After you wait the initial period of infusion for your homemade vanilla extract, you can reuse the beans and make an additional bottle. Therefore, you can get so much more pure vanilla extract out of the cost of just a few vanilla beans.
Although the price of the vanilla beans may seem high, when you consider how much vanilla extract you can get out of them, this is a mitigating factor.
How to use homemade Vanilla Extract
In the past, when all I have had access to is artificial vanilla extract, I found it necessary to double the quantity of vanilla in most recipes. With the use of pure vanilla extract, you will get a lot more flavor out of a lot less vanilla.
To start with, make 2 bottles. This way you will always have a backup bottle once one bottle is finished. Just add more rum (or vodka). There is no need to replace the used vanilla beans. After 2-3 bottles, you can then use fresh vanilla beans.
After the initial 6 months, you can discard the vanilla beans or start an additional bottle. If you do not start another bottle, you will have to constantly add more rum to the bottle to keep the vanilla beans completely submerged in the alcohol. If the vanilla beans are not submerged, they will turn rancid.
What kinds of recipes can you use vanilla extract in?
Now you might wonder why I titled this post Haitian Vanilla Extract? Is there a difference?
Most pure vanilla extract brands are produced in vodka. What gives Haitian vanilla its distinctive flavor is that it is made in rum, with its natural sugarcane and fruity tones.
Vanilla Extract can be made in almost any alcohol like rum, vodka, gin or bourbon. Even with Haitian vanilla, you can use Coconut Rum or Mango Rum for even more fruity tones.
Frequently Asked Questions
Money Saving Tip
Vanilla Beans are cheaper in the Caribbean. If you are travelling in the Caribbean, pick some up there. 
All you need is vanilla and rum for this easy recipe. Of course, Haitians will always prefer using Haitian Rhum Barbancourt or Pango by Rhum Barbancourt, which is infused with mango and pineapple. As I mentioned earlier, you can also use Coconut Rum.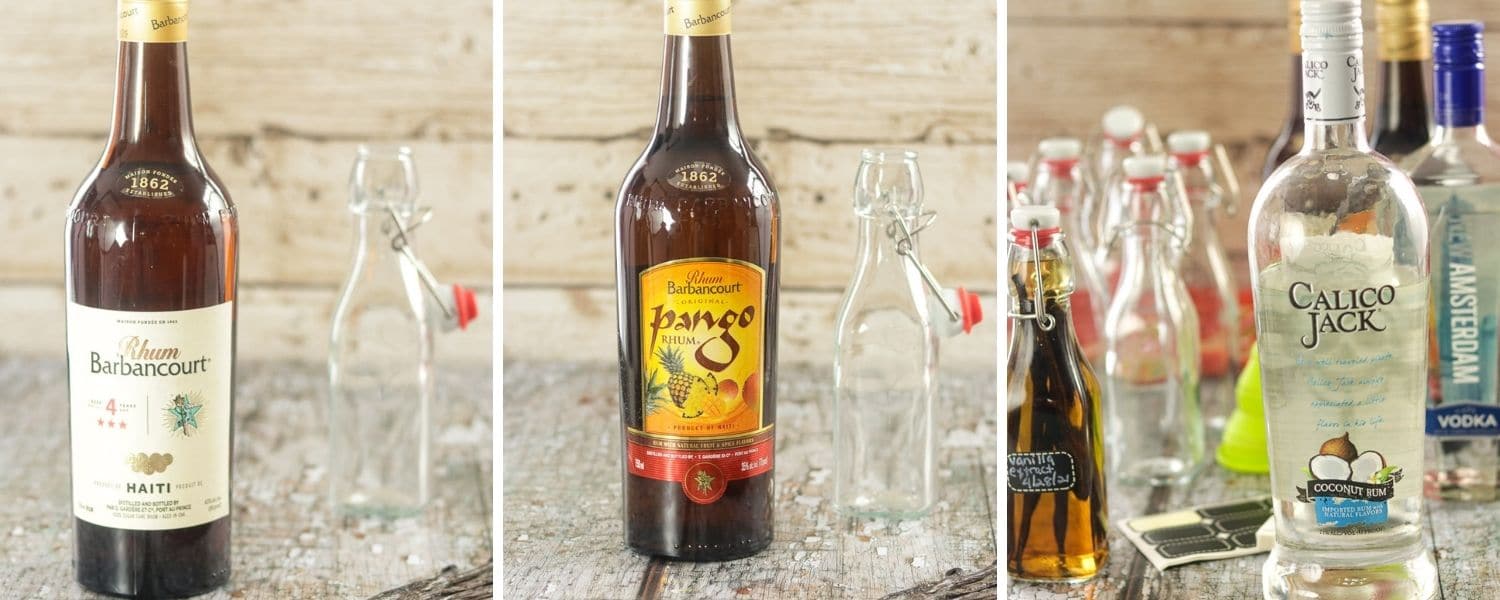 I highly recommend this bottle set, which includes everything you will need – bottles, funnel and labels. This set includes 6 bottles – enough for yourself and to give away a few bottles of Haitian Vanilla as holiday gifts.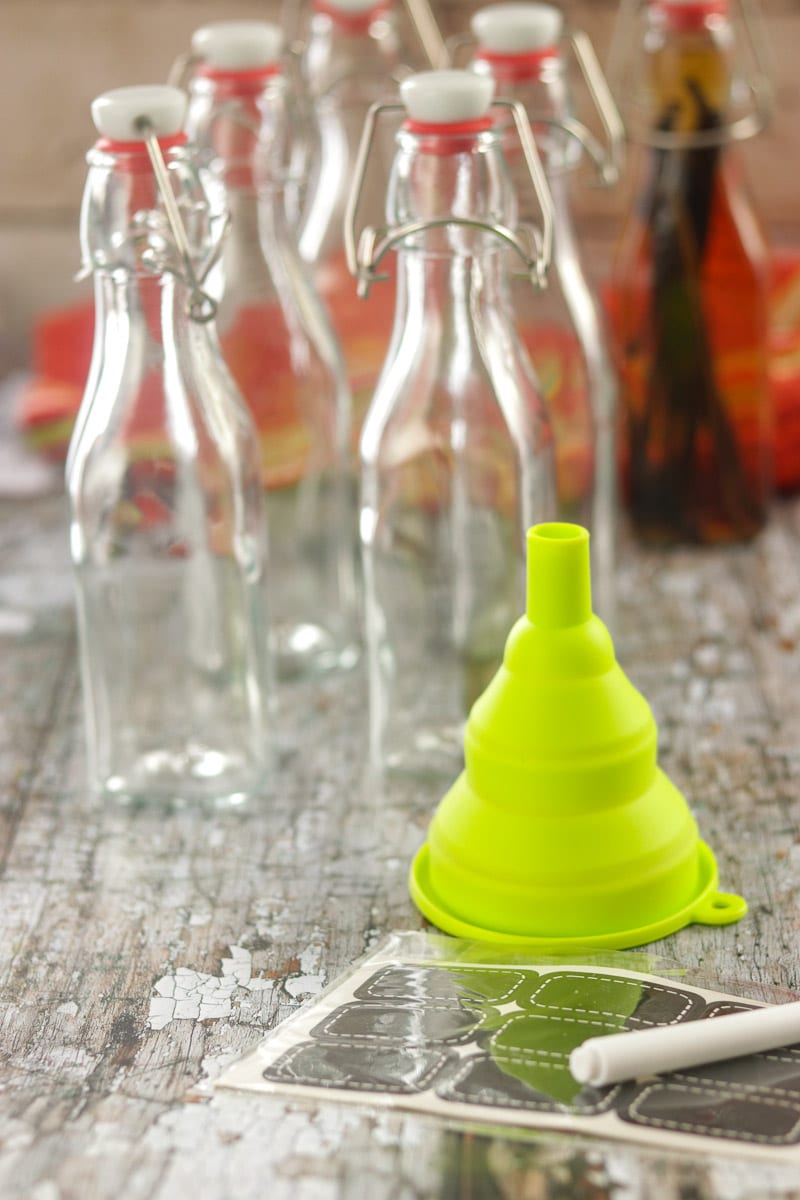 Don't forget to date the bottles so you know how long each infusion is.
Some people say you can start to use the vanilla extract after 2 months, however, I find after 6 months, you will get a lot more flavor out of your vanilla extract.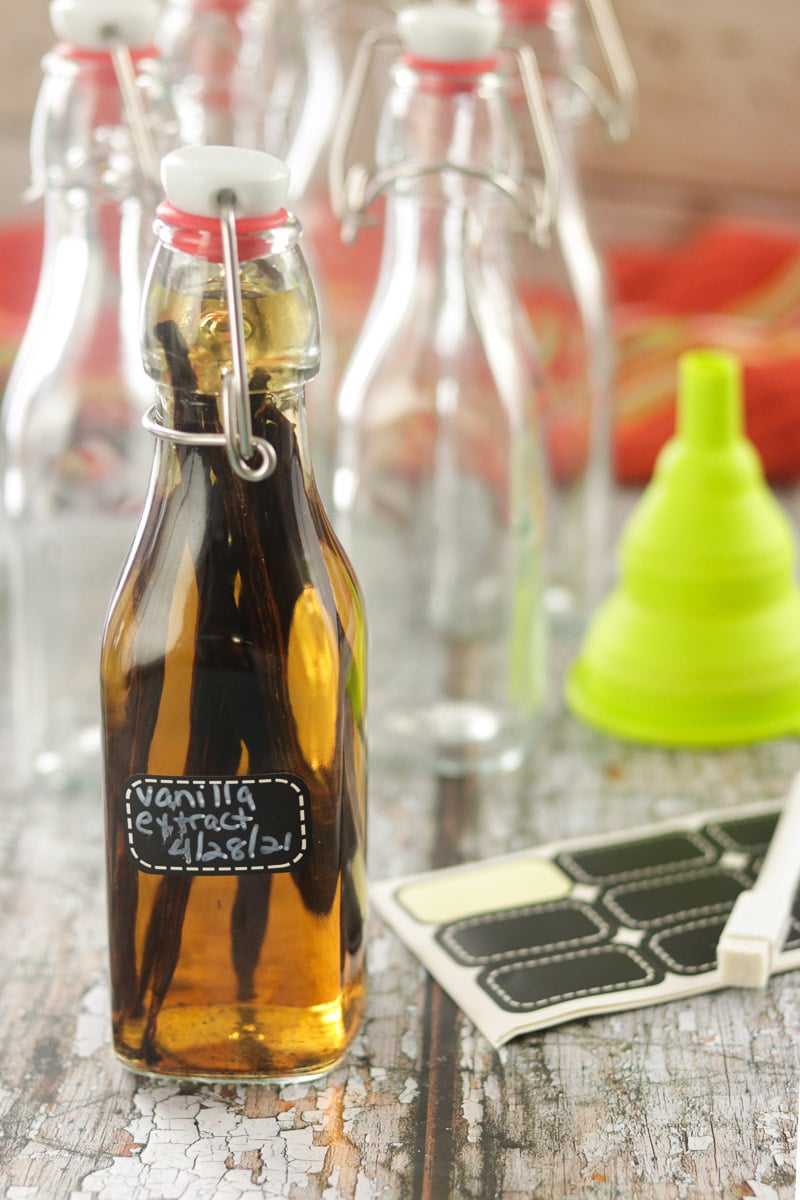 Making Homemade Vanilla Extract
Split vanilla beans and scrape out the insides
Place vanilla beans in an air tight bottle.
Add alcohol of your choice – rum for Haitian vanilla.
Wait 6 months and then use as desired.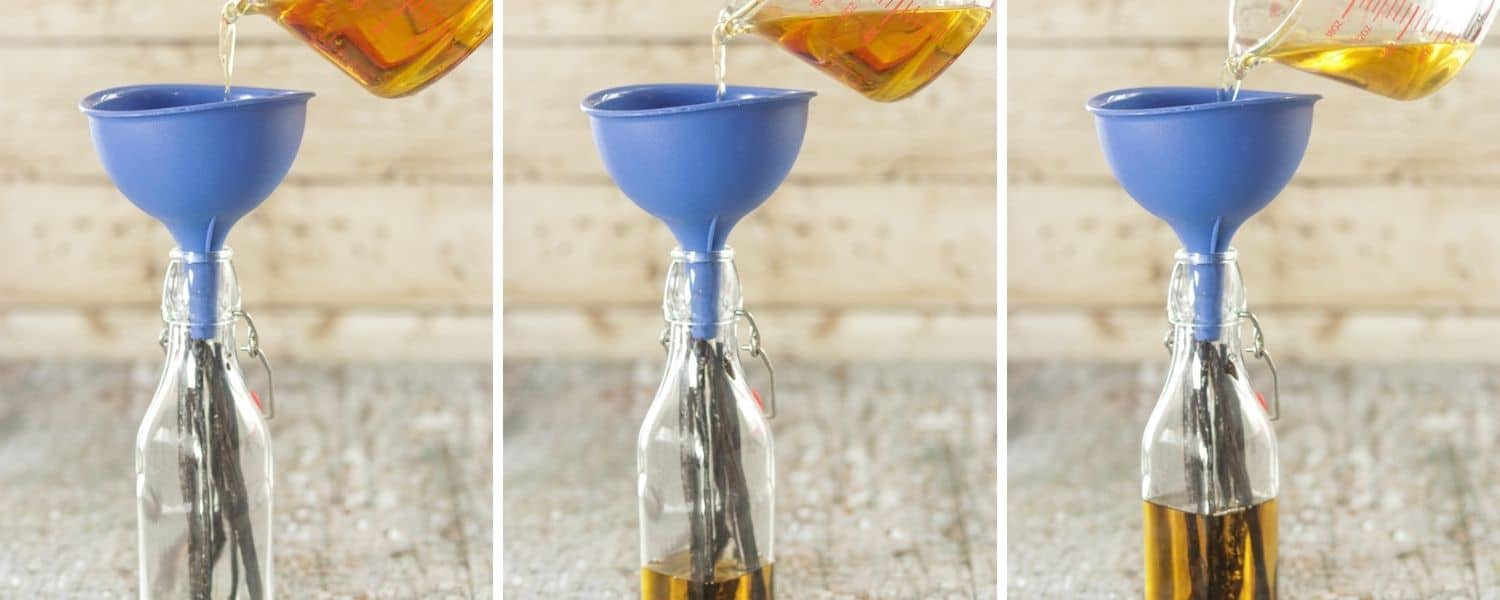 Now are you ready to make all your delicious recipes even better with the flavor of homemade pure vanilla extract?
Homemade Vanilla Extract
Homemade Vanilla Extract – Haitian Vanilla made with Rum is full of flavor. Great to use in all your recipes or as holiday gifts
Ingredients
6

vanilla beans

1 1/4

cups

rum
Instructions
Using a sharp knife, make a slit in each vanilla bean from top to bottom.

Scrape out the insides and put everything in the bottle.

Place the vanilla beans in a bottle. If some of the beans are too long, cut them in half.

Fill the bottle with rum, enough so that the vanilla beansare completely submerged in the rum.

Leave to infuse for at least 6 months.

Leave vanilla beans inside as you use the vanilla extract ifdesired, adding more as needed to keep the vanilla beans completely submergedin liquid.

Otherwise, remove the vanilla beans and start another bottle. When you start another bottle, add 1 or 2 more beans just to make sure it has as much vanilla flavor as the original bottle.
Notes
Use a variety of both Madagascar Vanilla Beans and Tahitian Vanilla Beans for the best flavor.
Some people say you can start to use the vanilla extract after 2 months, however, I find after 6 months, you will get a lot more flavor out of your vanilla extract.
Did you try this recipe? Leave a comment below.
Please follow me on Instagram @chefmireille or tag me #chefmireille with your pics! I'd love to share them!
Don't forget to visit the RECIPE INDEX with over 1000 recipes from around the world including lots of Vegetarian Recipes and Gluten Free Recipes!