Spiced Party Popcorn – This spiced up popcorn is perfect for any movie watching night!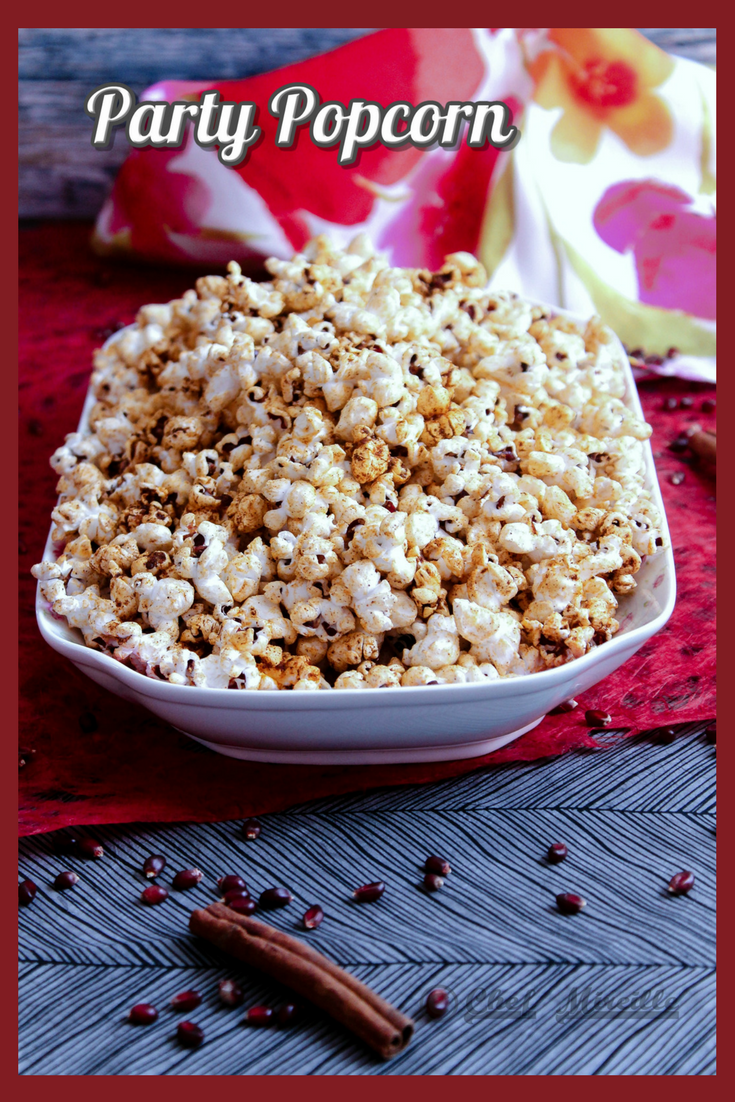 (Updated 2/21/18) I have two TV addictions – Vikings and #Scandal. Anyone who watches #Scandal knows that the main character, Olivia has a diet of two foods – wine and popcorn and occasionally a Gettysburger, but mostly just wine and popcorn. The past two seasons, ever since her kidnapping, her character has been down a self destructive downward slope, but FINALLY she is on the road to redemption before the series finale in a few months. After all that's happened to her, I think Liv deserves this plate of spiced up popcorn for some extra flavor instead of just the plain one she's normally eating!

After being entertained for 7 seasons by the love story of Olivia and President Fitzgerald Grant and the political intrigue of Washington DC, it's going to be sad when the series ends but thankfully whenever I need my Scandal fix, all I have to do is put on Netflix and sit down with this bowl of Spiced Party Popcorn!
Although I have been a fan of Nigella Lawson's cooking shows for many years, it was only in May when I tried one of her recipes for the first time. I have become an instant fan and in just a few months, this is my third Nigella recipe.
The other two for Sesame Peanut Noodles & Cocoa Olive Oil Cake were delicious so I had no doubt that this would be the same and I wasn't wrong!
I have already previously posted a basic popcorn recipe here, but this time I adapted a Nigella Lawson recipe from Nigella Express. If you'd like to take a look at a few other Nigella recipes I've tried in the past.
Nigella Lawson Recipes
IN THE MAKING – HOW TO MAKE SPICED PARTY POPCORN
I'm all ready to finish the season of Scandal and hope Liv & Fitz get their happy ever after (PLEASE)
Put out bowl of this popcorn at your next party and they won't be around for long. A fabulous combination of sweet, salty and smoky! Every bite gives you another flavor profile.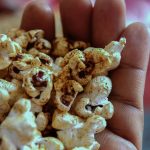 Print Recipe
Party Popcorn
This spiced up popcorn is perfect for your #Scandal watching party!
Ingredients
2

tablespoons

peanut oil

1/2

cup

popcorn

2

tablespoons

butter

1

teaspoon

ground cinnamon

1

teaspoon

ground cumin

1

teaspoon

ground paprika

1/4

teaspoon

red chile powder

cayenne pepper

2

teaspoons

salt

2

teaspoons

sugar
Instructions
Pour oil in a large pot, like a Dutch oven. Add popcorn and cover with a tight fitting lid. Cook on high heat, shaking the pan occasionally until the popping stops. Turn off the heat.

Melt the butter in a skillet. Add spices and stir to combine.

Transfer popcorn to a large paper bag. Pour spiced butter over it. Shake to evenly coat the popcorn.

Serve immediately.
Do you know anyone else who likes learning about international food, culture, history and travel? Bring them over here to join the party! Don't forget to use those share buttons!
Start Here to find out how the Schizo Chef can help you with your cooking, travel and other needs!
If you like this recipe, PLEASE LEAVE A COMMENT & SUBSCRIBE!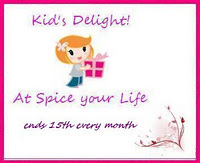 ….linking to Kid's Delight Potluck Party, CC Challenge of the month & Spicy Foods' Birthday Party
Check out the Blogging Marathon page for the other Blogging Marathoners doing BM#33
Sign up for our updates!
Subscribe to get our latest content by email and get your FREE Pantry Cheat Sheet - Learn the basics to cook any International cuisine!