Last Updated on May 10, 2021 by Chef Mireille
Best Homemade Popcorn on the stove with an amazing multi layered sweet and salty spiced butter.
Homemade Popcorn on the stove with a regular pot is a lot easier than you might think. By making it yourself, you can customize it with the spices and toppings you prefer.
Popcorn is a healthy snack food in and of itself. High in fiber and low in calories (the calories only get added with whatever you choose to add or not add to it).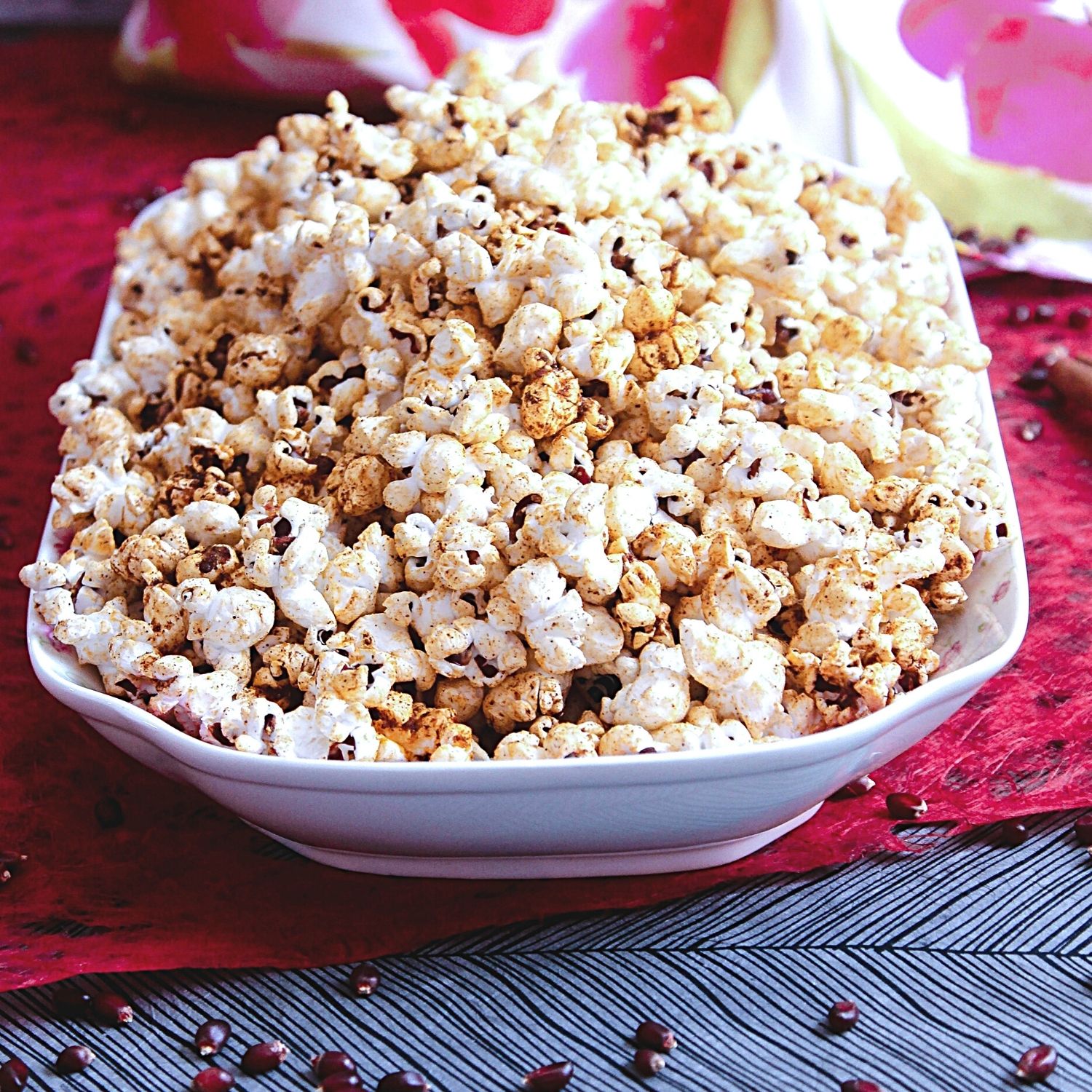 This post may include affiliate links.
(2018) – I have two TV addictions – Vikings and #Scandal. Anyone who watches #Scandal knows that the main character, Olivia has a diet of two foods – wine and popcorn and occasionally a Gettysburger, but mostly just wine and popcorn. The past two seasons, ever since her kidnapping, her character has been down a self destructive downward slope, but FINALLY she is on the road to redemption before the series finale in a few months. After all that's happened to her, I think Liv deserves this plate of spiced up popcorn for some extra flavor instead of just the plain one she's normally eating!
After being entertained for 7 seasons by the love story of Olivia and President Fitzgerald Grant and the political intrigue of Washington DC, it's going to be sad when the series ends but thankfully whenever I need my Scandal fix, all I have to do is put on Netflix and sit down with this bowl of Spiced Party Popcorn!
Liz may have been a fan of microwave popcorn. I don't think her kitchen was ever actually used except for pouring glasses of wine 🍷.
If you are following this website, I'm going to go out on a ledge and say you prefer homemade food to cooked food any time and even more so, when it's quick and easy!
Being part of the microwave popcorn generation, how easy it is to make fresh homemade popcorn without all the added salt and preservatives is elusive to many. However once you realize cooking popcorn on the stove takes just minutes and no complicated culinary techniques., you are going to wonder why did it take me so long to try making homemade popcorn myself?
Not only is making popcorn easy, but it is much healthier when made at home. I'm not going to lie, this version with melted butter is not the healthiest version. If you are looking in how to make homemade popcorn as a healthy snack alternative, use this Homemade Popcorn Recipe – then just add your favorite spice blend like Piri Piri or Berbere.
That version can even be included as a healthy snack for weight loss programs.
Frequently Asked Questions
Recipe Notes
It is important to shake the pot while cooking, so that the kernels will pop evenly. Otherwise the popcorn kernels at the bottom will burn.
As soon as the popping stops, immediately remove from the heat.
Make sure your pot is large enough as the volume will increase a lot as the kernels pop.
Homemade Popcorn is so easy – all you need is popcorn kernels and a little oil.
Salt and whatever toppings you like including the spiced butter here are all optional flavor additions.
Other Ideas for Popcorn Toppings
Sesame Seeds
Poppy Seeds
any spice mix of your preference
Best Way to Make Popcorn
In a large heavy bottomed pot, add oil.
After 1 minute, add popcorn.
While it is cooking, it is important to shake the pan often.
Make the melted butter and toss well in a paper bag with the popcorn to evenly coat the popcorn.
(Updated 2021) I'm so happy after finishing the entire Scandal series, Liv & Fitz got their happily ever after.
Put out bowl of this popcorn at your next party and they won't be around for long. A fabulous combination of sweet, salty and smoky! Every bite gives you another flavor profile.

Sweet & Salty Popcorn Recipe
This spiced up popcorn is perfect for your #Scandal watching party!
Instructions
Pour oil in a large pot, like a Dutch oven.

After 1 minute, add popcorn kernels.

Cover with a tight fitting lid.

Cook on high heat, shaking the pan occasionally until the popping stops. Turn off the heat.

After 1 minute, immediately transfer to a bowl so that the residual heat does not cause the popcorn to burn.

Melt the butter in a skillet. Add cinnamon, cumin, paprika, cayenne pepper, salt and sugar. Stir to combine.

Transfer popcorn to a large paper bag. Pour spiced butter over it. Shake to evenly coat the popcorn.

Serve immediately.
Notes
Make it vegan by using your favorite vegan coconut oil or avocado oil margarine.
Nutrition
Calories:
101
kcal
|
Carbohydrates:
9
g
|
Protein:
1
g
|
Fat:
7
g
|
Saturated Fat:
2
g
|
Trans Fat:
1
g
|
Cholesterol:
8
mg
|
Sodium:
608
mg
|
Potassium:
42
mg
|
Fiber:
2
g
|
Sugar:
1
g
|
Vitamin A:
241
IU
|
Vitamin C:
1
mg
|
Calcium:
7
mg
|
Iron:
1
mg
Did you try this recipe? Leave a comment below.
Please follow me on Instagram @chefmireille or tag me #chefmireille with your pics! I'd love to share them!
Don't forget to visit the RECIPE INDEX with over 1000 recipes from around the world including lots of Vegetarian Recipes and Gluten Free Recipes!