Last Updated on May 25, 2021 by Chef Mireille
This classic New Orleans Creole Sauce is a great staple recipe to have. So easy in just 3 simple steps, using basic ingredients you most likely already have in stock. Use it to make classic recipes like Shrimp and Grits, Creole Pasta or as a dipping sauce for appetizers!
Once you have the sauce made, you can cook just about anything in it from chicken and shrimp to alligator and crawfish. Even delicious Vegetarian meals can be made with tofu or mushrooms with this delicious Creole Sauce as the base.
New Orleans is the original fusion cuisine with influences from Native American, Caribbean, French and Spanish culinary traditions.
This is why you will see versions of this Creole Sauce in many cultures from South American to Caribbean cuisines.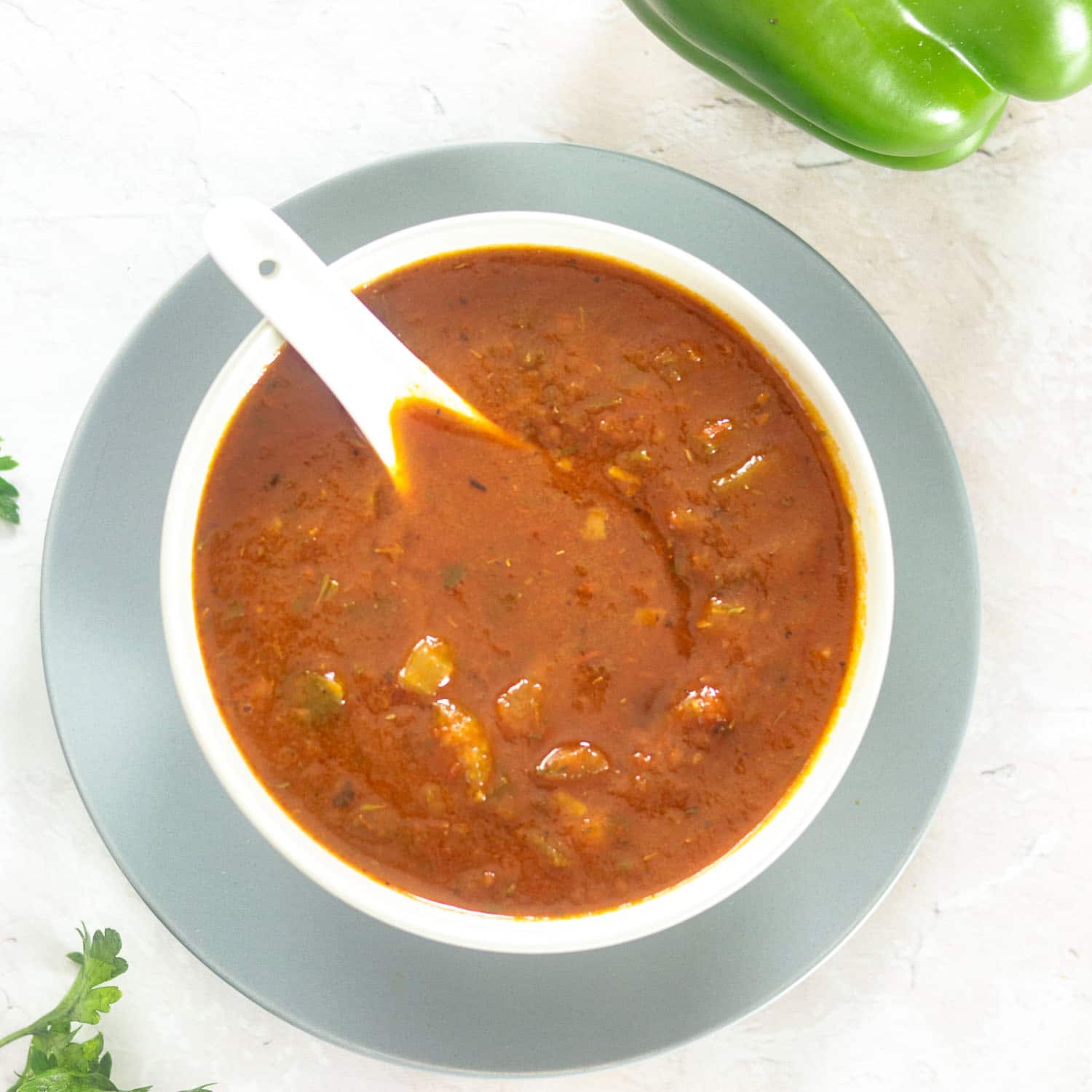 This post may include affiliate links.
If you've ever been to New Orleans, you would have heard the terms Cajun and Creole used a lot in relation to many things like music, food and culture. It's often also called NOLA cuisine, which is an acronym for New Orleans, Louisiana – the most populated city in the state.
Is there a difference between Cajun and Creole?
Most people use these two terms interchangeably, however there is a difference.
Cajun refers to a specific group of people called Acadians. These are French settlers who had relocated to Canada. They eventually were exiled and relocated to Louisiana in the late 1700's.
They have a distinct accent, culture and cuisine, all their own.
However, their cuisine has also been influenced by French and Southern cuisine due to their neighbors.
Many cultures have a cuisine they refer to as Creole. For example, in many South American Countries you will find recipes referred to as Criolla (the Spanish word for Creole) like in this Ecuadorian Aji Criolla. Pretty much any recipe that cannot be traced to a specific group of people is called Creole. This Creole cuisine exists in Louisiana with its fusion of African, Cajun and European cuisines. It also exists in many South American and Caribbean cuisines like this Caribbean Creole chicken.
In fact, this Creole Sauce reminds me very much of the sauce used to make Jamaican Rasta Pasta. The main difference is that the Scotch Bonnet pepper is used for the spice instead of cayenne pepper.
So basically Creole cuisine is any fusion cuisine. Louisiana, with it's French and Spanish influences is probably the first fusion cuisine created in America, before we had as many international influences like we have today.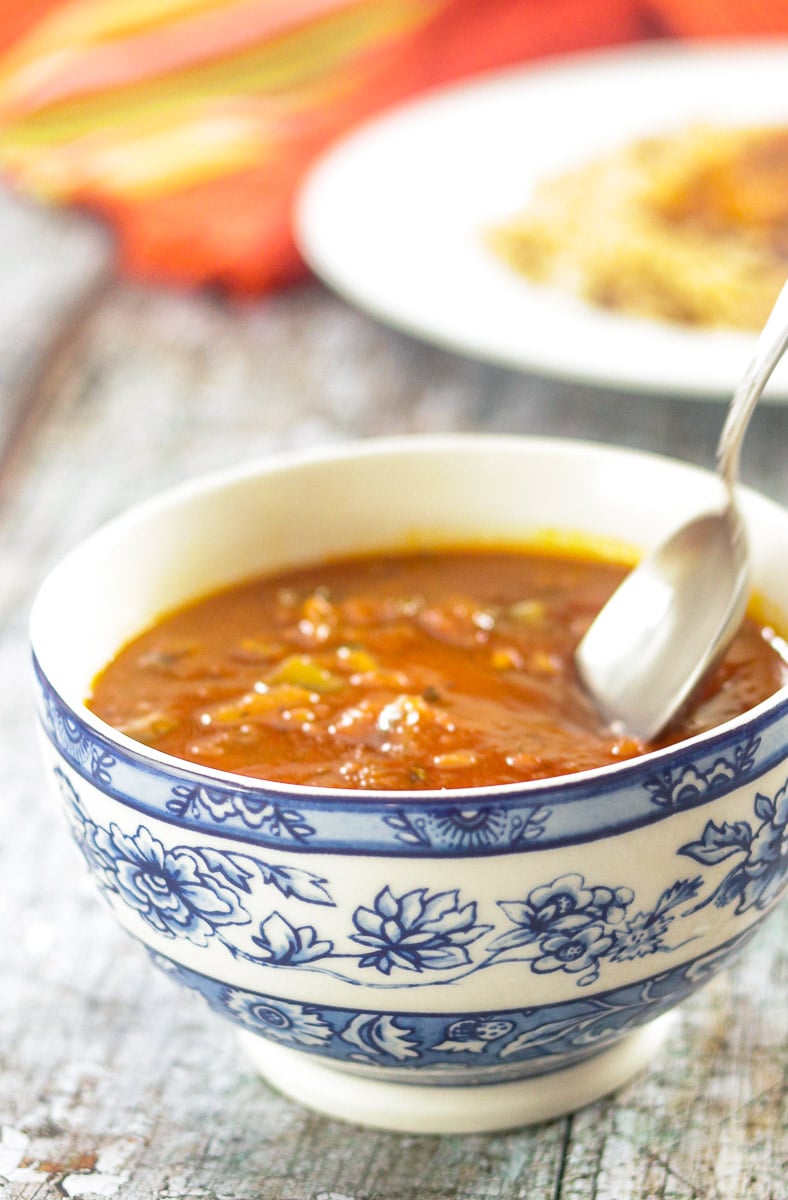 Creole Cooking Basics
In classic French cuisine, you will learn that most recipes for soup, gravy, stew etc. start with mirepoix. Mirepoix is a combination of 50% onions, 25% carrots and 25% celery.
With the Catholic influence in Louisiana, the same holy trinity that exists in Catholicism of God, Jesus Christ and the Holy Spirit is used to identify the backbone of Cajun & Creole Cuisine.
What is the difference between mirepoix and holy trinity?
Holy Trinity is 1 part onion, 1 part celery and 1 part bell pepper, while mirepoix is 2 parts onion, 1 part celery and 1 part carrot.
With this Creole Sauce sometimes called Cajun Red Sauce, you can now make a variety of Cajun Creole Recipes with Shrimp Creole being the most popular. However, just about anything can be made in this Creole Sauce.
How to use Creole Sauce
All you do is bring the Creole Sauce to a boil. Add your protein like chicken, sausage, or shrimp and simmer until cooked through. This is an easy way to make classic Shrimp and Grits!
You can even include it as part of a Vegetarian meal just over some rice and beans. Alternately, instead of sausage or shrimp referenced above, use mushrooms, tofu or even paneer!
It can also be used as a spicy dipping sauce for fried foods like Hush Puppies and Fried Green Tomatoes.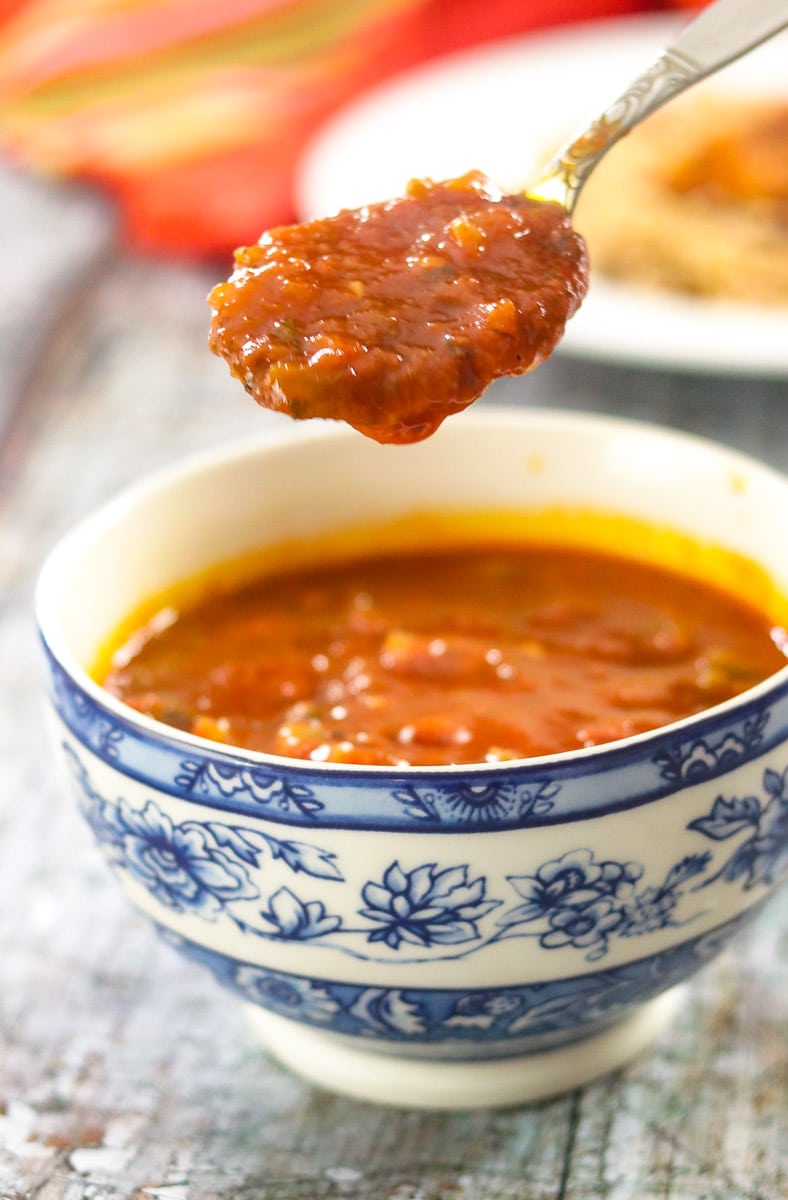 So what is creole sauce made of? Basic vegetables you probably purchase on a weekly basis and basic spices you already have in your pantry. The only ingredient not everyone keeps in house is Worcestershire sauce. However, if you want to explore more into the bold flavors of Cajun & Creole Cuisine, this ingredient is going to be one you use over and over. So don't think it's something you are going to use once and then it will collect dust!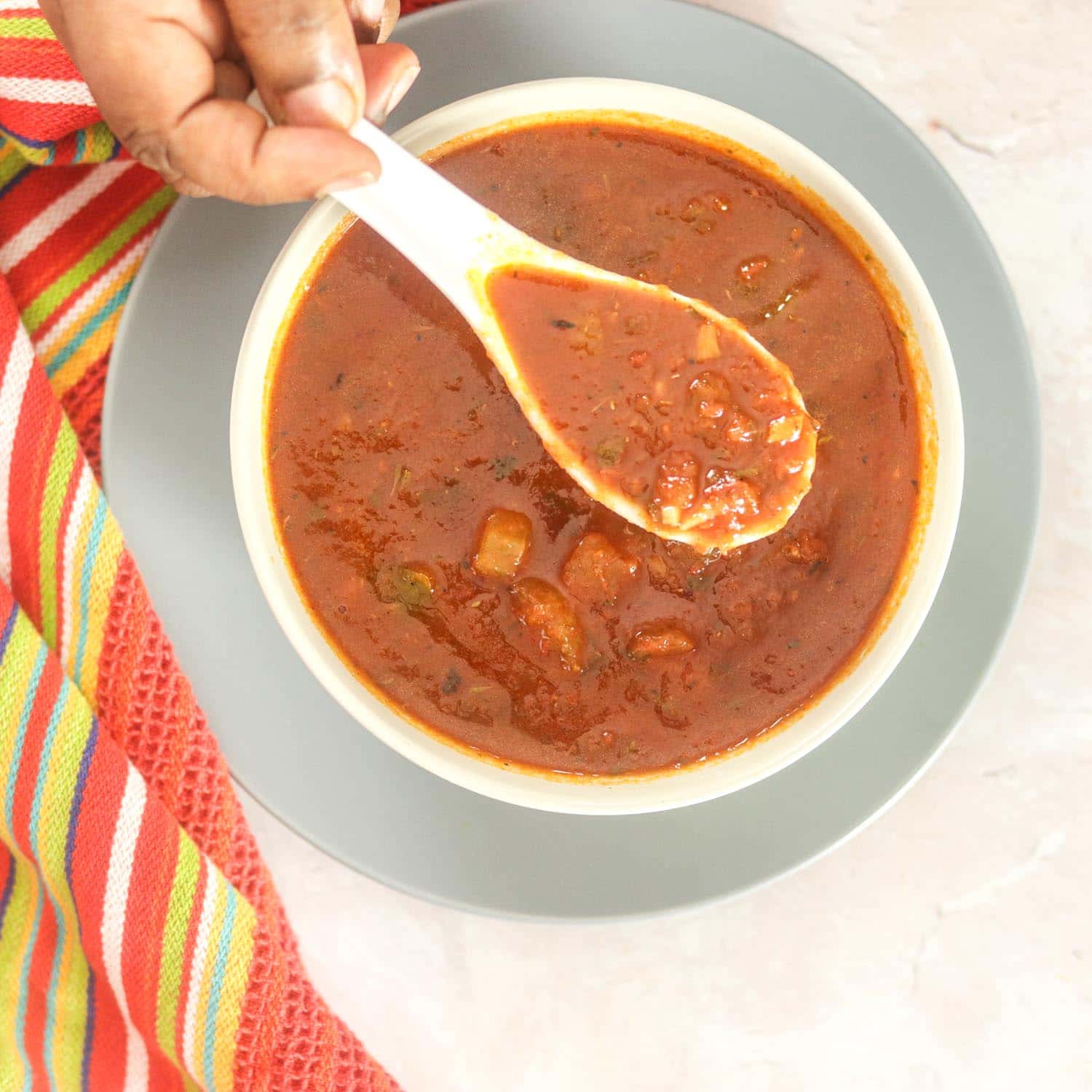 Ingredients
oil
onion
celery
bell pepper
garlic
green onions/ scallions
Salt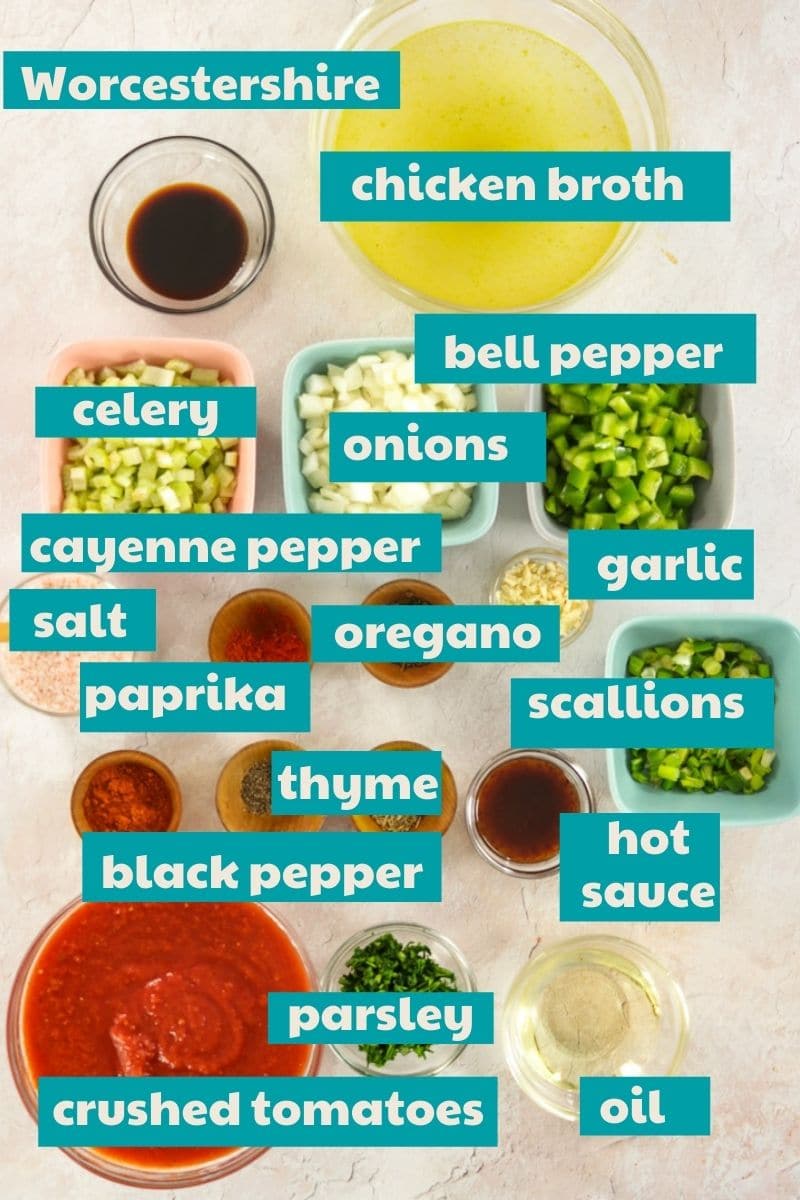 Have you tried instacart yet? It's how I get all of my fresh grocery items delivered within 2 hours!
How to Make Creole Sauce
Saure vegetables.
Add tomatoes, chicken broth and spices.
Simmer until thickened.
Adjust seasoning.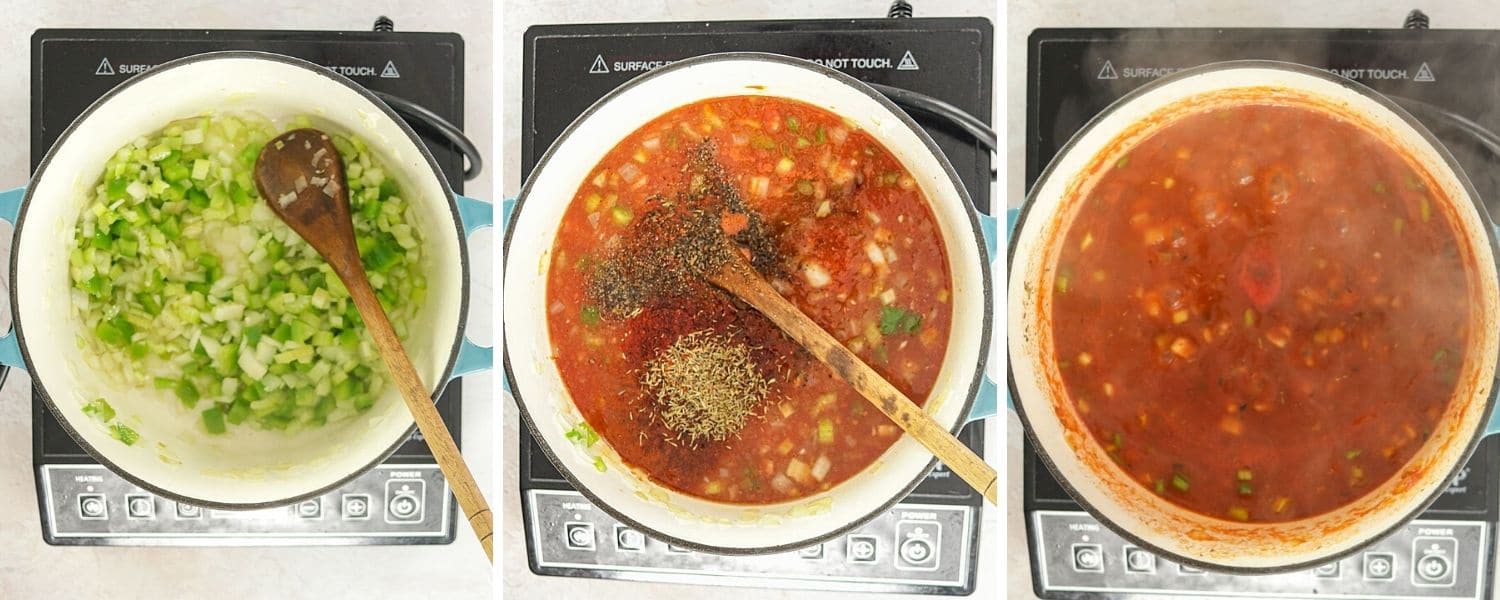 Seriously – can anything be easier – with just 3 simple steps!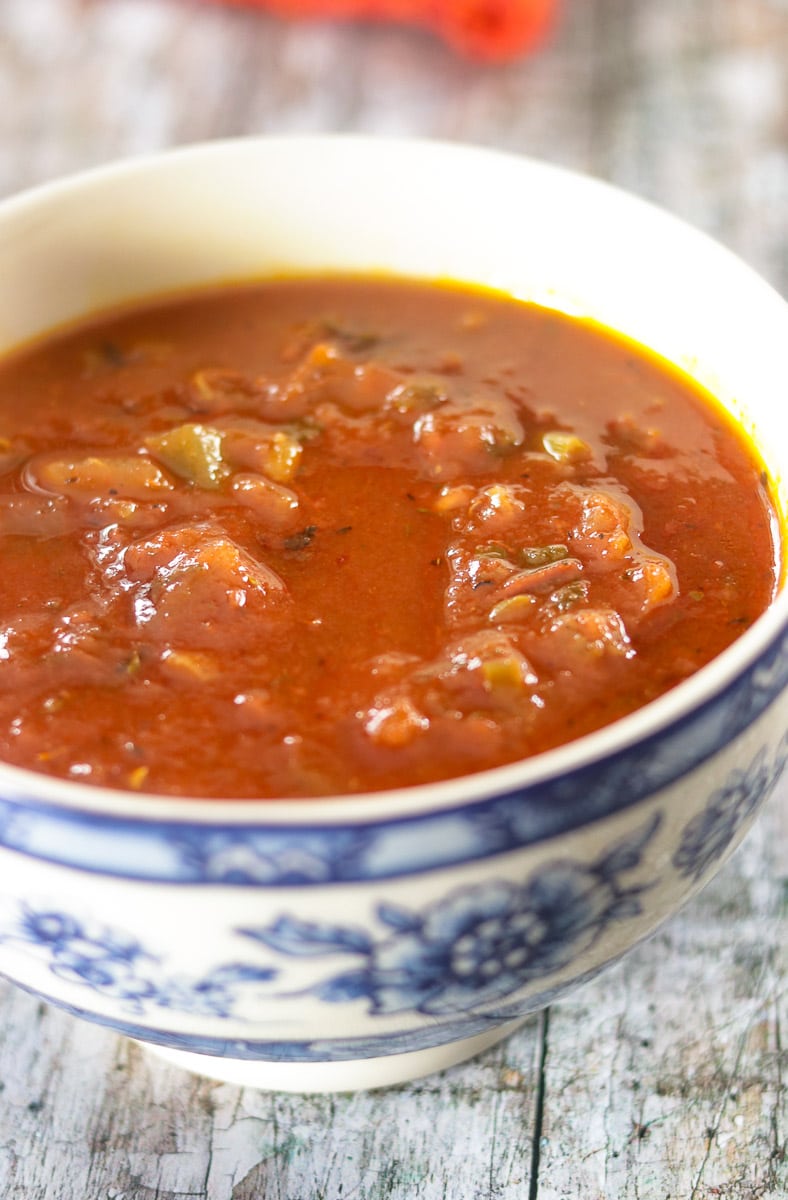 Creole Sauce Meal Plan Recipe
This is the perfect make ahead sauce. Make it in advance and freeze it or bottle it, using proper canning procedures.
When ready to use it, just defrost. Bring to a boil and add protein like chicken or shrimp. Simmer until meat is cooked through. A quick and easy make ahead meal!
Perfect for meal planning!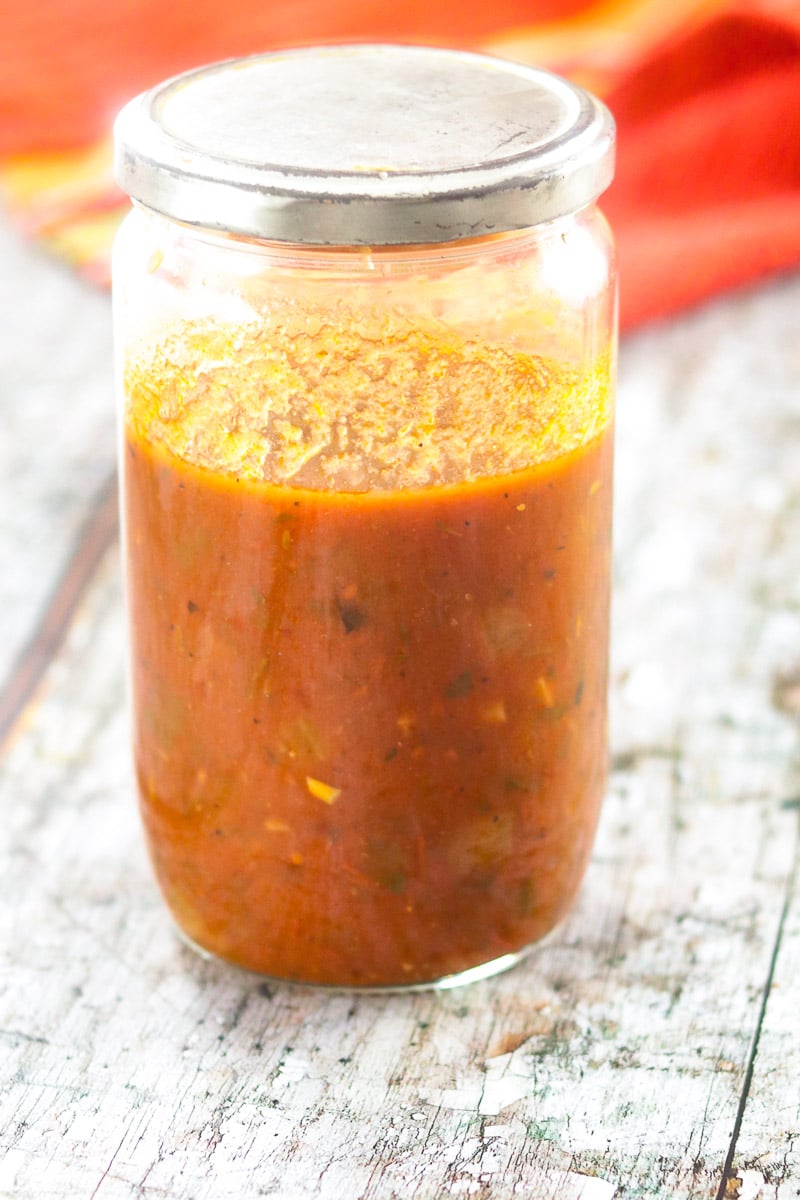 Easy Creole Sauce
Classic Creole Sauce for all your Creole Recipes & Cajun Recipes like Shrimp & Grits and Creole Pasta.
Instructions
Heat oil in a saucepan or Dutch oven.

Add onion, celery and bell peppers.

After a few minutes, add garlic and saute until vegetables are softened.

Add tomatoes, chicken broth, oregano, thyme, paprika, cayenne pepper, black pepper and Worcestershire.

Reduce to a simmer and cook for about 15 minutes.

Add parsley and stir to combine.

Add salt and hot sauce, to taste

Chill in the refrigerator overnight for the sauce to thicken more, especially is using as a dipping sauce.
Notes
You can adjust the spice level to your preference by using more or less hot sauce.
You can also make this Creole Sauce with fresh tomatoes also.
If you make your own Creole Spice Mix, omit all the spices and just use 1 tablespoon of Creole Spice mix.
The sauce tasted better when made 1 day in advance.
Nutrition
Calories:
88
kcal
|
Carbohydrates:
13
g
|
Protein:
2
g
|
Fat:
4
g
|
Saturated Fat:
1
g
|
Trans Fat:
1
g
|
Sodium:
272
mg
|
Potassium:
469
mg
|
Fiber:
3
g
|
Sugar:
7
g
|
Vitamin A:
1446
IU
|
Vitamin C:
40
mg
|
Calcium:
60
mg
|
Iron:
2
mg
Did you try this recipe? Leave a comment below.
Please follow me on Instagram @chefmireille or tag me #chefmireille with your pics! I'd love to share them!
Don't forget to visit the RECIPE INDEX with over 1000 recipes from around the world including lots of Vegetarian Recipes and Gluten Free Recipes!