Last Updated on May 9, 2021 by Chef Mireille
Khaliat Nahal is an Arabic Sweet Bread traditionally stuffed with cheese, although in modern times they can be stuffed with a variety of sweet or savory fillings.
There is a bit of a battle, whether this traditional bread often made for the Ramadan Iftar meal, is Yemeni or Saudi in origin. But when a bread is this delicious – does it really matter?
Khaliat Nahal means Bee's Hive due to the appearance of the bread.
Super soft bread rolls individually stuffed with cheese – and nutella in my version here – are then coated on top with a fragrant saffron infused syrup. If you are looking for Iftar food ideas, Khaliat Nahal should definitely be on the menu.
Is there anything more decadent and delicious! Whether you celebrate Ramadan or not, this honeycomb bread is an intoxicating and irresistible bread you can add to your weekend brunch or tea time menu any time.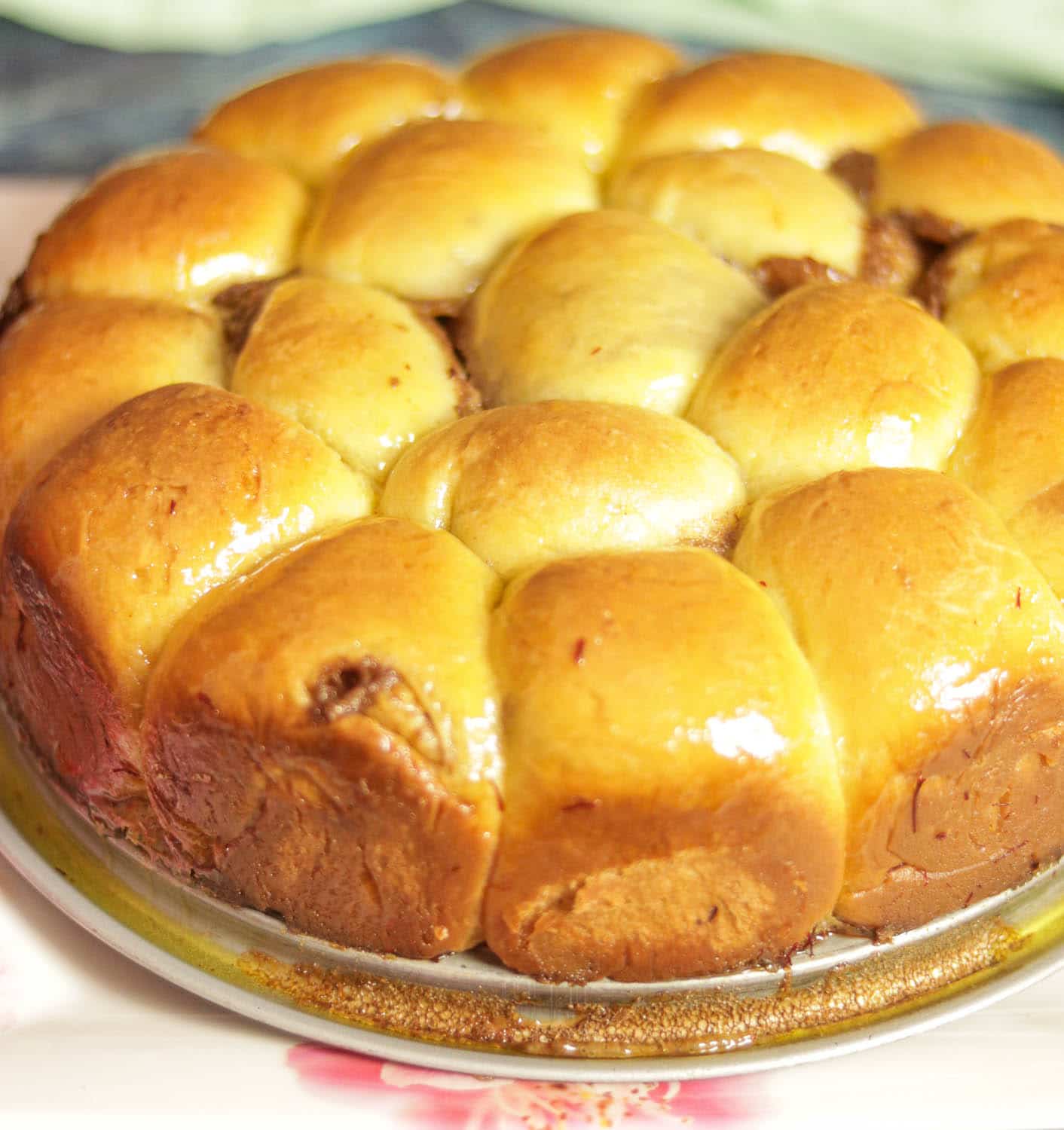 Ramadan Recipes
I am always a little bit confused when people ask me for traditional Ramadan dishes or iftar ideas for Ramadan because this is very different things in different countries. With 1.8 billion Muslims in the world in countries with varying cultures and cuisines, there really is not one set of foods that people eat for Ramadan.
I don't have to look much further than my own family. Suriname has a large Indonesian Muslim population and some of my cousins are part of this community.
I remember one year celebrating Eid with this part of my family, after the month of Ramadan fasting. My aunt made things like Pindakaas Soep (Peanut Butter Soup), Bakabana (Plantain Fritters) and Bojo (Cassava Cake). I'm sure in Yemen and Saudi Arabia or Muslims in Nigeria and Sudan are eating very different foods to celebrate the end of Ramadan.
Suhoor, the morning meal before the sun rises is usually quite a simple meal. However, iftar, the meal to break the fast after the sun sets in the evenings during Ramadan, is usually a more substantial meal and that is when Khaliat Nahal might be served.
Recipe Variations
Cheese – Traditionally , labneh (labne), a Middle Eastern soft yogurt cheese would be used. As it's a bit easier to handle, most people now use cream cheese to stuff these beehive buns with. Since this is a sweet bread, the cheese creates a great balance in the flavor profile.
In modern times, the variety of stuffings used in Khaliat Nahal are various.
Although this bread is generally always stuffed with cheese as it is also sometimes called Arabic Cheese Bread, other both sweet or savory ingredients can also be added to the stuffing. Check out my savory Khaliat Nahal with Roasted Pepper Pesto here.
So are you ready to make the most delicious Beehive Bread?
Although it is traditionally made with a cream cheese filling, since nutella makes everything tastes better, what can beat a filling with nutella and marscapone, the velvety Italian cream cheese.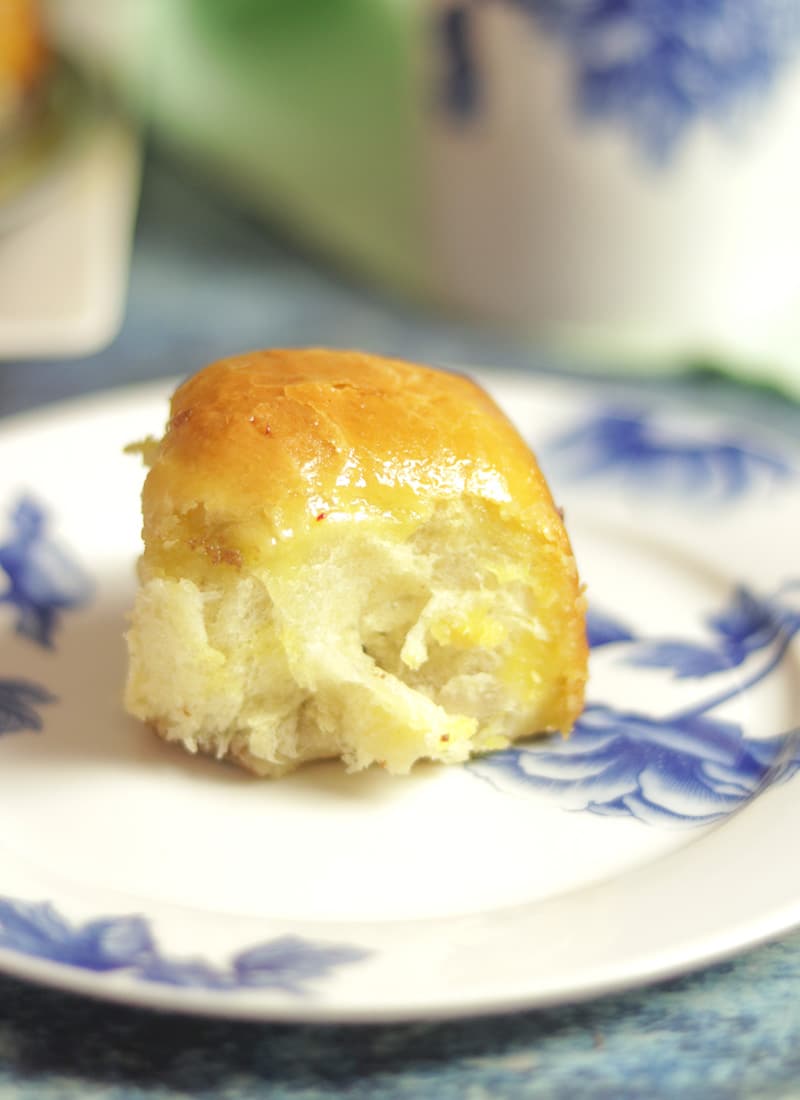 Now you can follow these step by step instructions to make this delicious honeycomb dessert bread.
How to make Honeycomb Bread
First, we make the dough.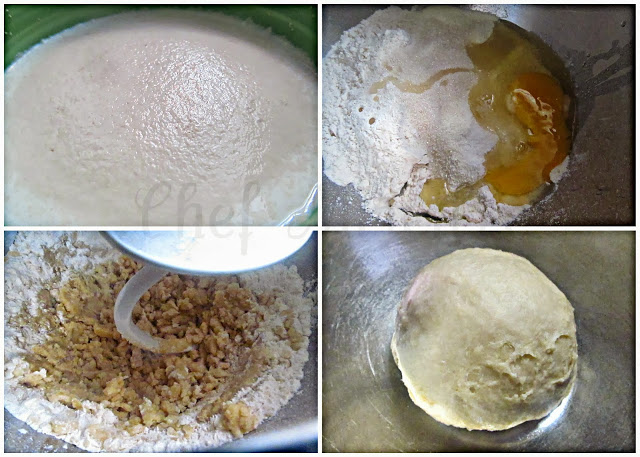 While the dough is rising for the first time, we make the filling by mixing together the Nutella and the marscapone.
Make the syrup by simmering the water, sugar, honey and saffron in a saucepan for 5 minutes. The syrup should be on the thinner side.
Now we divide the dough into 18 equal sized pieces and roll each into a bun.
Stuff each bun with the filling, being sure to make sure the buns are well sealed so that the stuffing does not seep out.
Now you let it rise again for another 30-40 minutes.
Bake your buns.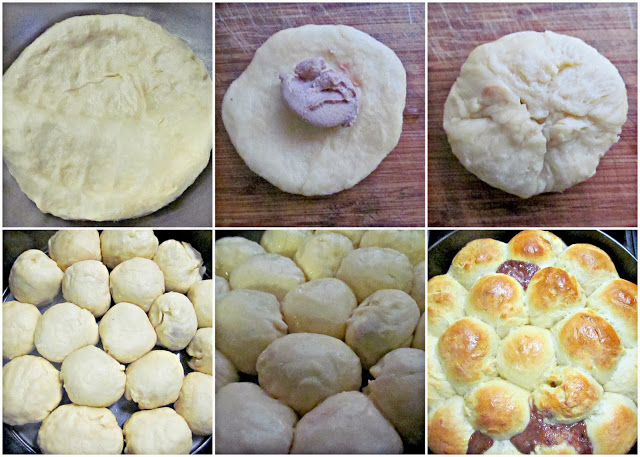 Pour syrup over the warm buns and wait for at least 15 minutes for the syrup to be absorbed.
You won't be able to resist this irresistible bread!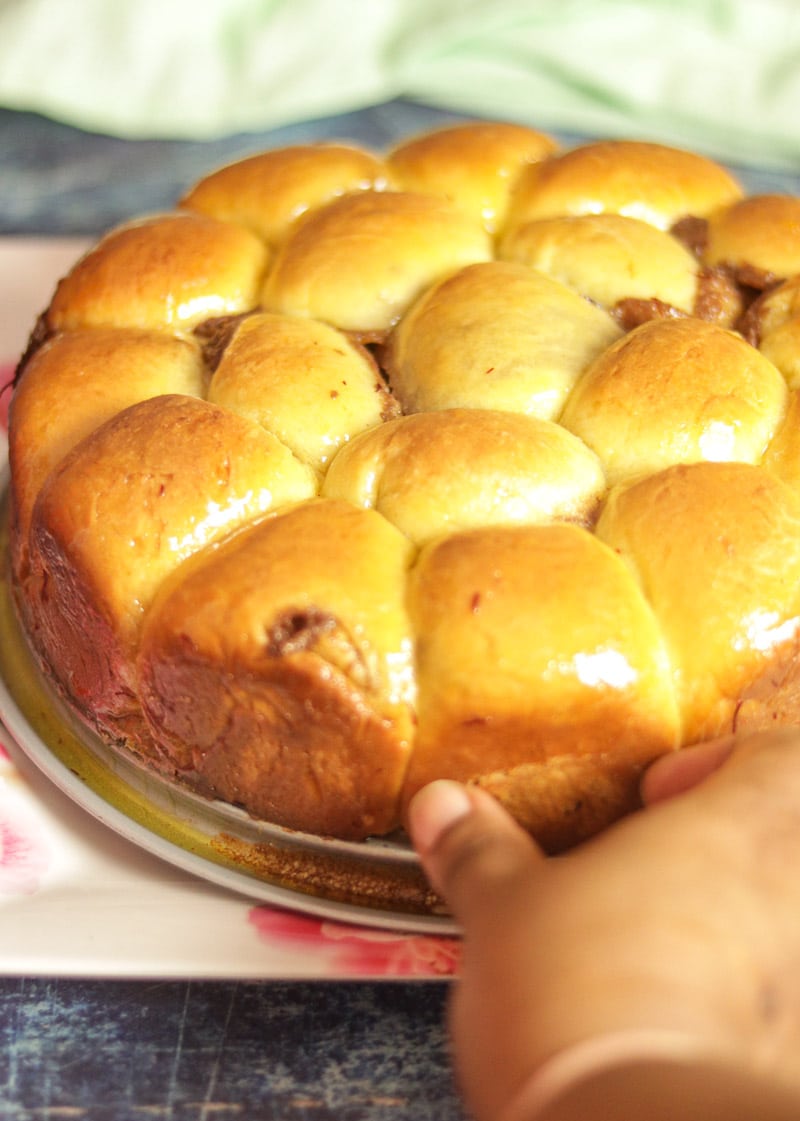 I didn't seal my buns as well as I should have, but is there ever anything really wrong with oozing nutella?
I don't know if the photos do it justice but these are so incredibly soft…perfect with a cup of tea as that late night snack when working late and the sugar craving comes on.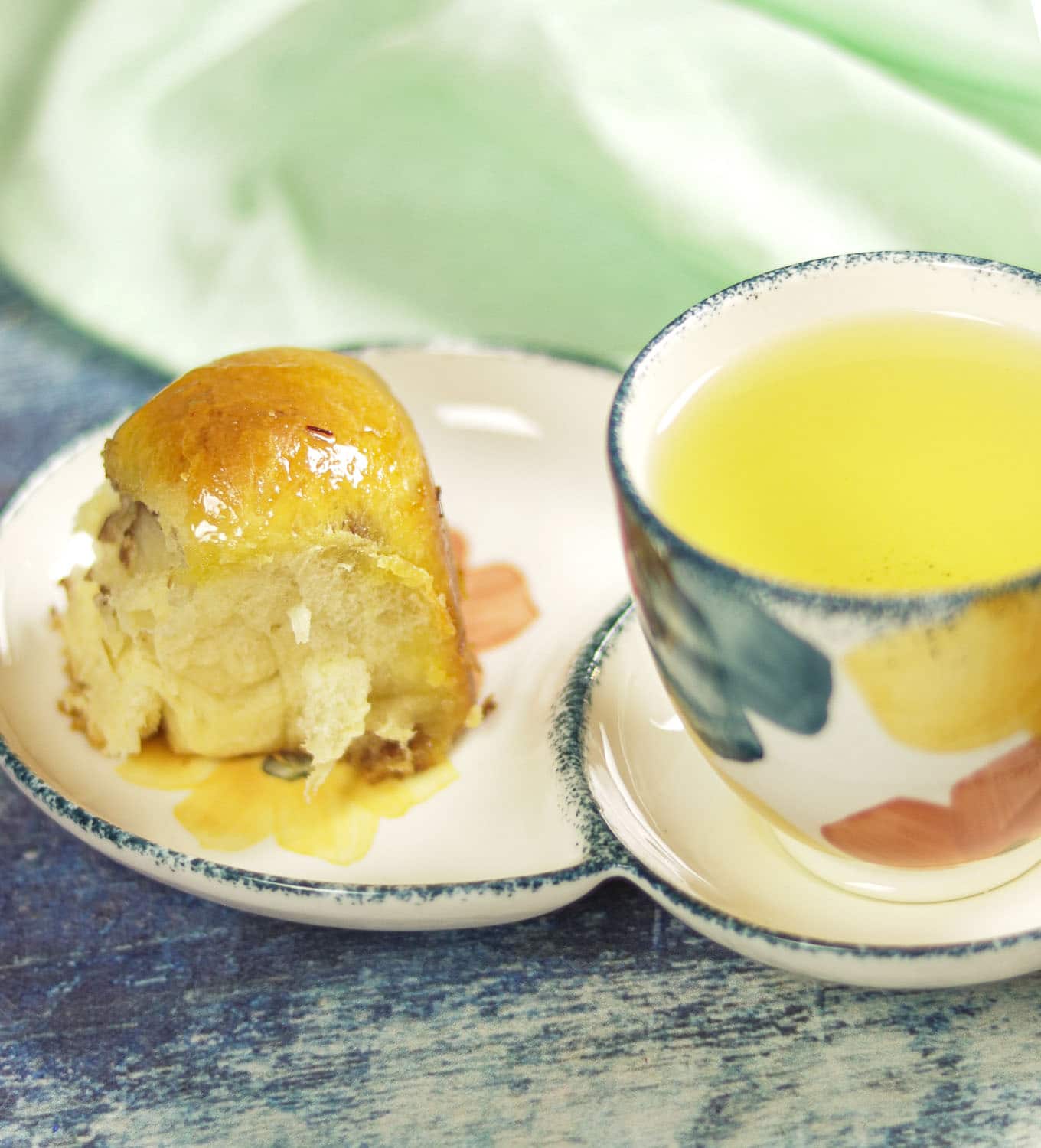 Gently laced with nutella, these breads are so soft and tender. I really can't even find the words to describe how indescribably delicious these are!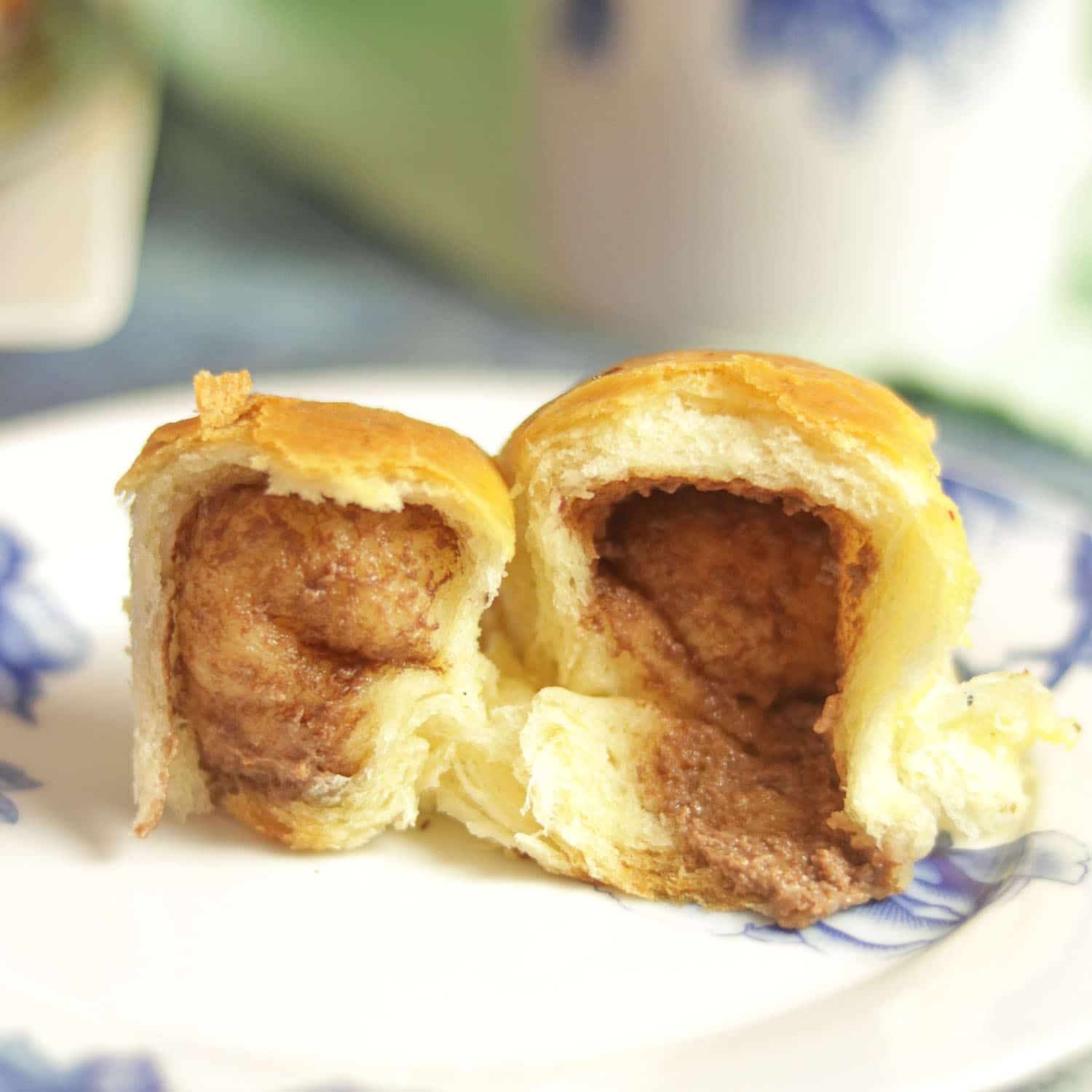 Khaliat Nahal – Ramadan Honeycomb Bread
Sweet Khaliat Nahal – Soft Arabic Cheese Buns made even better with Nutella and topped with a fragrant saffron syrup.
Ingredients
1

cup

lukewarm milk

1 1/2

teaspoons

dry active yeast

1

teaspoon

sugar

3 1/2 – 3 3/4

cups

bread flour

I used 3 1/2 cups plus 2 tablespoons

1/4

cup

dry milk powder

3

tablespoons

sugar

1/4

teaspoon

salt

1

egg

beaten

4

tablespoons

butter

melted

4

tablespoons

olive oil

egg wash

1 egg whisked with 1 tablespoon milk
Filling Ingredients:
8

oz.

marscapone cheese

3

tablespoons

nutella
Syrup Ingredients:
3/4

cup

sugar

1/2

cup

water

pinch

of saffron

1

tablespoon

honey
Instructions
Using the paddle attachment of an electric mixer, combine 2 cups of the flour with the milk powder, melted butter, olive oil, egg, sugar and salt. Mix well. (you can also do it by hand in a large bowl)

In a small bowl, combine milk with 1 teaspoon sugar and mix. Add yeast and give it a quick whisk. Let sit for 5-10 minutes, until foamy.

Add to flour and mix well. Knead for 5-10 minutes, adding more flour 1/2 cup a a time as necessary until you have a dough that is smooth and elastic.

Turn off motor and knead for another 2-3 minutes by hand.

Transfer to a lightly oiled bowl. Cover with plastic wrap and kitchen towel.

Let rise for 1 hour, until doubled in size.

While the dough is rising, let's make the filling and the syrup.

Meanwhile, make filling by whisking marscapone and nutella together.

To make the syrup, combine sugar, water and saffron in a saucepan. Bring to a boil. Reduce to a simmer and cook until it thickens a little, about 5 minutes.

Turn off the heat and stir in the honey. Let cool.

Spray a 10-inch springform cake pan with non stick spray.

Punch out air bubbles and divide dough in half. Roll out one half into an oval about 9″ long x 2″ wide. Divide into 9 1″ inch pieces.

Roll out 1 piece until about 2-3″ in diameter. Place about 1 teaspoon of the filling inside and form into a tight ball, being sure to seal the edges well.

Place in the prepared pan, seam side down.

Repeat with the remaining dough.

Cover and let rise for 30-40 minutes, until doubled in size again.

Brush with egg wash.

Preheat oven to 350 F.

Bake for 25 minutes, until golden brown.

Let cool for 5 minutes.

Pour syrup over buns and let sit for about 10-15 minutes until the buns have absorbed the syrup.
Notes
It is important to seal the buns very well so that the filling does not ooze out.
Nutrition
Calories:
371
kcal
|
Carbohydrates:
52
g
|
Protein:
9
g
|
Fat:
14
g
|
Saturated Fat:
7
g
|
Trans Fat:
1
g
|
Cholesterol:
30
mg
|
Sodium:
84
mg
|
Potassium:
127
mg
|
Fiber:
2
g
|
Sugar:
15
g
|
Vitamin A:
329
IU
|
Vitamin C:
1
mg
|
Calcium:
69
mg
|
Iron:
1
mg
Did you try this recipe? Leave a comment below.
Please follow me on Instagram @chefmireille or tag me #chefmireille with your pics! I'd love to share them!
Don't forget to visit the RECIPE INDEX with over 1000 recipes from around the world including lots of Vegetarian Recipes and Gluten Free Recipes!