Last Updated on May 19, 2020 by Chef Mireille
Bojo – Suriname Style Gluten Free Cassava Cake is a common root vegetable cake throughout the Caribbean, where it is more commonly known as pone.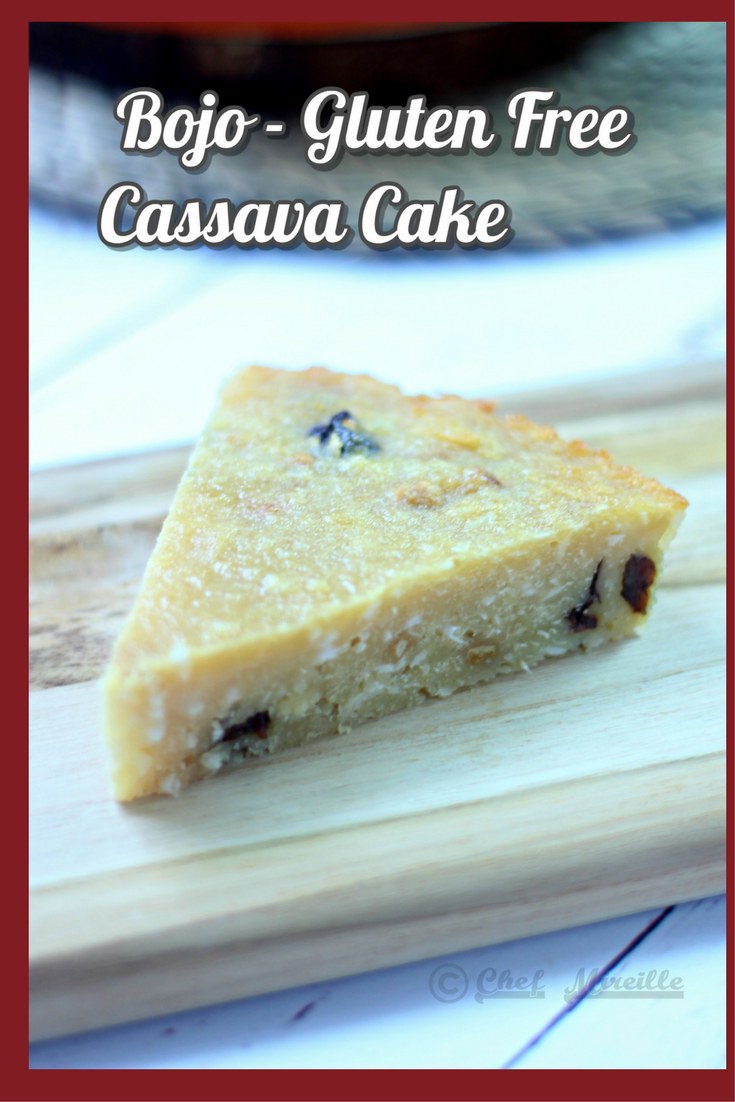 To finish out this week of Caribbean recipes, I am taking you to the South American country of Suriname. Even though my name is The Schizo Chef, no I am not really schizophrenic and I know the difference between the Caribbean and South America. However Suriname and it's neighbors, Guyana and French Guyana, are unique. Although all three countries are located on the northeastern coast of South America, they are culturally and economically linked with the Caribbean. Both Guyana and Suriname are part of Caricom, an organization that helps develop economic integration and trade amongst its member countries and French Guyana is still a property of France and does more business with its French counterparts in the Caribbean – Martinique and Guadeloupe and the French side of St. Martin. In fact, I have had conversations with many South Americans who don't realize there are non Spanish/Portuguese speaking countries in South America. They think South America just consists of Portuguese speaking Brazil and the other Spanish speaking countries of South America.

I am not a historian, however, I think the language may be the reason these three countries have ties to the Caribbean. Without a common language with the rest of South America, I think trade and economic negotiations would be difficult. So I am presenting today's Suriname recipe as part of my Caribbean Cuisine theme.
So how do I know so much about this little speck of a country located in coastal South America. Well my grandfather is from Suriname and I still have many aunts, uncles, cousins and extended relatives there. In fact if I wanted to pick up and move there tomorrow I could. My family has a mango plantation with over 30 varieties of mango that was stipulated by my great grandmother that it could never be sold outside of the family and anyone who wants to build a house on the land, can. When I can't take anymore of the right wing politics and biased nationalism that has overtaken America right now, maybe I'll go 🙂
This traditionally flourless gluten free cake is made throughout the Caribbean with different root vegetables. Although cassava/yuca is the most common, it can also be made with pumpkin, yam or the purple skinned sweet potato popular in the Caribbean, also called batata. Most of the English speaking Caribbean calls it pone. In the English speaking Caribbean versions, pone usually is heavily spiced with cinnamon, nutmeg, clove, ginger and a pinch of black pepper. Although I tried pone before on the blog, I wasn't 100% satisfied with the result. This recipe I got from my cousin Sharline who is closer linked to the Suriname side of the family, only 1 generation removed and it worked perfectly. Now I am going to have to update the pone recipe now that I got the texture right!
If you would like to see me live in action preparing both this recipe and the Haitian version which is made with the batata called Pain Patate, you can check me out on Food Stories, a Google+ HOA I sometimes appear on.
Bojo
I actually made this twice, once with the optional dried fruit and once without the rum soaked fruit. The rum soaked fruit definitely elevates this cake to the next level. If you prefer not to use alcohol, you can also soak it in orange juice or mango juice.
Despite the fact that it's flourless, it's quite a dense cake and makes a filling snack with a cup of tea. It has the consistency similar to a steamed pudding.
Whether you prefer it with fruit or without, this is a must try cake – gluten free or not!
Print Recipe
Bojo – Suriname Style Gluten Free Cassava Cake
Ingredients
¼

cup

raisins

¼

cup

candied citron/ tutti frutti

optional

1

cup

rum

optional

2 ½

cups

frozen cassava

defrosted

1

cup

frozen grated coconut

defrosted

4

eggs

½

cup

coconut milk

4

tablespoons

melted butter

1 ½

cups

sugar

I use Demarara raw brown sugar

2

teaspoons

vanilla extract

1

teaspoon

almond extract

6

teaspoons

butter

for placing on top
Instructions
Preheat oven to 350 F.

Soak raisins and citron in rum for at least 2 hours. Drain.

In a large bowl, combine cassava and coconut and mix until thoroughly combined.

In a medium bowl, beat eggs and sugar until light and fluffy.

Add coconut milk, melted butter, vanilla and almond extract. Mix until thoroughly incorporated.

Add coconut milk mixture to cassava and mix until thoroughly incorporated.

Spray a casserole dish with non stick spray.

Transfer to a baking dish. Add the remaining butter, in small pats on top.

Bake for 1 hour.
Do you know anyone else who likes learning about international food, culture, history and travel? Bring them over here to join the party! Don't forget to use those share buttons!
Start Here to find out how the Schizo Chef can help you with your cooking, travel and other needs!
If you like this recipe, PLEASE LEAVE A COMMENT & SUBSCRIBE!
Check out the Blogging Marathon page for the other Blogging Marathoners doing this BM#78
Sign up for our updates!
Subscribe to get our latest content by email and get your FREE Pantry Cheat Sheet - Learn the basics to cook any International cuisine!