Last Updated on May 19, 2020 by Chef Mireille
Bojo – Suriname Style Gluten Free Cassava Cake is a common root vegetable cake throughout the Caribbean, where it is more commonly known as pone. This grain free dessert is perfect for dessert or even for a sweet breakfast.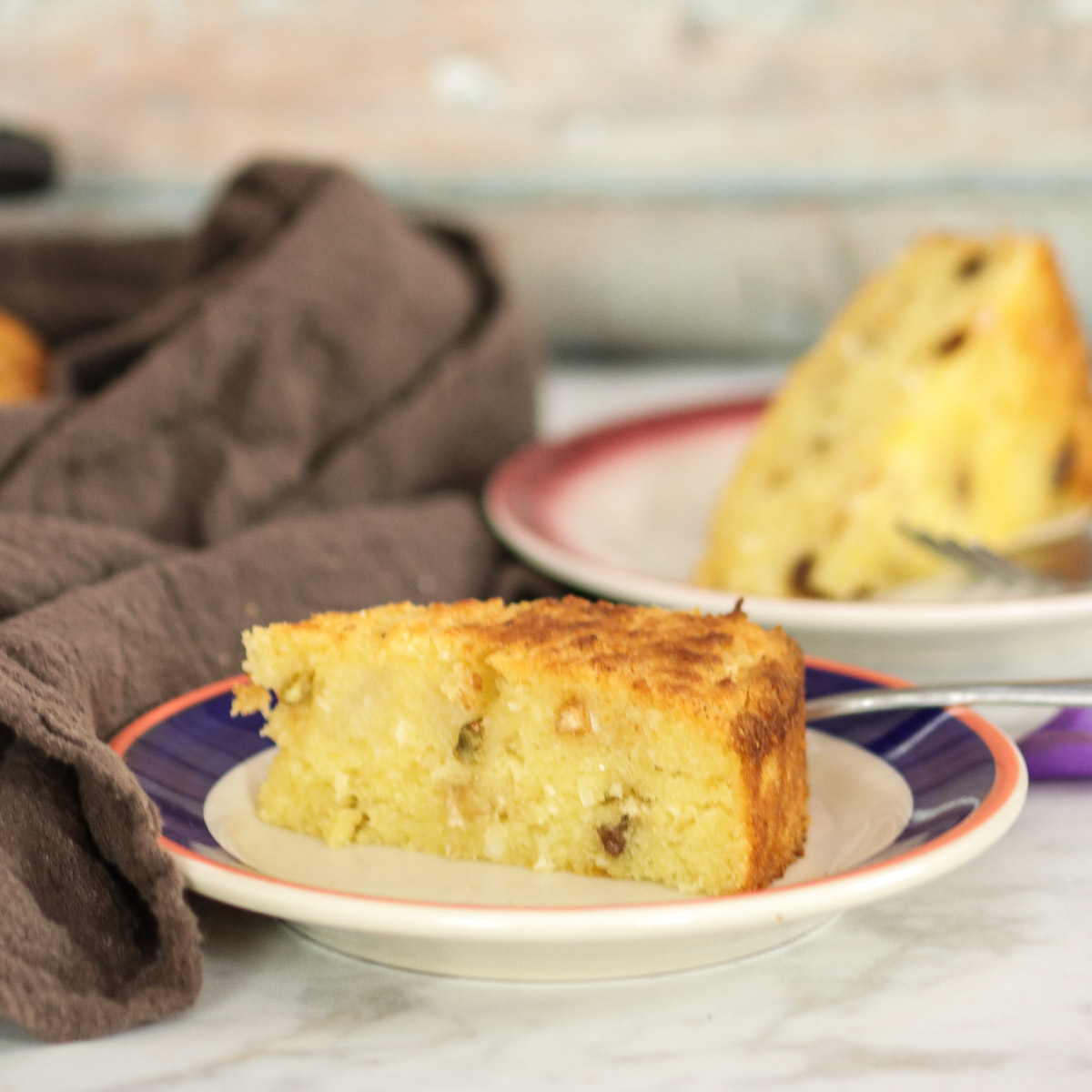 DISCLAIMER: This website includes affiliate links. You don't pay a penny more, but I earn a small commission to keep this site going with delicious content!
Have you ever heard of the country of Suriname. Don't feel bad if you haven't. You join a large majority.
All About Suriname
Suriname, the smallest and least populated independent country in South America is where my grandfather and much of my extended family is from.
This small South American nation of 550K people is geographically located in South America, but culturally and economically linked to the Caribbean. For that reason, many of our recipes are similar to ones you will find in the Caribbean.
In fact, I have had conversations with many South Americans who don't realize there are non Spanish/Portuguese speaking countries in South America. They think South America just consists of Portuguese speaking Brazil and the other Spanish speaking countries of South America.
Before independence, Suriname used to be known as Dutch Guyana. Along with it's neighbors, Guyana and French Guyana, these three countries located on the northeastern coast of South America are part of Caricom, an organization that helps develop economic integration and trade amongst its member countries and French Guyana is still a property of France and does more business with its French counterparts in the Caribbean – Martinique and Guadeloupe and the French side of St. Martin.
I am not a historian, however, I think the language may be the reason these three countries have ties to the Caribbean. Without a common language with the rest of South America, I think trade and economic negotiations would be difficult. So I am presenting today's Suriname recipe as part of my Caribbean Cuisine theme.
I have strong ties to the only Dutch speaking country in South America
My family has a mango plantation with over 30 varieties of mango that was stipulated by my great grandmother that it could never be sold outside of the family and anyone who wants to build a house on the land, can. When I can't take anymore of the right wing politics and biased nationalism that has overtaken America right now, maybe I'll go 🙂
A collection of resources to reinforce multi subject learning with global recipes. For all of your kids who love to cook, reinforce geography, history, math and cross cultural learning!
Gluten Free Cassava Cake
Many parts of the world has a version of this cake. Cassava is a naturally glutinous vegetable, which makes it a great option for cake and other desserts. Pretty much any part of the world where cassava is common has a version of Gluten Free Cassava Cake. You can also check out the other version I have made like this Honduran Cassava Cake.
This traditionally flourless gluten free cake is made throughout the Caribbean with different root vegetables. Although cassava/yuca is the most common, it can also be made with pumpkin, yam or the purple skinned sweet potato popular in the Caribbean, also called batata. Most of the English speaking Caribbean calls it pone.
In the English speaking Caribbean versions, pone usually is heavily spiced with cinnamon, nutmeg, clove, ginger and a pinch of black pepper.
This Suriname version is more closely related to the Indonesian version of Bojo, since we have a large Indonesian population in Suriname. This recipe I got from my cousin Sharline who is closer linked to the Suriname side of the family, only 1 generation removed and it worked perfectly.
If you would like to see me live in action preparing this recipe, you can check me out on Food Stories, a Google+ HOA I used to appear on.
Bojo
Different Methods
Despite the fact that it's flourless, it's quite a dense cake and makes a filling snack with a cup of tea. It has the consistency similar to a steamed pudding.
I have made it by just combining the cassava and coconut with the rest of the ingredients. As you can see from the photo below, this version while still delicious is less moist.
However, I wanted to increase the moistness so this time I decided to use a slightly different methodology than I have used in the past.
So let's see how I put together this extra moist version of Gluten Free Cassava Cake.
But before I show you, let's first go over the ingredients you will need.
Ingredients
rum or orange juice
frozen cassava
frozen grated coconut
eggs
butter
Have you tried instacart yet? It's how I get all of my fresh grocery items delivered within 2 hours!
Recipe FAQ & Notes
What if I don't use alcohol?
Soak the fruit in orange juice or mango juice instead.
Can I use fresh cassava and coconut?
Yes. If using fresh cassava/yuca/manioc, grate the cassava using the finest side of a box grater. Make sure to carefully remove the center core or the cake will have a bitter taste.
Do I have to use the dried fruit?
No. You can also make it plain and omit the dried fruit. It is just as delicious1
How do I store leftover Bojo?
Bojo must be stored in the refrigerator. Wrap any leftovers in aluminum foil or put in a tupperware container and store in the refrigerator for up to 7 days.
If you do not anticipate eating it within 7 days, keep leftovers in the freezer.
How do I serve Bojo?
Bojo is best when warm or at room temperature. It can be reheated in the microwave for about 30 seconds if it is taken straight from the refrigerator.
It is often served with good Dutch cheese like Edam or Aged Gouda for breakfast.
How to make Bojo
Prep
First you have to soak the dried fruit in rum (or orange juice). Soak it for at least 2 hours until the fruit is juicy and drunk. You can also do this overnight if you prefer.
Also, defrost the cassava and the coconut.
Now we are ready to make our cake.
In a food processor, grind the cassava, coconut and coconut milk until you have a thick finely ground cassava paste.
Now we beat the eggs and sugar until light and fluffy.
Add the melted butter, vanilla extract and almond essence.
Mix until thoroughly combined.
Now we add the cassava and the fruit.
Fold in with a rubber spatula and mix until thoroughly combined.
Grate a little nutmeg on top if you like, but this is optional.
Top with a few pats of butter.
Bake for 45-50 minutes, until golden brown.
Leave to cool and serve at room temperature.
This delicious cake is not too sweet and just perfect for tea time.
I think you will prefer this moister version of Bojo.
Bojo – Suriname Style Gluten Free Cassava Cake
Ingredients
¼

cup

raisins

¼

cup

tutti frutti

optional

1

cup

rum

optional

2 ½

cups

frozen cassava

defrosted

1

cup

frozen grated coconut

defrosted

4

eggs

½

cup

coconut milk

4

tablespoons

melted butter

1 ½

cups

sugar

I use Demarara raw brown sugar

2

teaspoons

vanilla extract

1

teaspoon

almond extract

pinch

freshly grated nutmeg

optional

1

tablespoon

butter

for placing on top
Instructions
Preheat oven to 350 F.

Soak raisins and turri frutti in rum for at least 2 hours. Drain.

Using a food processor, grind the cassava and coconut with the coconut milk until you have a thick cassava paste. This will take a good 5 minutes.

In a large bowl, beat eggs and sugar until light and fluffy.

Add melted butter, vanilla and almond extract. Mix until thoroughly incorporated.

Add cassava and dried fruit. Mix until thoroughly incorporated.

Spray a cake pan with non stick spray.

Transfer to the cake pan.

Add the nutmeg on top, if using.

Add the remaining butter, in small pats on top.

Bake for 45-50 minutes, until a tester inserted comes out clean.
Notes
If you prefer not to use rum, you can soak the fruit in orange juice or mango juice.
You can also make with fresh cassava/yuca. Grate the yuca at the finest side of a box grater and be careful to remove the core well. Otherwise, the cake will end up having a bitter taste.
Nutrition
Calories:
340
kcal
|
Carbohydrates:
46
g
|
Protein:
3
g
|
Fat:
12
g
|
Saturated Fat:
8
g
|
Cholesterol:
70
mg
|
Sodium:
82
mg
|
Potassium:
212
mg
|
Fiber:
2
g
|
Sugar:
27
g
|
Vitamin A:
264
IU
|
Vitamin C:
9
mg
|
Calcium:
21
mg
|
Iron:
1
mg
Did you try this recipe? Leave a comment below.
Please follow me on Instagram @chefmireille or tag me #chefmireille with your pics! I'd love to share them!
You might also like
ARE YOU EXCITED TO TRY THIS RECIPE? PLEASE HELP ME CONTINUE TO PROVIDE YOU WITH DELICIOUS RECIPES BY SHARING IT AND SHOPPING FOR YOUR FAVORITE PRODUCTS WITH INCLUDED AFFILIATE LINKS!
PIN IT FOR LATER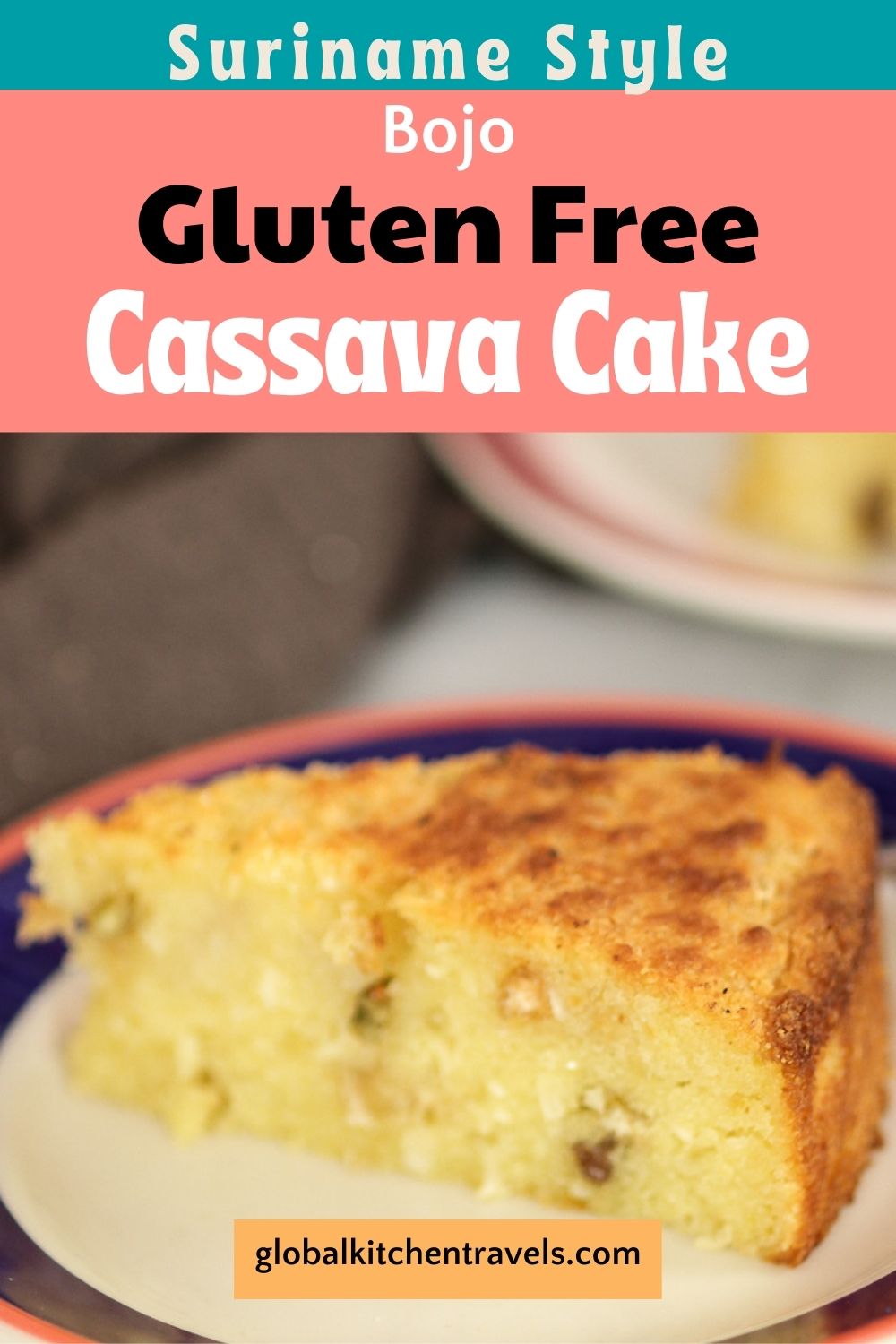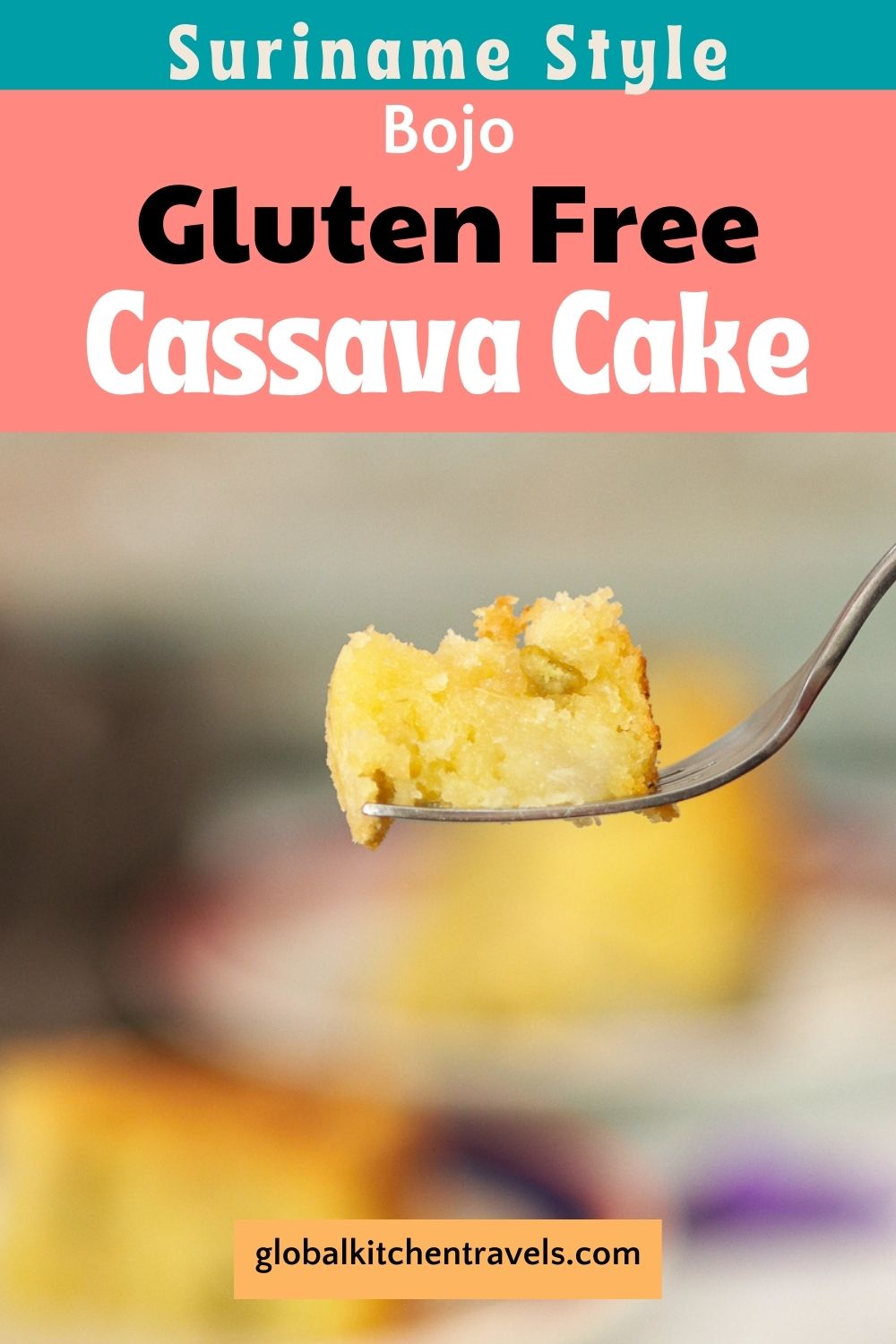 NEED MORE INSPIRATION? CHECK OUT MY RECIPE INDEX WITH OVER 1000 INTERNATIONAL RECIPES FROM AROUND THE WORLD