Last Updated on January 22, 2021 by Chef Mireille
Yuca Cake Hondurenta ~ Gluten Free Cassava Cake with lots of holiday spices and infused with coffee. Honduran Yuca Cake is more decadent and luxurious by being served with a nice pouring of sweetened condensed milk.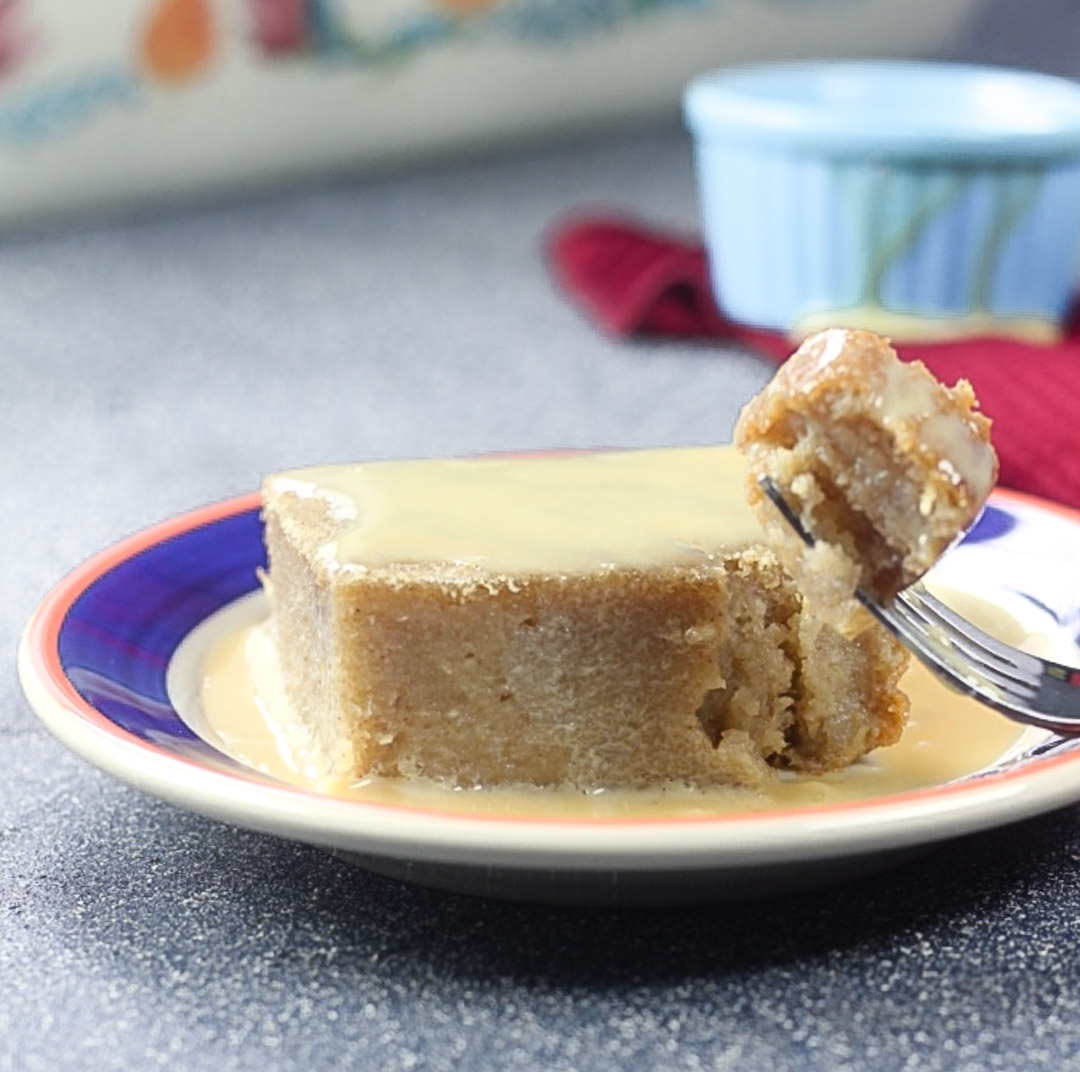 DISCLAIMER: This website includes affiliate links. You don't pay a penny more, but I earn a small commission to keep this site going with delicious content!
If you're gluten free, cassava should be your best friend. Known as yuca in the Spanish speaking Caribbean and Latin America, manioc in Brazil and cassava to the rest of the world, this vegetable has gelatinous qualities that make it the perfect vegetable/grain to use in baked goods.
How to use Cassava in a Gluten Free Diet
Boil or roast vegetable and consume as is.
Grate and pound into a paste (or purchase frozen grated cassava). In this form, it can be used in baked goods or form the base for fritters and other savory snacks.
Tapioca is made from cassava. Use tapioca pearls to make delicious puddings.
Tapioca starch or cassava flour can also be used in baked goods.
Tapioca starch can also be used as a thickening agent for soups and sauces, instead of flour.
Cassava meal or cassava flour is used widely in Brazil as a side dish, simply toasted as a rice alternative, where it is called manioc.
Here is a variety of both sweet and savory recipes that utilize this versatile tuber and its by products.
Gluten Free Cassava Recipes
If you are gluten free, another grain you should not forget about is cornmeal. Cornmeal is so versatile. There are many different forms and it can be utilized in a variety of both savory and sweet dishes. Discover more about this often under utilized grain.
If you would like to know more about the many varieties of gluten free cornmeal that there are and how to utilize them all in your kitchen, check out this post here to learn all about Cornmeal, Polenta, Grits & more.
This Gluten Free Honduran Yuca Cake is very similar to a cake we often eat for breakfast in the Caribbean called Cassava Pone (as in the Suriname style above). However, the luxurious sweetened condensed milk that it is served with in Honduras adds some luxury and decadence to it, making it a perfect holiday dessert!
Also the addition of coffee in our Gluten Free Cassava Cake for this coffee aficionado definitely appealed to my coffee loving palate.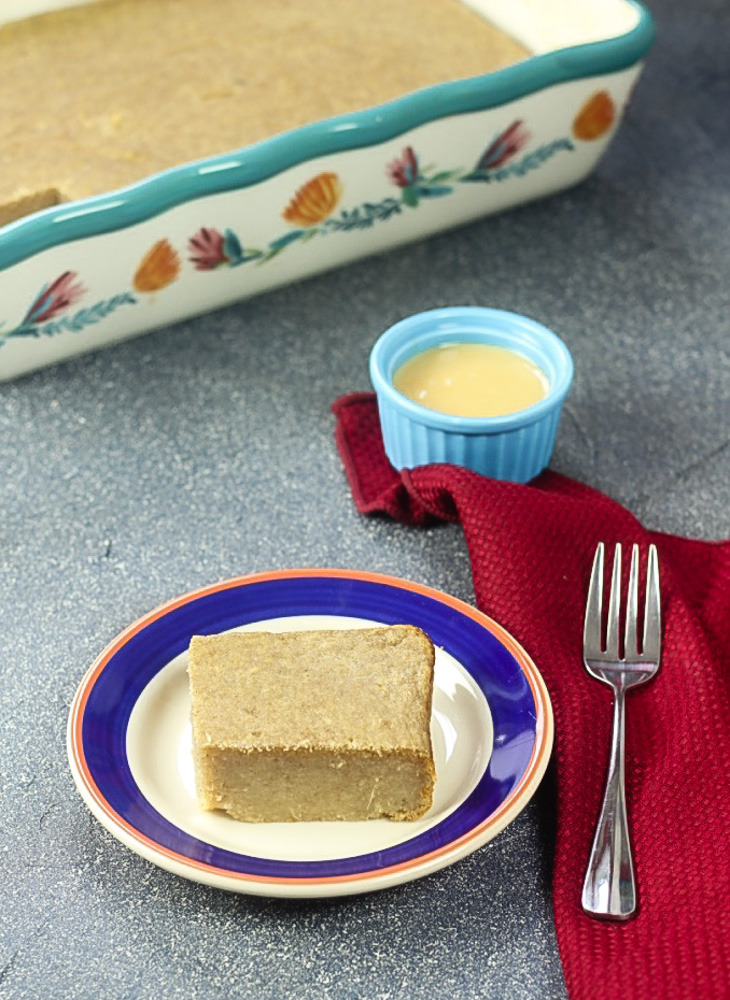 Nowadays, in any holiday party or potluck party, there is more than likely going to be at least one person who is gluten free. Keep this delicious Gluten Free Cassava Cake on hand for them!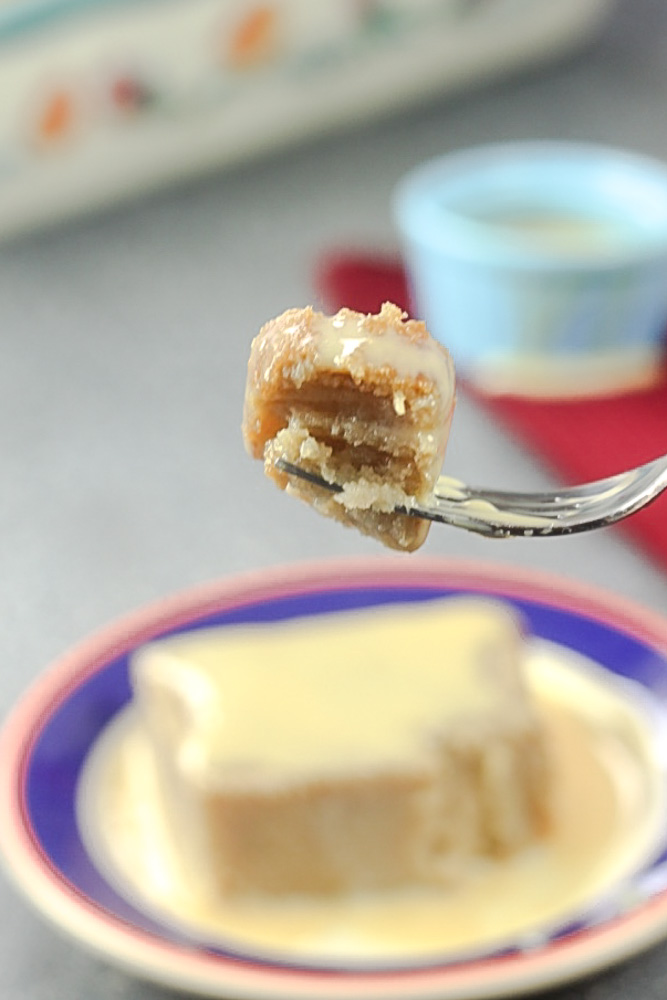 So what do you need to make this delicious gluten free cake?
Ingredients for Yuca Cake Hondurena
eggs
grated yuca/cassava – either fresh or defrosted from frozen
Have you tried instacart yet? It's how I get all of my fresh grocery items delivered within 2 hours!
How to Make Gluten Free Cassava Cake
Start to finish this classic Honduran Yuca Cake recipe only requires a little over an hour. It's an easy process that can be broken down into a few simple steps:
First, prep your cake pan and dissolve espresso powder in boiling water.
Then in a small bowl combine the spices and sugar, and in a separate large bowl beat the eggs. To the large bowl add coconut milk, evaporated milk, vanilla, and the cooled coffee. Stir well, and mix in the sugar and spice mixture. Next, stir in the defrosted yuca until thoroughly combined.
Transfer the batter to your prepared pan, and bake in an oven preheated to 350 degrees Fahrenheit for about one hour. Test the Cassava Cake with a knife for doneness after 50 minutes to make sure you don't over bake. When done the knife will come out clean, and the cake should have a light golden color.
Let the cake sit in the pan for a few minutes before tipping out and onto a cooling rack. Drizzle with a bit of sweetened condensed milk while still warm, and serve.
A sweet, tender slice of Yuca Cake Hondurena goes perfectly with a cup of coffee for a snack or dessert.
Homemade Cassava Cake Storage & Reheating Tips
Leftover cake needs to be stored in the refrigerator. Place in an airtight container or wrap with plastic wrap, and keep for up to one week.
Honduran Yuca Cake is best when reheated for 1 minute in the microwave.
Yuca Cake Hondurena – Gluten Free Honduran Cassava Cake
Yuca Cake is the perfect #glutenfree holiday treat!
Instructions
Preheat oven to 350 F. Grease a 9 x 13" baking dish with butter or non stick spray.

Dissolve espresso powder in ½ cup boiling water. Leave to cool.

In a small bowl, combine sugar with cinnamon, nutmeg, allspice, cloves and salt.

In a large bowl, beat eggs well.

Add coconut milk, evaporated milk, vanilla and coffee. Mix well until thoroughly combined.

Add sugar and spices. Mix well.

Add cassava and mix well until thoroughly incorporated.

Transfer to prepared baking dish.

Bake for 50-60 minutes until a knife inserted comes out clean.

To serve, top with a little of the sweetened condensed milk.
Notes
Freshly grated yuca/cassava or pre grated frozen cassava/yuca can be used in this recipe.
Leftover cake needs to be stored in the refrigerator. Place in an airtight container or wrap with plastic wrap, and keep for up to one week.
Honduran Yuca Cake is best when reheated for 1 minute in the microwave.
Nutrition
Calories:
120
kcal
|
Carbohydrates:
14
g
|
Protein:
2
g
|
Fat:
7
g
|
Saturated Fat:
5
g
|
Cholesterol:
39
mg
|
Sodium:
60
mg
|
Potassium:
98
mg
|
Fiber:
1
g
|
Sugar:
13
g
|
Vitamin A:
75
IU
|
Vitamin C:
1
mg
|
Calcium:
35
mg
|
Iron:
1
mg
Did you try this recipe? Leave a comment below.
Please follow me on Instagram @chefmireille or tag me #chefmireille with your pics! I'd love to share them!
You might also like…
ARE YOU EXCITED TO TRY THIS RECIPE? PLEASE HELP ME CONTINUE TO PROVIDE YOU WITH DELICIOUS RECIPES BY SHARING IT AND SHOPPING FOR YOUR FAVORITE PRODUCTS WITH INCLUDED AFFILIATE LINKS!
PIN IT FOR LATER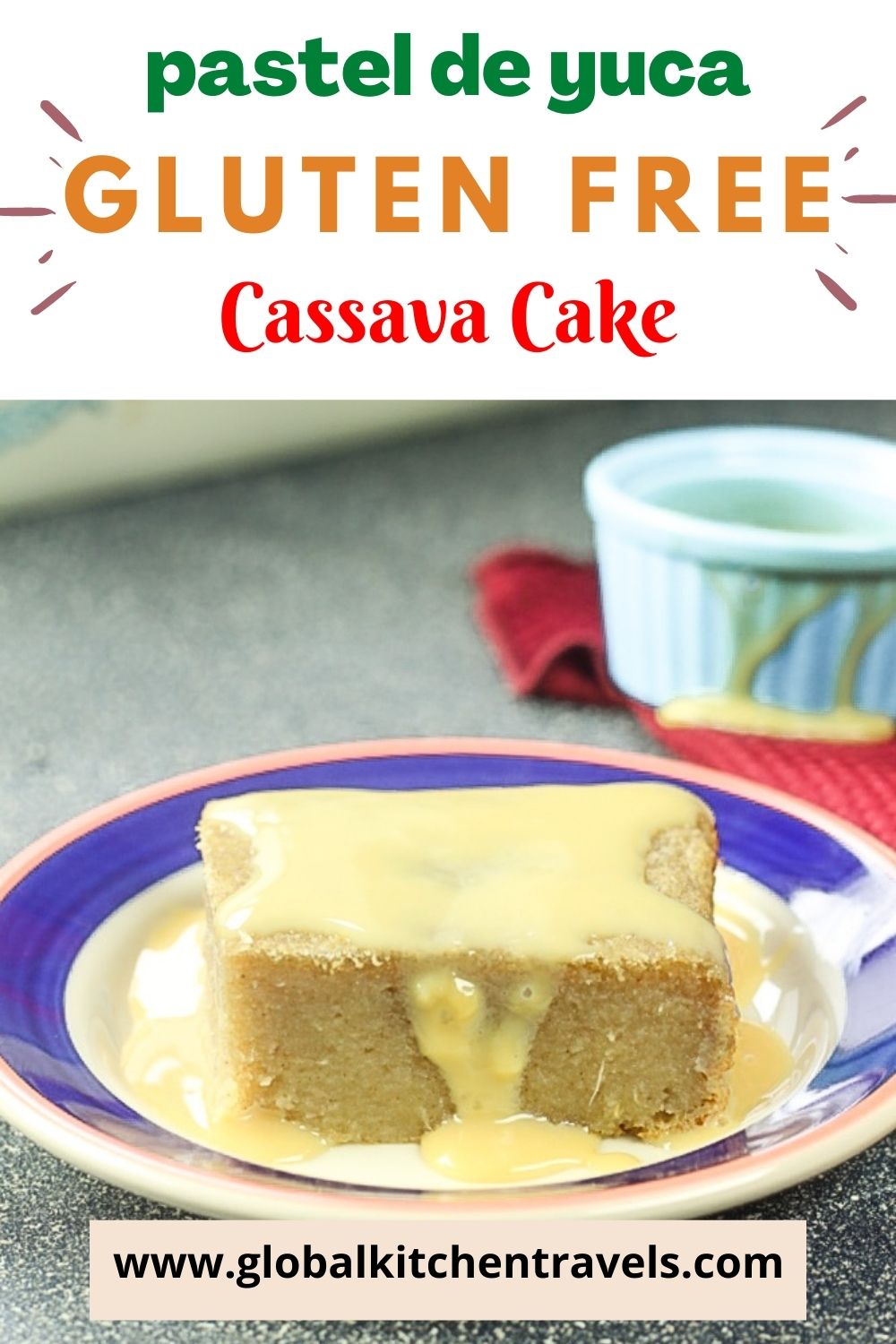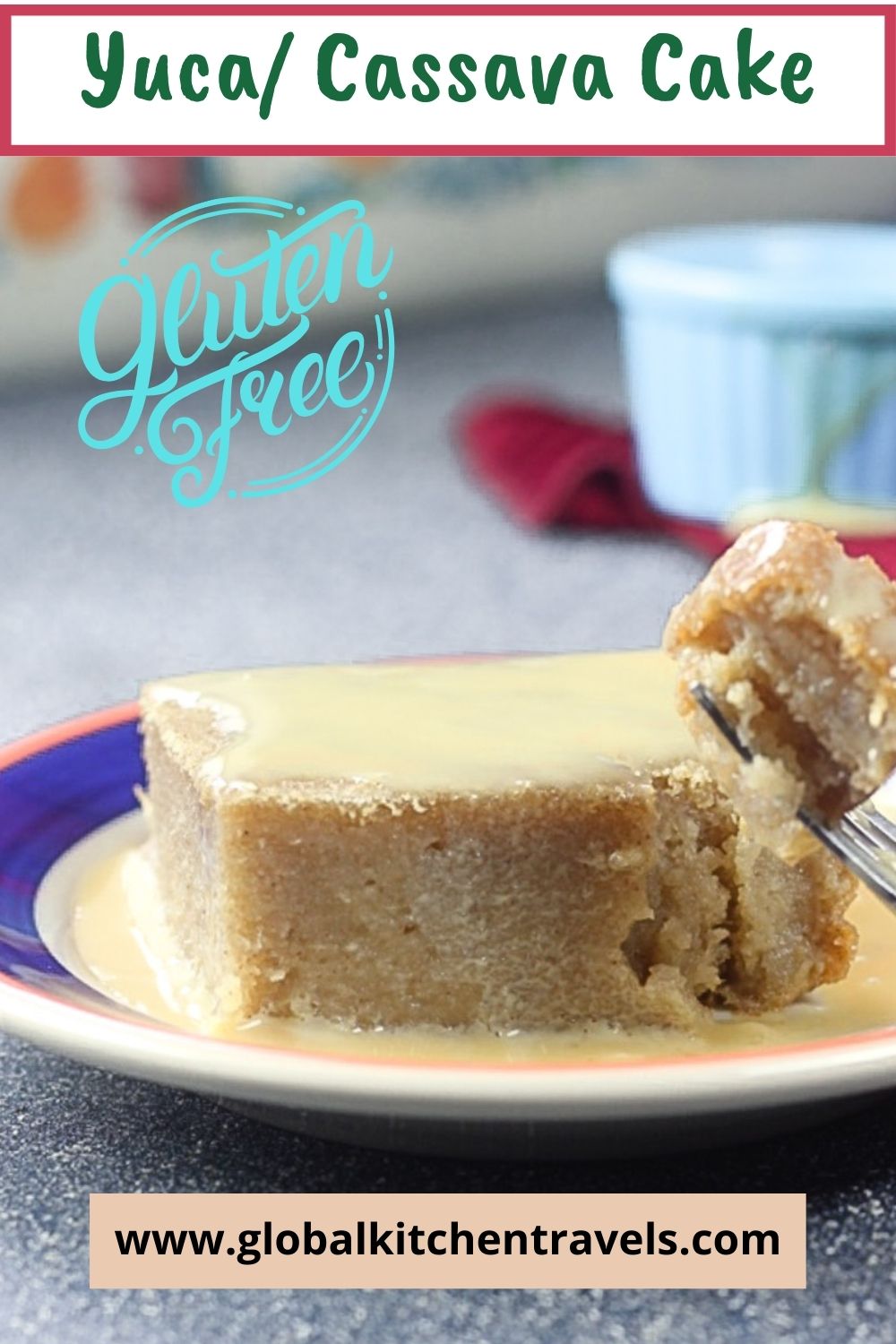 RECIPE INDEX
NEED MORE INSPIRATION? CHECK OUT MY RECIPE INDEX WITH OVER 1000 INTERNATIONAL RECIPES FROM AROUND THE WORLD