Last Updated on January 11, 2020 by Chef Mireille
Omani Date Flatbread is filled with buttery and flaky layers. A perfect accompaniment to any meal.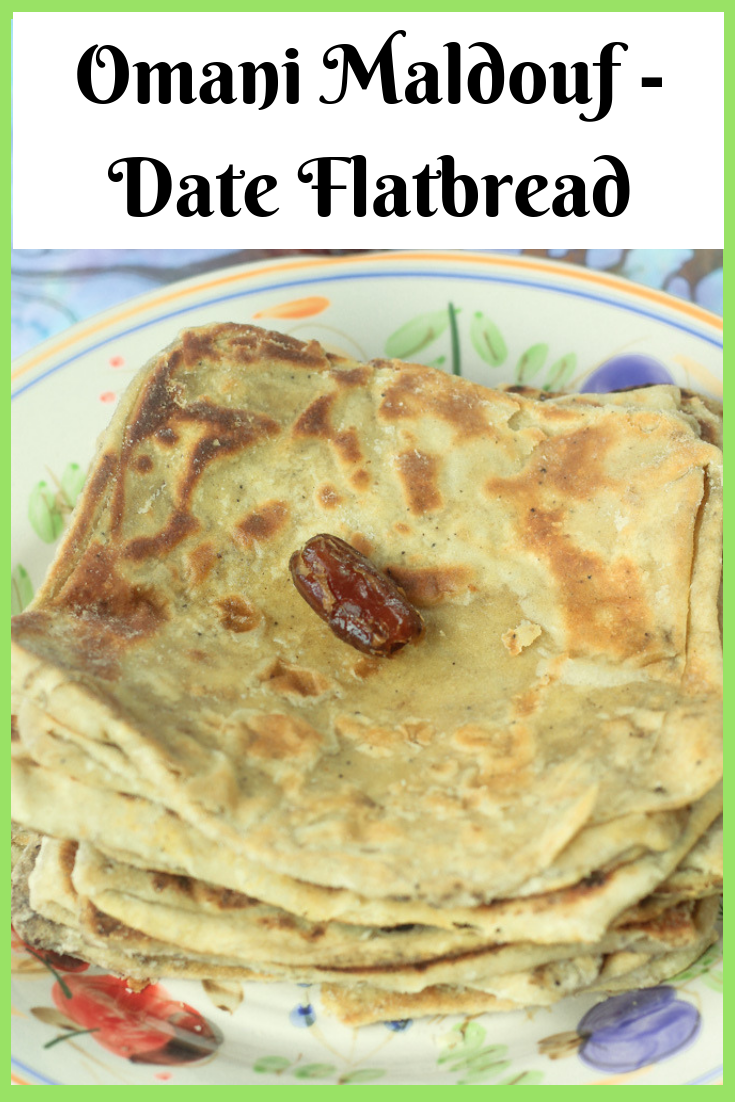 This post may include affiliate links.
Oman is a small Middle Eastern country that manages to stay out of the news, a fact of which I am very glad since I do have family in Oman. Yes I come from a very large extended family with my mom being one of 25 kids and my dad being one of 10 kids. For this reason, I have cousins in the hundreds. With that many people, I have family in just about every corner of the world, including this small Middle Eastern country. In fact, this isn't the first time I have explored Omani cuisine.
Don't forget to check out my recipe for Omani Okra Stew with Goat (although beef or lamb can be easily substituted). It pairs wonderfully with this Maldouf, which is usually eaten with Omani stews. However, I think it is just as delicious with some grilled halloumi and fresh tomatoes for breakfast. No matter how you choose to enjoy your Maldouf, you will fall in love with the soft and flaky layers.
So how are all these flaky layers achieved? Well the secret is to brush melted ghee in between the dough when you are rolling it out. I used the same technique when making Tanzania Chapatti.
Flatbreads are so versatile as they pair deliciously with savory stews or curries but are also great for breakfast with eggs, cheese and/or vegetables. Would you like to try some more flatbreads?
Flatbread Recipes
HOW TO MAKE MALDOUF – DATE FLATBREAD
Perfect with Omani Okra Stew with Goat
Omani Maldouf – Date Flatbread
This date infused flatbread is a perfect accompaniment to any savory meal.
Ingredients
Instructions
Place the dates in a bowl. Cover with 1 cup of boiling water. Leave for at least 2 hours to soften.

In a food processor, puree very well until you have a smooth consistency.

Pass through a sieve pressing the date puree through and wiping all excess date liquid on the back of the sieve.

Date puree will be a thick syrup consistency.

In a large bowl, combine flour and salt.

Add egg and ghee and mix until you have a shaggy dough.

Start to knead the dough, adding the date puree a little at a time, as needed.

Add 1-2 tablespoon of water if needed, to get a soft and pliable dough.

Knead about 5 minutes until you have a dough that is smooth.

Divide dough into 9 5.5 oz. equal sized pieces and roll into smooth balls.

Cover with a damp cloth and leave to rest for 1 hour.

On a lightly floured surface, roll out each ball to a circle about 10" in diameter.

Brush the top with ghee.

Fold over the top and then the bottom.

Brush with more ghee.

Fold in the sides to form a square.

Brush the top with ghee again. Sprinkle a little flour on top.

Gently roll dough into an 8" square.

Heat a skillet/roti iron/tawa. Brush a little ghee on the skillet.

When air bubbles form, flip over and cook another 1-2 minutes on the other side.

Repeat until all the dough has been cooked.
Notes
Scrape your work surface with a dough scraper in between rolling out each ball. Otherwise, the mixture of ghee and flour will turn into one sticky mess.
Nutrition
Calories:
175
kcal
|
Carbohydrates:
27
g
|
Protein:
4
g
|
Fat:
6
g
|
Saturated Fat:
3
g
|
Cholesterol:
31
mg
|
Sodium:
266
mg
|
Potassium:
90
mg
|
Fiber:
1
g
|
Sugar:
5
g
|
Vitamin A:
26
IU
|
Calcium:
10
mg
|
Iron:
1
mg
Did you try this recipe? Leave a comment below.
Please follow me on Instagram @chefmireille or tag me #chefmireille with your pics! I'd love to share them!
Don't forget to visit the RECIPE INDEX with over 1000 recipes from around the world including lots of Vegetarian Recipes and Gluten Free Recipes!