Last Updated on June 3, 2015 by Chef Mireille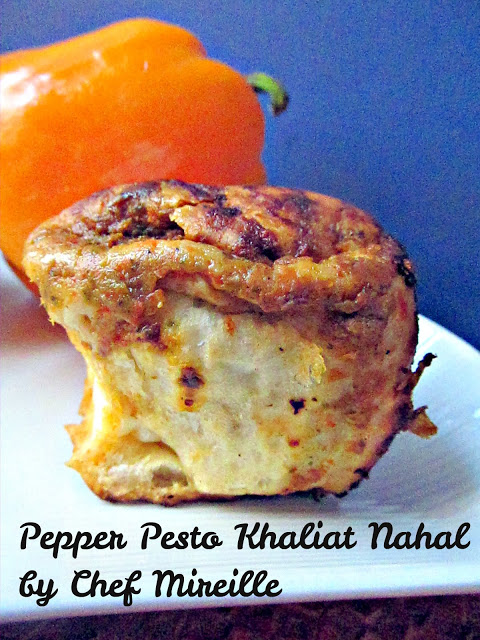 Blogging Marathon #34
Theme: Cooking with Capsicum
September's We Knead To Bake bread was Khaliat Nahal. Of all the breads done so far, this one was my favorite. Here I had filled these wonderfully soft rolls with nutella and marscapone. This time, I filled these traditional Middle Eastern rolls with a savory filling, perfect to accompany soups or salads.
Pepper (Capsicum) Pesto Khaliat Nahal
Yield: 18 rolls
Ingredients:
1 cup lukewarm milk
1 1/2 teaspoons dry active yeast
1 teaspoon sugar
3 1/2 – 3 3/4 cups bread flour (I used 3 1/2 cups plus 2 tablespoons)
1/4 cup dry milk powder
1/2 teaspoon salt
1 egg, beaten
4 tablespoons butter, melted
4 tablespoons olive oil
Filling Ingredients:
1 tablespoon oil
1 yellow or red bell pepper
1 onion, chopped
1 carrot, grated
1 ear of corn, kernels removed
2 tablespoons sliced almonds
4 tablespoons Pecorino Romano cheese, grated
1 tablespoon lemon juice
Using the paddle attachment of an electric mixer, combine 2 cups of the flour with the milk powder, melted butter, olive oil, egg and salt. Mix well. (you can also do it by hand in a large bowl)
In a small bowl, combine milk with 1 teaspoon sugar and mix. Add yeast and give it a quick whisk. Let sit for 5-10 minutes, until foamy.
Add to flour and mix well. Knead for 5-10 minutes, adding more flour 1/2 cup a a time as necessary until you have a dough that is smooth and elastic.
Turn off motor and knead for another 2-3 minutes by hand.
Transfer to a lightly oiled bowl. Cover with plastic wrap and kitchen towel.

Leave to rise until doubled in size, about 1 hour.
While the dough is rising, make the filling.
In a skillet, heat oil. Add onion and bell pepper. After 2 minutes, add saffron. Saute for another 2 minutes, until vegetables are softened.
Add carrots, salt and corn. Saute for another 5 minutes.
Add almonds and cilantro and cook for 2 more minutes. Transfer to a bowl. Add cheese and lemon juice. Stir to combine.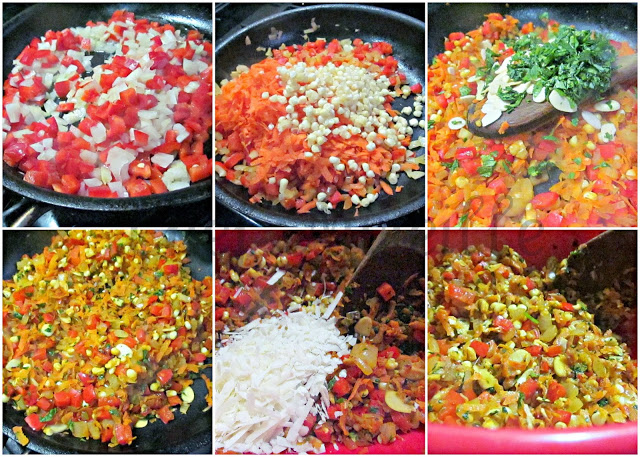 Spray a 10-inch springform cake pan with non stick spray.
Punch out air bubbles and divide dough in half. Roll out one half into an oval about 9″ long x 2″ wide. Divide into 9 1″ inch pieces.
Roll out 1 piece until about 2-3″ in diameter. Place about 1 teaspoon of the filling inside and form into a tight ball, being sure to seal the edges well.
Place in the prepared pan, seam side down.
Repeat with the remaining dough.
Cover and let rise for 30-40 minutes, until doubled in size again.
Brush with olive oil. Pour pesto on top.
Preheat oven to 350 F.
Bake for 35 minutes, until golden brown.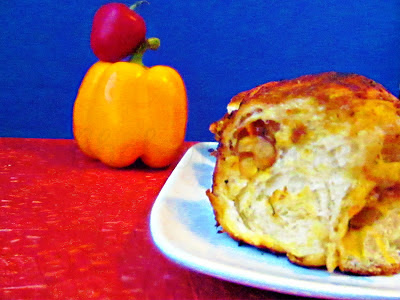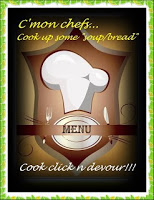 Now after all the recipes done this week, you've utilized all of your pesto and will just have to make some more 🙂
Check out the Blogging Marathon page for the other Blogging Marathoners doing BM#34
…linking to Soup or Bread
LIKE THIS RECIPE? LEAVE A COMMENT..I LIVE FOR THEM!
Chef Mireille