Last Updated on June 3, 2015 by Chef Mireille
Blogging Marathon #34
Theme: Cooking with Capsicum
Now you've made yesterday's delicious Bell Pepper Pesto. But what to do with it?
I suppose I've taken a short cut by using yesterday's pesto to round out my bell pepper recipes this week. Here's one way to use the pesto. You can also add some sliced bell peppers to this when sauteeing the mushrooms and spinach if you want even more bell pepper flavor to it.
Bell Pepper Pesto Tortelloni
Serves 4
Ingredients:
8 oz. package Ricotta & Spinach Tortelloni
1 tablespoon olive oil
4 oz. baby bella mushrooms, sliced
3 cups spinach leaves, firmly packed and rough chopped
3/4 cup bell pepper pesto
1/3 cup Ricotta cheese
1/4 cup crushed tomatoes
1/3 cup heavy cream
1/4 cup Parmesan cheese, shredded
Cook tortelloni in a pot of boiling water for 10 minutes. Drain immediately and run cold water over the pasta to stop cooking process.
In a small bowl, combine pesto, Ricotta, tomatoes and cream. Whisk well.
In a large skillet or wok, heat oil. Add mushrooms and saute for a few minutes, until softened. Add spinach and cook until leaves wilt. Add pesto combination and bring to a boil.
Add cooked pasta and Parmesan cheese and cook for 1 minute, tossing well.
Add salt, if necessary.
Enjoy with some toasted baguette to sop up the delicious sauce!
…linking to Pasta Please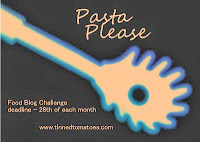 Check out the Blogging Marathon page for the other Blogging Marathoners doing BM#34
LIKE THIS RECIPE? LEAVE A COMMENT..I LIVE FOR THEM!
Chef Mireille