Last Updated on April 22, 2022 by Chef Mireille
This post may include affiliate links.
Fire Roasted Bell Pepper Pesto is a versatile red pesto that can be used as a dipping sauce for crusty bread or as sauce to toss your favorite pasta in.
For a simple Vegetarian pasta dish, I often toss this red pesto recipe with pasta, chickpeas and spinach. It makes a quick and easy meal for any time!
By roasting the peppers over open fire, the resulting flavor is both smoky sweet and fresh and vibrant due to the fresh basil leaves. Roasting brings forward the natural sweetness of the peppers.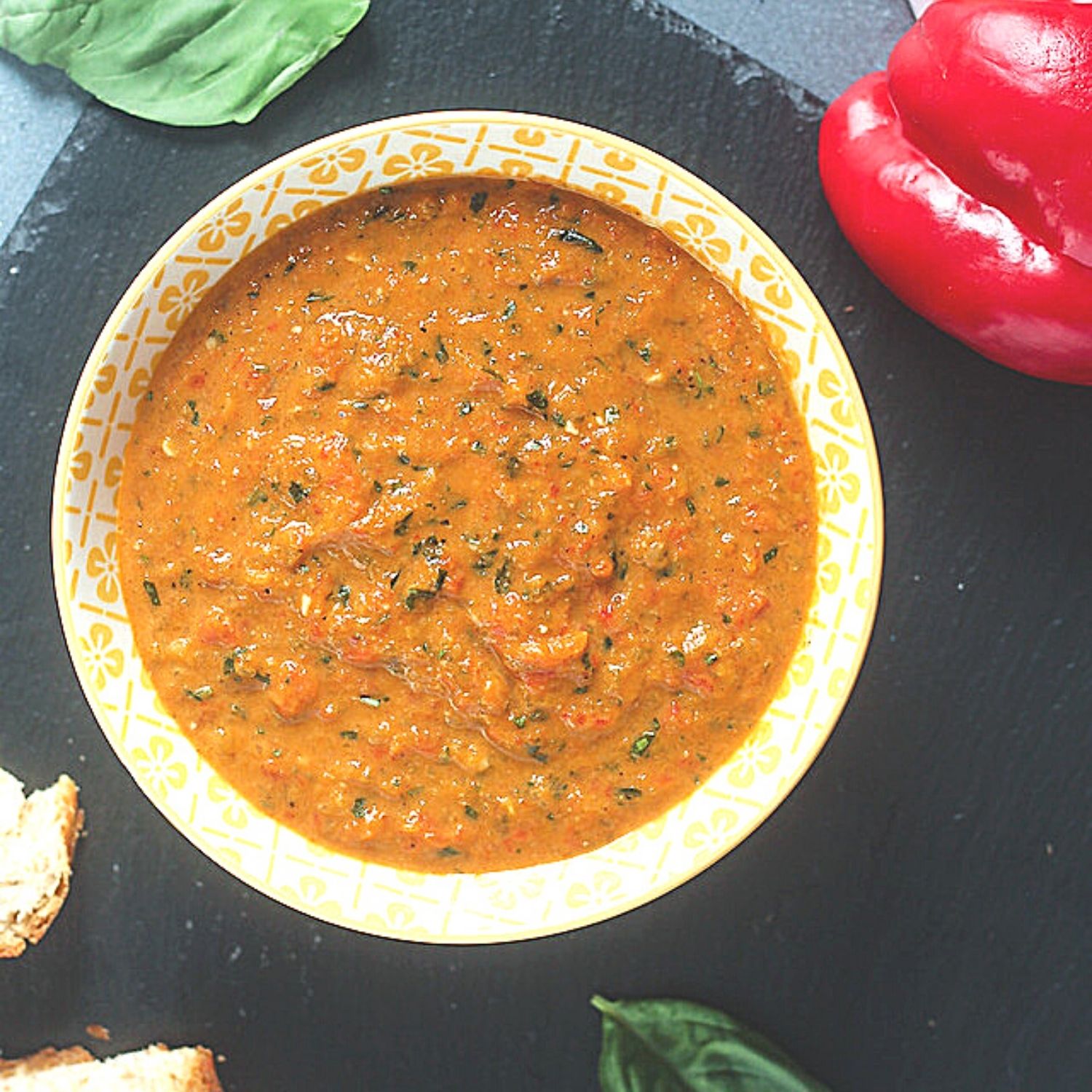 Anyway, I love bell peppers but one of my many eating idiosyncracies I have is that I am not a fan of the green ones, which is the most common variety. I find them a bit too bitter and acidic. However, I love the sweetness in the red, yellow and orange ones. When I eat peppers raw as in salads, I never include the green ones however I do use them in cooking.
In this roasted red pepper pesto, I have used a variety of different colored peppers, not just red peppers. Because of this, you really get a complex flavor profile due to the sweetness of the red bell peppers and the more acidic notes in the green bell pepper.
Did you know there are regional varieties of pesto recipes in Italy just as there are regional pasta shapes throughout the country. 
History of Pesto
The Basil Pesto we are all so familiar with is one of the most popular recipes around the world. This pesto originated from Genoa in the Liguria region of Italy.
However in southern Italy, red pesto is more common. Some people refer to it as Pesto Calabrese, however, there is dispute whether it was created in Calabria or Sicily. Regardless, the red pesto is more popular in the southern regions of Italy.
Classic red pesto is usually made with the classic pesto ingredients of garlic, olive oil, pine nuts, Parmesan cheese and basil. However just a few basil leaves are used and the main ingredients are roasted red peppers and sundried tomatoes.
My red pesto here is basically a variation of Pesto Calabrese, made simply and more cost efficient without the use of pine nuts.
While traditional pesto is made with basil leaves, modern pesto varieties can be made with any variety of herbs and/or vegetables. Check out some of my other pesto recipes!
Pesto Recipes
Before you make the pesto, you first have to roast the peppers. There are several ways of roasting peppers and some do make roasted peppers in the oven on a baking sheet, but the best way is to roast them over open fire like in this Roasted Red Pepper Salad. This smoky sweet flavor is best when using the fire roasting method.
As long as you have a gas stove, you can easily make homemade roasted red peppers. No jarred roasted red peppers can compare with this easy homemade methodology. 
How to Roast Red Peppers
Remove the stove grates. 
Turn on the fire and put the bell peppers directly over the fire, turning the peppers with tongs so they can get evenly charred. 
Place in a bowl and immediately wrap tightly with plastic wrap.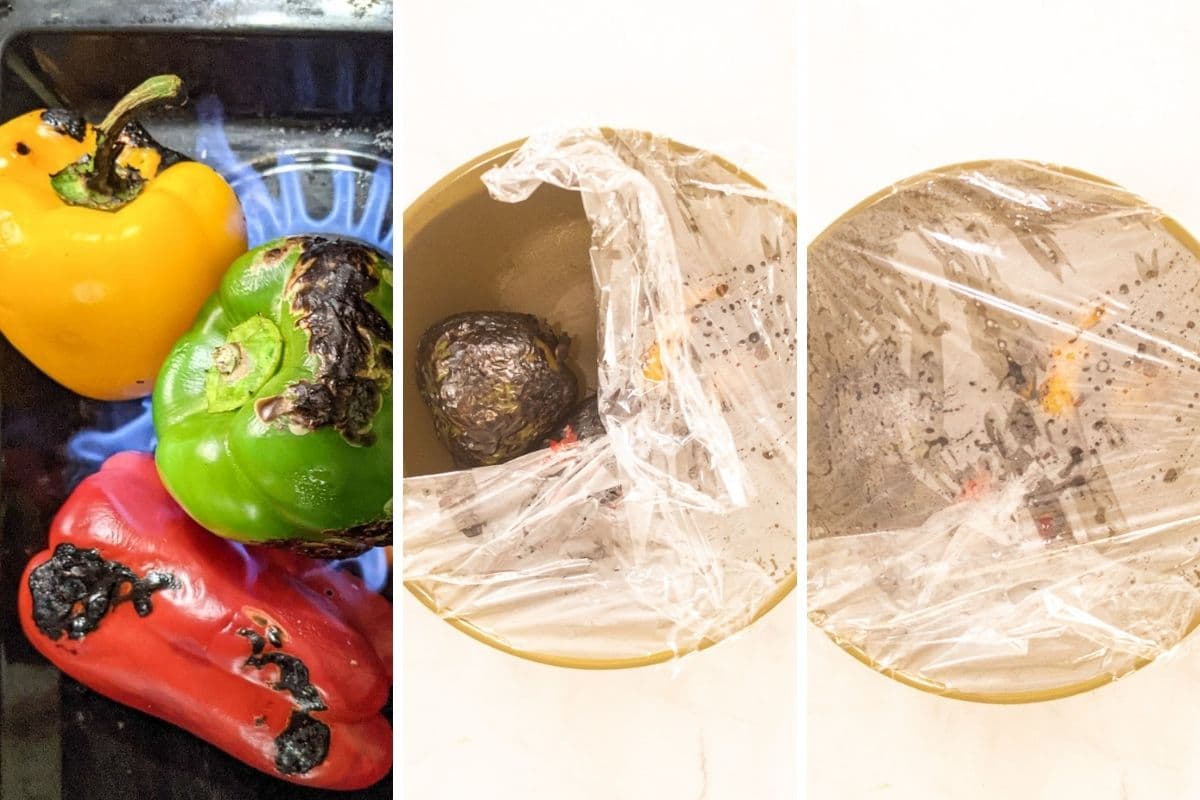 Let it rest for 10 minutes. This allows the peppers to sweat, making it easy to remove the charred skin from the peppers. 
With gloves on, slide off the charred skin of the peppers. 
With a knife, cut open the peppers and remove the seeds and membranes.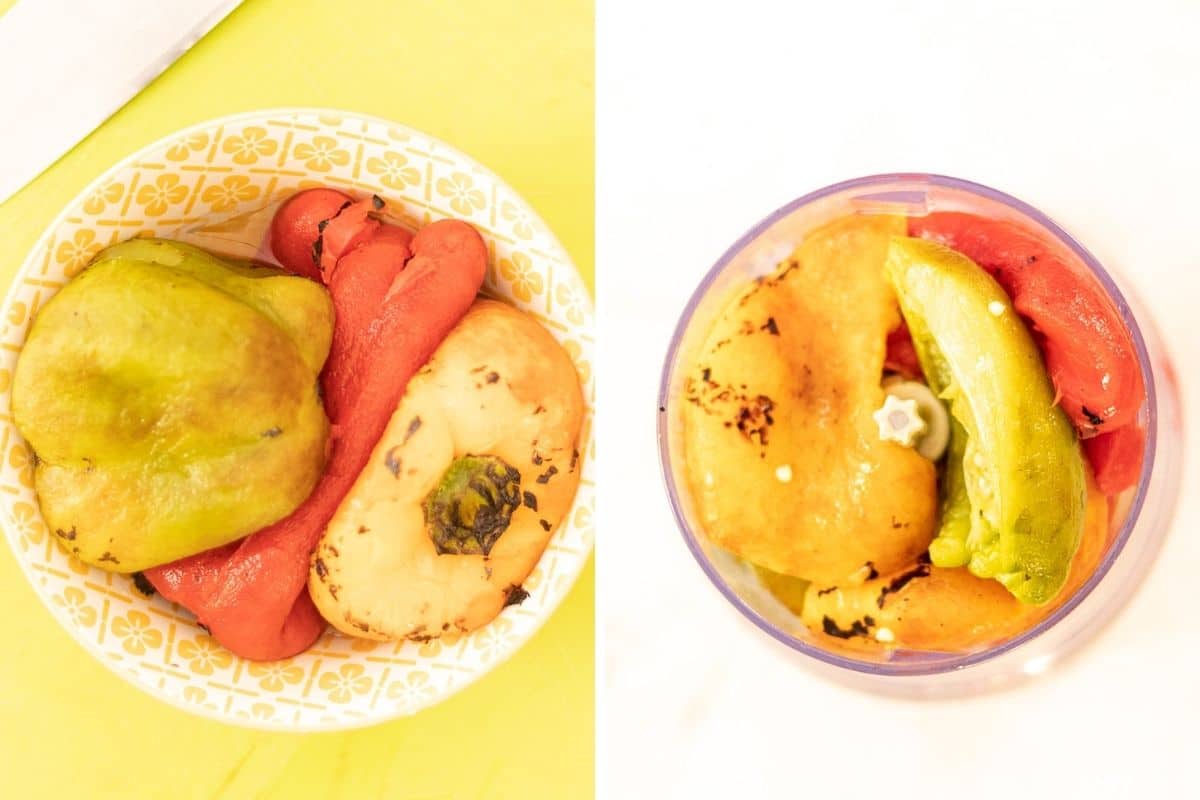 Now you are ready to make this Red Pepper Pesto or you can store the roast peppers in olive oil to preserve them and use them, as needed. 
How to Store Roasted Peppers
Store the roasted and peeled peppers in jars with olive oil and a little vinegar. Store in the refrigerator for up to 2 months.
You can also use proper canning techniques to allow the peppers to have an extended shelf life.
You can use these Roasted Red Peppers to make delicious things like Roasted Pepper Gazpacho.
Now let's go over all the ingredients you will need to make this roasted red pepper pesto recipe.
Ingredients for Roasted Pepper Pesto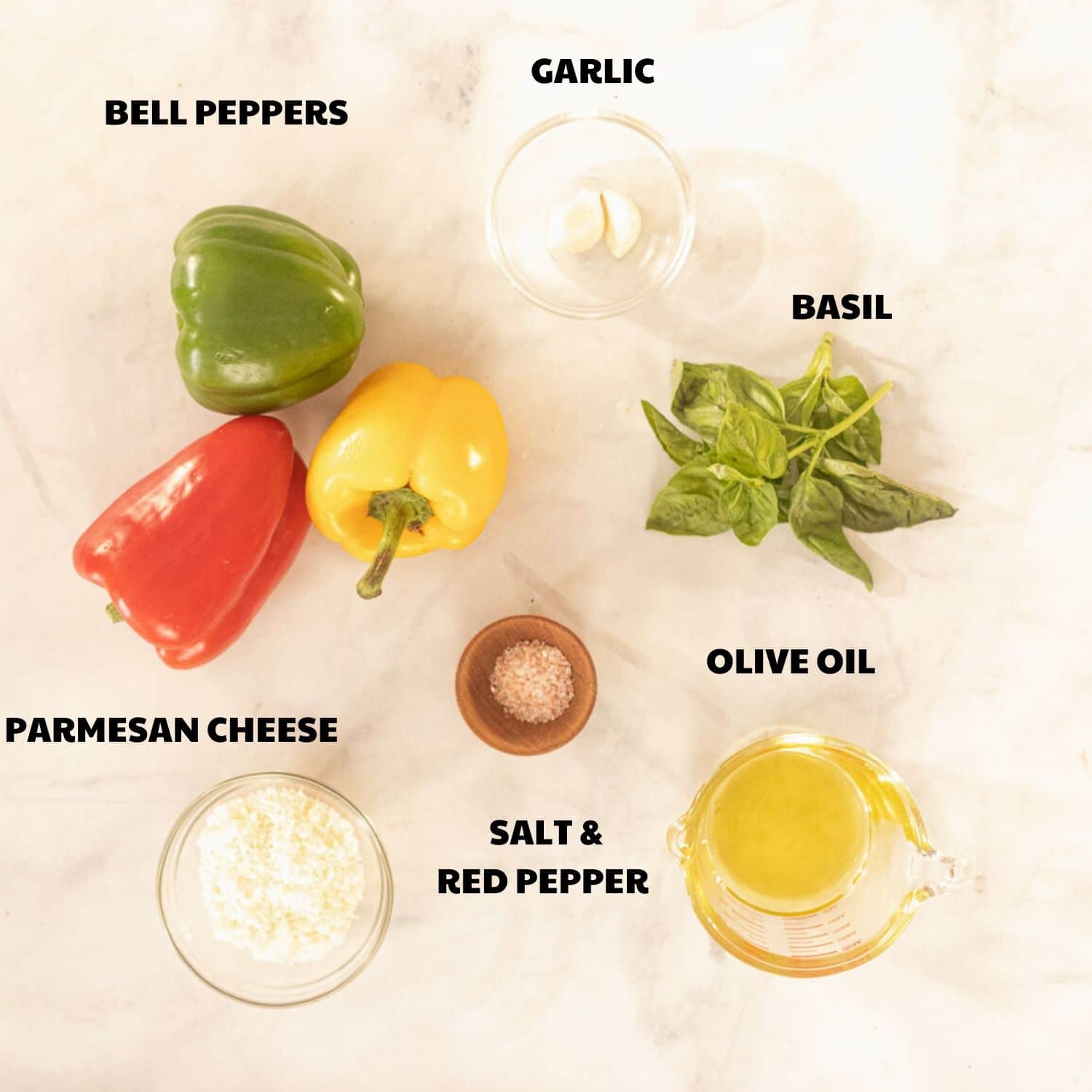 red bell pepper 
yellow bell pepper 
green bell pepper 
garlic 
basil 
Parmesan cheese (or Pecorino Romano)
red pepper flakes (optional)
olive oil 
How to Make Roasted Red Pepper Pesto
Fire roast peppers, using instructions above. 
Place the peppers in a bowl, covered with plastic wrap. This allows the roasted pepper to sweat, so that it will be easy to peel the charred skin off of the peppers. 
Peel the charred skin from the bell peppers. 
Add the rest of the ingredients except the oil and mix in a food processor until well combined. 
Add the olive oil and blend well.
This is a versatile pesto that can be used as a dip, sandwich spread or pasta sauce. You can easily make this Roasted Red Pepper Pesto Pasta by tossing your pesto with cooked pasta and spinach. Add in a can of chickpeas and this makes an easy lunch or dinner recipe.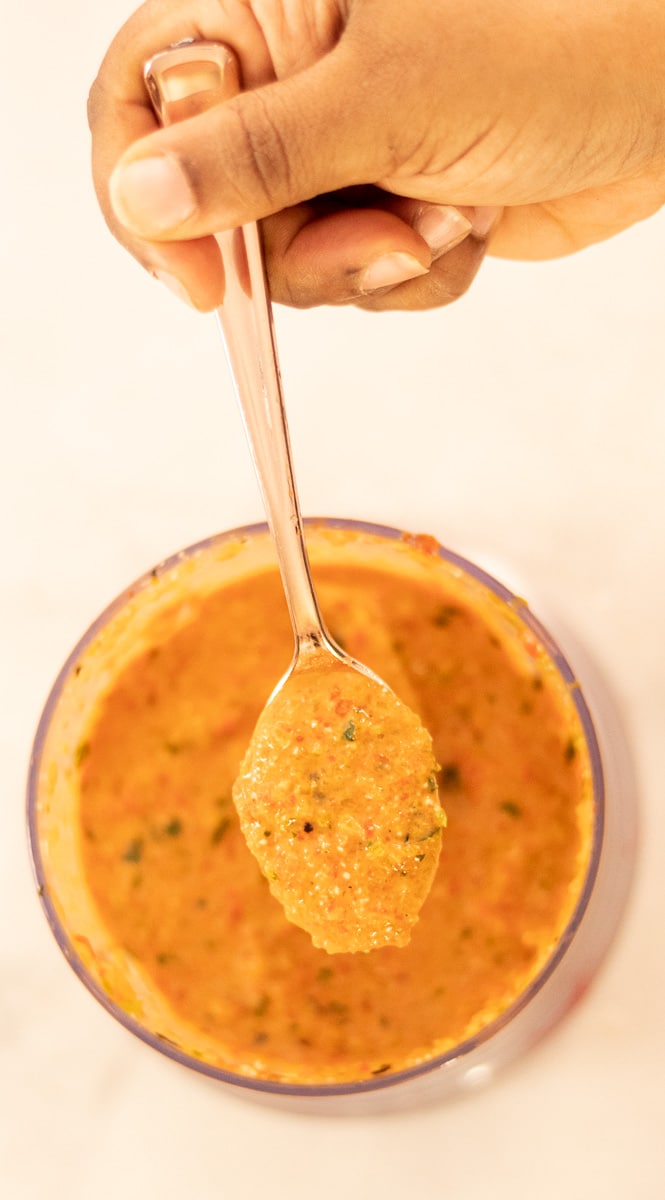 It's so delicious I don't think there will be leftovers. However, if you do have any leftover pesto, it should be stored in an airtight container or glass jar in the fridge.
Now that you see how super easy it is to make your own homemade roasted peppers, this pesto can easily be whipped up at a moment's notice.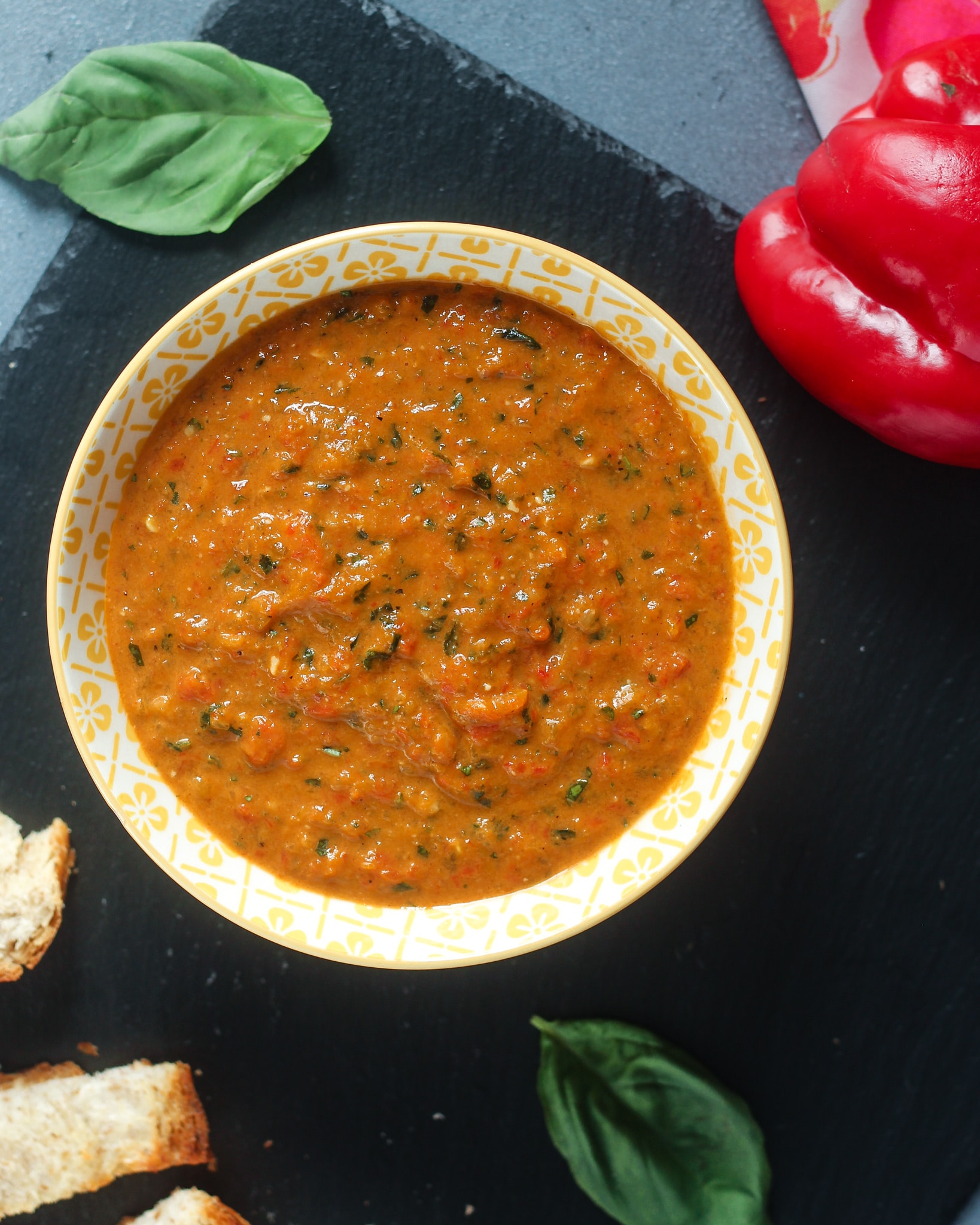 This is a versatile pesto that can be used as a dip, sandwich spread or pasta sauce.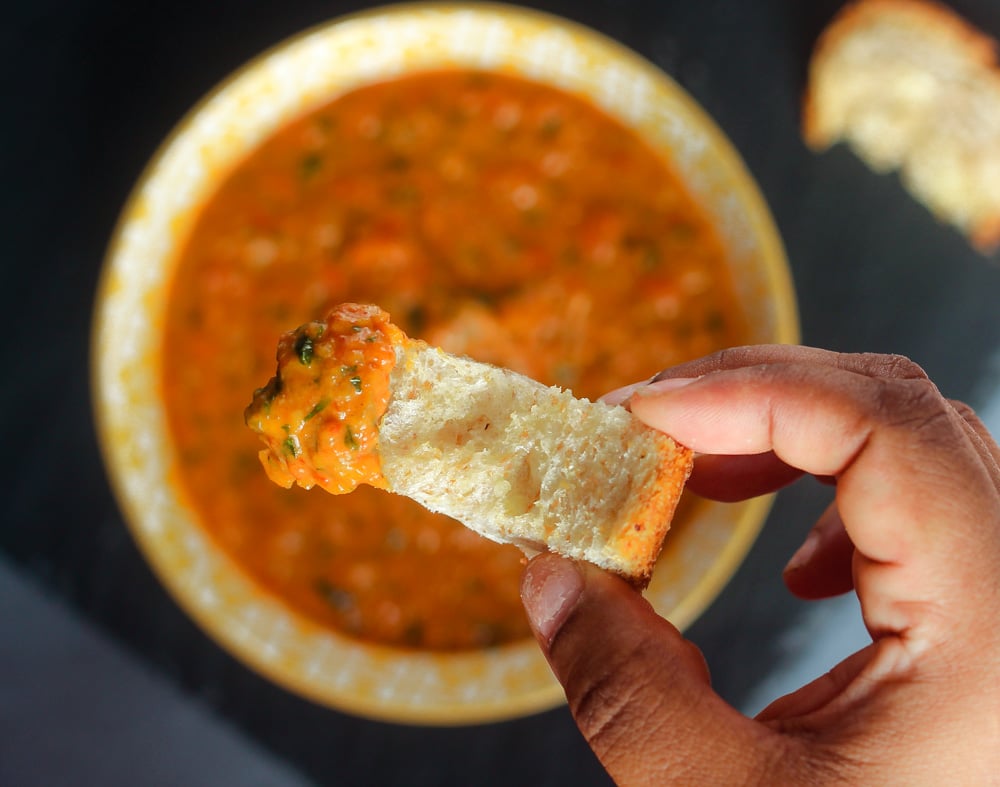 Fire Roasted Bell Pepper Pesto
This delicious pesto is versatile. Thick enough to be used as a dip or toss it with your favorite pasta.
Ingredients
1

red bell pepper

1

yellow bell pepper

1

green bell pepper

2

garlic cloves

10

basil leaves

1/4

cup

Pecorino Romano cheese grated

1

teaspoon

salt

1/2

teaspoon

crushed red pepper

1/4

cup

olive oil
Instructions
Directly over the flame on the stove, roast the bell peppers until the skin in charred and black all over.

Immediately place in a bowl and tightly cover with plastic wrap. Leave to rest for 10 minutes. The peppers will sweat, making it easy to remove the skin.

Remove the skin, stems and seeds.

Place the peppers, garlic, Parmesan cheese, basil leaves, salt an red pepper flakes in a food processor.

Blend well in the food processor until everything is well combined..

With the food processor running, slowly add olive oil and process for a few minutes, until well combined and creamy consistency.
Notes
You can use all red peppers or different colored peppers as you desire.
1 tablespoon of pine nuts. almonds or pistachios can also be added.
Nutrition
Calories:
84
kcal
|
Carbohydrates:
3
g
|
Protein:
1
g
|
Fat:
8
g
|
Saturated Fat:
1
g
|
Polyunsaturated Fat:
1
g
|
Monounsaturated Fat:
5
g
|
Cholesterol:
3
mg
|
Sodium:
330
mg
|
Potassium:
96
mg
|
Fiber:
1
g
|
Sugar:
1
g
|
Vitamin A:
590
IU
|
Vitamin C:
59
mg
|
Calcium:
40
mg
|
Iron:
1
mg
Did you try this recipe? Leave a comment below.
Please follow me on Instagram @chefmireille or tag me #chefmireille with your pics! I'd love to share them!
Don't forget to visit the RECIPE INDEX with over 1000 recipes from around the world including lots of Vegetarian Recipes and Gluten Free Recipes!