Last Updated on June 3, 2015 by Chef Mireille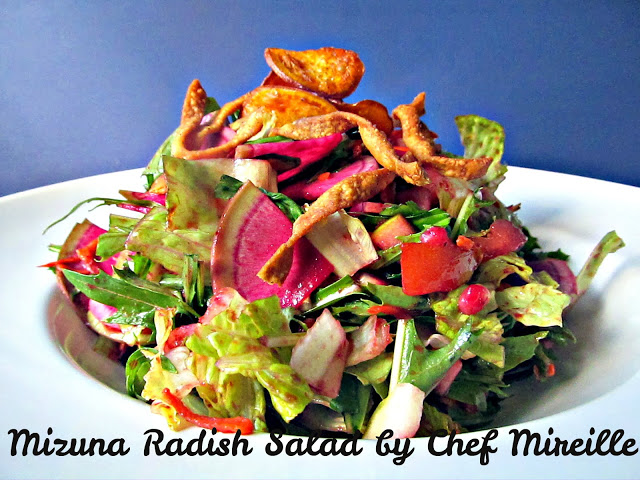 I discovered Mizuna lettuce last year. It has a great peppery flavor that I fell in love with and was so happy when I found some on a visit to the Union Square Farmer's Market. It is the only place I ever see this lettuce. With a few other ingredients from the market, I made this delightful salad.
Although I have been having fun with the recipes of Donna Hay the past few weeks with the I Heart Cooking Club, she uses A LOT of bacon or pancetta in her recipes. After making her bacon wrapped butternut squash, I needed something fresh and green to balance the rich bacon flavor. I made this salad the same week I made the squash.
Mizuna Radish Salad
Serves 8
Ingredients:
8 cups Mizuna lettuce, chopped
8 cups Romaine lettuce, chopped
1 watermelon radish, thinly sliced and quartered
2 small carrot, grated
1 apple, chopped (I used ginger gold)
1 tomato, chopped
1 cup pomegranate seeds
leaves from 20 stalks or oregano
Dressing Ingredients:
1/3 cup black raspberry jam (or use seedless blackberry jam)
1/2 cup apple cider
1/4 cup apple cider vinegar
2 tablespoons harissa
2 teaspoons salt
1 1/2 cups olive oil
Garnish Ingredients:
fresh carrot pasta
sweet potato
salt and black pepper, to taste
oil, for deep frying
Let's first make the garnishes.
Heat enough oil for deep frying. Add sweet potato slices in a single layer and fry for about 2-3 minutes, until they rise to the top and start to curl. As soon as you see any brown start to appear, remove from hot oil onto a paper towel to absorb excess oil.
While still hot, sprinkle salt and pepper on top.
After you've fried the sweet potato, do the same with the fresh pasta. Break into small pieces after you've fried and seasoned them.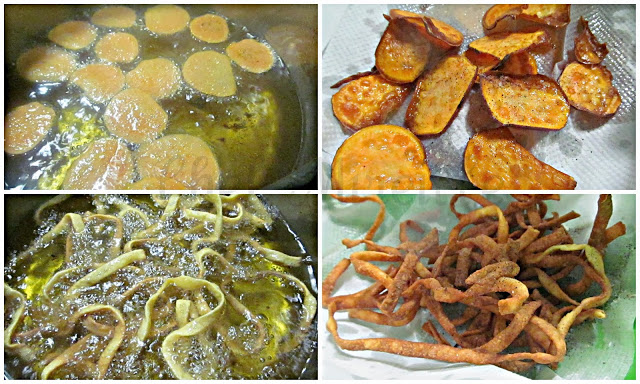 Now let's make the salad dressing.
Combine harissa, jam, salt, apple cider and apple cider vinegar in a bowl. Whisk until smooth.
While whisking, slowly drizzle in olive oil until thoroughly combined and homogenous. This will yield about 3 cups of salad dressing.
To make salad, combine all salad ingredients with desired amount of dressing. Toss well.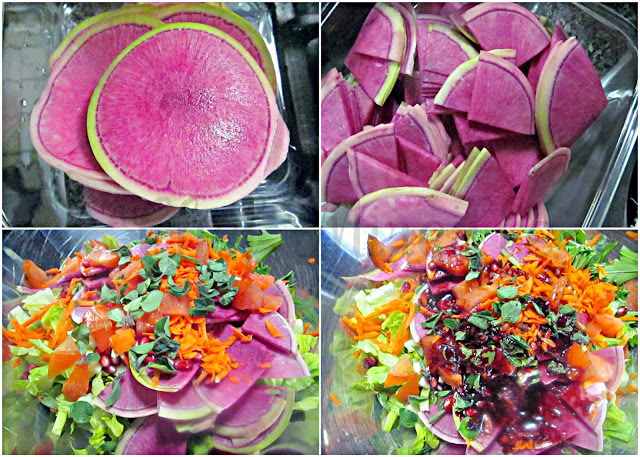 Transfer to serving dish and garnish with Sweet Potato Chips and Fried Pasta.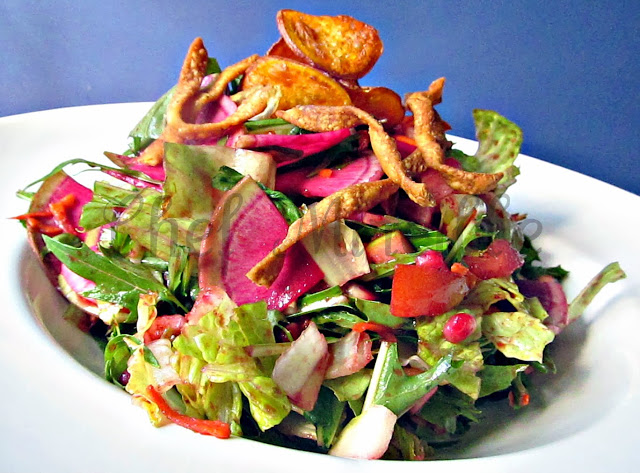 Serve with Bell Pepper Khaliat Nahal.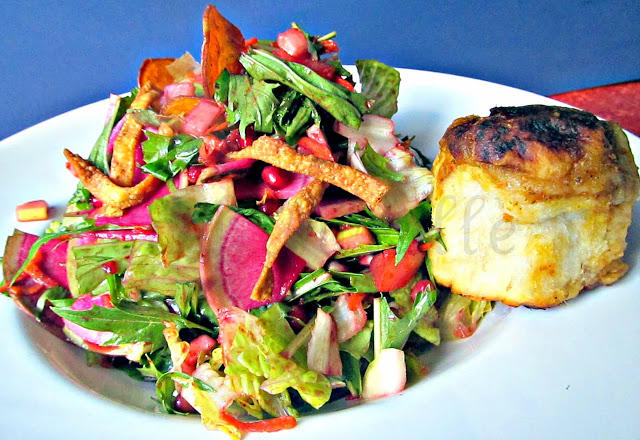 …linking Soups & Salads, Taste of the Tropics – Chiles, Souper Sunday, Shop Local & Cooking with Herbs
LIKE THIS RECIPE? LEAVE A COMMENT..I LIVE FOR THEM!
Chef Mireille