Best Ever Cheese Grits Recipe
Creamy, luscious, silky smooth southern grits is a classic breakfast or side dish that will become a family favorite. This gluten free porridge should definitely become part of your weekend breakfast routine! You will want to dive into these EVERY WEEKEND!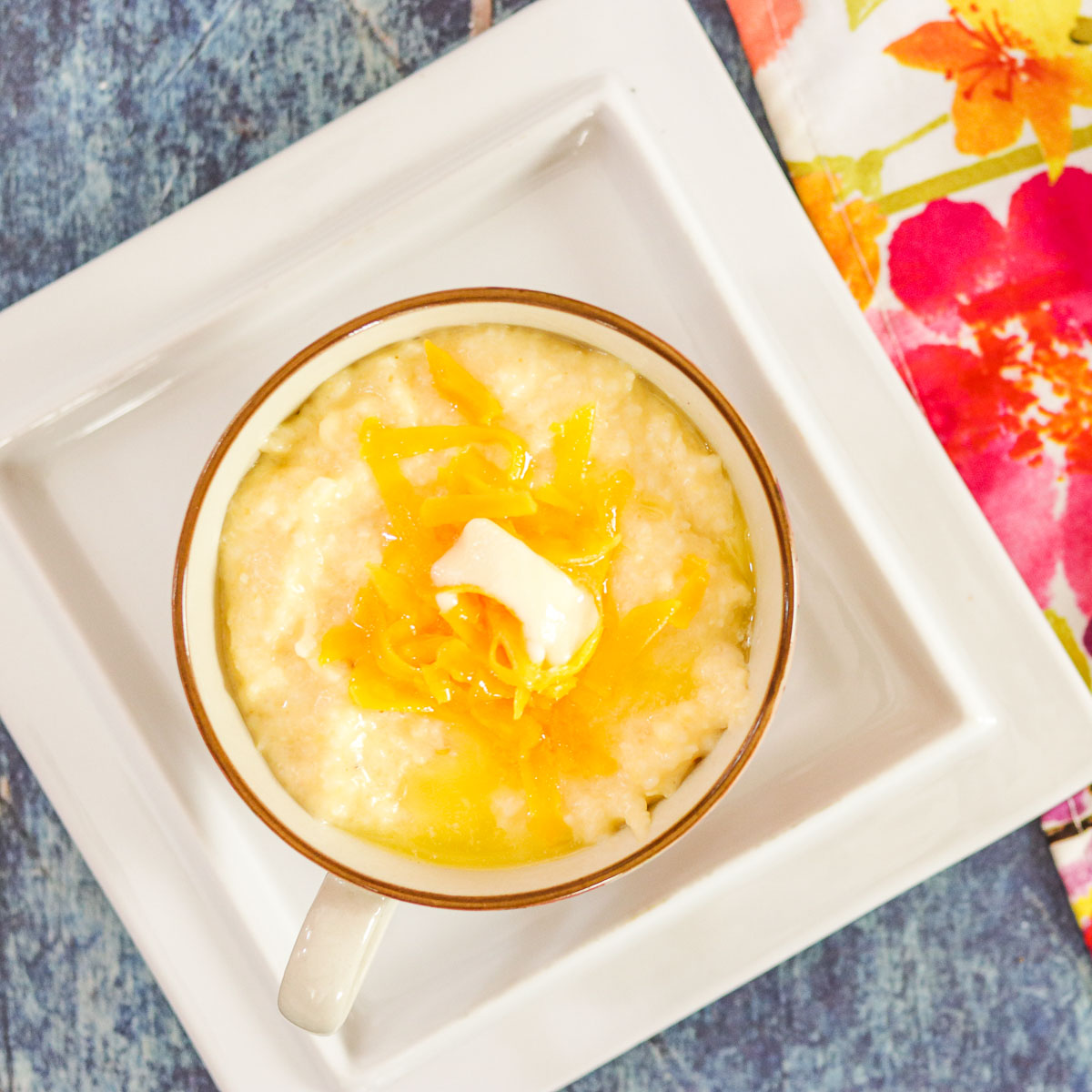 This post may include affiliate links.
Before we get to today's recipe, you may ask since many of you are international readers, what is a grit?
What are grits?
How many of you have seen the movie – My Cousin Vinny? Vinny from NYC arrives in the South and he wondered the same thing, so you are not the only ones.
This just goes to show you how even within the same country, cuisine is a very localized thing.
Grits are whole grain cornmeal. In the south, white grits are preferred. Basically, it is the same thing as whole grain polenta except polenta is usually made from yellow corn, instead of white corn.
These grits are combined with liquid and cooked into a smooth, creamy and luscious porridge consistency.
It is a common breakfast item as well as a side dish to enjoy with any southern meal. The most common combination is Shrimp & Grits, where the shrimp are cooked in a creole sauce and served with the grits like I had here at Narobia's Grits n Gravy, when I was in Savannah.
Do you know the difference between cornmeal and polenta?
If you would like to know more about the many varieties of gluten free cornmeal that there are and how to utilize them all in your kitchen, check out this post here to learn all about Cornmeal, Polenta, Grits & more.
So what do. you need to make delicious creamy cheesy grits?
Well, there is a lot of variety with the seasonings used. At it's most basic level, most people cook it with water and a little garlic. However, we definitely prefer a little more spice in our food.
So here's what you will need to make my version of Delicious Creamy Cheese Grits
The Ingredients
Cheddar Cheese
Heavy Cream
How to make Cheese Grits
First you boil the water and bouillon cubes. Then you add your grits and simmer on low heat until thickened and tender.
Now it's time to add the luscious cream.
Now we add the crushed red pepper if you like some spice like me, and cheese.
Substitions & Variations
What if I don't have bouillon cubes?
You can also cook it in chicken broth or plain water with your favorite seasonings (at the minimum, garlic)
If you are not using the bouillon cubes, you will most likely need to add salt to adjust the seasoning.
Can I use other types of cheese?
You want to use a good melting cheese. Monterey Jack or Pepper Jack are great substitutes. You can also use a variety of cheeses for more complex flavor profiles.
A little smoky flavor can be achieved by subbing some of the cheddar with smoked gouda.
Optional Add ins
You can add additional vegetables or herbs as you prefer. Some that I like to use sometimes are parsley, chives, onions and bell pepper.
Is there any way to reduce the cooking time?
Yes. You can use instant grits and reduce the cooking time.
For a hearty breakfast, you can enjoy your luscious delicious Creamy cheese Grits with bacon, scrambled eggs and some grape tomatoes for a little freshness.
However, these delicious creamy cheese grits are quite a hearty dish and they can be enjoyed on their own with maybe some coffee and fresh fruit.
True Southerners would think your grits incomplete if you did not serve it with at least a little butter!
Grits are often garnished with a little butter to melt right into your bowl of creamy grits!
Before we get to the recipe, here are some other savory cornmeal porridges from around the world you will want to try out to expand your repertoire so you don't get bored with this version – as delicious as it is!
Savory Cornmeal Recipes
Cheese Grits
Ingredients
4

cups

water

2

mini bouillon cubes

1

cup

whole grain grits

½

cup

heavy cream

½

teaspoon

crushed red pepper

or more, as desired

1

cup

grated cheddar cheese
Instructions
Combine water and bouillon cubes in a saucepan.

Bring to a boil.

Reduce heat to low and add grits.

Cook on low heat, stirring frequently for about 15-20 minutes, until the grits are tender.

Add cream and cook for another 5 minutes.

Add crushed red pepper and cheese and cook for another 2-3 minutes, until cheese is melted.

Serve warm
Nutrition
Calories:
246
kcal
|
Carbohydrates:
22
g
|
Protein:
7
g
|
Fat:
14
g
|
Saturated Fat:
9
g
|
Cholesterol:
47
mg
|
Sodium:
362
mg
|
Potassium:
69
mg
|
Fiber:
1
g
|
Sugar:
1
g
|
Vitamin A:
585
IU
|
Calcium:
153
mg
|
Iron:
1
mg
Did you try this recipe? Leave a comment below.
Please follow me on Instagram @chefmireille or tag me #chefmireille with your pics! I'd love to share them!
DO YOU YUM? SAVE IT BELOW!
Yum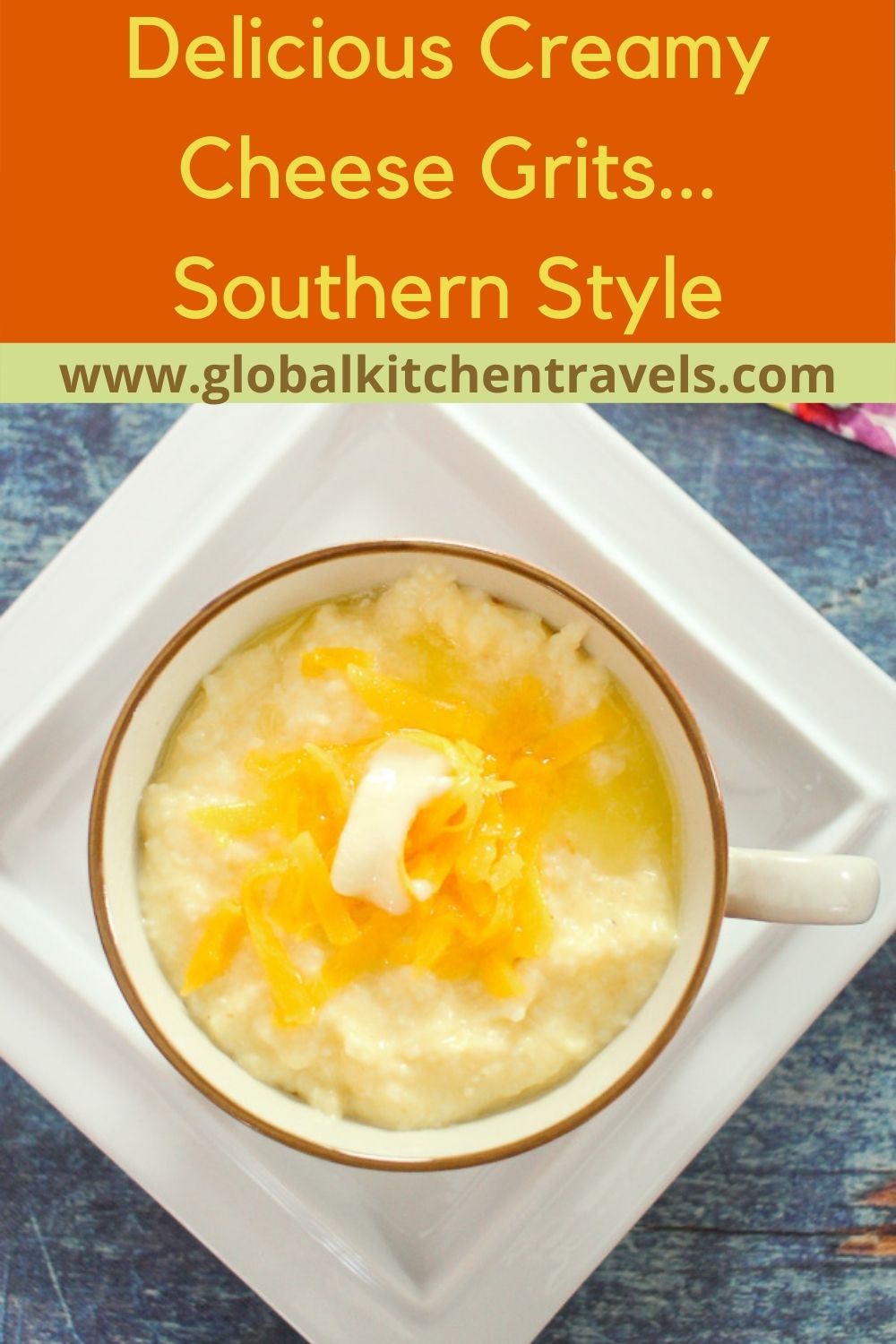 Need more culinary inspiration? Check out the Recipe Index with over 1500 Recipes from Around the World with lots of Vegetarian 🥕🍆🍅and Gluten Free Recipes!