Last Updated on May 3, 2021 by Chef Mireille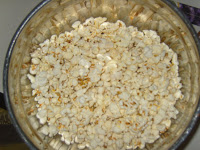 For those of us who grew up in the Microwave Popcorn generation, having freshly made popcorn at home is a bit of a novelty and very rare. But in today's economy, finding ways to save money is on everybody's mind, and the cost of a bag of popping corn is several dollars cheaper than a box of microwave popcorn and you can season it yourself and lower salt and lower fat ways, that appeal to your unique culinary preferences.
It takes approximately 4 minutes (the microwave usually takes about 2 1/2, so not much of a difference there) and the benefits way outweigh the additional minute 1/2 – lower cost and healthier, depending on how you choose to flavor it.
In a large pot (like a Dutch oven), place 2 tablespoons oil (I use peanut oil which adds even more flavor) and 1/2 cup popping corn in the pot. Make sure the pot has a tightly closing lid and put the stove on high heat. Just let it go – just like the microwave version, as soon as the popping slows down, turn off the flame.
In order to cut the fat, instead of using melted butter, I use a seasoned salt (salt, cayenne pepper, and dried parsley).
Delicious and kids will love it – For a sweet version you can use brown sugar and cinnamon.
So travel back in time, before microwaves, and pop some fresh popcorn today!
Enjoy!!