Last Updated on May 13, 2021 by Chef Mireille
Lassi Patiala is a refreshing fresh Indian Vanilla Smoothie. Flavored with vanilla and cardamom, this yogurt based smoothie is akin to a dessert smoothie – especially when served traditionally with peda – Indian Milk Fudge.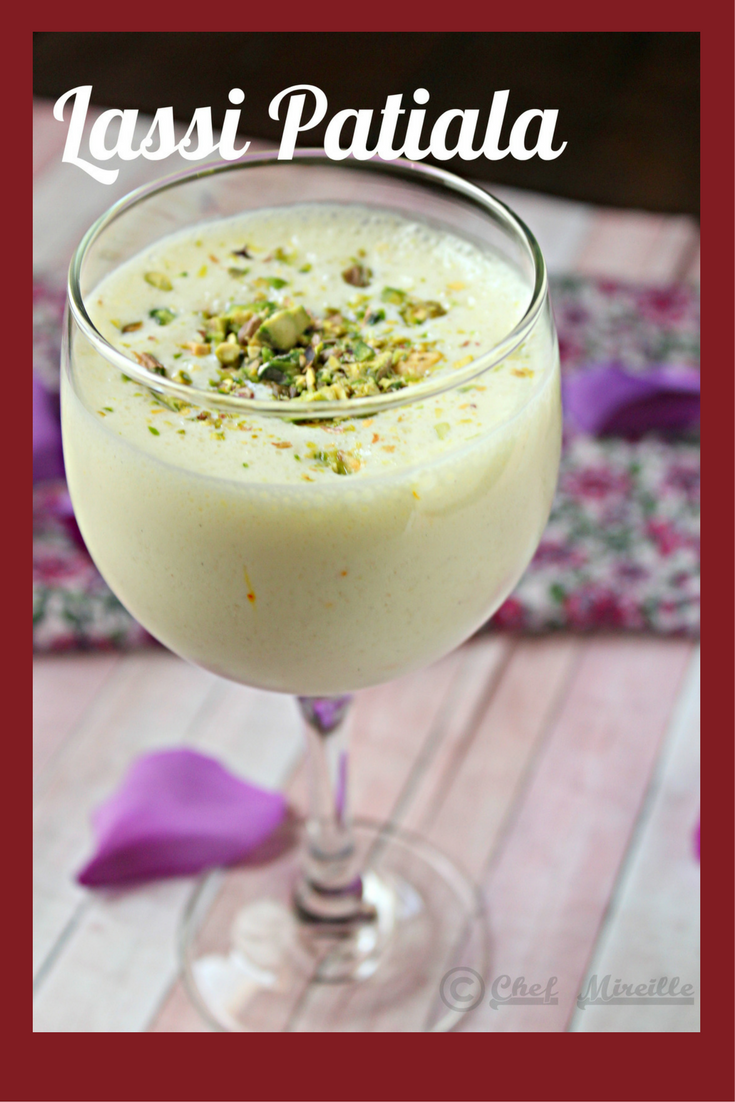 This post may include affiliate links.
Like many other Indian states, Haryana was created out of a larger one in years much after Independence along linguistic lines. Like Jharkand out of Bihar, Haryana was created out of the much larger state of Punjab. For this reason, the cuisines of Haryana and Punjab are practically synonymous.
Punjabi cuisine is the most popular Indian cuisine in the West, so the food of Haryana was very familiar to me. I went on a search to find something unique I've never had at an Indian restaurant before and I found this refreshing lassi, a nice twist to the Mango Lassi I usually have at Indian restaurants.
Although Patiala is located in Punjab, Haryana was once part of Punjab and this lassi is one of the most popular varieties in Haryana.
One of the most unique characteristics of this lassi to me is the use of vanilla extract. Although vanilla extract is very common in any kind of dessert or dessert beverage here in America and in other Western cuisines, it is not as common in Indian sweets where cardamom and rose water are more prevalent flavors.
When I first saw a recipe for this lassi, I thought the blogger had adapted it a little. However, after I visited 6 recipes all using vanilla extract, I realized it had to be the authentic version. Additionally, peda, which is a type of Indian milk fudge is often added into the drink so you get a nice sweet surprise at the end.
This is a very thick and rich lassi, perfect on a hot summer day and less sweet than the more common Mango Lassi. I made this back in October when the weather in NY is schizophrenic going back and forth between 50 and 80 degrees on a daily basis. After being overdressed because the previous day had been cool, I came home all sweaty and uncomfortable. I took a cool shower and then drank this cooling drink and it hit the spot.
Other Lassi Recipes
Do you want to get way more flavor out of this delicious Indian Vanilla Smoothie? Use your own homemade vanilla extract. It is not only more cost efficient but it will give so much more vanilla flavor to whatever it is added to. Here is my delicious Homemade Vanilla Extract.
Lassi Patiala
Lassi Patiala is a regional lassi flavored with vanilla and cardamom. A refreshing summer drink.
Instructions
Heat the milk and add saffron. Let sit for a few minutes.

In a blender, combine with saffron milk, yogurt, vanilla, cardamom, sugar and ice. Mix well until thoroughly combined.

Garnish with nuts.
Notes
This regional lassi is usually served with peda, an Indian milk fudge.
Nutrition
Calories:
113
kcal
|
Carbohydrates:
10
g
|
Protein:
5
g
|
Fat:
6
g
|
Saturated Fat:
3
g
|
Cholesterol:
17
mg
|
Sodium:
60
mg
|
Potassium:
240
mg
|
Fiber:
1
g
|
Sugar:
9
g
|
Vitamin A:
143
IU
|
Vitamin C:
1
mg
|
Calcium:
162
mg
|
Iron:
1
mg
Did you try this recipe? Leave a comment below.
Please follow me on Instagram @chefmireille or tag me #chefmireille with your pics! I'd love to share them!
Don't forget to visit the RECIPE INDEX with over 1000 recipes from around the world including lots of Vegetarian Recipes and Gluten Free Recipes!