Last Updated on July 25, 2023 by Chef Mireille
This post may include affiliate links.
Indian Mango Lassi is the most common drink ordered at any Indian restaurant. Bursting with the essence of ripe, juicy mangoes, this luscious yogurt based drink offers the perfect balance between tangy and sweet, making it an ideal treat for hot summer days or any time you crave a taste of paradise.
Indulge in a delightful blend of tropical sweetness and creamy goodness with this irresistible Mango Lassi recipe. Originating from the vibrant streets of India, this traditional yogurt-based drink has won hearts around the world for its refreshing flavors and velvety texture. . Whether you're a seasoned fan of Indian cuisine or new to the world of Mango Lassi, our easy-to-follow recipe will guide you through creating this heavenly concoction in the comfort of your own kitchen.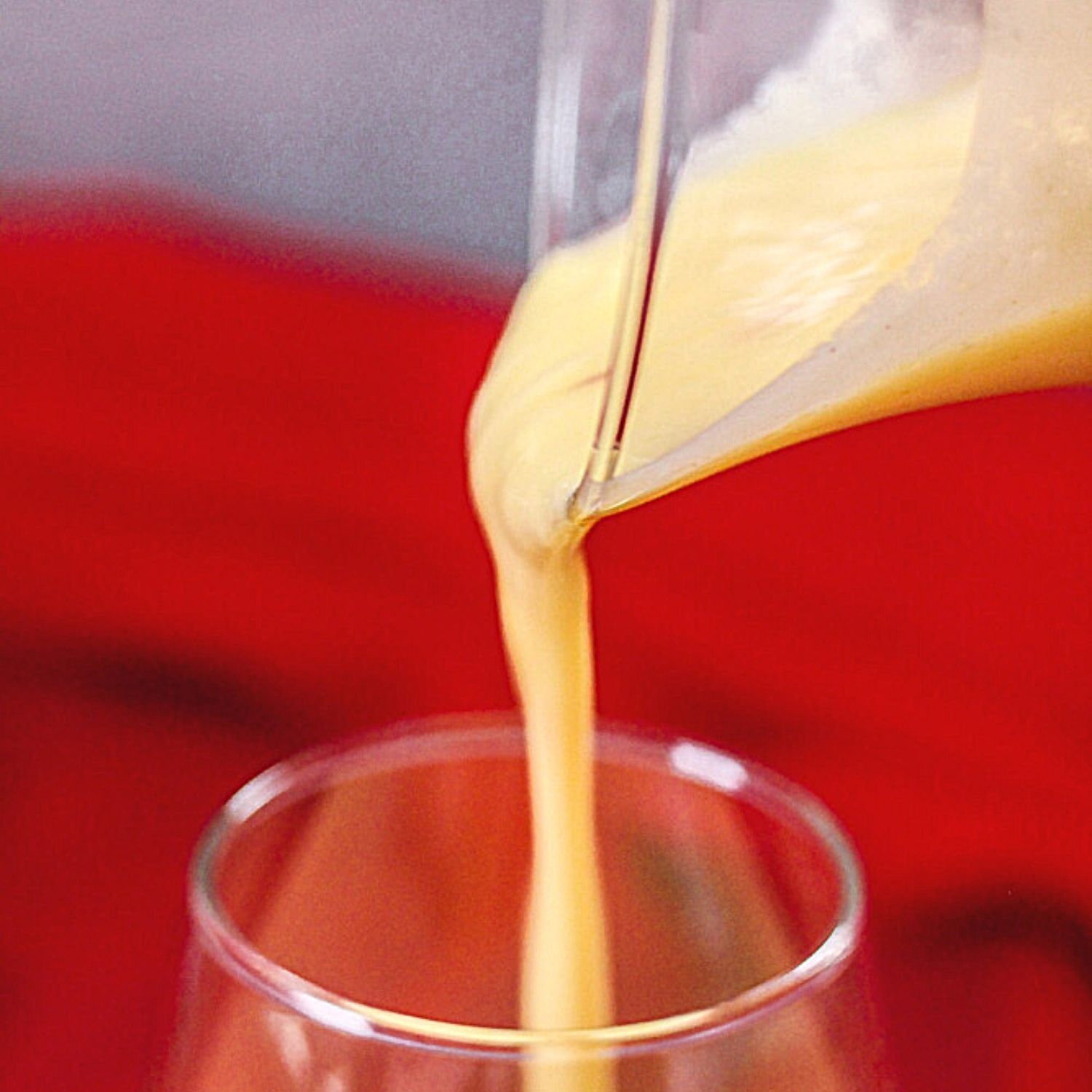 Table of Contents
This year (2023) the whole world seemed to have discovered Indian food for the first time. Every other video on Tik Tok was someone trying food from their local Indian restaurant for the first time. I did not see one negative review of Mango Lassi. Everyone's favorite Indian drink is so easy to make at home!
However, there are actually several types of Indian lassi.
Types of Lassi
Lassi is a yogurt based drink that originated in the Indian subcontinent. Full of probiotics, it is cool and refreshing and the perfect summer drink.
There are two types of Lassi:
Salted Lassi – Salted Lassi is also yogurt based, but instead of sugar and fresh fruit – black salt, roasted cumin powder and other spices may be added to it to achieve a salty lassi.
Sweet Lassi – Sweet Lassi is made with yogurt, milk and any fruit. It can even be made with dried fruit and nuts. Common flavor additions include saffron, cardamom, rose water, kewra water, orange blossom water or vanilla as in this Lassi Patiala.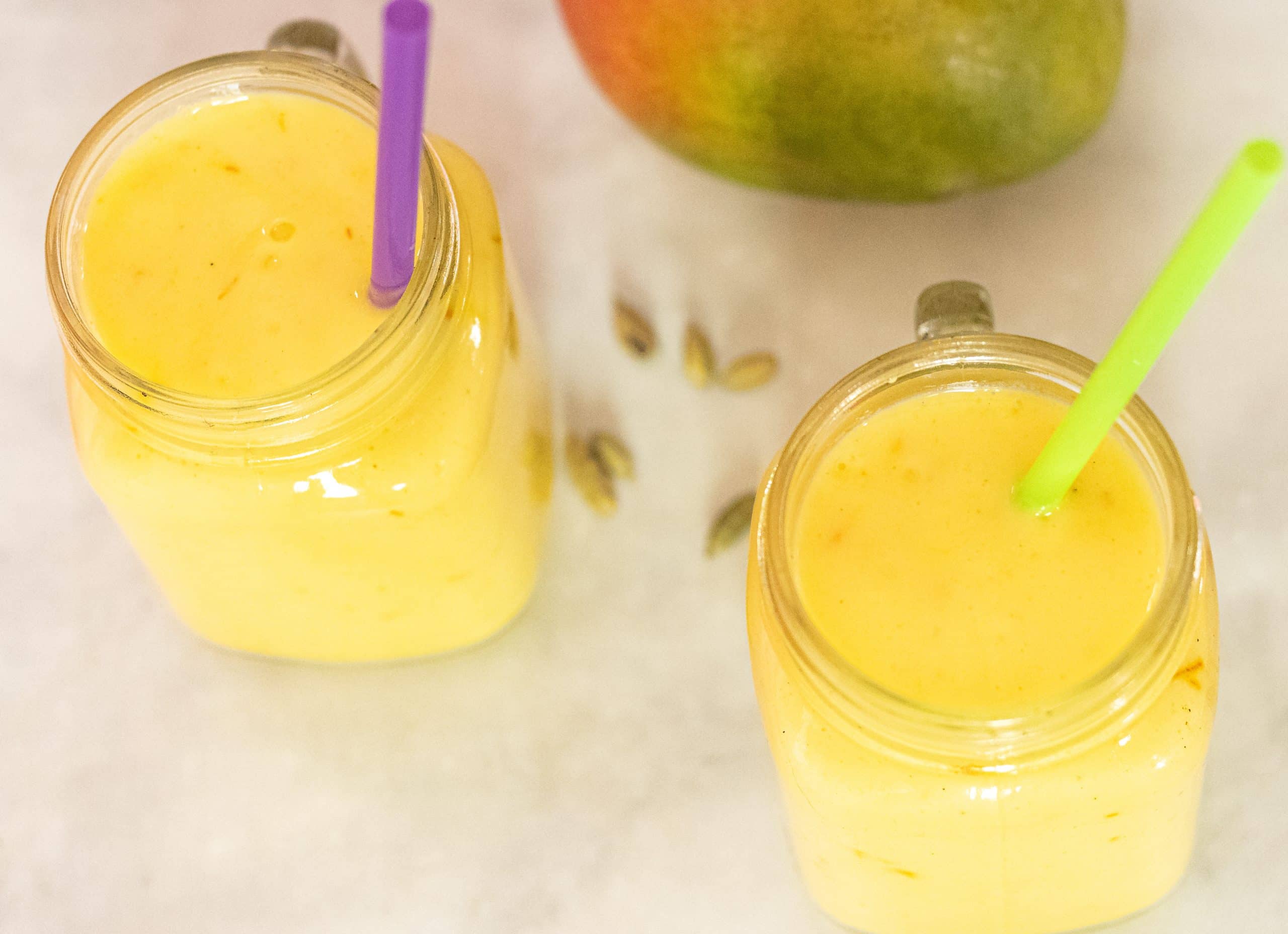 Frequently Asked Questions
Can mango lassi be made with mango pulp?
Yes. Mango Lassi can be made with fresh mango, canned mango pulp or even frozen mango puree.
​Which mangoes should I use to make Mango Lassi?
Ataulfo or Alphonso mangoes are most common, however you can use any sweet ripe mangoes you have access to.
Is mango lassi healthy?
Mango Lassi is full of pro biotics and healthy carbohydrates . This promotes stomach repair and general gut health.
Variations
Although in India, Mango Lassi is most often made with homemade yogurt, you can easily make it with store bought yogurt, including low-fat yogurt, Greek yogurt and even vegan yogurt.
Vegan Mango Lassi. Replace the yogurt and milk with Vegan yogurt (coconut yogurt) and plant based milk like almond milk, oat milk or coconut milk.
Mango Pulp. It is just as common to make this mango drink with canned mango pulp than it is to make it with fresh mangoes. Store-bought mango pulp can easily be found in Indian grocery stores. Kesar Mango Pulp or Alphonso Mango Pulp can be purchased.
Frothy Mango Lassi. Use frozen mango to make your lassi more frothy and more refreshing on hot summer days.
The secret to this Easy Mango Lassi recipe is to perfectly balance the the blend of yogurt, fruit and sweetener to yield a rich, smooth and utterly irresistible Indian Mango Smoothie. With just a few simple ingredients, it takes just minutes to whip up this delicious Indian Mango Lassi.
Mango Lassi Ingredients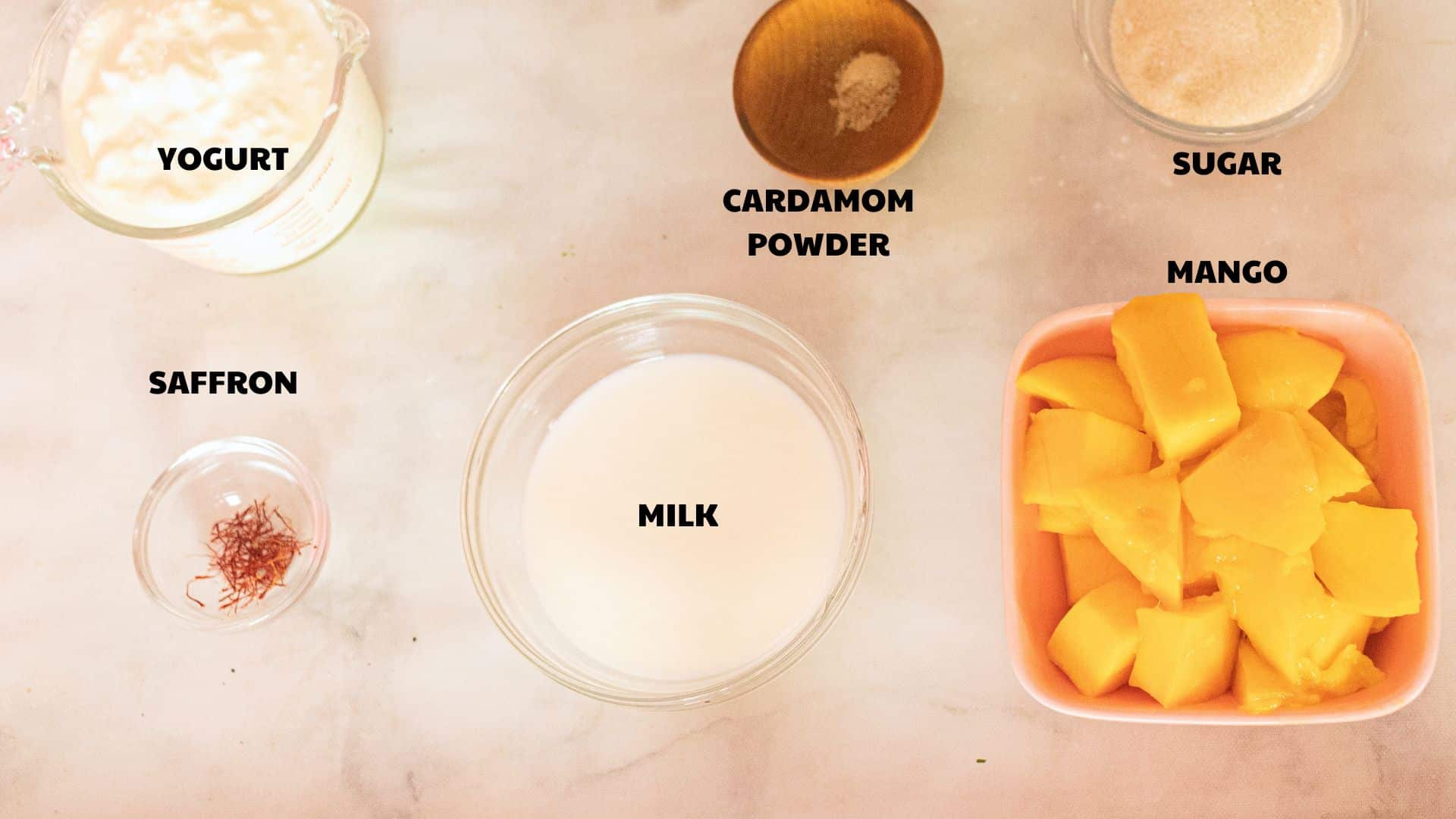 Mango – Indian mangoes like alphonso mangoes or ataulfo mangoes are the most commonly used mangoes to make Mango Lassi. However, any ripe sweet mango can be used. (I used Mexican mango).
Milk – Any type of dairy or plant based milk can be used.
Saffron – Adds both color and flavor.
Yogurt – Best to use full fat yogurt, however low fat and vegan alternatives can be substituted.
Sugar – Any sweetener of your choice can be used like white sugar, brown sugar, honey or agave.
Cardamom Powder – A dash of cardamom adds so much flavor, but other flavor additions like rose water or kewra water (screwpine tree) can also be added.
Ice Cubes
How to Make Mango Lassi
Peel and chop the mango into mango chunks.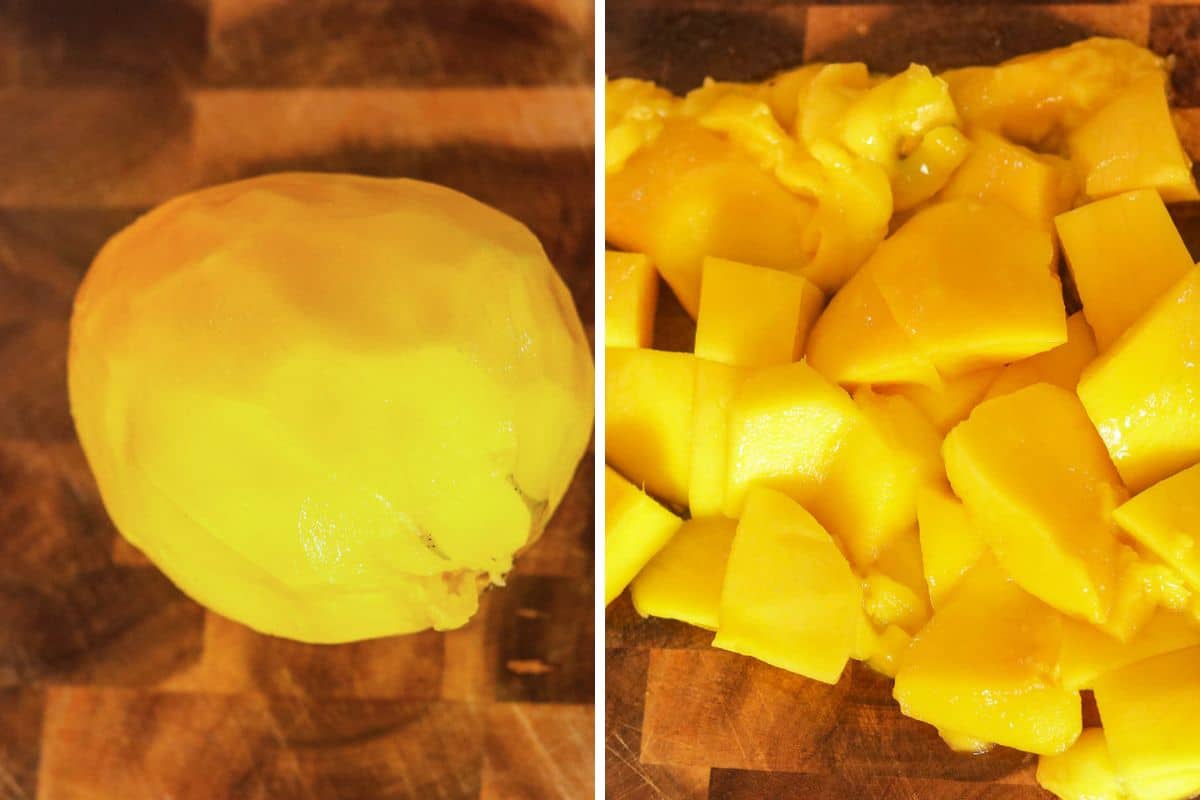 Heat half of the milk and add saffron strands. Let it rest for 5 minutes.
Combine the proofed saffron with the rest of the ingredients in a blender and blend until smooth and well combined.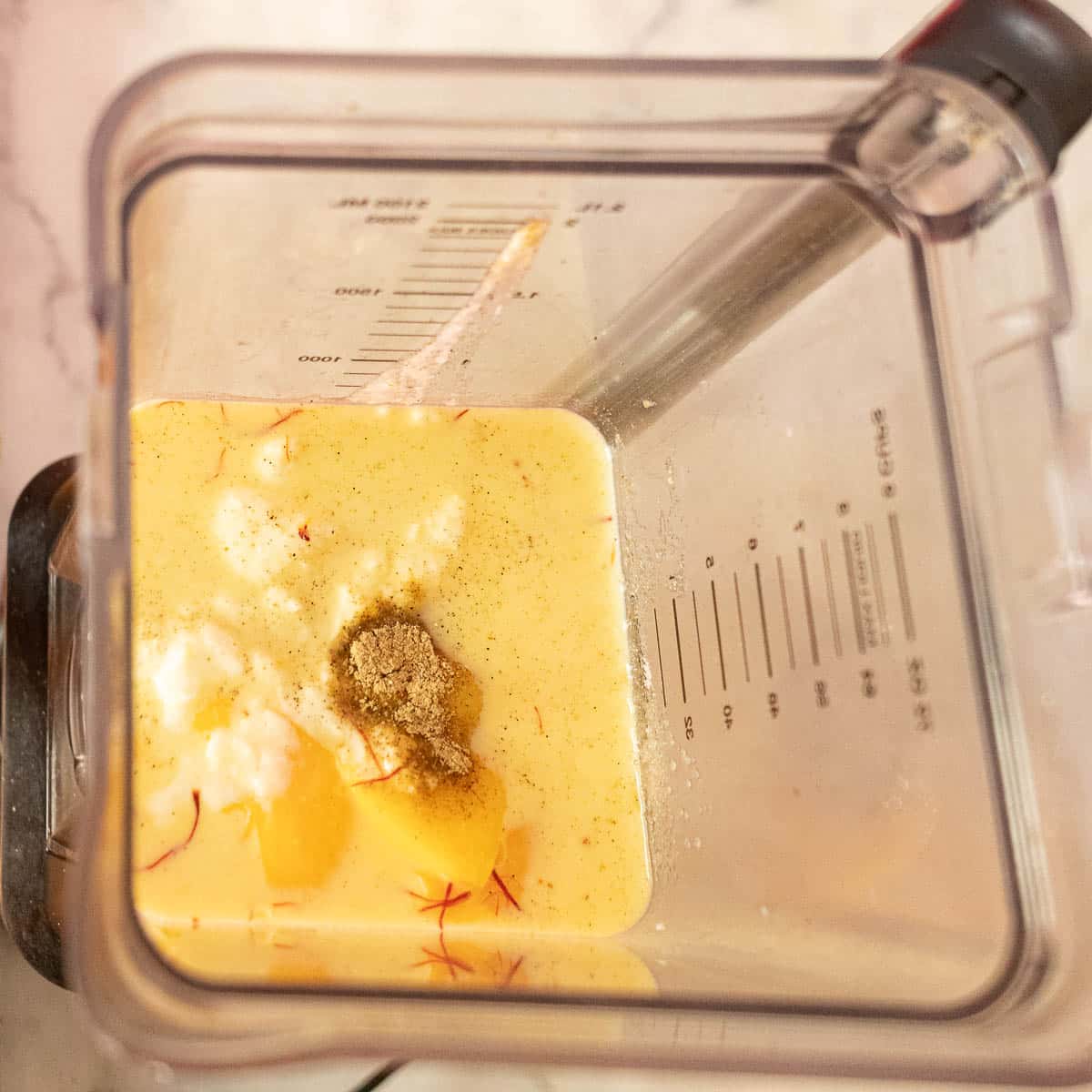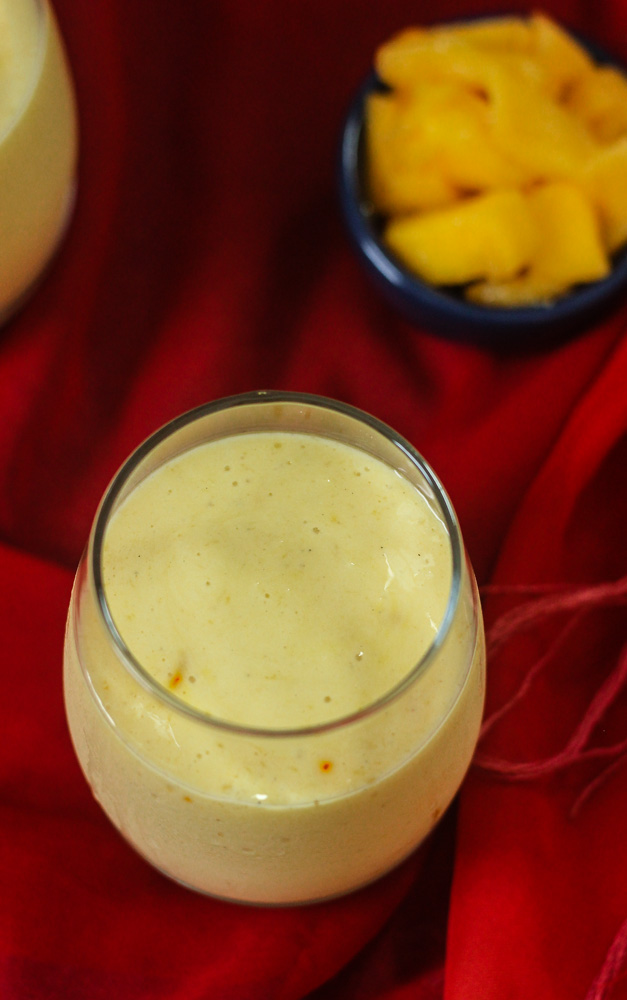 You are going to love the creamy texture of this Indian style Mango Milkshake.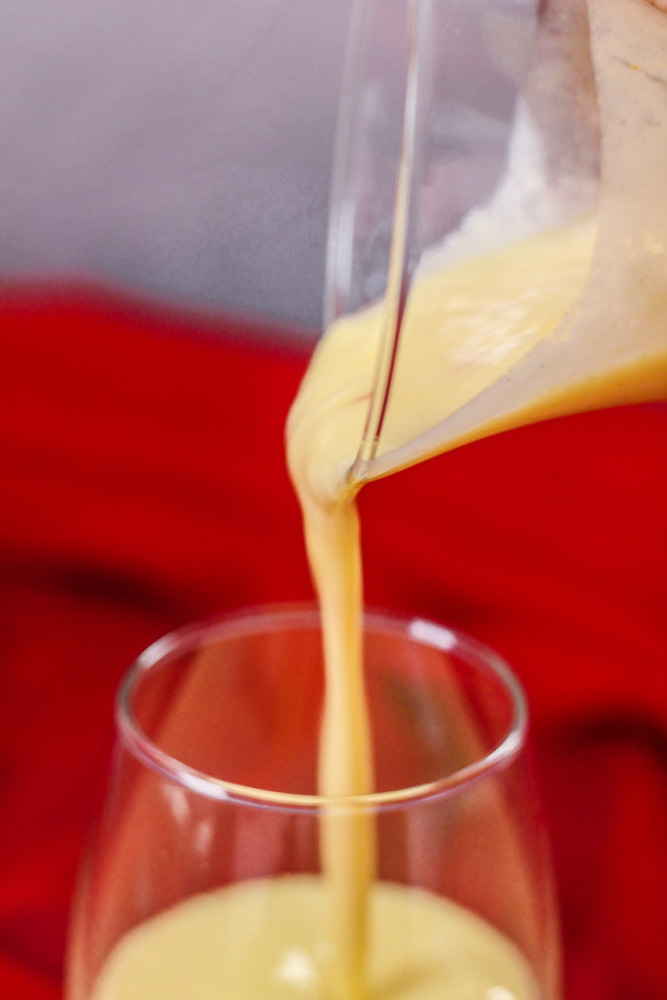 Once you taste this delicious creamy Mango Lassi, you will discover why it is the favorite drink of South Asia. It's a great compliment so spicy Indian food like any of these recipes.
Indian Recipes
The yogurt does give the lassi a slight sour taste, however the mango flavor is what stands out. However, you can add a little more milk or water if you have an aversion to the sourness. You are going to love this Indian Mango Lassi recipe.
Best Mango Lassi Recipe
Mango Lassi is the thick yogurt based Indian smoothie that you get at every Indian restaurant.
Ingredients
1

large Mexican mango

1

cup

plain yogurt

1/2

cup

milk

1/4

cup

sugar

1/2

teaspoon

ground cardamom

a pinch of saffron

handful of ice cubes

5 large ice cubes
Instructions
Heat half of the milk in a microwave just until it is warm. Add the saffron and leave it for 5 minutes.

Meanwhile, peel and chop the mango, scraping the pit really well to get all of the mango flesh.

With a whisk, beat the yogurt, so that it is well whipped.

In a blender, combine the mango pieces, yogurt, milk, saffron milk, sugar, cardamom and ice.
Notes
For best results, the milk and yogurt should be cold straight out of the refrigerator. It is also recommended for the mango to be refrigerated as well.
Nutrition
Calories:
271
kcal
|
Carbohydrates:
49
g
|
Protein:
7
g
|
Fat:
6
g
|
Saturated Fat:
4
g
|
Polyunsaturated Fat:
0.3
g
|
Monounsaturated Fat:
2
g
|
Cholesterol:
23
mg
|
Sodium:
81
mg
|
Potassium:
461
mg
|
Fiber:
2
g
|
Sugar:
48
g
|
Vitamin A:
1340
IU
|
Vitamin C:
38
mg
|
Calcium:
237
mg
|
Iron:
0.3
mg
Did you try this recipe? Leave a comment below.
Please follow me on Instagram @chefmireille or tag me #chefmireille with your pics! I'd love to share them!
Don't forget to visit the RECIPE INDEX with over 1000 recipes from around the world including lots of Vegetarian Recipes and Gluten Free Recipes!