Last Updated on January 13, 2020 by Chef Mireille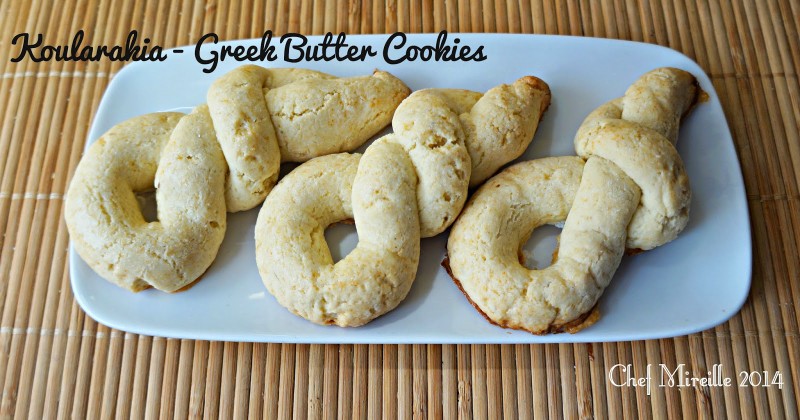 It's time for Food of the World Again and this month we are collecting Greek recipes. Located in the Mediterranean, Greece is on the borderland between Europe and the Middle East. Elements of Greek cuisine is as similar to Italian as it is to Turkish and Persian (Iran, Iraq, etc.) Lamb is the most popular meat. Olives, dates, figs and a variety of nuts also are used often in the cuisine. A variety of aged and fresh cheeses like feta, goat cheese, mannouri and kasseri used in Greek cuisine are reminiscent of Italian cuisine as are dishes like Manestra a dish of chicken and orzo cooked with tomato and Pastitsio, pasta and ground beef baked in bechamel sauce.
Koularakia are Greek Butter Cookies traditionally served at Easter. They can be flavored with a variety of ingredients including anise seed, coriander seed, lemon, orange or ouzo. They are also sometimes topped with sesame seeds. I have used both anise and ouzo, an anise flavored liqueur in my version here.
Koularakia
Yield: 15 cookies
Ingredients:
2 eggs
3/4 cup sugar
1/2 cup butter
1/2 teaspoon anise seed, ground
1 tablespoon ouzo
2 1/2 cups all purpose flour
1 1/4 teaspoons baking powder
1/4 teaspoon baking soda
1/4 teaspoon salt
Topping Ingredients:
2 tablespoons milk
1 tablespoon sugar
Preheat oven to 350 F. Grease a cookie sheet with non stick spray.
Sift flour, baking powder, baking soda and salt.
Using an electric mixer, beat butter until light and creamy. Add eggs and sugar. Beat until light and fluffy, about 5 minutes
Add ouzo, anise seed and flour a little at a time, until you have a thick batter.
Take a small piece of dough and roll into a rope about 10″ long. Form into a U shape and then twist the strands twice. Place on prepared cookie sheet. Repeat until all the dough has been used.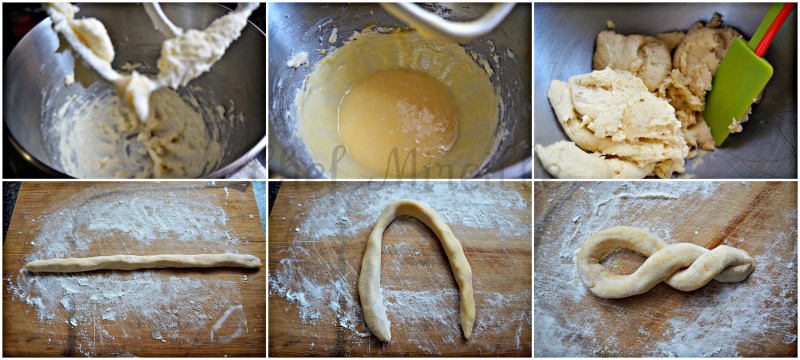 Brush the tops with milk and sprinkle sugar on top.
Bake for 15-18 minutes, until you start to see some color from the bottom of the cookies.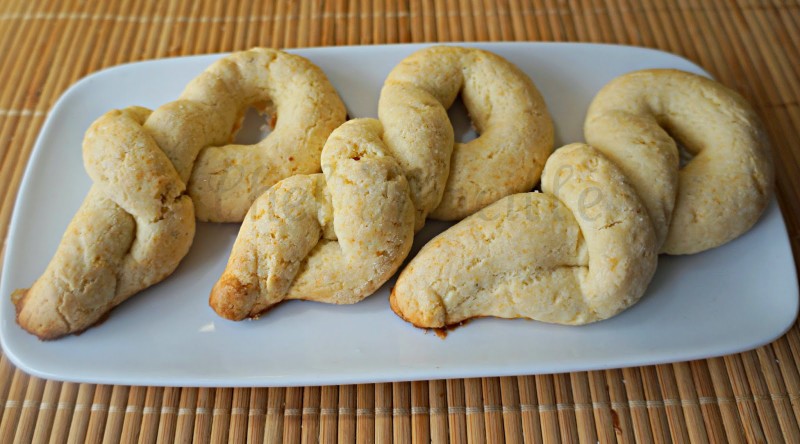 These barely sweet cookies are perfect with a cup of tea. I do need a little more practice shaping them in the traditional way as the opening on the top should not be quite so large, but these are so delicious as you break off pieces to enjoy, does the shape really matter?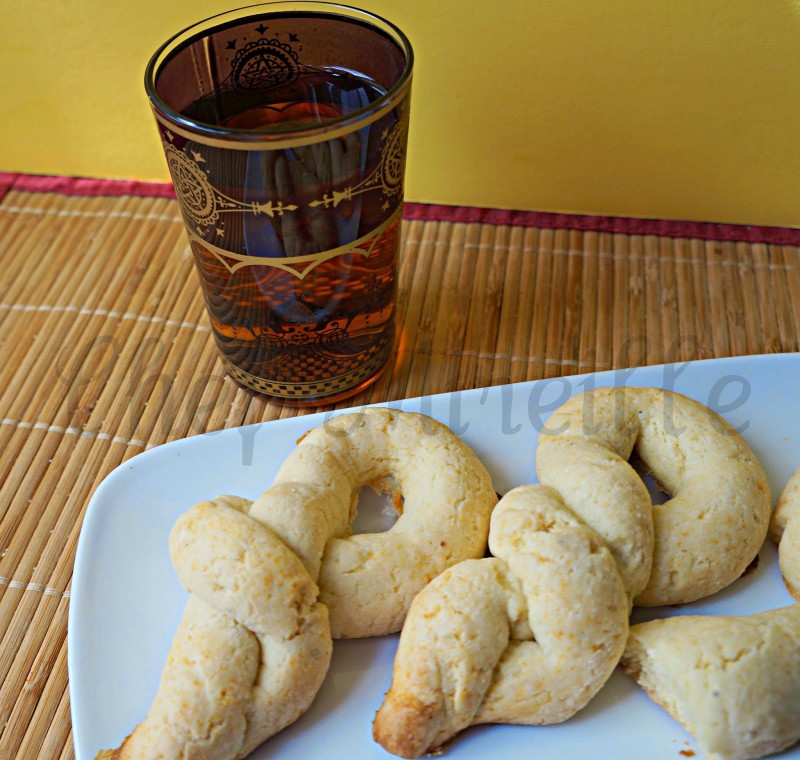 These cookies have such a soft texture with the perfect crumb.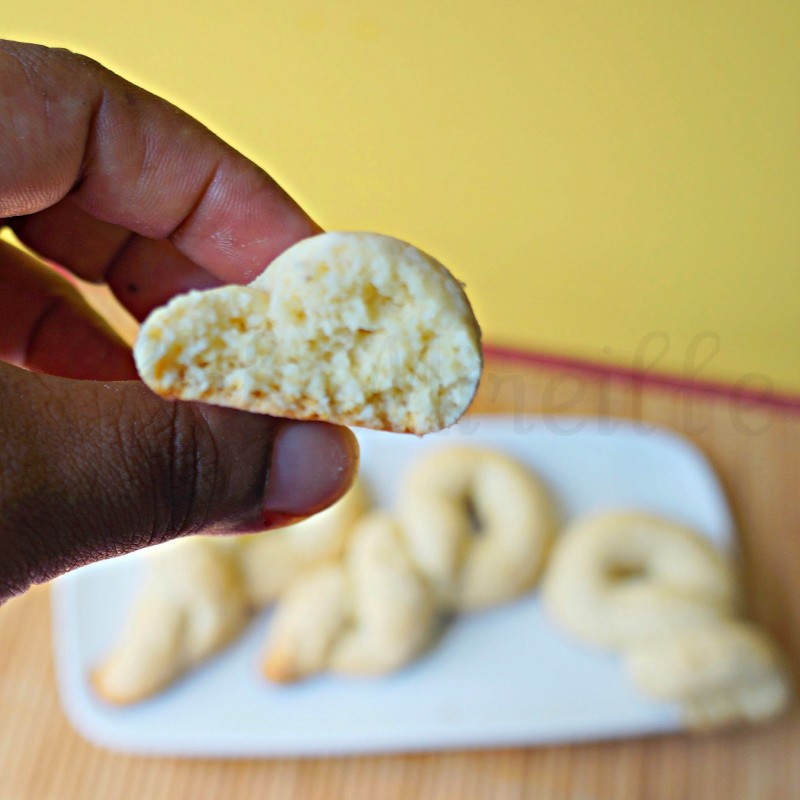 There's a lot more to Greek food than the Spanikopita every one knows about!

…linking to Bake Fest hosted by Sumee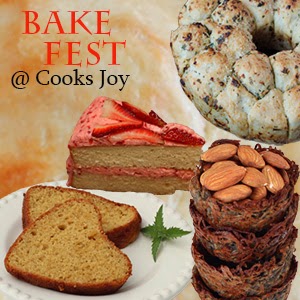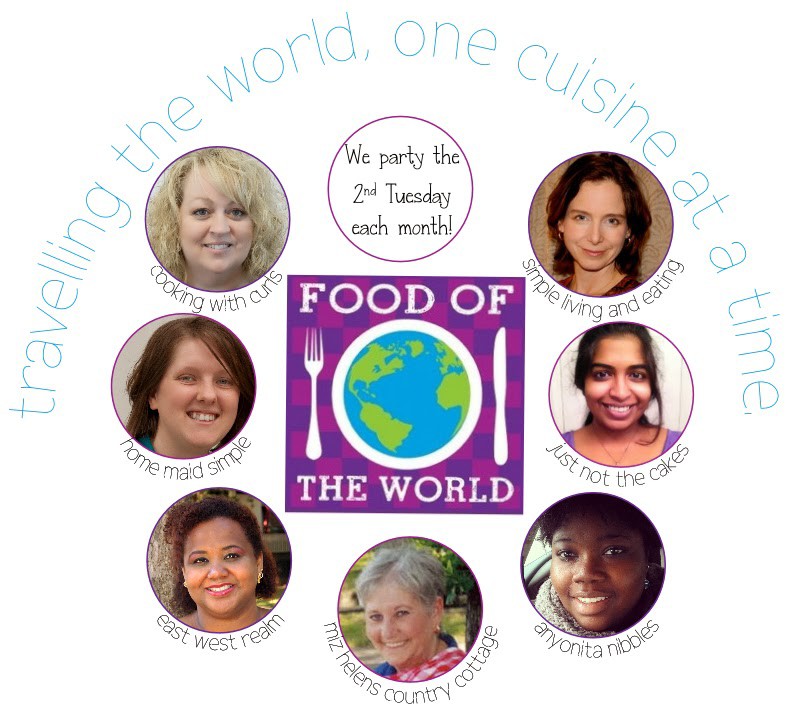 Submit your Greek recipes using the Linky Tool below.
Visit our co-hosts and follow their sites:
Grab our button on my sidebar and link up your recipes.
Submissions will be accepted until August 11th, 2014. Archived recipes are welcome.
…and get ready next month when we will be doing Indian recipes to celebrate Indian Independence Day. I have almost 200 Indian recipes posted on this blog so do take a look at my recipe index here if you're looking for some inspiration for Indian recipes!!!
Do you know anyone else who likes learning about international food, culture, history and travel? Bring them over here to join the party! Don't forget to use those share buttons!
Start Here to find out how the Schizo Chef can help you with your cooking, travel and other needs!
If you like this recipe, PLEASE LEAVE A COMMENT & SUBSCRIBE!
Sign up for our updates!
Subscribe to get our latest content by email and get your FREE Pantry Cheat Sheet - Learn the basics to cook any International cuisine!