Last Updated on July 9, 2022 by Britt Ervin
Fresh Fennel Citrus Salad with Beets – This Fennel Citrus Salad with Beets is a great healthy recipe, just in time for spring! The Grapefruit Vinaigrette dressing and semi-homemade croutons make this salad extra special and delicious. What puts it over the top is the salty smoky flavor from the pancetta.
After visiting Chelsea Market, a foodie hotspot in NYC, and picking up some fresh ingredients, this Fennel Citrus and Beet salad was the result.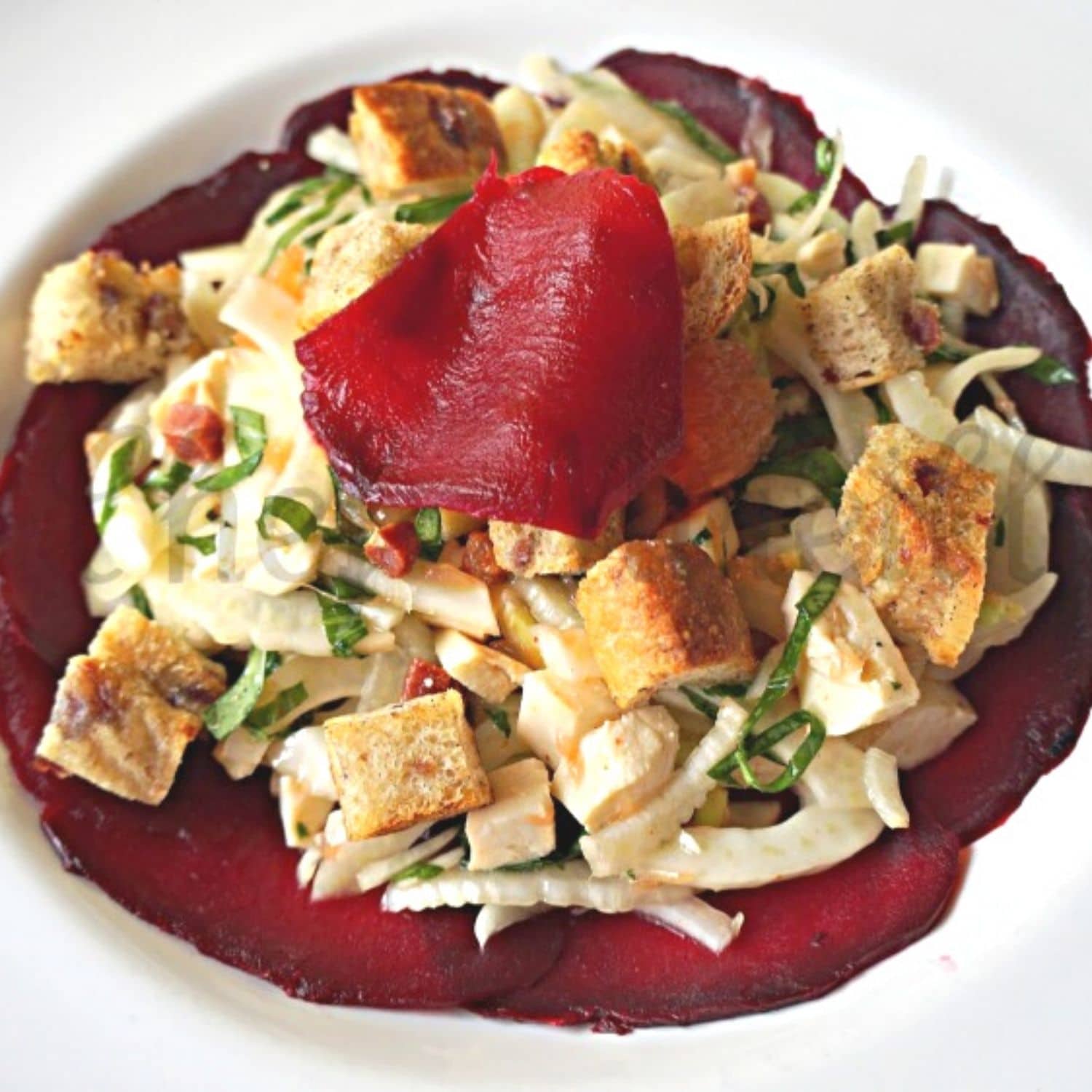 Have you ever been to Chelsea Market?
I am so lucky to live in NYC and have the entire food world at my fingertips. We have many places that are a food lover's paradise and one of those places is Chelsea Market. Chelsea Market is an indoor mall that runs one entire West-East block in NYC. (These are the very long cross town blocks – the equivalent of about 4 of the north-south blocks). It's full of food stalls where you can grab a snack or even sit down to have a meal.
Amy's Bread is an artisanal bread chain here in NYC that makes some of the most amazing breads. You can purchase cookies, muffins, sandwiches, and a variety of other snacks from them. I stopped by for a snack and picked up one of their mini loaves made with pancetta and black pepper. I used it to make the croutons for this salad. You can substitute any bread you prefer – even homemade Whole Wheat Bread – as croutons for this Fresh Fennel Citrus Salad with Beets.
Chelsea Market happens to be the building where the Food Network offices/studio are located upstairs. There are a number of stores selling seafood, dairy products, fruits and vegetables, fresh pastas, spices, teas, and nuts. There are kitchen supply stores where you can purchase knives, chef wear, bakeware, kitchen gadgets, and utensils.
If you do make it to NYC and are a foodie or maybe you live here and just never visited, here are some stores in Chelsea Market not to miss:
Bowery Kitchen – kitchen utensils and bakeware. On Wednesdays and Saturdays, there is a woman who will sharpen your knives for about $8/knife. Depending on how dull the blade is.
Manhattan Fruit Exchange – large variety of fruits and vegetables from all over the world as well as artisanal cheeses, pastas, spices, and canned products.
Buon Italia – Italian gourmet shop for fresh and dried pastas, cured meats, a large cheese selection, bottled products, grains, sweets, and many other European products. You can find fresh yeast here too.
Spices and Tease – artisanal tea blends, spices and spice blends from around the world like Ethiopian Berber or Za'atar
The Nut Box – nuts, dried fruits, snack foods, and grains
Imports from Marrakesh – a Moroccan shop where you can purchase handmade products like clothes, bags as well as tea glasses, and other kitchen stuff like tagines, etc.
After spending an hour strolling through Chelsea Market I came up with this vibrant Fresh Fennel Citrus Salad with Beets, perfect for a summer day.
Frequently Asked Questions
What fruit goes well with fennel?
Fennel has a slightly sweet licorice-like flavor that pairs well with citrus fruits. Oranges, lemons, and grapefruits are popular choices for their tangy taste and freshness.
To make this recipe I use my favorite pairing of fennel and grapefruit.
What does a fennel salad taste like?
The salad is earthy, bright, and fresh. Fennel tastes similar to licorice candy, which is mellowed when combined with sweet grapefruit. Then the pancetta, smoked mozzarella, and tarragon really bring out the delicious savory flavors. Everything is tossed with a tangy and spicy vinaigrette, and the salad is topped with fresh croutons. So each bite has a perfect balance of sweet, smoky, and salty flavors with a lovely bit of crunch!
How is the best way to prepare fennel for salad?
The fennel bulb is what's needed to make this recipe. So first, cut the stems off of the bulb and trim off the root end. Then chop the bulb into four quarters, and use a sharp knife to cut each section into thin slices.
How to Make Citrus Supreme
Before the recipe, I wanted to talk a little about supreme. You may have seen recipes that call for orange supreme or grapefruit supreme.
Supreme is a culinary term you may or may not have heard of before. It is usually used in referenced to citrus fruits. It is the process of removing the skin, pith, and membranes from fruit and just retaining the fleshy fruit part.
To supreme a fruit, first cut off a little bit off of each end. Using a sharp pairing or serrated knife, remove all of the skin and white pith. The next step is to go in between the membranes and remove the flesh so that you are able to remove intact segments. You'll get a little practice as my recipe below includes grapefruit supremes.

Ingredients Needed to Make This Salad Recipe
Salad Ingredients
fennel bulb
pancetta
smoked mozzarella
basil leaves
beets
tarragon leaves
grapefruit
bread
olive oil
salt and pepper
Ingredients for the Vinaigrette
lime juice
red wine vinegar or white wine vinegar
honey
grapefruit juice
herb infused olive oil
salt
cayenne pepper
Surprisingly, this Fresh Fennel Citrus Salad with Beets is the second recipe I've done using similar ingredients. (Be sure to also try this Strawberry Fennel Salad!)
I actually made this salad a few weeks ago and then when putting together a dynamic Recipe Index for this blog where you can now easily search for recipes by either course or culture, I discovered I had a similar salad also using beets, fennel and a grapefruit vinaigrette. However, this version is a classier, more gourmet version and this vinaigrette has a different flavor profile, so I decided to post it anyway.

How to Make Fresh Fennel Citrus Salad with Beets
A quick tip for this recipe is that you will want to make sure that you prep the beets ahead of time. They need to be roasted for 2 hours in the oven – definitely not a quick throw-together salad!
You also will need time to pan-fry the pancetta and bake the croutons. While the croutons are baking I suggest that you toss the fennel, basil, grapefruit, pancetta, and mozzarella with the vinaigrette and allow them to sit for 10 minutes. This way, as everything comes together, you can have your salad completed faster!
When you are ready to serve, add all salad dressing ingredients together in a small bowl to create the vinaigrette.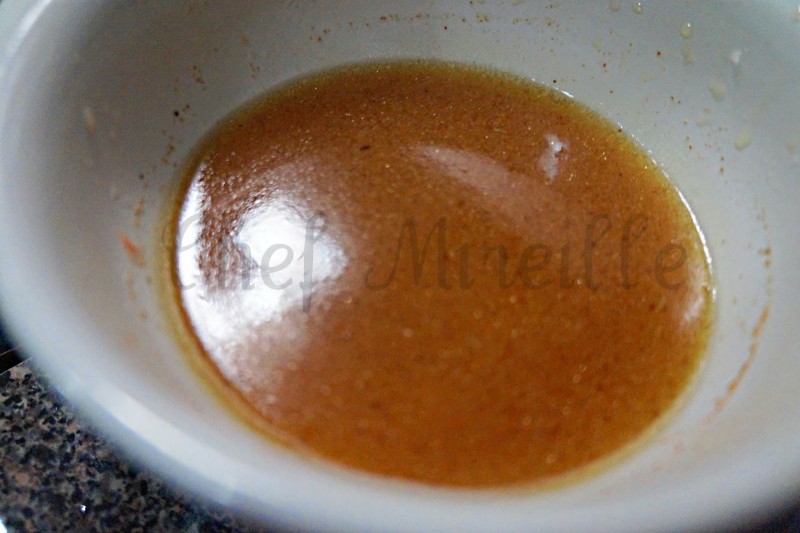 How to Make Croutons
Cut a loaf of bread of your choosing into cubes.
Preheat the oven to 375 F. Toss bread in olive oil and any desired seasoning.
Bake for 20 minutes, or until well-toasted.
I made and seasoned croutons for my Panzella Salad, you can use the seasonings there as inspiration.

Steps for Putting the Fennel and Beets Citrus Salad Together
Slice and arrange beets as the base of the salad.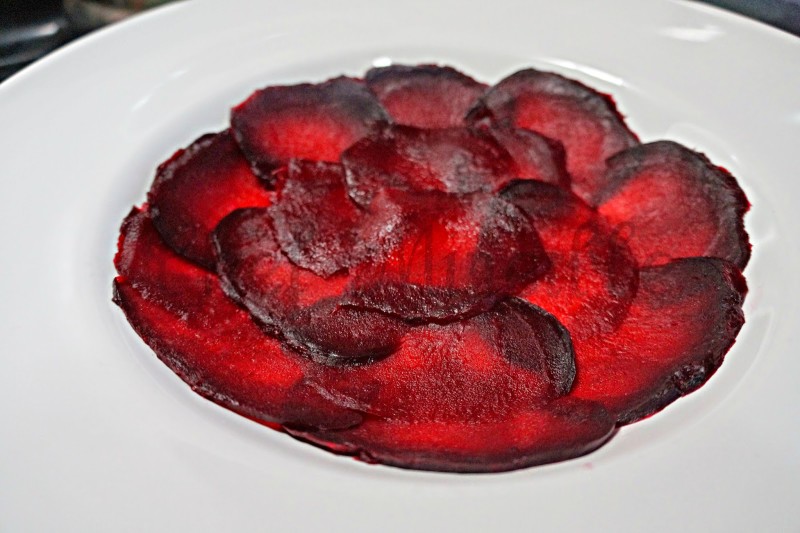 Toss the remaining salad ingredients together with the vinaigrette in a bowl.
Let the salad rest for at least 15 minutes to absorb the flavors.
Place on top of the sliced beets.
Garnish with the croutons.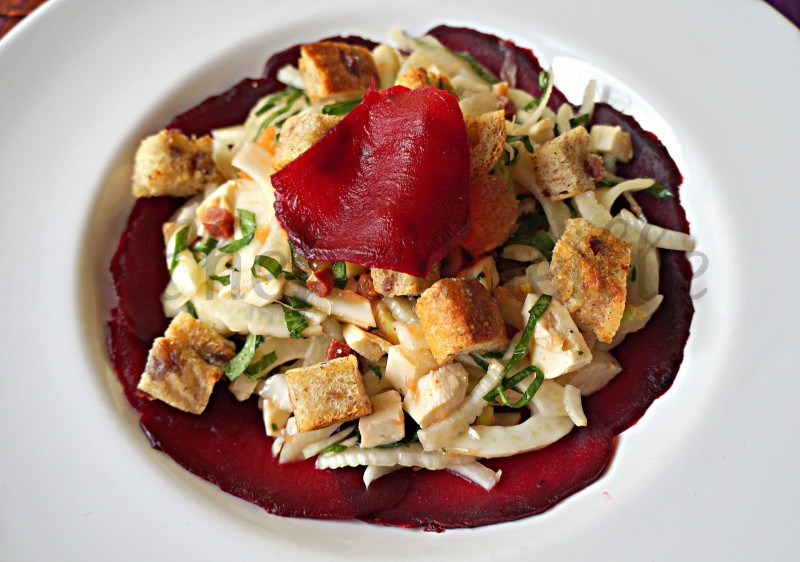 What to Serve with Beets and Fennel Citrus Salad
Loaded with beets, pancetta, fennel, mozzarella, and croutons – this hearty summer salad has everything you need in a full meal all together in one bowl. For an extra boost of protein you can add grilled or roasted chicken to the salad!
It is also delicious to enjoy paired with other favorite summertime foods, like a light soup or sandwich.
Try it with a fresh Watermelon Gazpacho, Creamy Celeriac and Parsnip Soup, or Tarator – Bulgarian Cucumber Soup.
More Summer Salad Recipes to Try
Fennel Citrus Salad with Beets
Fennel Grapefruit Salad with Beets. The vinaigrette and pancetta puts this salad over the top delicious.
Ingredients
1

fennel bulb

3

oz.

pancetta

cut into small dice (Italian bacon)

4

oz.

smoked mozzarella

diced

10

basil leaves

chiffonade

2

beets

about 1lb.

3

sprigs of tarragon leaves

1

grapefruit

cut into supremes

4

oz.

mini loaf Amy's Bread pancetta & black pepper

2

tablespoons

olive oil

salt and black pepper

to taste
Vinaigrette Ingredients
1

tablespoon

lime juice

original recipe used lemon juice

1

teaspoon

red wine vinegar

original recipe used white wine vinegar

1

tablespoon

honey

1/2

cup

grapefruit juice

juice from 2 grapefruits

2

tablespoons

herb infused olive oil

original recipe used canola oil

1/2

teaspoon

salt

1/4

teaspoon

cayenne pepper
Instructions
To make the vinaigrette, whisk lime juice, vinegar, grapefruit juice, honey, salt and pepper in a bowl. While whisking constantly, slowly drizzle in the olive oil.

Place beets in an oven safe dish tossed with 1 tablespoon of the olive oil and the tarragon. Cover with aluminum foil and roast for 2 hours, until tender. Let cool and peel the beets. Slice the beets.

Thinly slice the fennel.

Fry the pancetta until golden brown and crispy. Drain.

Preheat oven to 350 F.

To make the croutons, chop the mini loaf. Toss with the remaining tablespoon of olive oil, salt and pepper.

Place in oven and toast for 15 minutes, until crispy.

Toss the fennel, basil, grapefruit, pancetta and mozzarella with the vinaigrette. Leave for at least 10 minutes to let the foods absorb the flavors of the vinaigrette.

To plate, place sliced beets on the bottom.

Add tossed fennel, etc. on top. Garnish with the croutons.
Nutrition
Calories:
507
kcal
|
Carbohydrates:
45
g
|
Protein:
14
g
|
Fat:
31
g
|
Saturated Fat:
9
g
|
Polyunsaturated Fat:
4
g
|
Monounsaturated Fat:
17
g
|
Trans Fat:
1
g
|
Cholesterol:
36
mg
|
Sodium:
871
mg
|
Potassium:
622
mg
|
Fiber:
6
g
|
Sugar:
17
g
|
Vitamin A:
1136
IU
|
Vitamin C:
38
mg
|
Calcium:
221
mg
|
Iron:
2
mg
Did you try this recipe? Leave a comment below.
Please follow me on Instagram @chefmireille or tag me #chefmireille with your pics! I'd love to share them!
If you love how these ingredients pair with each other as much as I do, you can see the previous version I did here.
Don't forget to visit the RECIPE INDEX with over 1000 recipes from around the world including lots of Vegetarian Recipes and Gluten Free Recipes!