Last Updated on June 3, 2015 by Chef Mireille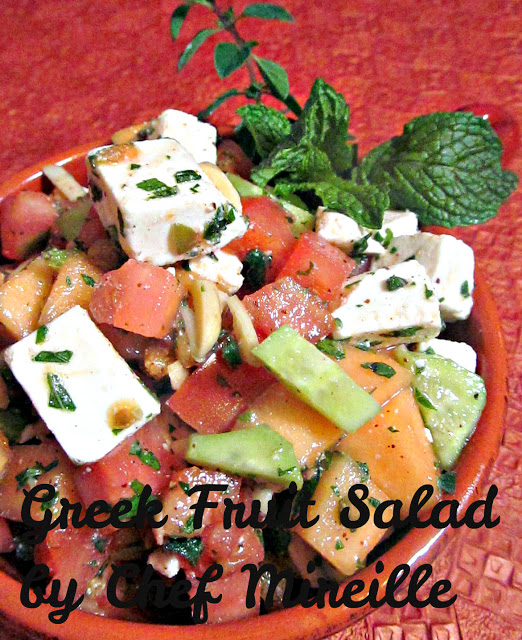 As I recently shared with you in this post some of my favorite salads I have created for this blog, it's time to start to include salads as part of my daily diet, which I don't do as often as I should.
Eat breakfast like a king, lunch like a prince and dinner like a pauper is a popular adage that's hard to practice in modern times.  When we are busy running off to work, who has time to cook and sit down and eat a large meal at the beginning of the day?  Many people only eat full breakfasts on the weekends and during the week, a cup of coffee and a muffin, danish, granola bar or anything else that is quick and can be eaten on the run is more common.  However, when we save our heaviest meal for the last one of the day, we have less time to burn the calories which leads to weight gain.
I've decided to make a determined effort to try to live by this adage for a month and see if the scale shows any change.  To this goal, I plan to be eating a lot of salads for dinner, so here's one more to include in the list I posted a few days ago.
I like to include fruit in salads, especially during the summertime when ripe mangoes, pineapples, peaches and melons are readily available. These fruits are complemented well with savory foods.  Although tomatoes are often considered a vegetable, technically they are a fruit. Botanically speaking, anything with seeds are classified as fruit, which even makes "vegetables" like green beans and squash, fruit.  However, since they are used as vegetables in cooking, this is how they are commonly classified.
In this fruit salad, I used flavors commonly used in Greek cuisine.  I am not a big fan of feta cheese, due to its high salt content and sharp flavor. It's a little too strong for my palate. When I make Greek dishes that include cheese, I usually opt for the milder, firmer Kasseri cheese, which is less popular but has a more pleasing flavor.  I didn't have time to go over to the Sahadi's where I usually purchase my Kasseri, so I had to settle for Manouri.  Manouri is closely related to feta also made from sheep and/or goat's milk whey. however it lacks the acidity which I dislike in feta.  You will need to go to a market with a very good and varied cheese selection or an international market that features European or Middle Eastern foods.
Although Greece is geographically located in Europe, their cuisine is closely related to Near Eastern Mediterranean and Balkan cuisines, especially the food of Turkey as they both share the island of Cypress.
Greek Fruit Salad
Serves 2 (as a side salad or serves 1 as a meal)
1 cup canteloupe, chopped
1 cup tomato, chopped
2/3 cup Manouri cheese, diced (if using feta, half the quantity)
1 tablespoon pumpkin seeds
2 tablespoons slivered almonds
5 pitted dates, chopped
1 tablespoon golden raisins
1 Persian cucumber or 1/4 regular cucumber, peeled and chopped
1/3 cup fresh squeezed orange juice
2 tablespoons fresh squeezed lemon juice
1 tablespoon honey
3 tablespoons olive oil
1 1/2 teaspoons Aleppo pepper (Greek chile pepper)
1/2 teaspoon salt
oregano leaves off of 2 stalks
1/4 cup mint leaves, firmly packed
Olives are a very common ingredients that would also be included in any Greek salad, however since again I don't like the acidic flavor of olives, I chose not to include them.  Feel free to add them to this salad.
To make the salad dressing, combine orange juice, lemon juice and honey. Add salt and Aleppo pepper and stir to dissolve.
Slowly drizzle in the olive oil, whisking constantly. Set aside.

In a large bowl, combine all of the other salad ingredients, except the herbs.
Finely chop the oregano and the mint leaves.
Add the herbs and 3 tablespoons of the salad dressing.

Toss well and serve with crackers or toasted pita.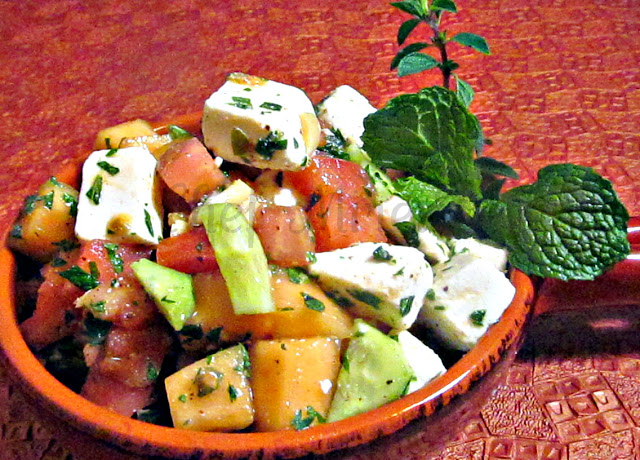 This is a fresh salad with contrasting textures and flavors.  Salty cheese and sweet melon, soft fruit and crunchy nuts and pumpkin seeds…this salad is full of tantalizing varied tastes that will leave you content as a summer dinnertime meal.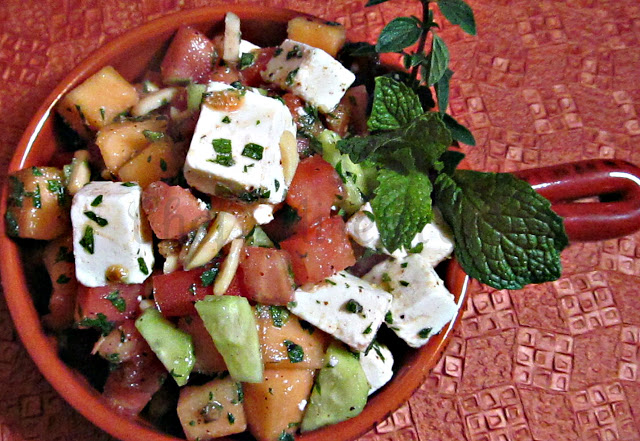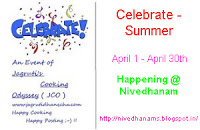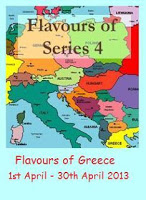 …linking to Nayna's Flavours of Greece hosted by PJ, No Waste Challenge – Fruits hosted by Elizabeth & Jagruti's Celebrate Summer hosted by Sowmya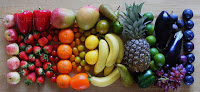 LIKE THIS RECIPE? LEAVE A COMMENT..I LIVE FOR THEM!
Chef Mireille