Last Updated on June 3, 2015 by Chef Mireille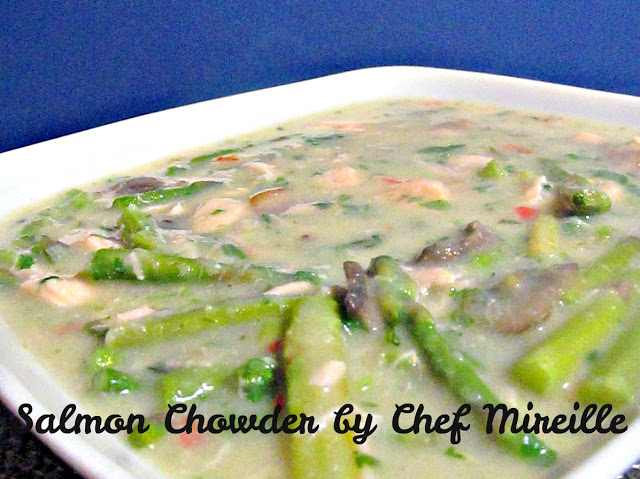 Chowder is a type of soup popular in the American Northeast. While there are many varieties of chowder, the most common types are Corn Chowder and Clam Chowder. There are two types of Chowder – New England and Manhattan. New England Chowder is a creamy soup that includes milk and/or cream and is thickened with pureed potatoes or crackers. Manhattan Clam Chowder uses a tomato base, instead of milk and cream.
In this Thai inspired chowder with the use of coconut milk, chile and cilantro, a full bodied flavor is achieved with the contrasting tones of earthy mushrooms and fresh asparagus.
Salmon Chowder
Serves 6
Ingredients:
14 oz. salmon, skinned and deboned
2 bay leaves
2 1/2 cups vegetable, chicken or fish broth
5 small potatoes, approximately 13 oz.
13.5 oz. can coconut milk
1 tablespoon peanut oil
4 scallions, chopped
3 bird's eye chiles, finely chopped
7 button mushrooms, thinly sliced
1 bunch asparagus, chopped
1 cup water
1/4 cup cilantro, finely chopped
juice of 1/2 lemon
salt, to taste
Bring broth and bay leaves to a boil. Reduce to a high simmer. Add salmon and cook for 7 minutes.

Using a slotted spoon or spatula, remove the salmon. By hand, flake the fish.
Add asparagus and cook for 4 minutes. Using a slotted spoon, remove from broth. Add potatoes and cook for 5 minutes. Turn off flame and let cool for a few minutes. Transfer potatoes and cooking liquid to a blender with the coconut milk and puree.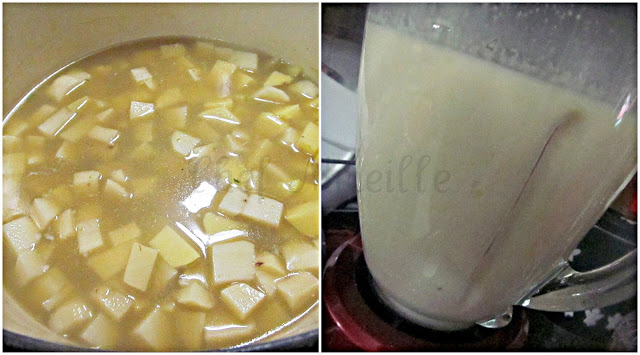 In a saucepan, heat oil. Add scallions, chiles and mushrooms. Saute for 3-4 minutes, until vegetables are softened.
Add potato puree, water, asparagus, salmon and lemon juice. Cook on a low simmer for 5 minutes, stirring often.
Add cilantro and salt, to taste.

Cook for 1 more minute. Let rest for 5 minutes, before serving.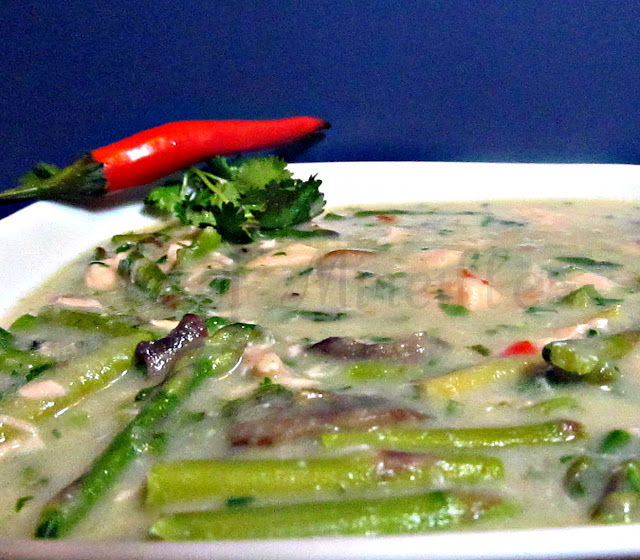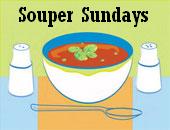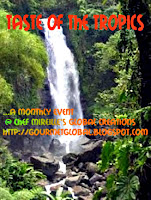 …linking to Souper Sunday and Taste of the Tropics-Thailand
LIKE THIS RECIPE? LEAVE A COMMENT..I LIVE FOR THEM!
Chef Mireille