Last Updated on June 3, 2015 by Chef Mireille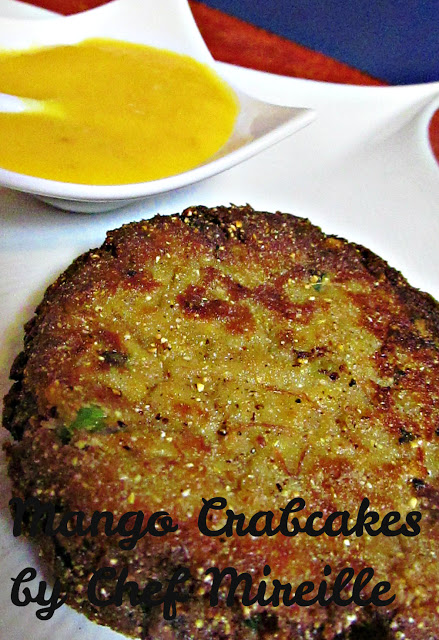 This month I took a break from the monthly Blogging Marathon I have been participating in since December 2011. Since most of the BM participants are Vegetarian, I rarely post meat or fish dishes when I do the BM. As the weather becomes warmer (today is was 79 F), lighter foods make more frequent appearances on the menu. Even though I rarely eat red meat, even chicken starts to become rare in my diet with the rising temperatures. Fish and other frutti di mare (fruits of the ocean) is what I prefer during Spring & Summer, as much as my budget allows it.
I love seafood and my all time favorite fruit is mango. Fruits like mango, peach and pineapple are very versatile as they can be used just as well in savory dishes as sweet and complement proteins like seafood, duck and chicken especially well.
Fresh crabmeat, sweet mango & Caribbean flavors make these a delicious first course to any meal. You can also enjoy a light dinner by serving it with a green salad.
Mango Caribbean Crabcakes
Serves 6
Ingredients:
1 lb. lump crabmeat
2 scallions, chopped
1 Scotch Bonnet pepper (Habanero)
6 tablespoons mango puree
1 teaspoon roasted cumin powder
1 tablespoon Green Seasoning (a Caribbean all purpose marinade that includes scallions, garlic, ginger, chives, parsley and other green herbs)
juice of 1 lime
1/4 teaspoon salt
1/3 cup 4C brand seasoned whole wheat breadcrumbs
3/4 cup cornmeal
1/4 cup rice flour
peanut oil, for frying
Mango Dipping Sauce
1/2 cup mango puree
1/4 cup coconut milk
juice of 1 lime
1 tablespoon Caribbean hot sauce (I used Matouk's)
1/2 teaspoon salt
Combine all of the crabcake ingredients, except the cornmeal, rice flour and oil. Mix well.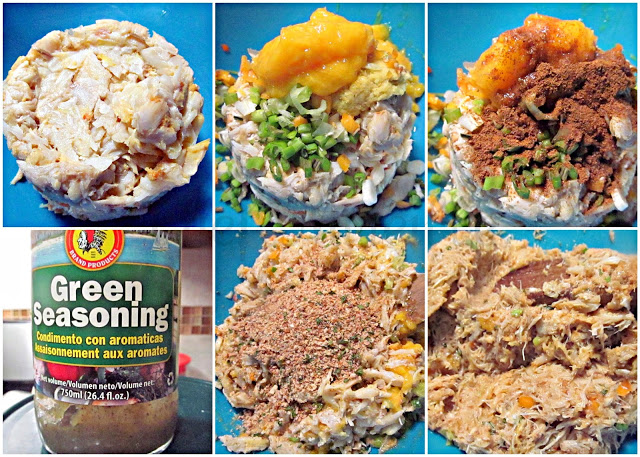 Heat enough oil for shallow frying.
In a plate, combine the rice flour and the cornmeal. Divide the crabcake mixture into 6 patties and dredge both sides in the flour mixture. Dust off the excess and place in the hot oil.

Fry on medium heat 3-4 minutes on each side. Place on paper towels to drain excess oil.
To make the sauce, combine all ingredients and mix well.
Serve crabcakes with the mango sauce.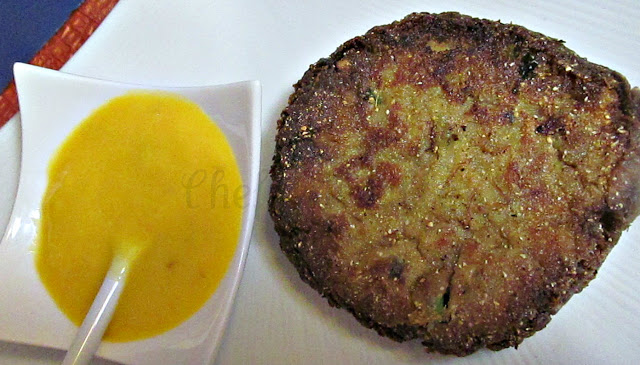 You will need about 2 mangos to yield enough puree for the crabcakes and the sauce. Sweet and spicy at the same time, it's a tastebud tantalizing melange of flavors.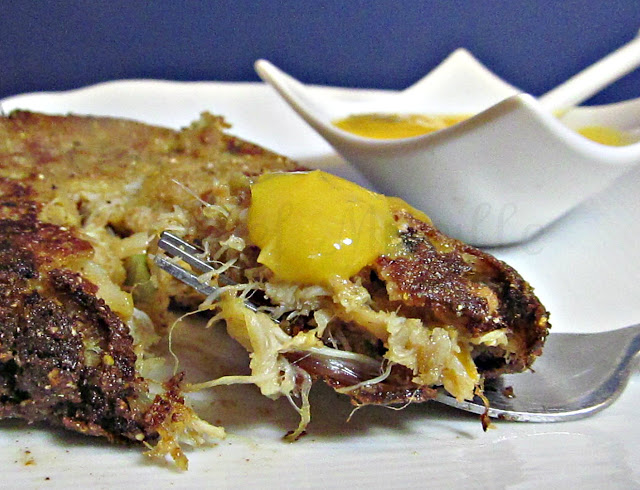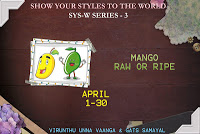 …linking to No Waste Challenge – Fruits hosted by Elizabeth and Gat's & Viji's Show Your Styles to the World – Mango
Update: Linking to Simply Food's Flavours of Caribbean hosted by The Spicy Pear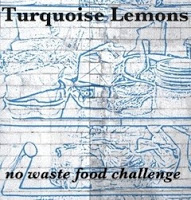 LIKE THIS RECIPE? LEAVE A COMMENT..I LIVE FOR THEM!
Chef Mireille