Last Updated on May 24, 2023 by Chef Mireille
This post may include affiliate links.
Ecuadorian Come Y Bebe is a drinkable South American fruit salad that is especially popular in Colombia and Ecuador, although you may also find it in other South American countries.. Whether you call it Tropical Fruit Salad or Tropical Fruit Punch, this is a delicious and refreshing summer treat. It's perfect for the hotter summer months!
Are you ready to Travel Your Tastebuds?
Welcome to a tropical paradise of flavors with Come Y Bebe recipe, a delightful and refreshing Ecuadorian tropical fruit salad. Come Y Bebe, which translates to "Eat and Drink" in English, is a popular Ecuadorian dish that showcases the abundance of tropical fruits found in the region. Bursting with vibrant colors and a symphony of flavors, this salad is a true celebration of Ecuador's lush and bountiful fruit offerings.
A combination of fresh diced fruits in fresh squeezed orange juice and fruit puree. The base is thin enough so that you can easily drink this Ecuadorian Fruit Salad without a spoon.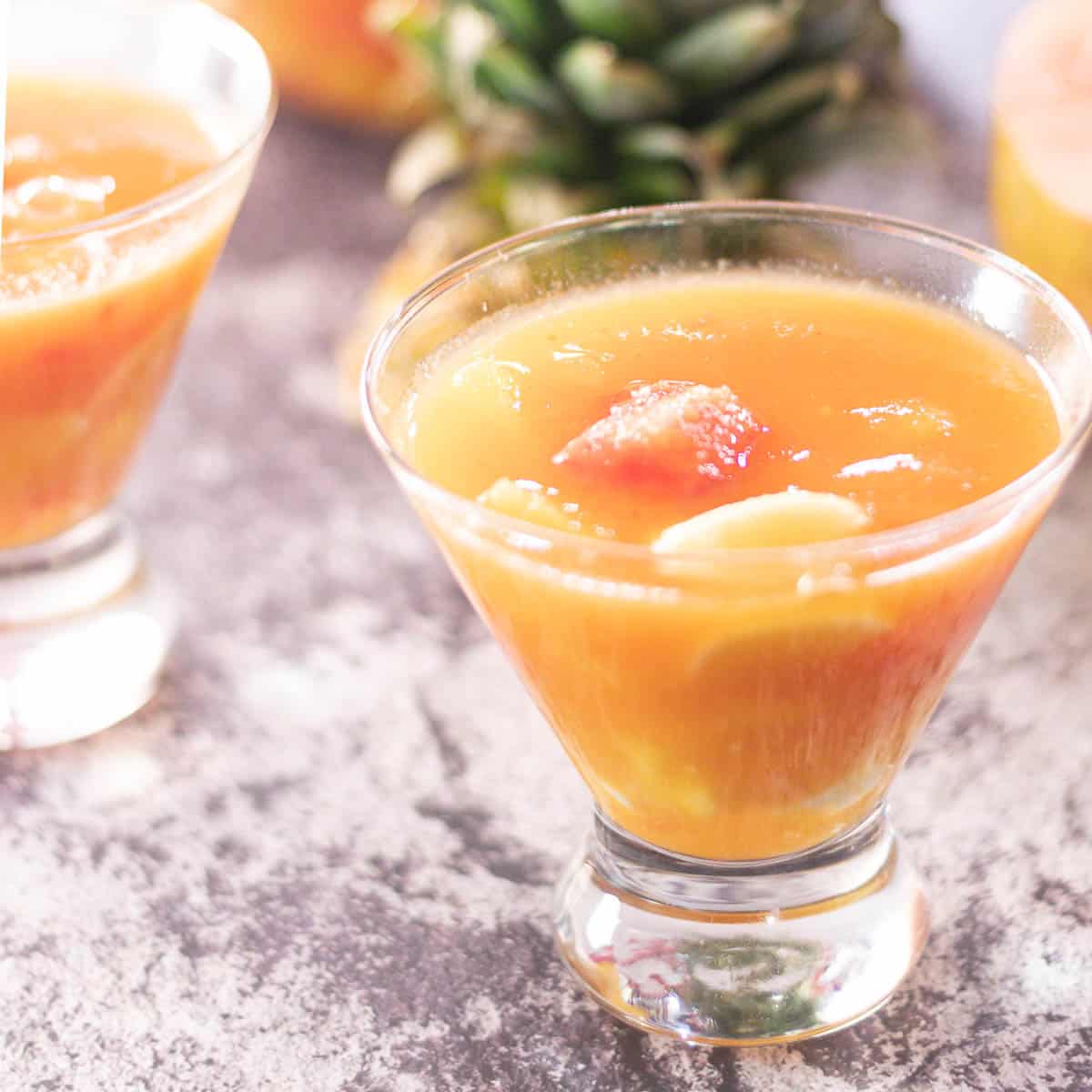 Table of Contents
I grew up in Jackson Heights, a neighborhood located in the Queens borough of New York City. This area has a large South American population so you can easily find people selling cups of this very refreshing drink during the summertime. It is one of the most popular street foods you will find if you walk along Junction Blvd. – the main street of this area!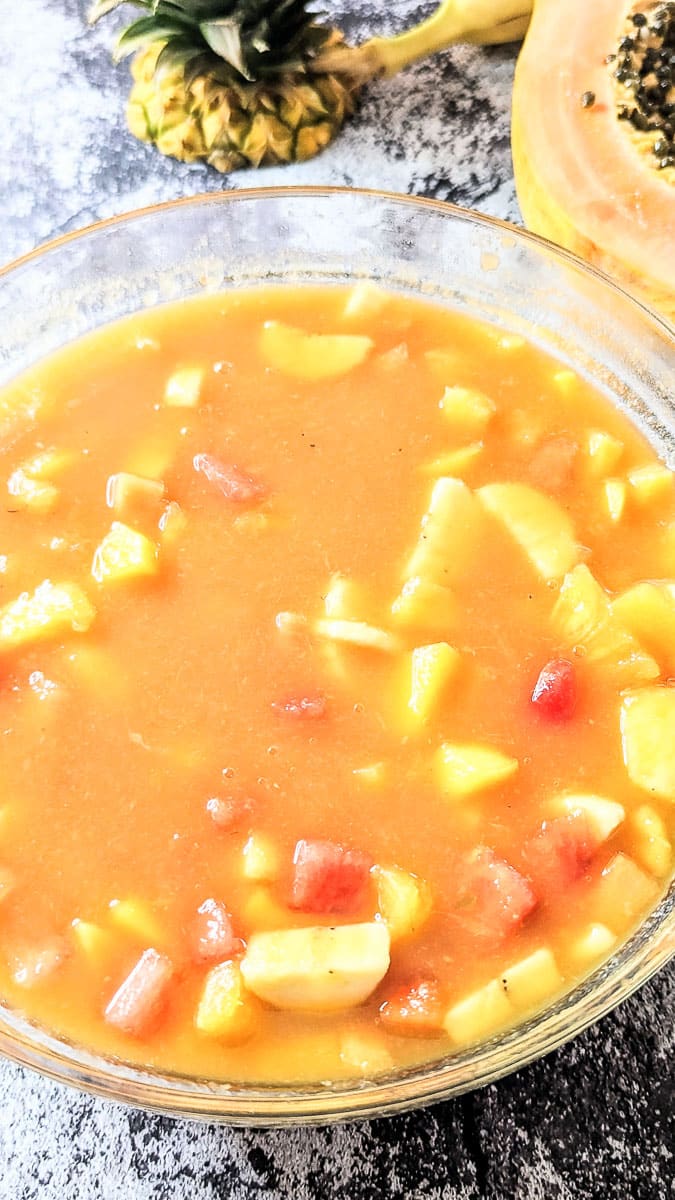 ​Growing up in this area, I had lots of Ecuadorian, Colombian and Peruvian friends and since junior high school, I learned how to make this delicious Tropical Fruit Salad.
Fruits for Tropical Fruit Salad
There really is no one recipe for Ecuadorian Come y Bebe as it can be made with any combination of fruits. Although I did not use them in this version, other fruits you can also utilize include:
mango
peach
guava
nectarine
plum
​dragonfruit
lychee/ rambutan
Cherimoya, lucuma and passion fruit are also delicious fruits you can use in the fruit puree base. (You can usually find the frozen fruit pulp in markets in Latin or Caribbean neighborhoods).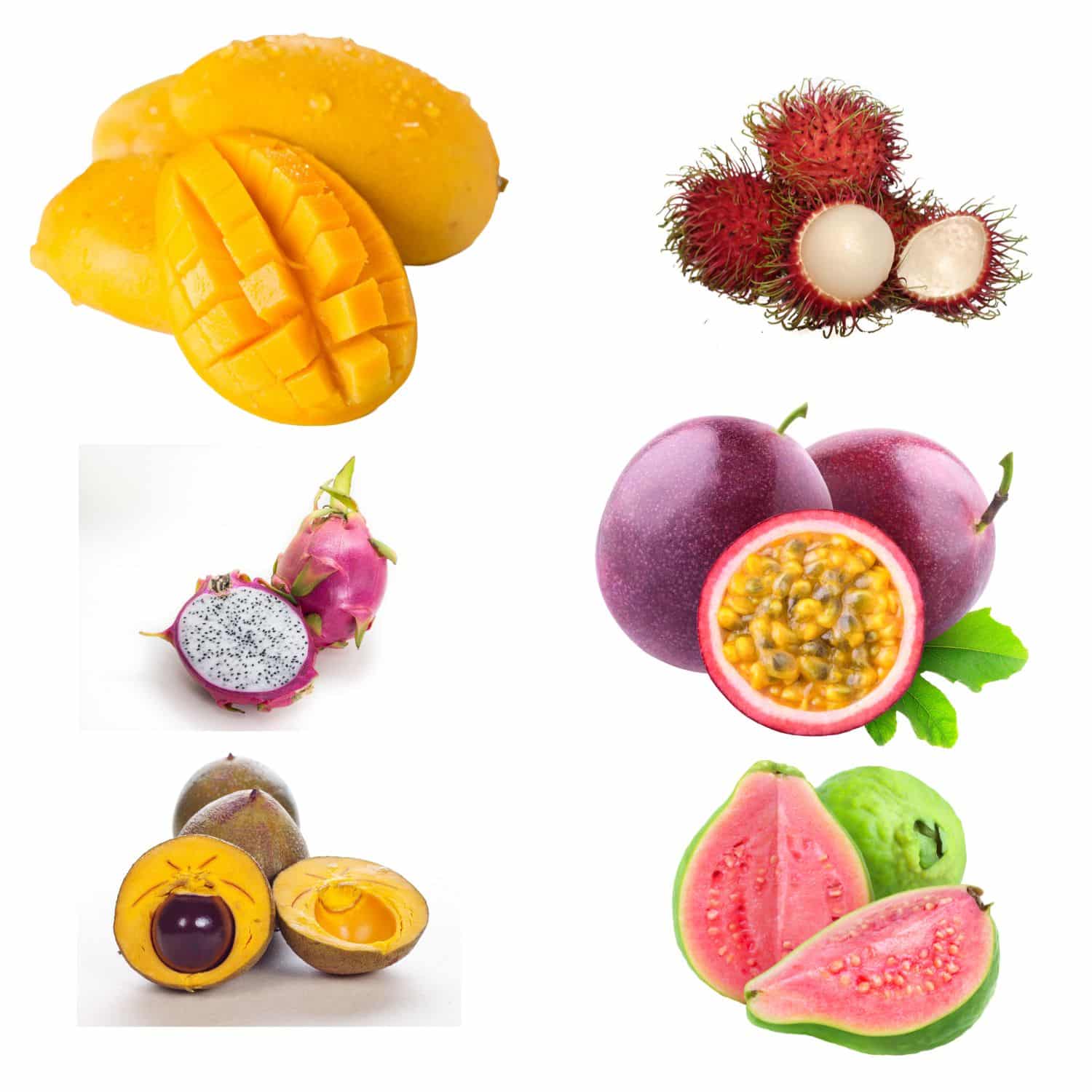 This is an easy fruit salad recipe you will want to make every week during the summer. no one will get bored either as you can switch up the fruit every week, depending what you have on hand.
Recipe Notes
Use super sweet oranges like Cara Cara for the best flavor. Utilizing fresh sugar-sweet oranges and ripe sweet fruit is the best way to make sure you don't need to add any additional sweeteners like sugar or honey. However, if you still feel the need for a little extra sweetness, feel free to add a little simple syrup, honey or agave.
It is important to make sure that the fruits are chopped small so that you can easily drink it up with the juice.
This Come y Bebe mix can also be frozen into paletas aka popsicles using popsicle molds.
Different fruits have different shelf life times. Using a lot of melon will cause the come y bebe to go rancid faster. This recipe will be good for about 3 days in the refrigerator. For a longer life, replace the watermelon with mango or other stone fruit. Without melon and banana, this tropical fruit salad can last up to 5 days in the refrigerator.
Ingredients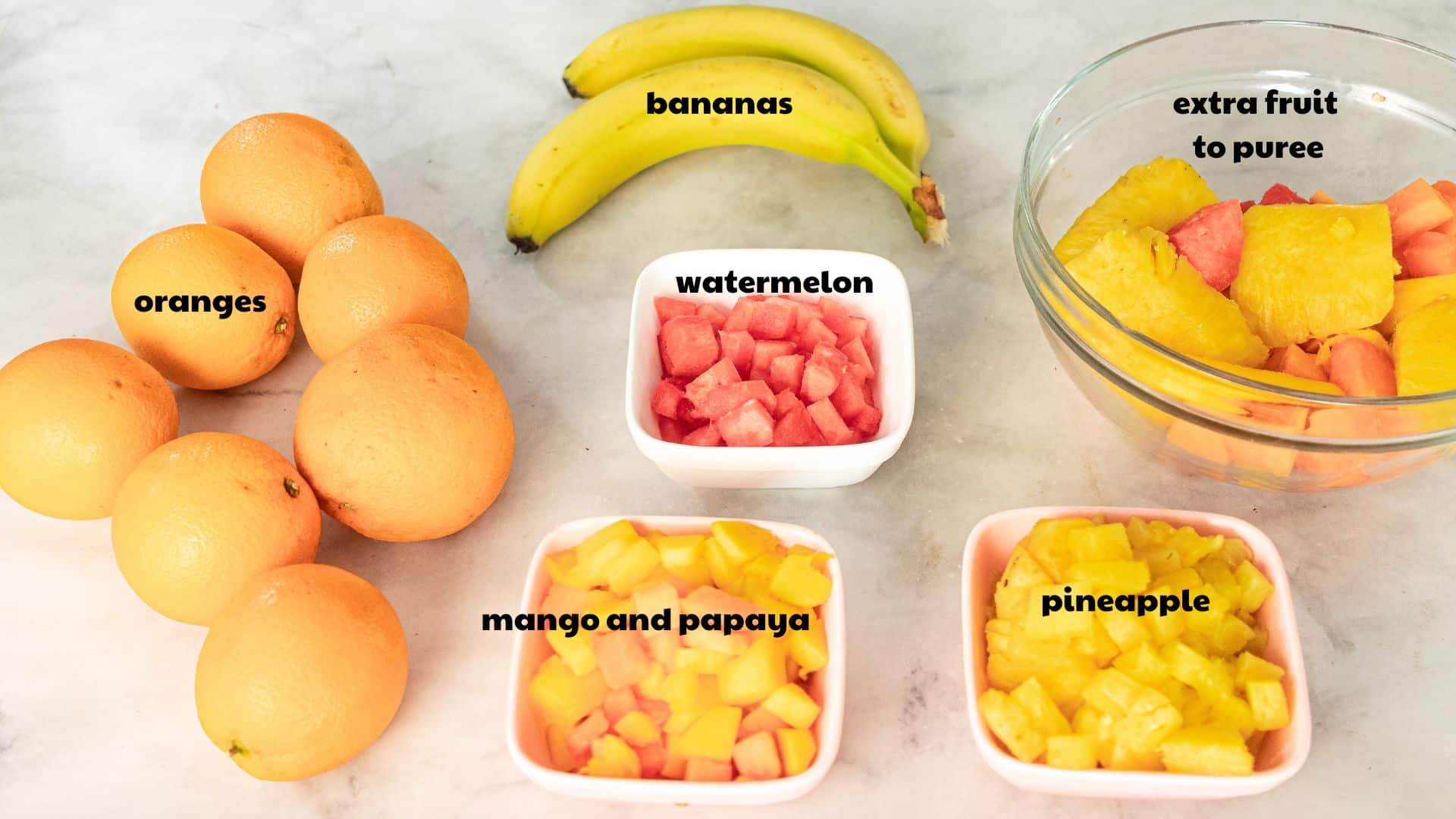 watermelon
pineapple
papaya
mango
banana
freshly squeezed orange juice
fruit puree (made with some of the watermelon, pineapple, and papaya)
How to Make Come Y Bebe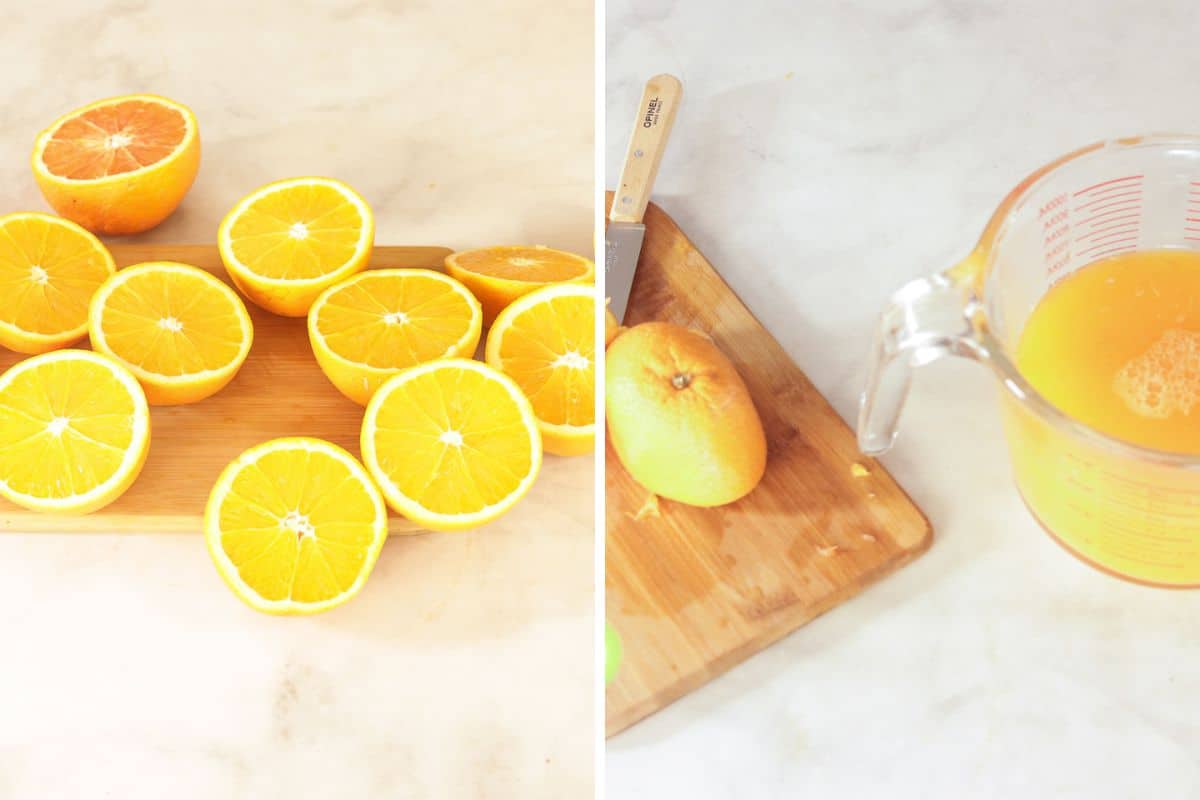 First make the Fruit Puree: Chop the watermelon, pineapple, and papaya into small pieces and blend to puree the fruits.
Strain puree to get a smooth consistency. Alternately, use a juicer.
Whisk the strained fruit puree together with the orange juice.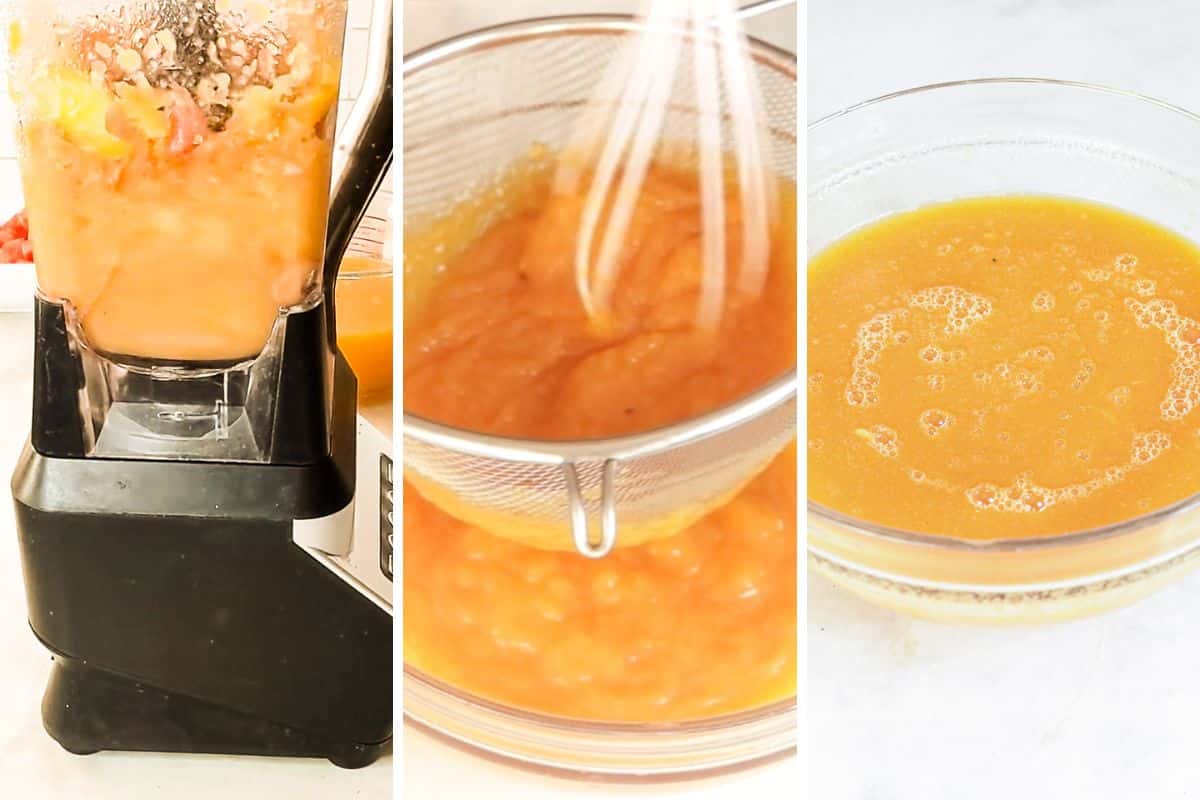 Add chopped fruits to the juice mix.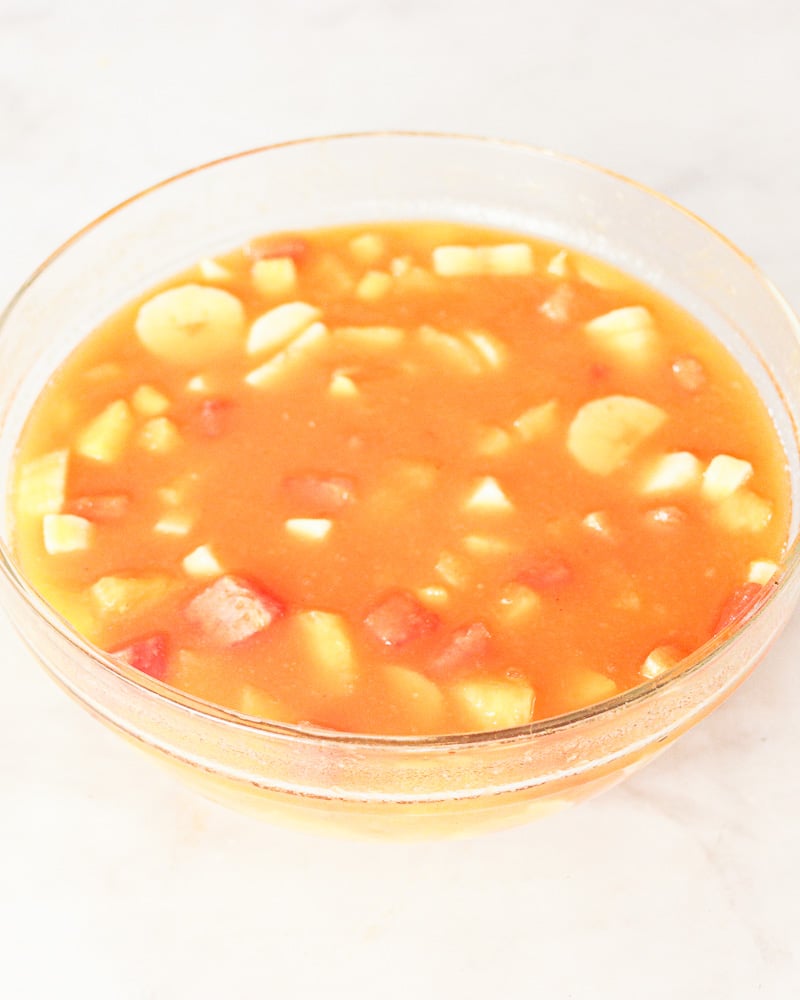 Serve chilled or immediately after preparing.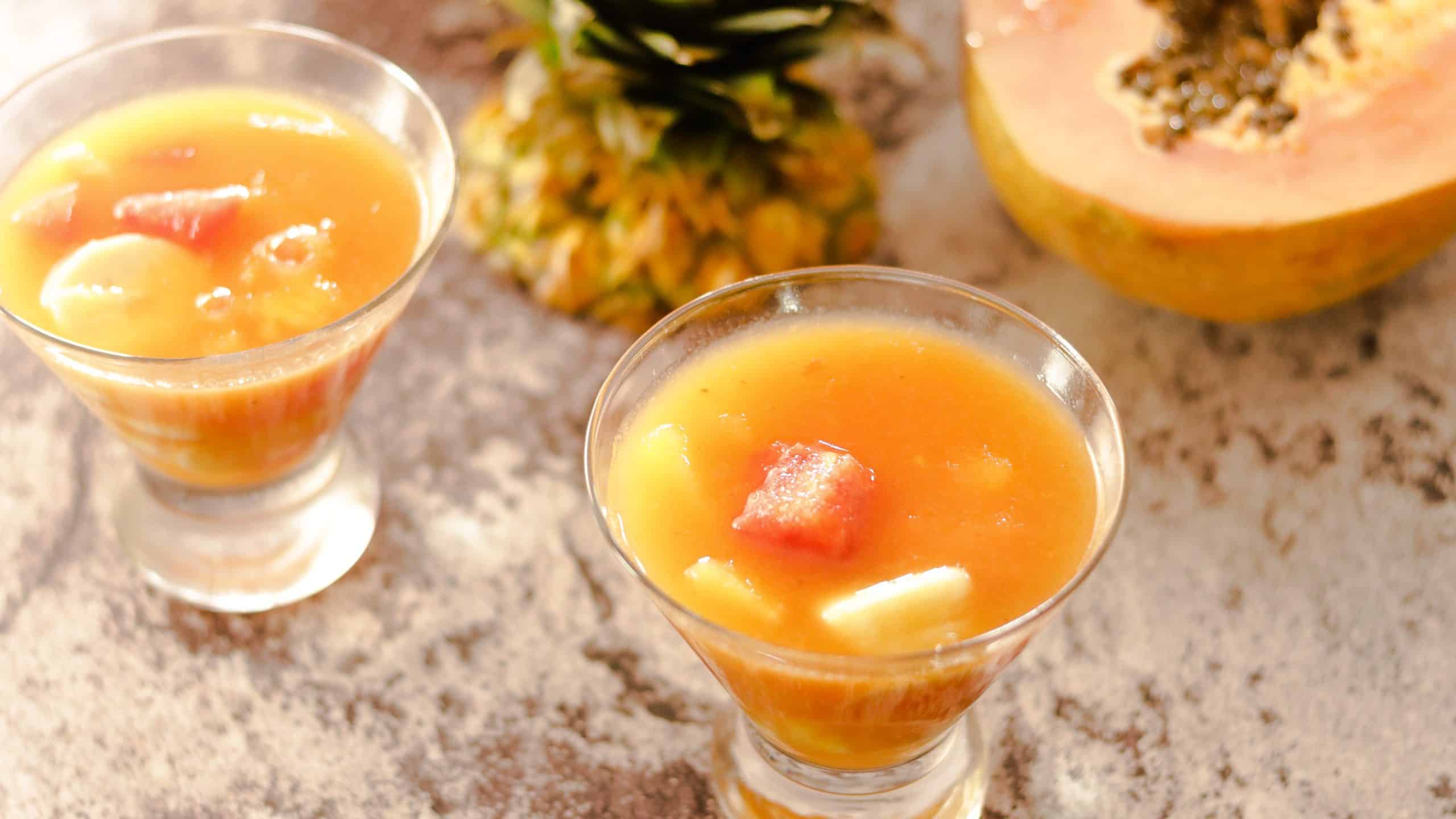 Explore more delicious recipes!
Ecuadorian Recipes
If you didn't guess it already, Ecuadorians LOVE soup. Whenever I would go to my Ecuadorian friends' house after school, there was always soup on the stove!
After you enjoy your soup, end your meal with this delicious Ecuadorian Tropical Fruit Salad.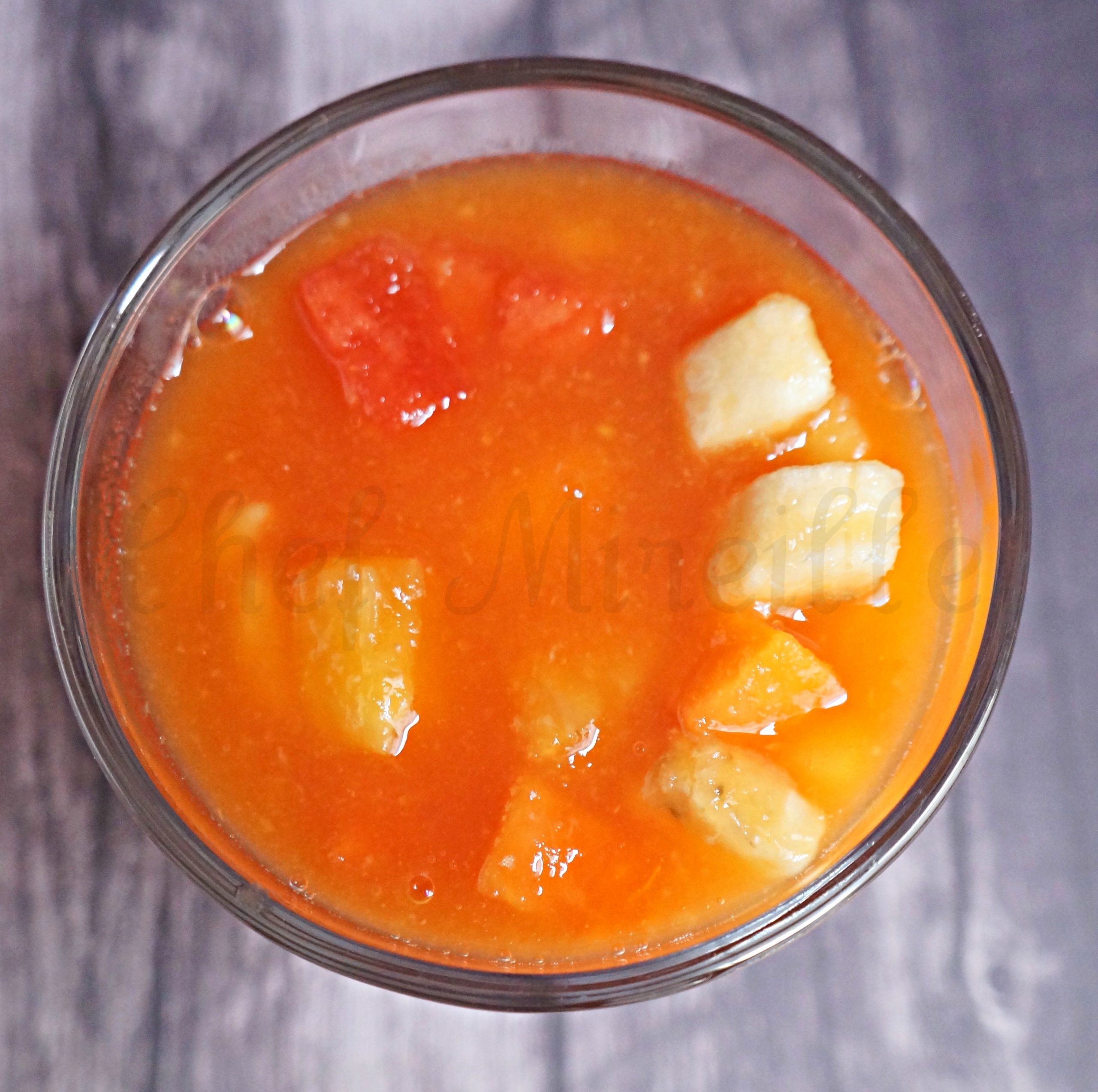 Come Y Bebe: Tropical Fruit Salad
Tropical Fruit Punch is a drinkable Fruit Salad. A combination of fruit juice and fresh fruit makes a refreshing summer treat!
Ingredients
1

cup

chopped watermelon

2

cups

chopped pineapple

1 1/2

cups

chopped papaya

and/or mango

2

chopped bananas

7

oranges

3 1/2

cups

mixed fruit puree strained

pineapple, papaya & watermelon
Instructions
Juice the oranges. You will have approximately 3 cups of orange juice.

First make the fruit puree.

For the fruit puree, combine any combination of fruits in a blender. Puree well.

Using a colander, strain the fruit puree so that it is smooth and clear.

Add the strained fruit puree with the orange juice in a large pitcher.

Stir to combine.

Add the chopped watermelon, pineapple, papaya and banana. Stir to combine.

Chill in the refrigerator.

Serve cold.
Notes
Make sure you cut the fruit very small. You should be able to just slurp up the fruit as you drink. A spoon is not necessary.
If the fruit is ripe and sweet, no additional sweetener is needed.
This should last about 3 days in the refrigerator, but watermelon turns sour rather quickly. If you would like it to last longer, sub another fruit for the watermelon like mango, peaches or nectarines. I would also omit the banana if you want to keep it longer.
Nutrition
Calories:
133
kcal
|
Carbohydrates:
34
g
|
Protein:
2
g
|
Fat:
1
g
|
Saturated Fat:
1
g
|
Sodium:
3
mg
|
Potassium:
399
mg
|
Fiber:
4
g
|
Sugar:
27
g
|
Vitamin A:
1487
IU
|
Vitamin C:
79
mg
|
Calcium:
25
mg
|
Iron:
1
mg
Did you try this recipe? Leave a comment below.
Please follow me on Instagram @chefmireille or tag me #chefmireille with your pics! I'd love to share them!
Don't forget to visit the RECIPE INDEX with over 1000 recipes from around the world including lots of Vegetarian Recipes and Gluten Free Recipes!