Last Updated on March 20, 2018 by Chef Mireille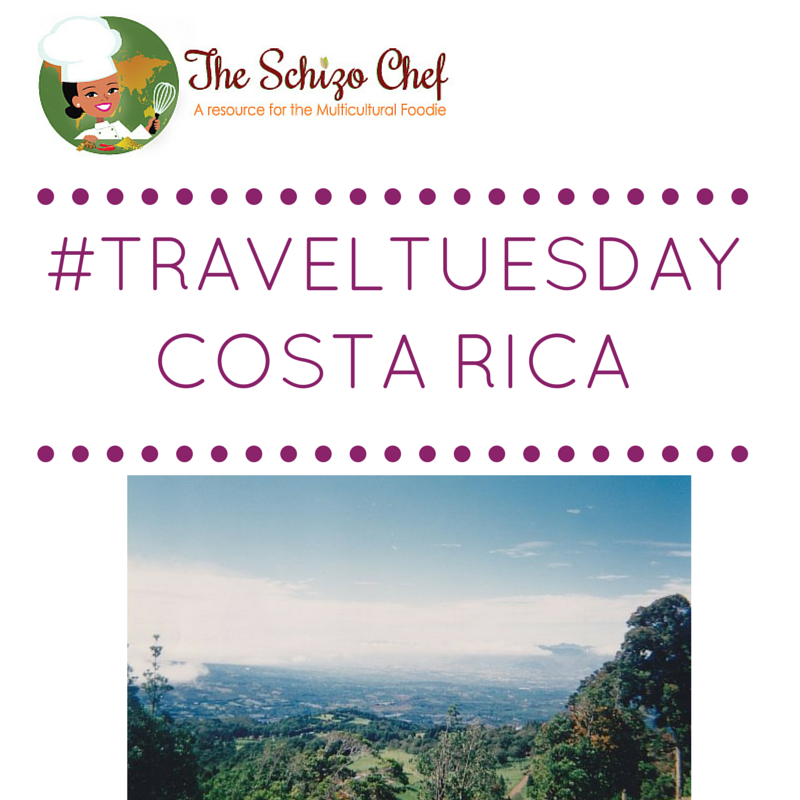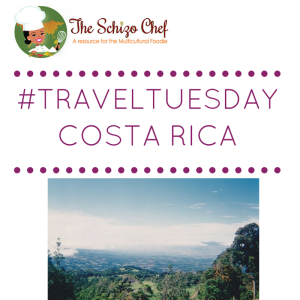 It's time for #TravelTuesday again and today we are visiting gorgeous Costa Rica.
Costa Rica is the only country in Central America that I have visited. It is a beautiful country that has worked hard to preserve their natural environment. For adventure and eco-tourists, this is a paradise vacation. They have a very diverse ecosystem and as you drive, the environment can change in the blink of an eye from sunny hot and humid to cool and rainy.
In this photo, we had traveled so high in elevation, that the clouds are the background.
While both the Pacific and the Atlantic coast boasts a diverse environment with gorgeous coastlines, they have two very different cultures. The Atlantic coast is where most of the African population resides, with slave descendants. The Pacific coast is where most of the native Indian population as well as leftover Spanish colonizer descendants reside. When I visited, I only had the opportunity to visit the Pacific side. The Atlantic side will have to wait for my next trip to this wonderful island nation.
I have traveled to many countries and to this day, Costa Rica still tops the list as my most beloved vacation.
What to do:
There are so many different kinds of hiking trips you can plan in Costa Rica. I definitely advise taking a trip through the rain forest, where you will have the opportunity to see animals up close never before encountered.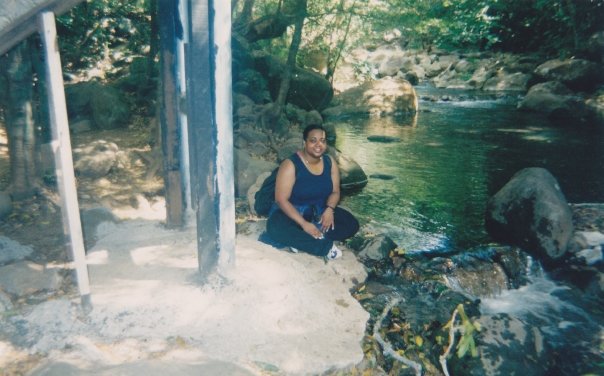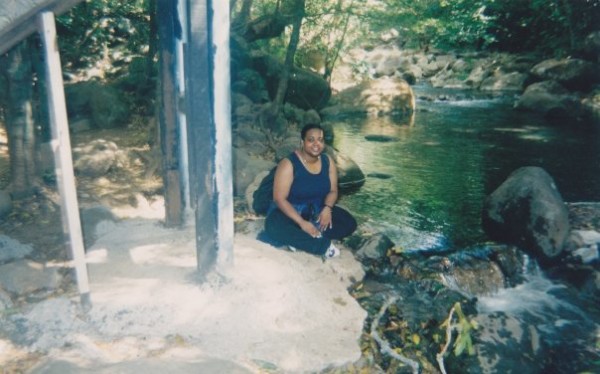 Not to be missed is a trip to Volcan Arenal. This constantly active volcano is a sight to behold at twilight, when you can see the lava look like lightning dripping down the side of the volcano. Every 1-2 years there is a major eruption and the town of La Fortuna has to be evacuated. When the volcano had its first major eruption in 1968, the town of El Borio was the only one that did not get buried by the eruption. With amazing good luck, the town was renamed to La Fortuna, the Fortunate.
The best meal I enjoyed was at a coffee plantation. It was part of an all day excursion that included a visit to the Rainforest. With so many farms, the food here is so fresh. You don't see engorged cows and pigs like you do in the United States. Animals are not given hormones and the food is so flavorful, with very little seasoning. Nothing is needed as it has so much natural flavor. Even cheap little diner like establishments will impress you with flavorful food because they don't have to do much when they are working with such great core products.
Swimming in any of the gorgeous beaches or the countless rivers is a pastime for any water sport lover!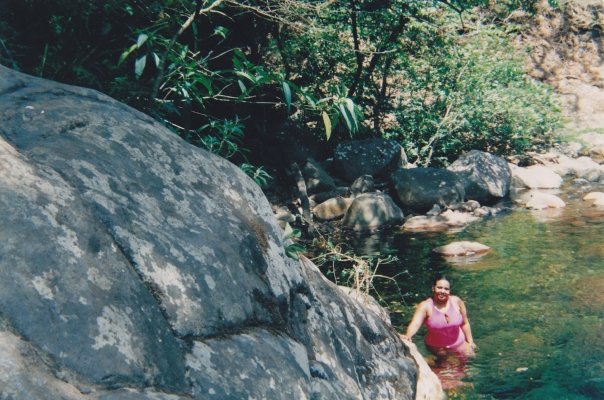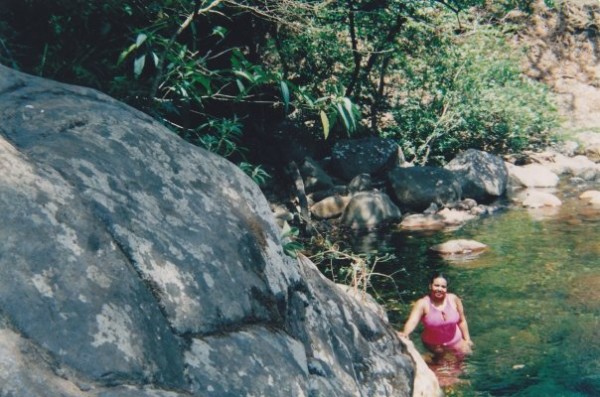 Where to stay:
The capital of San Jose is a very busy metropolitan city and as a tourist, there is really not much reason to stay here unless you like hanging out at the many nightclubs until the wee hours of the morning. Since I live in NYC with no dearth of clubs, I go on vacation to get out of that environment and enjoy more natural surroundings.
There are so many beaches along both coastlines, so pick a beach and pick a lodging. I spent half of my time at Playa Hermosa on the northwest coast. With crystal blue waters and small lodging and dining places along the beach, it's definitely a beach I can recommend. The other half of my trip was spent at a resort spa in San Carlos. An hour outside of San Jose, San Carlos was a welcome reprieve from the activity of San Jose. Sleeping at night with the sound of the river lullabying you to sleep at night will immediately relax you. Cool breezes that come off of the river make the air conditioner a non-essential. Saunas with fresh eucalyptus to perfume your nasal passages, I can't say how much I loved my stay at this spa. Full Costa Rican breakfasts that include rice, beans, fried plantains, eggs, fried cheese, fruit and coffee will sustain you for a day of hiking. Within walking distance, there was a zoo and local dining establishments when I wanted to leave the resort for a bit. Since it's been a few years since I went, I don't want to recommend any particular lodging establishment as it could change in the interim years. Do some research on TripAdvisor and I am sure you will be able to pick a great place to stay.
When to go:
Costa Rica has two different seasons – the wet season and the dry season. During the rainy season, it can rain for several hours a day, so its best to go during the dry season. However, since that is peak tourist season that is also when lodging and arifare  costs are very high. I went at the very beginning of the rainy season. Prices were still low and I was only rained out the last 2 days of my trip. It's not an exact science as to what the exact date rainy season will begin so it's a risk because what if it arrives a little early?
Rainy Season is from May-November. I went the first two weeks of May, so that's the best option not to be caught in the middle of the rainy season and yet, prices will be manageable.
If you are an outdoors person who likes spending time in beautiful forests and parks, instead of behind concrete walls, Costa Rica is the place for you.