Last Updated on May 31, 2015 by Chef Mireille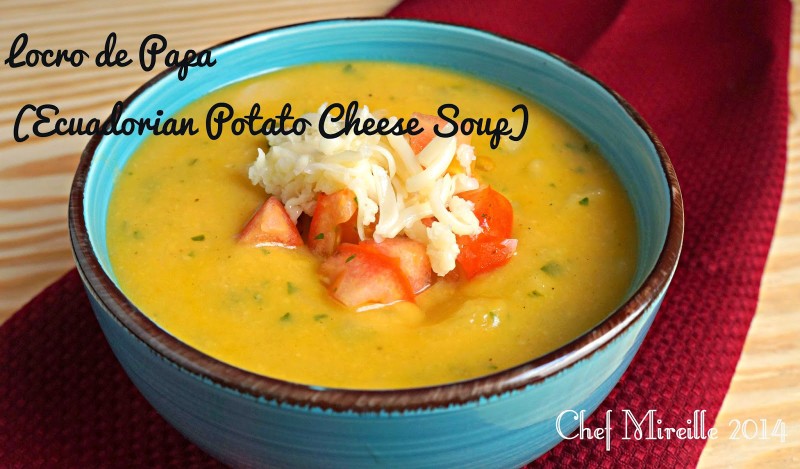 Locro de Papa is a traditional Ecuadorian soup made of potato and cheese. In traditional times when people could not afford cheese, peanuts would be used instead. It originates from the Andean region of Ecuador.

After visiting Mi Tierra, the best store in the NYC area for Latin food products, I came home with this authentic cheese from the Ecuadorian Andes – Cayambe. I realize this may be difficult to find, so you can also substitute queso fresco in this recipe. However, Cayembe is a mild flavored semi-soft cheese which melts beautifully to give this soup a luscious texture.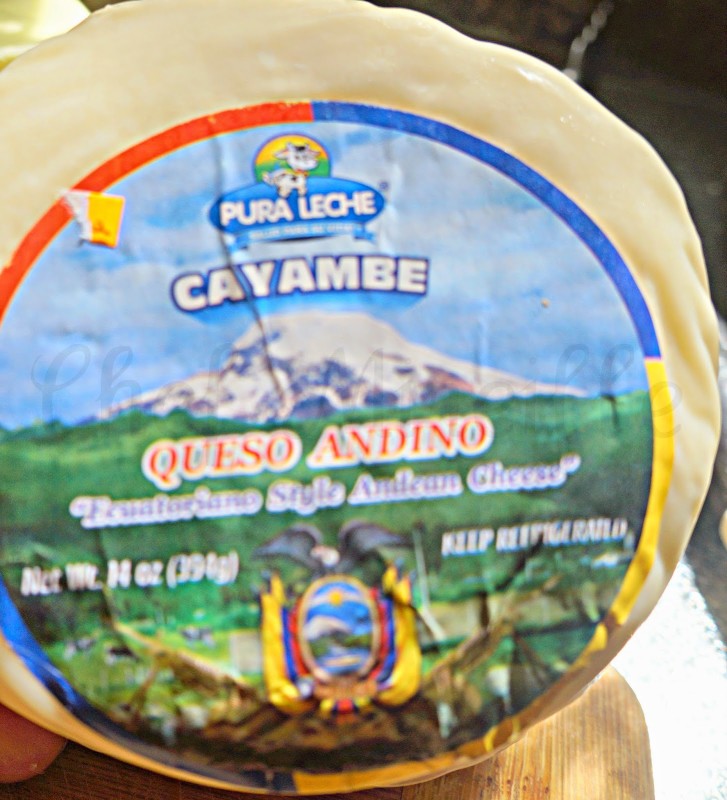 Locro de Papa
Serves 8
Ingredients:
10 potatoes (3 1/2 lbs.), peeled and chopped
2 tablespoons oil
1 onion, chopped
2 cloves garlic, finely chopped
2 teaspoons ground cumin
3/4 teaspoon ground achiote seed/annato
7 cups water
1 cup milk
1 cup Cayambe cheese, grated + extra for garnish
salt, to taste
1/4 cup cilantro,finely chopped
chopped tomatoes or avocado (for garnish)
Heat oil. Add onion, garlic, cumin and achiote. Cook on low heat for about 5 minutes until onions soften.(or you can use store bought sofrito)
Add water and potatoes. Cook until potatoes are tender, about 20 minutes after it comes to a boil.
Using an immersion blender, partially puree about halfway. There should still be some chunks of potatoes left.
On medium heat, add salt, cheese and milk and simmer for 5 minutes, stirring frequently. Add cilantro and cook another 5 minutes.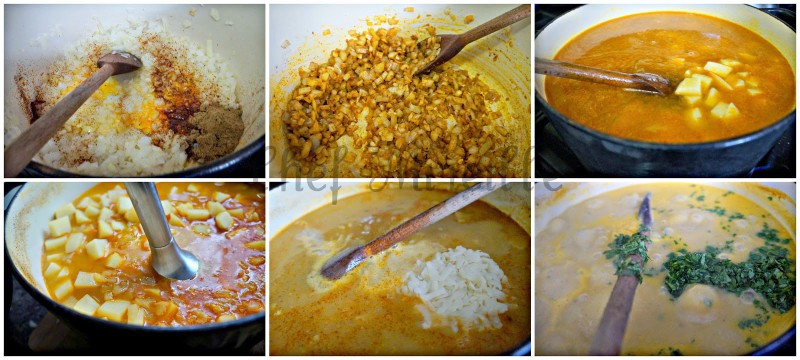 Garnish with tomatoes (or avocado) and cheese.
Serve with Aji Criolla.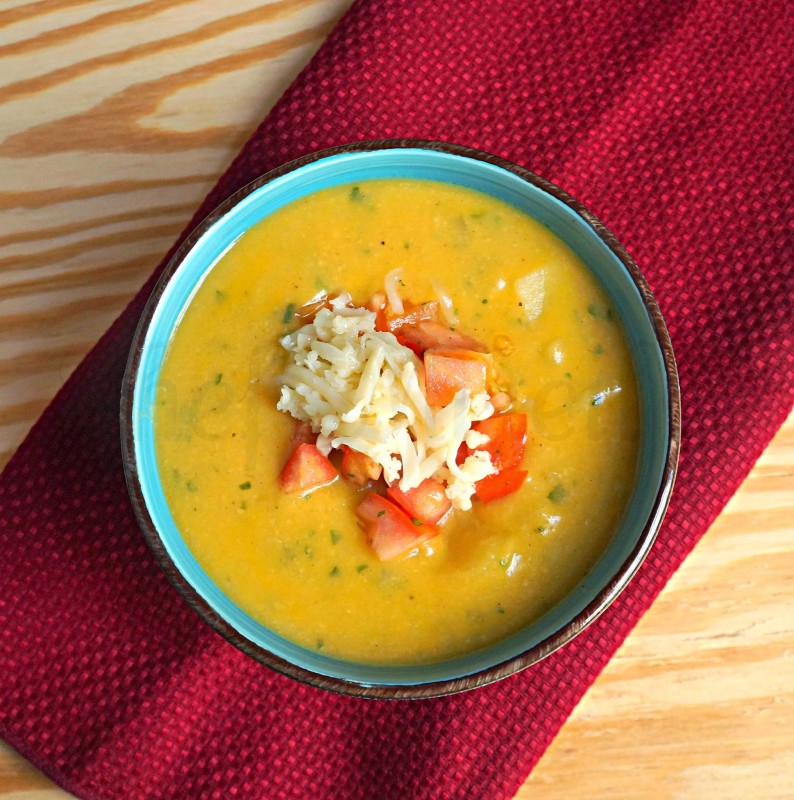 Notes:
This soup is traditionally garnished with chopped or sliced avocado, but I don't eat avocados and since I was the only one to eat it on the day I made it, I garnished with tomatoes instead.
Depending on the region of Ecuador, this soup may be also garnished with toasted corn nuts or roasted choclo corn (large kerneled white corn from South America) and can include cabbage, green vegetables or blood sausage.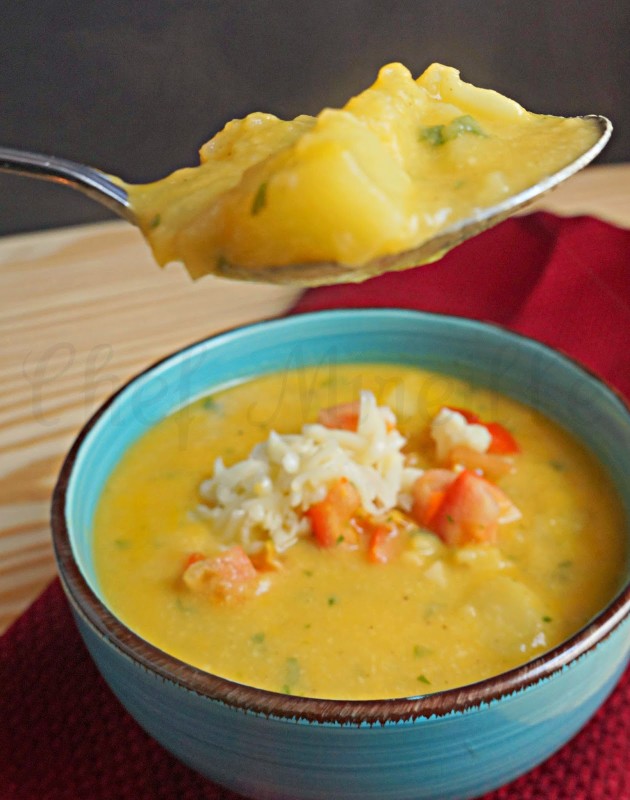 I really enjoyed this soup as it was not as thick and heavy like American style potato-cheddar soups.
So when you have those potatoes that are starting to grow eyes and roots coming from them, use them up quick by making this delicious soup!

…linking to Souper Sunday , No Waste Food Challenge hosted by me & Jacqueline's No Croutons Required hosted by Lisa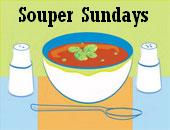 Check out the Blogging Marathon page for the other Blogging Marathoners doing BM# 44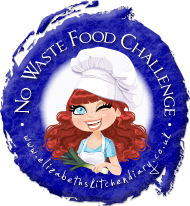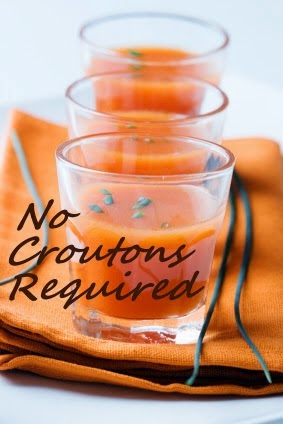 LIKE THIS RECIPE? LEAVE A COMMENT..I LIVE FOR THEM!
Chef Mireille