Last Updated on May 20, 2020 by Chef Mireille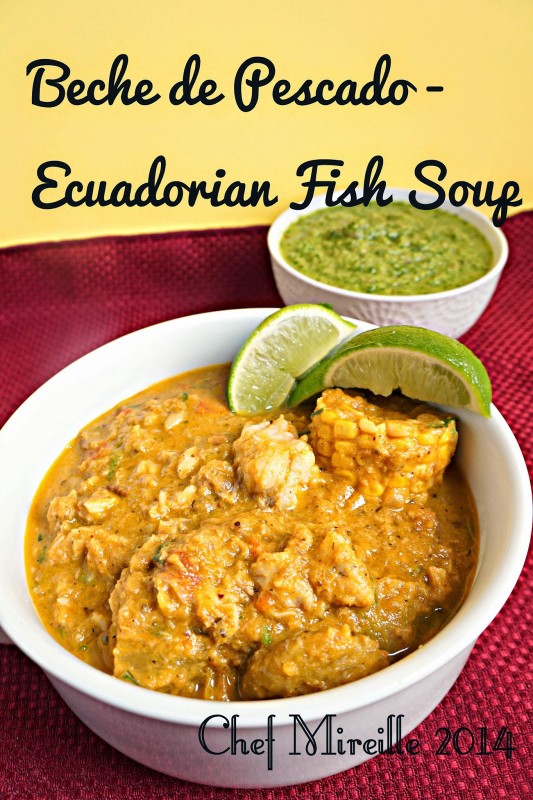 E is for Ecuador…
Actually, for letter E I went from Estonia to Ecuador. The Estonian recipe here was one of the first recipes I had completed for this marathon. However, the photos did not come out too well and especially after having my photography lesson with Usha, I just couldn't bring myself to post those mediocre photos. Although I did like the recipe, I really did not want to make it again. When searching for recipes for other letters, I came across recipes from many South American countries and this was one that I couldn't wait to try, using some of my fave ingredients. You all should know my adoration of anything that includes plantain at this point 🙂
Growing up in Jackson Heights – not the Indian section around 74th street, but the Latin section around Junction Blvd – I had friends from many different South American countries like Peru, Columbia and Ecuador. This type of soup is popular in many South American countries and this is eaten daily in the coastal areas of Ecuador.
Ecuadorians love soup. A hearty soup is eaten for at least one meal a day for most Ecuadorians and most meals start with a soup, so to represent this country I made two soups. In addition to Beche de Pescado, I also made Locro de Papa (Potato Cheese Soup) & Ecuadorian hot sauce to accompany both.

Ask your fish monger to fillet the fish, but keep the heads and the bones to make the stock below. You should purchase approximately 3 pounds of fish.
Beche de Pescado
Serves 8
Fish Broth Ingredients:
3 grouper fish heads and bones
10 cups water
1 cup milk
1 cup dry roasted peanuts
2 tablespoons oil
1 red onion, chopped
1 teaspoon ground cumin
4 cloves garlic, chopped
salt, to taste
Soup Ingredients:
3 grouper fish, cut into bite size pieces
2 tablespoons oil
2 red onions, chopped
6 cloves garlic, finely chopped
1 bell pepper, chopped
1 teaspoon dried oregano
2 teaspoons ground cumin
1 teaspoon achiote/annatto powder
2 tablespoons peanut butter
1 lb. yuca/cassava, peeled and chopped into bite size pieces
2 ripe plantains, peeled and cut into thick slices
1 chayote, peeled, cored and chopped into bite size pieces
2 ears corn, cut into 4 pieces each
2 tablespoons cilantro, finely chopped
2 tablespoons parsley, finely chopped
salt and pepper, to taste
Let's first prepare the broth.
In a large pot, place the fish head and bones in the water. Bring to a boil. Reduce to a simmer and cook for 30 minutes. Using tongs, remove the fish heads and bones.
In a skillet, heat oil. Add onion and garlic. Cook until softened. Transfer to a blender with the peanuts, milk, 2 cups of the fish broth, salt and the cumin. Puree until smooth. Strain and add to the rest of the fish broth.
Heat 2 tablespoons oil. Add onion, garlic, bell pepper, cumin, oregano and achiote. Saute until onions are softened.
Add peanut butter and fish broth. Bring to a boil. Add corn and cassava. Cook at a simmer for about 45 minutes, until yuca is cooked. Add plantain and chayote. Cook for 10 minutes.
Add fish, salt and pepper. Cook for another 5-10 minutes, until cooked through.
Add cilantro and parsley. Cook for 1 more minute.
Ecuadorian food is not spicy as it's prepared, but spice is added with Aji Criolla which is always on the table during an Ecuadorian meal. See here for my Aji Criolla recipe.
Serve Beche with lime wedges and aji criolla.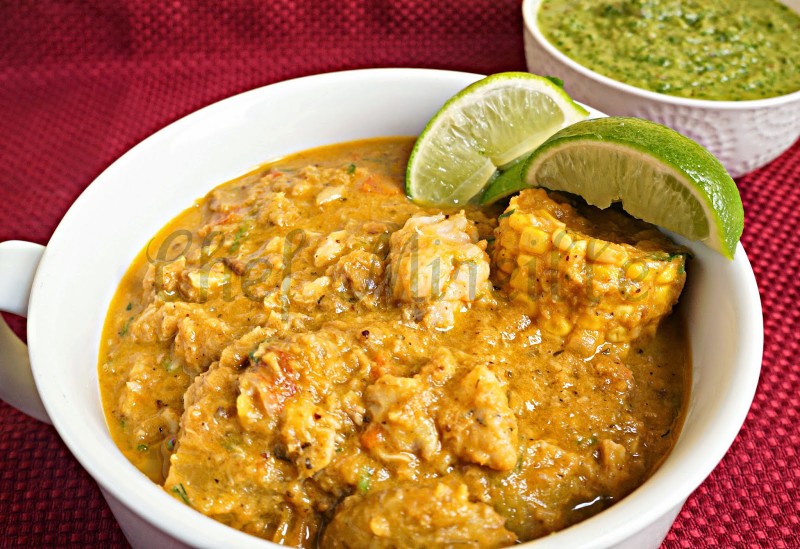 Notes:
any firm white flesh fish like cod, halibut, monkfish or haddock can be used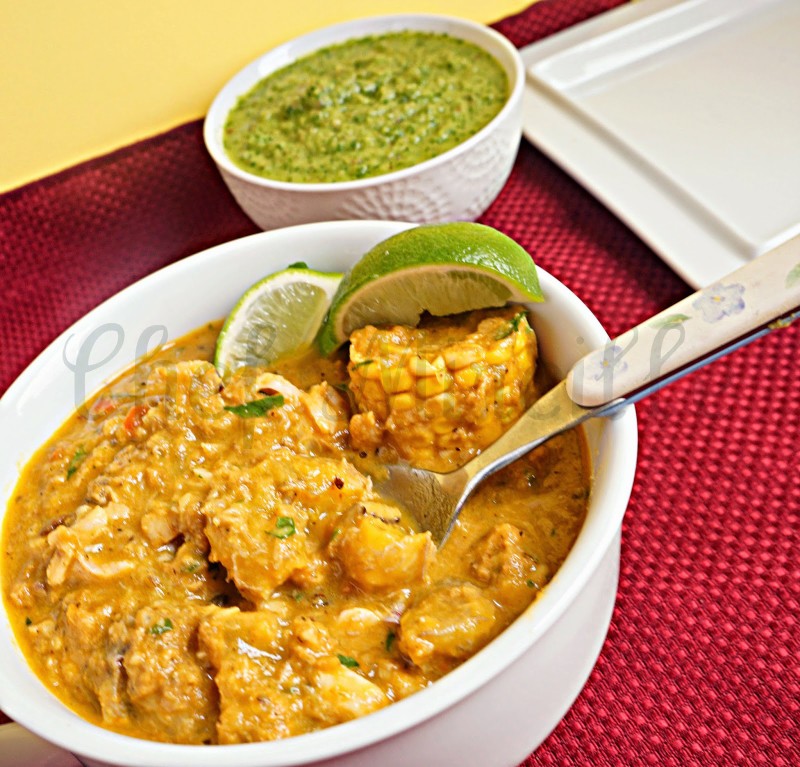 Make sure you have a spare plate around to catch any stray fish bones and your corn cobs.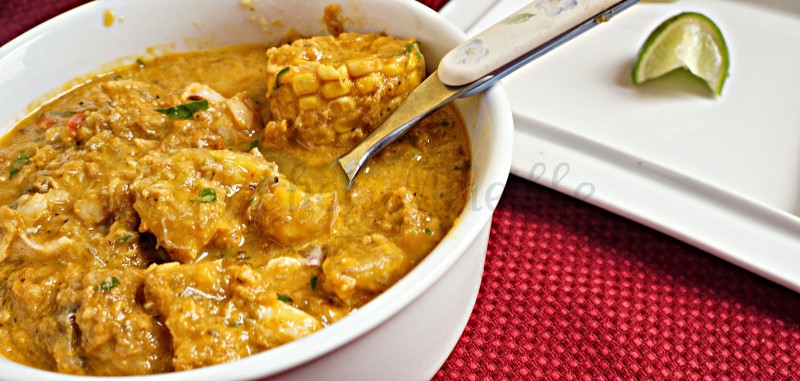 This soup is not to be eaten as a starter, rather on its own as it is more like a hearty stew. With a squeeze of lime juice and a spoonful of aji criolla, it's the perfect balance of flavors and after this hearty bowl for lunch, you won't need anything for the rest of the day except maybe a little cafecita and a small snack at merienda (Latin America's evening tea time).


…linking to Souper Sunday 
Check out the Blogging Marathon page for the other Blogging Marathoners doing BM# 44
LIKE THIS RECIPE? LEAVE A COMMENT..I LIVE FOR THEM!
Chef Mireille