Last Updated on January 12, 2020 by Chef Mireille
Roasted Cauliflower Fattoush
Roasted Cauliflower Fattoush is the Middle East's answer to Panzanella Salad and this version is fortified with some roasted cauliflower.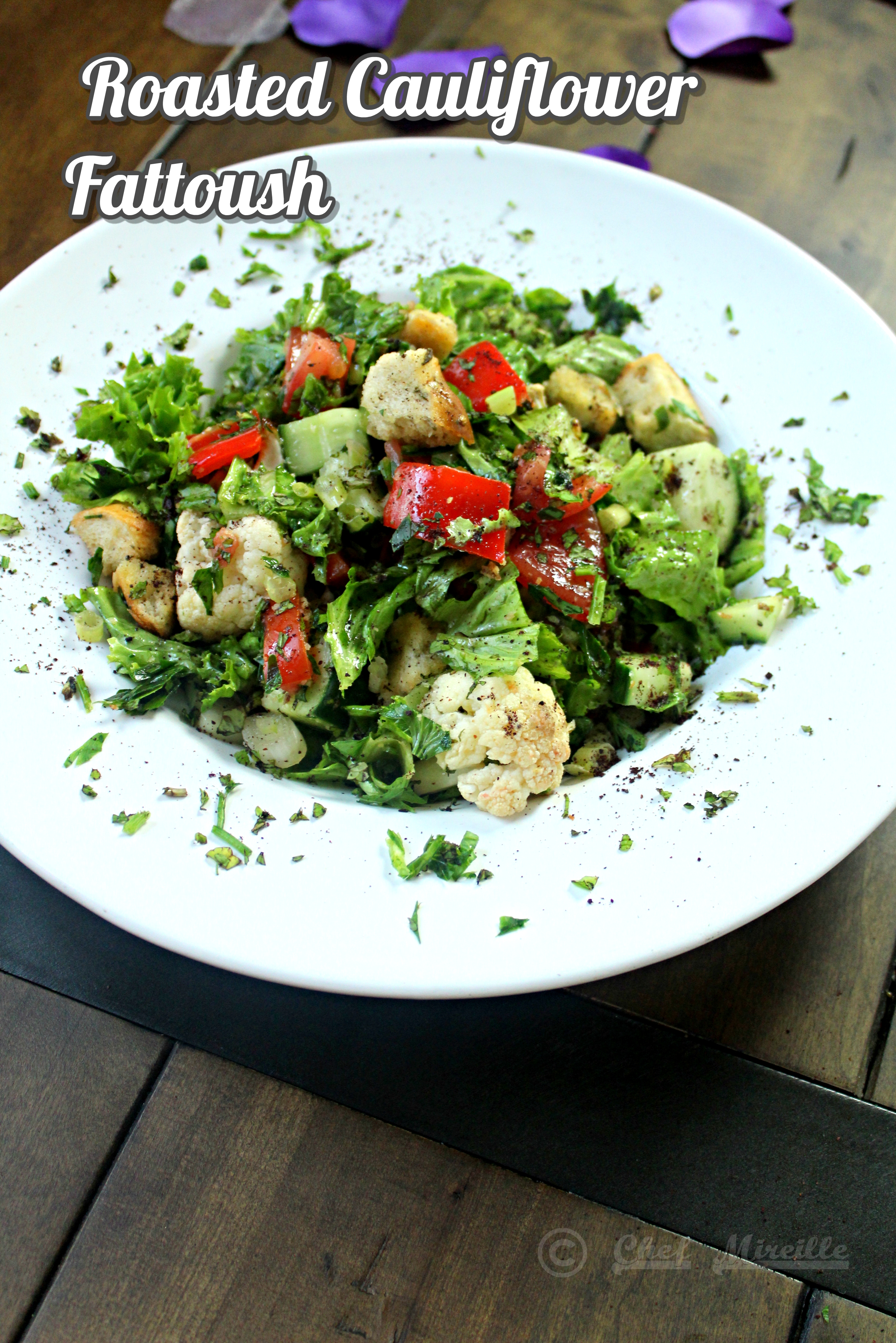 My BM theme this week is Lebanese cuisine. Often I go in search of very traditional recipes when I am presenting the foods of different countries. However, I think it's just as interesting to create simple every day meals, using the flavor profiles of different countries. Once you know the spices and herbs used in the cuisine, you can create any meal around any country.
I took a traditional Middle Eastern salad eaten in Lebanon as well as Syria and Jordan and added a unique twist I am sure the Lebanese people would love and I wouldn't be surprised if someone in Lebanon has already invented a variation similar to this one. Fattoush is a kind of bread salad popular throughout the Mediterranean. I have already presented the Italian version here.
I had made this huge loaf of Herb & Spice bread flavored with cumin, coriander, anise, cilantro, mint and pink peppercorns. Since the flavor profile is in synch with Middle Eastern cuisine, I subbed the traditional pita bread and used this bread instead. I also fortified the salad with some roasted cauliflower. However, if you'd like to try the more traditional version with pita bread, here is my pita bread recipe.
IN THE MAKING – HOW TO MAKE ROASTED CAULIFLOWER FATTOUSH
This is a delicious and fresh salad that you can make your own creative twists to by adding additional vegetables as you desire.
Even though we are heading into fall soon, let's keep it healthy by including delicious salads like this as part of your daily diet.
Here are some more salads for more inspiration!
SALAD RECIPES
Roasted Cauliflower Fattoush
Fattoush is the Middle Eastern's version of Panzanella, fortified with roasted cauliflower.
Ingredients
Cauliflower Ingredients:

4

cups

cauliflower

broken into large florets

1

tablespoon

olive oil

2

crushed garlic cloves

Salt and pepper

to taste

Crouton Ingredients:

4

cups

chopped Spice & Herb Bread

1/8

cup

olive oil

Salad Ingredients:

1

large red bell pepper

chopped

4

cups

chopped lettuce

2

chopped tomatoes

1

English Cucumber

chopped

4

scallions

¼

cup

finely chopped mint

½

cup

finely chopped parsley

Dressing Ingredients:

½

cup

lemon juice

1

teaspoon

salt

½

teaspoon

ground black pepper

½

cup

olive oil

Sumac

for garnish
Instructions
Preheat oven to 375 F.

Combine cauliflower, oil, garlic, salt and pepper and toss to combine.

Place in a baking dish and roast for 30 minutes, until fork tender but still crisp.

Combine bread and olive oil. Toss to combine.

Place on a cookie sheet in a single layer and bake for 30 minutes or until bread is crispy.

To make the dressing, combine lemon juice, salt and pepper. Whisk well. Slowly drizzle in olive oil while whisking constantly.

In a large bowl, combine bell pepper, lettuce, tomatoes, cucumber, scallion, mint and parsley. Toss to combine.

Add cauliflower and bread. Add salad dressing and toss well.

To serve, garnish with sumac.
Did you try this recipe? Leave a comment below.
Please follow me on Instagram @chefmireille or tag me #chefmireille with your pics! I'd love to share them!
Check out the Blogging Marathon page for the other Blogging Marathoners doing this BM#78