Last Updated on April 10, 2021 by Chef Mireille
Celeriac Parsnip soup is both Vegan and Gluten Free, made super flavorful by the simple addition of a few herbs and spices.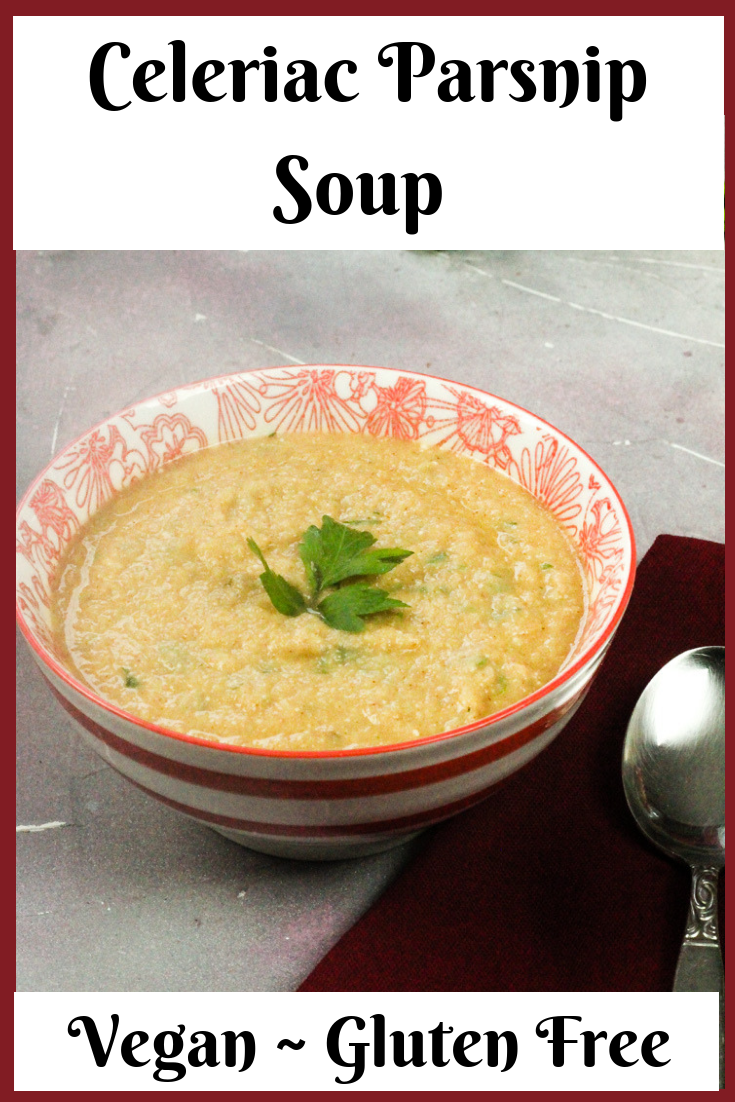 Both celeriac and parsnip are used a lot in European cuisine, but non existent in Africa, Asia, Latin America and the Caribbean. Even here in America, they are under used. Parsnips are a little more common than celery root/celeriac, which I usually have to go to an Eastern European market to find unless I want to pay the ridiculous prices at Whole Foods or other gourmet chains like Food Emporium. I'm lucky to have a large European market just 15 minutes from my house.
I like both of these vegetables a lot. If you grate celery root, you can make a delicious slaw with it, as long as you have a dressing that has some vinegar in it to soften it. It also makes a great mash when combined with potatoes.
Parsnip puree is absolutely delicious. Just boil until very soft and puree. Virtually no additional seasoning will be necessary because of the natural sweetness.
Here is a delicious soup with these two under used vegetables that is both vegan and gluten free. The creamy and luscious texture is achieved with the addition of coconut milk.
Looking for some other Vegetarian Soups? Check these out!
Vegetarian Soups
WOW – for someone whose not Vegetarian, I sure do make a lot of Vegetarian Soups, but it's a great way to start a meal or have as a main course with crusty bread on #MeatlessMonday
Vegetable Soups also usually come together quick and easy so they are great when you are low on time! If you notice, most of my soups also include chickpeas or lentils, so you are not missing out on any protein with these Vegetarian Soups!
HOW TO MAKE PARSNIP SOUP WITH CELERY ROOT

Enriched with coconut milk, herbs and spices this simple soup is full of flavor!
Have with some crusty bread and a salad like this one for a complete meal on Meatless Monday!
Celeriac Parsnip Soup
Vegan and Gluten Free Celeriac and Parsnip Soup
Ingredients
1

pound

celeriac/celery root

weight after peeling, chopped

1 1/4

pounds

parsnip

chopped

1

tablespoon

oil

2

cloves

garlic

finely chopped

1

red onion

finely chopped

1

tablespoon

ginger

grated

1

tablespoon

paprika

1

teaspoon

dried tarragon

1/4

teaspoon

cayenne pepper

1 13.5

oz.

can coconut milk

6 3/4

cups

water

Salt

to taste

2

tablespoons

parsley

finely chopped
Instructions
Heat oil. Add onion, garlic and ginger. Saute for a few minutes until softened.

Add celeriac, parsnip and 6 cups of the water. Bring to a boil. Reduce to a high simmer and cook for 30 minutes, until vegetables are cooked through. Remove from heat. Using an immersion blender, puree well.

Return to heat and add coconut milk, remaining water and the rest of the ingredients. Cook for another 5 minutes on low heat.

Serve warm.
Did you try this recipe? Leave a comment below.
Please follow me on Instagram @chefmireille or tag me #chefmireille with your pics! I'd love to share them!