Last Updated on December 7, 2020 by Chef Mireille
Chocolate Anise Cookies include both white chocolate and dark chocolate into these shortbread like cookies. These eggless cookies pair deliciously with cup of tea or hot cocoa.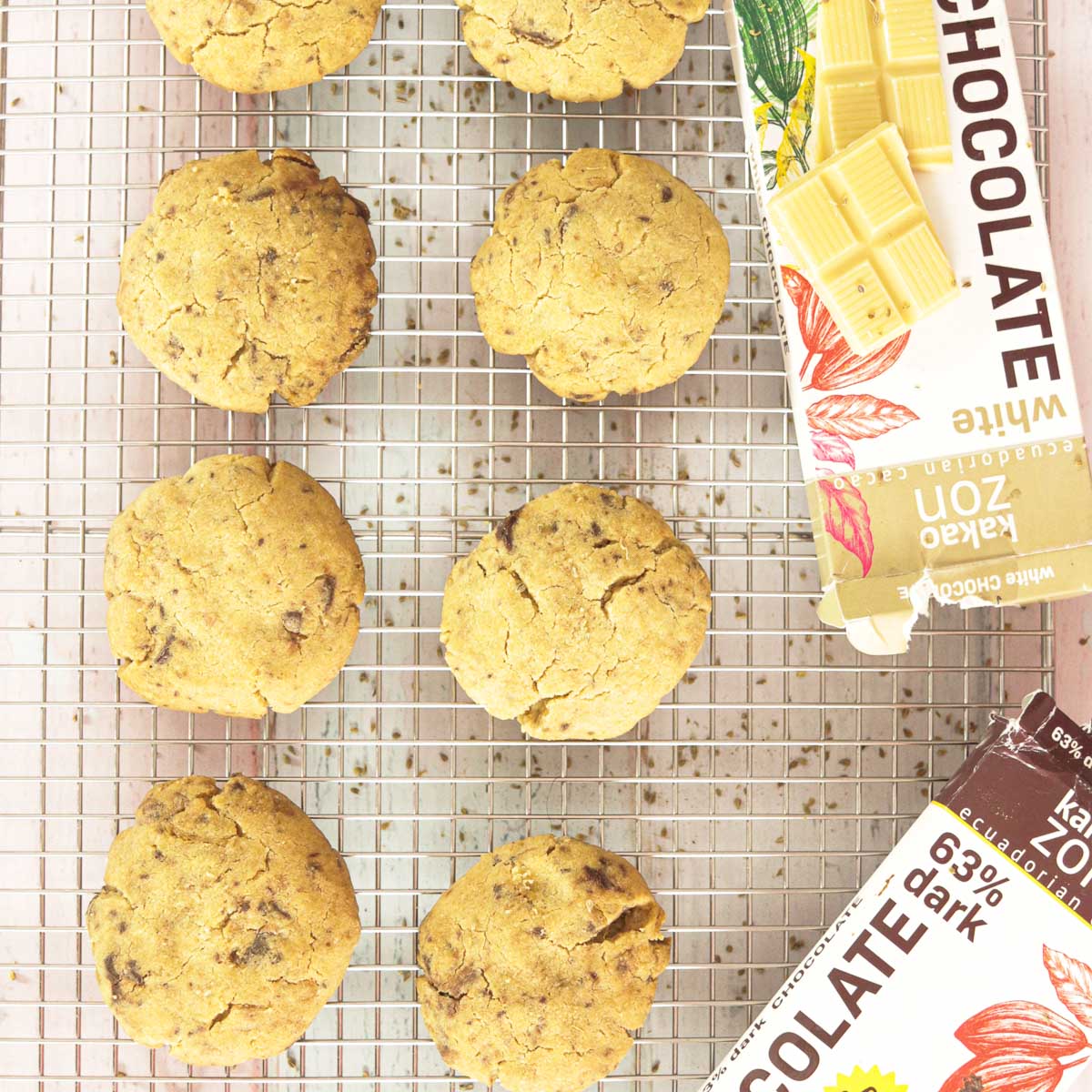 This post may include affiliate links.
Boy am I so excited today to share with you an amazing GIVEAWAY raffle and a COUPON CODE to get delicious Kakao Zon fair trade chocolate!
But before I get to these exciting announcements, a little background info on these delicious cookies first!
Do you like to end your meals with a sweet treat, but prefer not to be over indulgent with sweets that put you into a sugar coma! You know those desserts that are so sweet and over the top that make you feel sick to the stomach and guilty afterwards!
Give me some delicious shortbread or tea cake over cakes and cookies loaded with icing and frostings. How about you? What kind of desserts do you prefer?
Have you ever had Anise Cookie before? Anise is a common spice to include in sweets in Mediterranean countries like Spain and Italy. In fact, Anise Cookies are the most common holiday cookie in Italy, where they are coated with icing and decorated with colorful sprinkles.
Since shortbread cookies are my favorite like these Coconut Shortbread or Almond Shortbread Cookies, I decided to make my own version of anise cookies and make it even better by adding in some chocolate chunks – both white chocolate and dark chocolate!
WOW – what an awesome flavor combination. These delicious Shortbread Cookies are perfect for enjoying with a cup of hot cocoa, tea or coffee! We all know that coffee elevates the flavor in chocolate right – so these make a delicious after dinner treat with a cup of espresso or cappuccino!
Before we get to these delicious Chocolate Anise Cookies, a little background info…
Are anise and fennel the same?
Although many use these two ingredients interchangeably, they are not the same.
Fennel is a vegetable and fennel seed comes from the same plant. Not as sweet as anise, it has a similar licorice like flavor, but is different.
Anise seed is stronger and sweeter and is most often used in desserts, while fennel seed is often included in savory recipes like sausages and curry.
Fair Trade Chocolate
If you follow me on Instagram or Facebook or read some of my previous posts on the topic, one of the things I am passionate about is making sure the chocolate I use is ethically sourced.
The chocolate industry has one of the worst records on utilizing child/slave labor and other human rights violations. One way to ensure you are not supporting a company that practices these inhumane policies is to make sure you purchase fair trade chocolate.
Fair Trade chocolate companies work to ensure that the actual cacao farmers make a living income from their labors.
As with most of you, I now do much more of my shopping online and I was so happy I decided to try out Kakao Zon. Yes, it's a fair trade chocolate company but I have been buying fair trade chocolate for many years. That is not what has me so excited about Kakao Zon.
While we all want to practice ethical purchasing power, what good is it if we don't love and enjoy the products we use!
OMG this chocolate is so smooth and creamy and even it's 63% dark chocolate has not bitter notes at all!
Even more than the excellent quality of their chocolate for baking or making hot cocoa, is their chocolate for snacking.
They have a large variety of flavored chocolates in both dark and white chocolate varieties. Their fruit flavored chocolates tickles the palate in all the right places.
Unlike some brands that use arbitrary fruit essence so that unless you read the package you would not know the flavor, Kakao Zon flavored chocolates are packed with real dried fruit in every single bite!
With so much fruit, the balance between sweet fruit and dark and creamy chocolate is absolute perfection. Even dark chocolate haters will become converts!
Regardless, they have such a large variety of dark, milk and white chocolate – there is something for everyone.
Speaking of white chocolate…
Is all white chocolate the same?
In a word – NO. Many things labeled as white chocolate or candy melts are not actually white chocolate. Much of it is just sugar and fillers. This is why many people complain of the after taste in "white chocolate".
Real white chocolate made from real cacao does not have this aftertaste. This is why I originally purchased the Kakao Zon white chocolate. I needed some to update my White Chocolate Pannacotta. I was so impressed with the amazing flavor that they are now my go to chocolate company for all of my chocolate needs.
..and you get to enjoy their chocolate too!
COUPON CODE
I have partnered with Kakao Zon to offer you a RAFFLE GIVEAWAY. Please enter the raffle below for a chance to win chocolate prizes. Giveaway is open until 12/13/20.
However, if you need chocolate immediately and can't wait, please take advantage of my coupon code to always get 10% off of your Kakao Zon products by purchasing your chocolate at Kakao Zon and use the coupon code – GK10.
Let's check on all of the ingredients you will need to make these delicious Chocolate Anise Cookies.
The Ingredients
Now it's time to make these easy Anise Cookies!
Chocolate Anise Cookies
Chocolate Anise Cookies include both white chocolate and dark chocolate into these shortbread like cookies. These eggless cookies pair deliciously with cup of tea or hot cocoa.
Instructions
Preheat oven to 350 F.

Spray a cookie sheet with non stick spray.

Chop the chocolate into small pieces.

In a large bowl, combine flour, salt, sugar and anise seed.

Whisk the dry ingredients to aerate and make sure there are no lumps.

Add anise essence (if using) and melted butter. Mix until well combined.

Add the chocolate and knead into the dough by hand.

Pinch off walnut size pieces of cookie dough and roll into a ball, about 2" in diameter.

Flatten into a disk and place on the prepared baking sheet.

Bake for 15 minutes.

Leave to cool for 5 minutes before removing from baking sheet.
Notes
Don't be concerned if the batter seems a bit dry and crumbly. The heat in your hands as you roll the dough will make the dough softer and come together.
Nutrition
Calories:
254
kcal
|
Carbohydrates:
29
g
|
Protein:
4
g
|
Fat:
15
g
|
Saturated Fat:
9
g
|
Cholesterol:
30
mg
|
Sodium:
123
mg
|
Potassium:
127
mg
|
Fiber:
3
g
|
Sugar:
12
g
|
Vitamin A:
327
IU
|
Calcium:
26
mg
|
Iron:
1
mg
Did you try this recipe? Leave a comment below.
Please follow me on Instagram @chefmireille or tag me #chefmireille with your pics! I'd love to share them!
a Rafflecopter giveaway
DO YOU YUM? SAVE IT BELOW!
Yum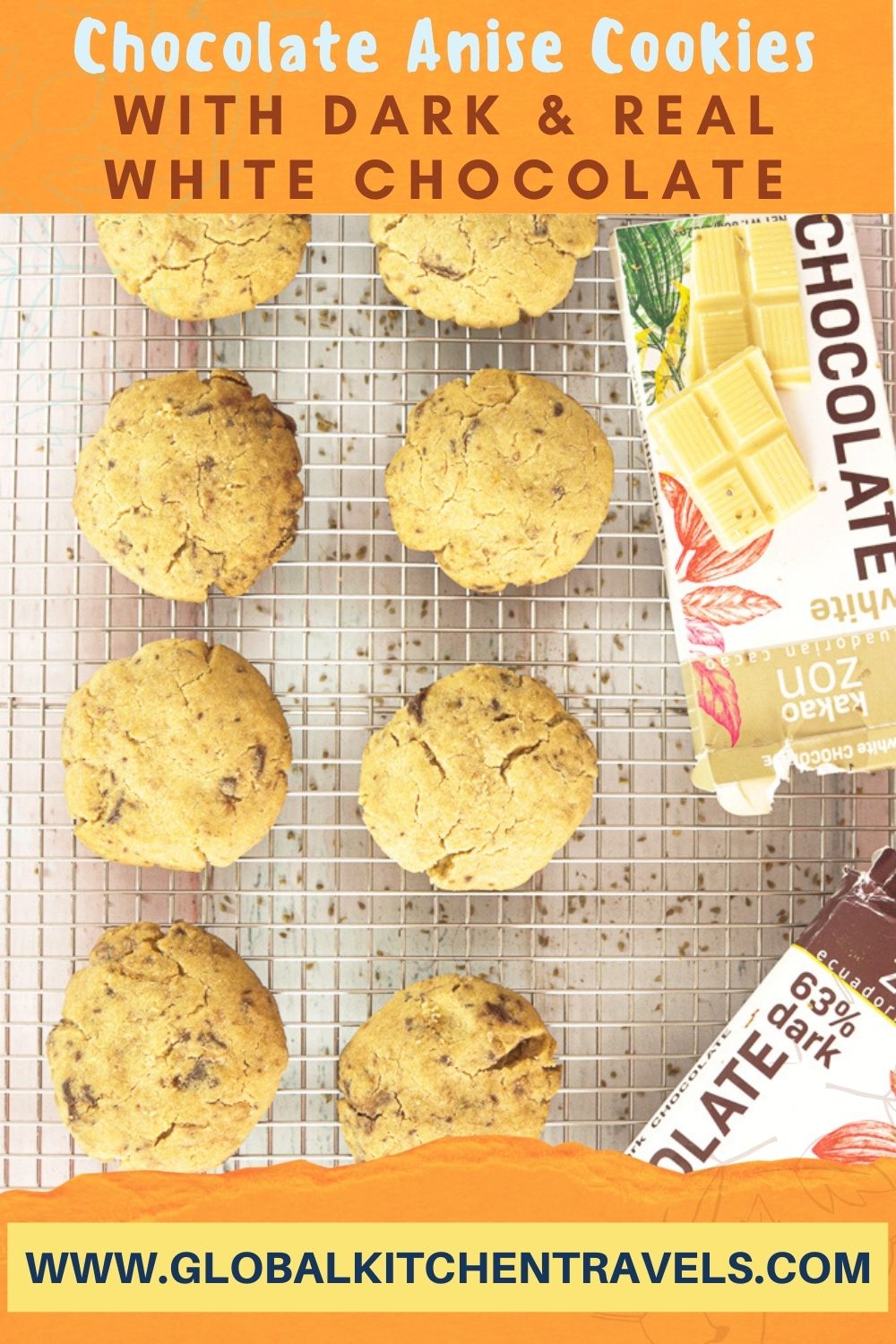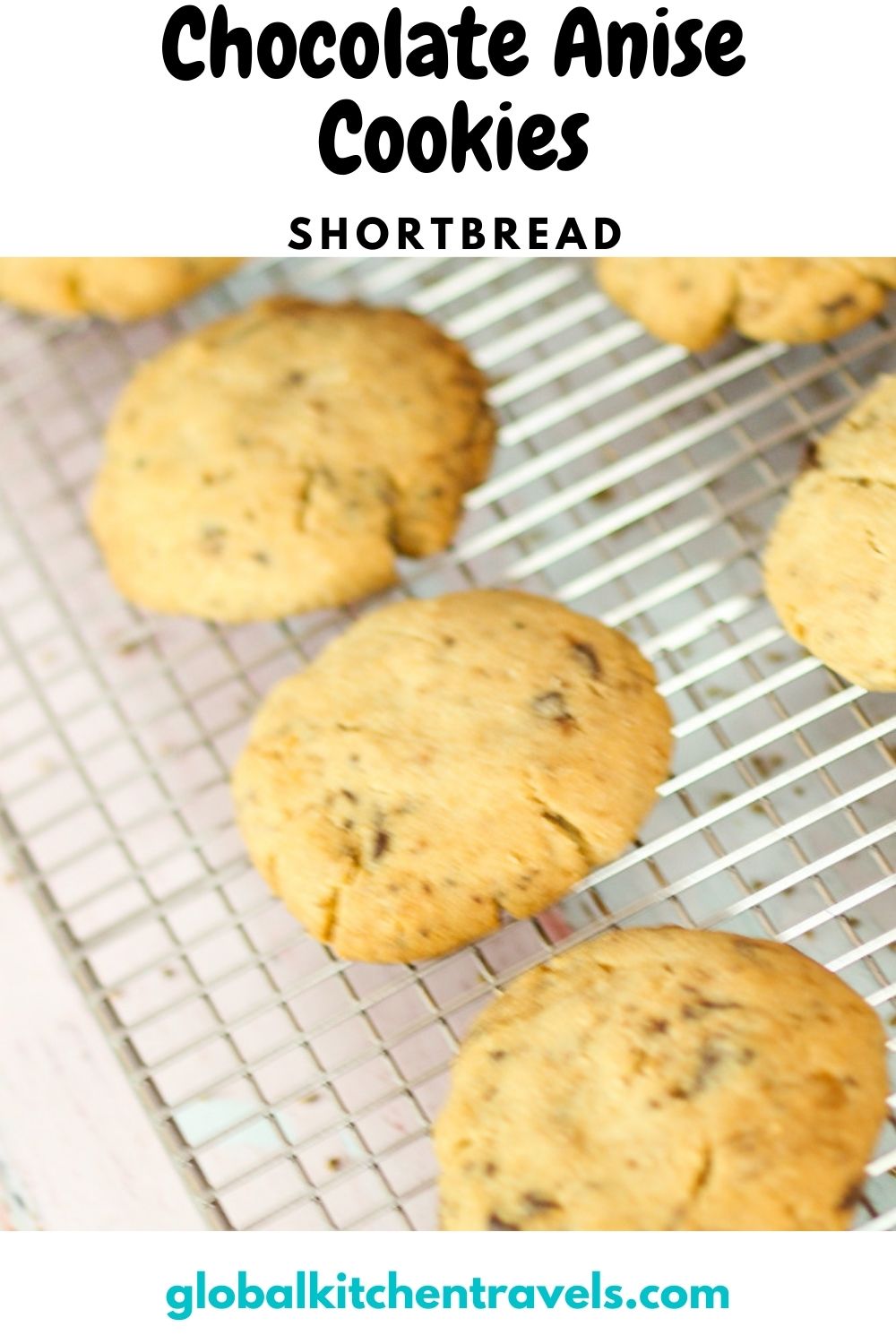 Don't forget to visit the RECIPE INDEX with over 1000 recipes from around the world including lots of Vegetarian Recipes and Gluten Free Recipes!