Last Updated on December 23, 2020 by Chef Mireille
This Ripe Breadfruit Tea Cake recipe is a easy zero-waste recipe that utilizes overripe breadfruit to make a super moist tea cake everyone will love. This meeting between breadfruit and basic baking supplies equals a heavenly treat!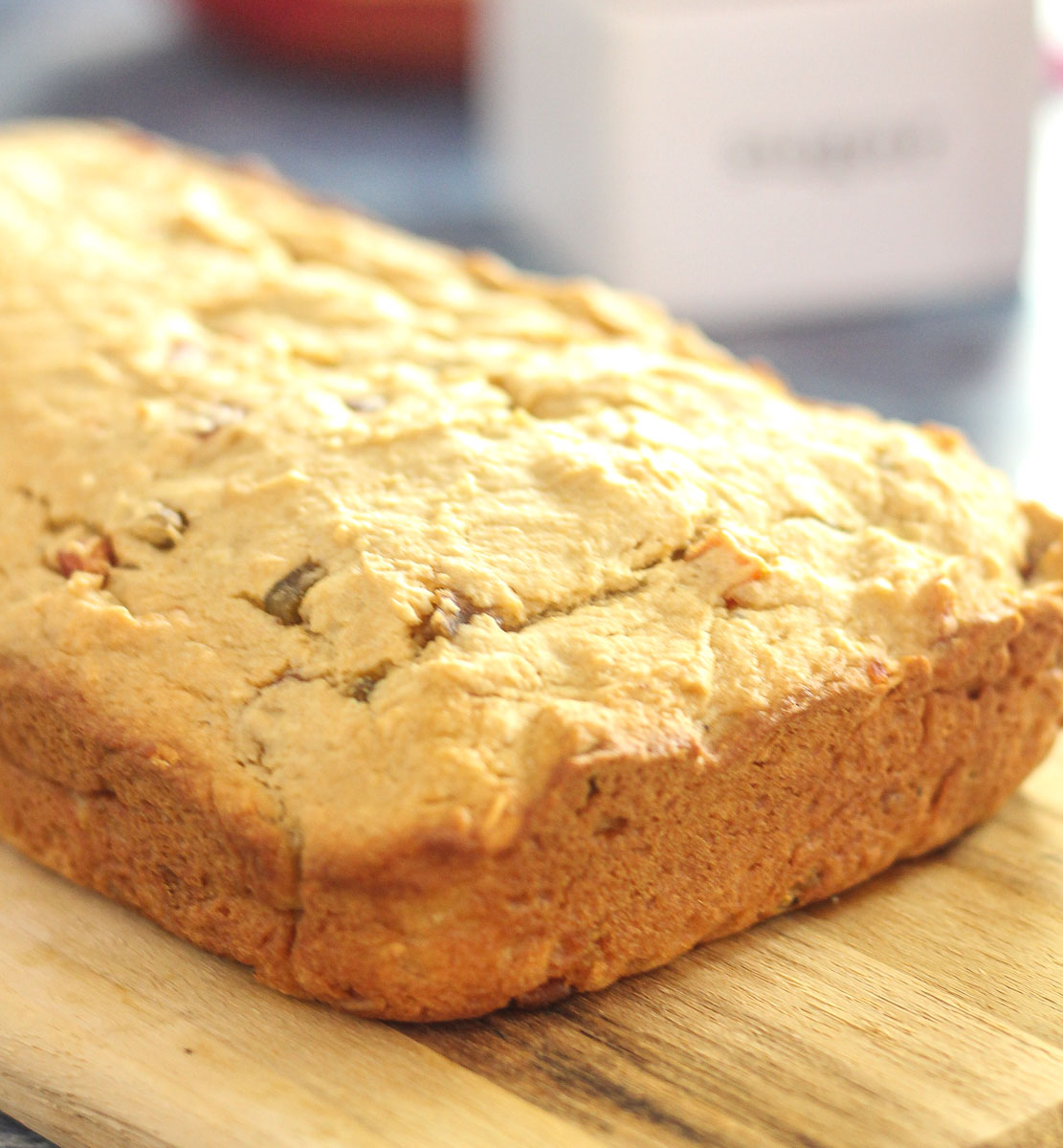 This post may include affiliate links.
Have you ever tried breadfruit? Do you know what breadfruit is?
You may have seen it in the market and walked right by it because even if you are an adventurous foodie, just didn't know what in the heck it was or how to cook it.
What Is Breadfruit?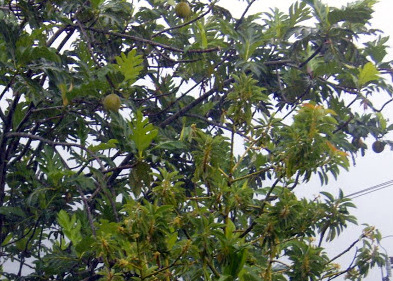 Breadfruit is a tree fruit that can be eaten green or ripe; it's such a versatile ingredient that can be boiled, roasted or fried and can be used in both sweet and savory recipes. One thing to note, when breadfruit is green it must be cooked prior to eating.
Some of my favorite Breadfruit Recipes include Oil Down (the national dish of Grenada), Breadfruit Puffs and Breadfruit Palya (an Indian recipe). I also love to make breadfruit chips; they're so easy and delicious, you must try them!
If your breadfruit is brown with white spots, it's ripe and sweet and ready to use. At this point, the flesh will be mushy, almost like a very ripe avocado. This breadfruit mush can be eaten raw and is often used to make things like smoothies, cakes, ice cream and other sweet treats.
Green breadfruit can still be used to make sweet things because breadfruit has a natural sweetness that is adaptable based on its preparation. In fact, my Mom told me my grandmother used to make Pain Patate (Haitian Sweet Potato Pudding) using cooked green breadfruit.
How To Prepare Breadfruit
When breadfruit is green, it can be quite difficult to peel. Depending on the recipe if it is possible, boil or roast it in its skin and then peel it afterwards.
Whether you peel it before or after it is cooked, there is a center core that must be removed, like a pineapple.
In fact, when the breadfruit is very ripe, it has an aroma like a pineapple. They may be botanically related.
When the breadfruit gets to this point, the skin even can be pressed and it will feel very soft. Do not think the breadfruit is spoiled.
This just means it is super ripe and can only be used for sweet preparations. This is how I created this recipe. I had let my breadfruit get too ripe, so I needed to make use of it.
I am always trying to practice zero waste in my kitchen so after consulting my Mom, I came up with this recipe to use the over ripe breadfruit so I would not have to throw it away.
Where Is Breadfruit Eaten?
Breadfruit is popular in tropical countries. It is eaten widely in Africa, the Caribbean, some parts of South & Souteast Asia and Hawaii, where it is known as ulu.
For this recipe, I used a breadfruit that was about 50% mush. You can use a breadfruit that is completely mush as well for this recipe and just omit the milk in the recipe.
In recent years, it is becoming quite common in the markets (at least here in the NYC area). Before, I would have to purchase it at a Caribbean or African market. However, I can now find breadfruit even at Whole Foods.
What If I Can't Find Breadfruit?
Ripe avocado has a similar texture to breadfruit so if you cannot find breadfruit, you can substitute avocado, but I can't promise for it to be as flavorful.
However, I may be a little biased as I am not an avocado fan. Yes, I can hear you gasping in shock!
Making Ripe Breadfruit Cake requires just a few simple ingredients.
Ingredients:
Have you tried instacart yet? It's how I get all of my fresh grocery items delivered within 2 hours!
Equipment Needed
How To Make:
First, you need to prep the breadfruit by first pureeing it in a blender or food processor until very smooth. Next, you will add the milk (as needed) until you get a smooth breadfruit mush consistency.
Now let's toss half of the tutti-frutti into the flour, only half so that the fruit does not sink to the bottom during baking.
Finally it's time to put our cake batter together.
First we mix our butter and sugar.
Then we add the eggs, vanilla and mango juice until we have a batter with a creamy consistency.
Now we add our breadfruit and flour.
Next we fold in the fruit tossed in half the flour.
40-45 minutes later in a 350 F oven you have a delicious super moist tea cake.
Soft and moist, this is the perfect tea time cake.
Are you ready to make your own breadfruit cake?
Ripe Breadfruit Cake
Instructions
Preheat oven to 350 F. Spray a loaf pan with non-stick spray.

If the breadfruit is not 100% mush, puree it in the food processor with 1-2 tablespoons milk as needed for a smooth puree.

In a bowl, combine flour, baking powder, nutmeg and salt.

Whisk to combine dry ingredients.

In another small bowl, combine about ½ cup of the flour combination and toss the candied fruit in it. This will prevent the fruit from sinking to the bottom.

Using an electric mixer with the paddle or whisk attachment, beat butter and sugar in a bowl until smooth and creamy.

Add eggs one at a time, beating well after each addition.

Add vanilla extract and mix until combined.

Add breadfruit and mix very well, until thoroughly combined.

Add the remaining flour (not mixed with the fruit) to the batter.

Add mango juice and mix until well combined.

Add the fruit and flour combination and mix until well combined.

Transfer to prepared loaf pan.

Bake for 40-45 minutes, or until a toothpick comes out clean.

Leave to cool for at least 10 minutes in the pan.

Remove from the pan and serve.
Notes
The milk is optional, depending on how ripe your breadfruit is. If your breadfruit is complete mush, the milk is not necessary.
Remember to toss the fruit in half of the flour so it does not sink to the bottom.
You can substitute the whole wheat pastry flour with all-purpose flour.
Ripe avocado can be substituted if you cannot find breadfruit
Nutrition
Calories:
167
kcal
|
Carbohydrates:
27
g
|
Protein:
4
g
|
Fat:
6
g
|
Saturated Fat:
3
g
|
Cholesterol:
45
mg
|
Sodium:
115
mg
|
Potassium:
289
mg
|
Fiber:
3
g
|
Sugar:
12
g
|
Vitamin A:
256
IU
|
Vitamin C:
9
mg
|
Calcium:
61
mg
|
Iron:
1
mg
Did you try this recipe? Leave a comment below.
Please follow me on Instagram @chefmireille or tag me #chefmireille with your pics! I'd love to share them!
More Zero Waste Recipes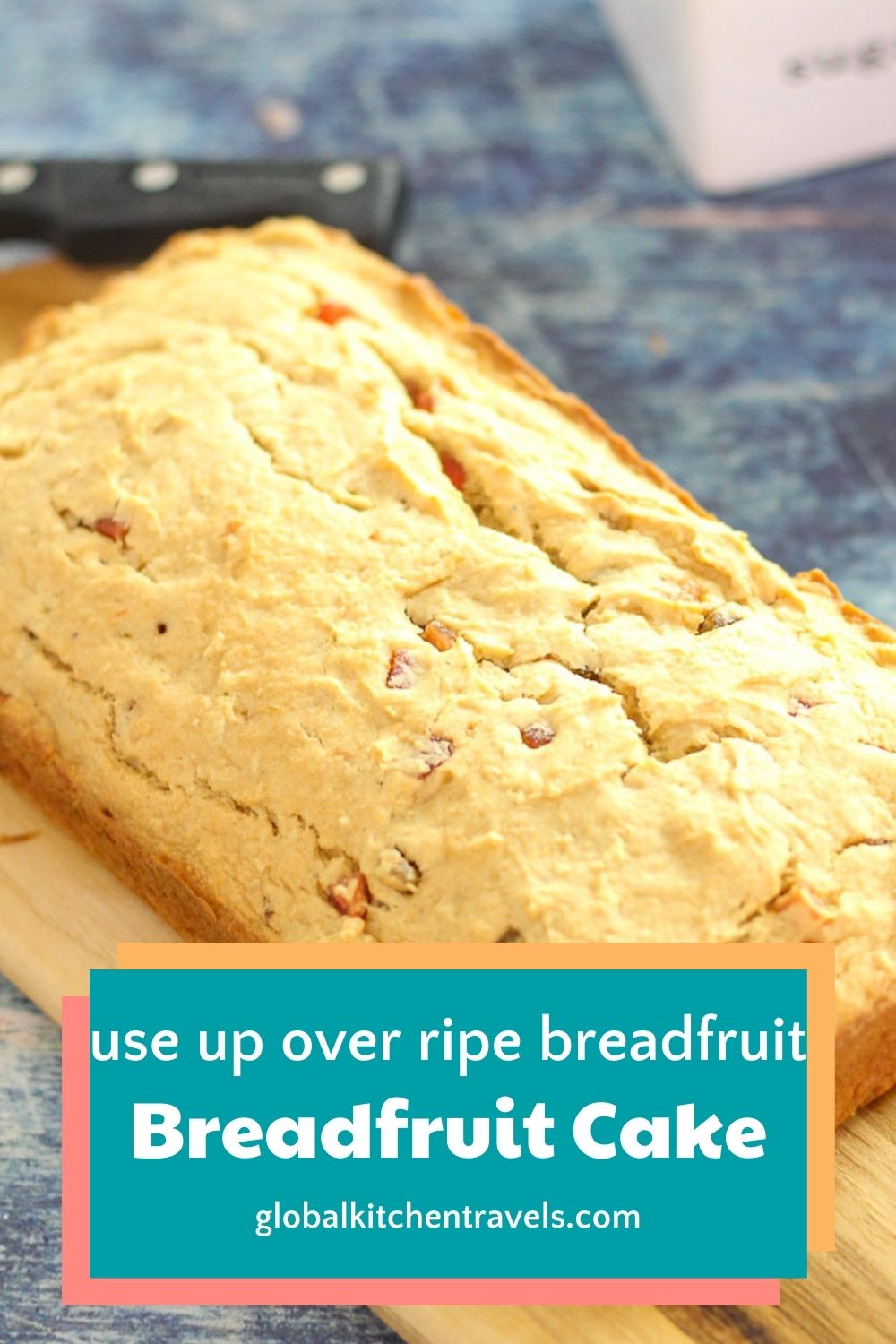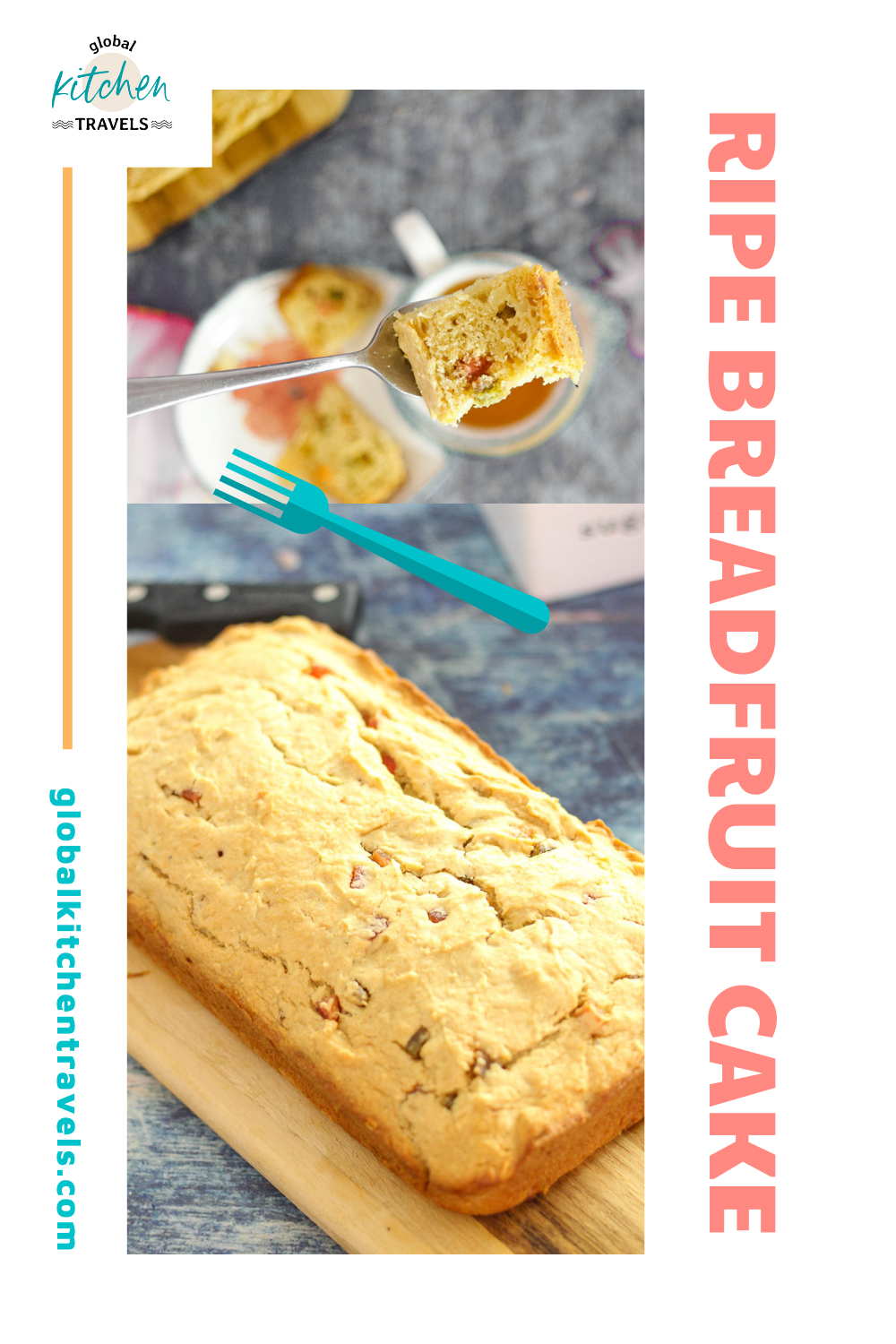 Don't forget to visit the RECIPE INDEX with over 1000 recipes from around the world including lots of Vegetarian Recipes and Gluten Free Recipes!