Last Updated on April 8, 2020 by Britt Ervin
Choereg – Armenian Easter Bread is a sweet, egg-rich bread similar to challah. It's a braided loaf that also has a twist of including Mahleb, and wonderful Middle Eastern spice. This homemade bread is not only delicious for Easter, but maybe you want to switch out the challah and try something new for your Shabbat meal!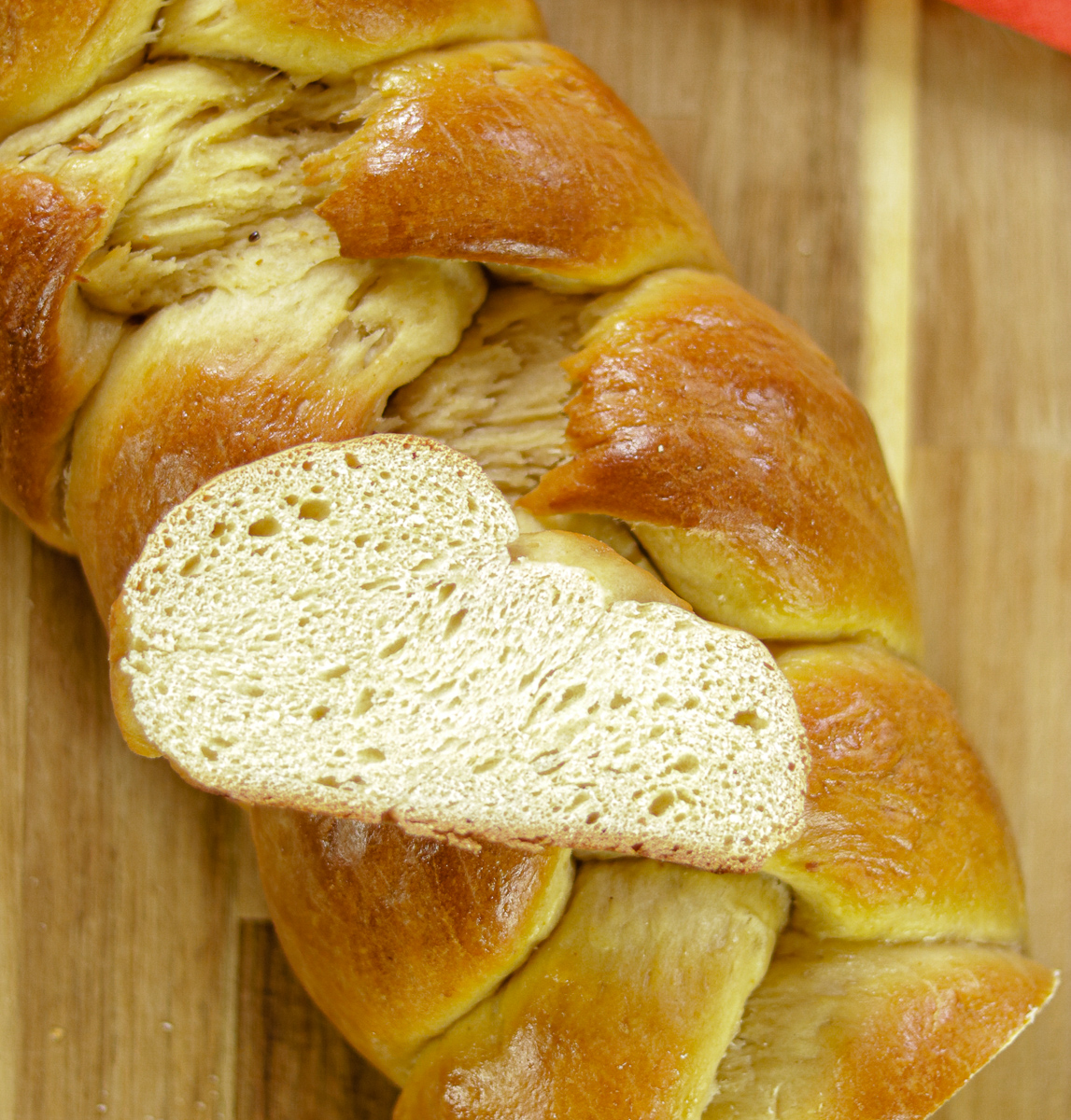 This post may include affiliate links.
Spring means Easter and a sweet egg-rich bread would make the holiday complete.
Very similar to challah, but with a twist. This Armenian Easter bread recipe includes mahleb spice – also known as mahlab – for a lightly floral and sweet flavor.
Ingredients You Need to Make Choereg – Armenian Easter Bread
warm milk
sugar
eggs
melted butter
vanilla extract
ground mahleb (or mahlab)
salt
bread flour
egg wash – an egg beaten with water
What is mahleb?
Mahleb, also sometimes spelled mahlab, is a spice used in Near Eastern and Middle Eastern cuisines. Greece, Turkey, Cypress, Iran, Armenia and beyond…
It is made from a local breed of cherries, and has a pleasantly sweet and slightly bitter taste. A bit of ground mahleb makes the Choereg have an extra special bit of flavor. Although it is not necessary to make this Armenian Easter Bread recipe, I highly recommend you try to include the spice if you can!
How To Make Choereg – Armenian Easter Bread
Do you ever multi task and then make mistakes? Well the first time I made this bread, I was chatting on the phone while making it and completely forgot to add the butter. Surprisingly, it still came out delicious.
Although it did start to dry out after just 1 day and tasted a tad yeasty, I still enjoyed it. When toasted, the dryness became moot. But I knew I had to update this post for you with the way it is supposed to be made,
So now here is the traditional version rich in butter and eggs and oh so delicious to add to the table for all of your celebrations!
Now this bread is an all day affair, with a 5 hour waiting time. But I promise you it is so worth the wait when you bite into the sweet, tender, rich bread!
Step #1 – Make the Choereg Dough
In a shallow bowl combine the milk with 1 tablespoon of sugar. Mix and sprinkle the yeast on top. Leave the mixture to set and become frothy for about 5-10 minutes.
Next, in the bowl of a standing mixer or with an electric hand mixer, beat the eggs until frothy. Add the butter, sugar, vanilla, and ground mahleb, and beat until creamed. Then add the salt and flour, and knead into a smooth, elastic dough. The Armenian Easter bread dough should be soft but not sticky.
Transfer the dough to a greased bowl, and cover with a piece of plastic wrap sprayed with nonstick spray. Then cover with a kitchen towel, and place the bowl in a warm, dry place for about 5 hours until the dough has doubled in size.
Step #2 – Shape the Armenian Easter Bread
Once the dough has doubled, tip it out of the bowl and onto a clean, lightly floured work surface. Divide the dough into 3 equal portions.
Roll each section into a long log. Then pinch and roll the three sections together at the top. Braid the pieces into a loaf as shown. Pinch the bottom sections together and gently tuck under the loaf.
Cover the loaf with another piece of plastic wrap coated with nonstick spray, and let rest and rise for one more hour.
Step #3 – Bake!
Brush the Choereg loaf with the egg wash, and bake in an oven preheated to 350 degrees Fahrenheit for about 40-45 minutes.
This bread is so soft and tender, but with a nice golden crust.
It's so easy to slice!
Serving and Storage Suggestions
Who can resist? Enjoy generous slices of homemade Choereg – Armenian Easter Bread plain, with butter or your favorite toppings.
Keep leftovers stored in an airtight container at room temperature for up to 5 days. You can also wrap in plastic wrap, place in a freezer bag, and keep in the freezer for up to 3 months.
A lot of people are doing a lot more bread baking than they normally do, so check out some of these other bread recipes to add to your table.
Bread Recipes
Choereg – Armenian Easter Bread
Choereg – Armenian Easter Bread is an egg rich bread, similar to challah. However, with a twist flavored with a mahleb, a spice made from cherries.
Ingredients
Instructions
In a shallow bowl, combine milk with the 1 tablespoon of sugar. Mix and sprinkle yeast on top.

Leave to rest for 5-10 minutes, until foamy.

In the bowl of an electric mixer, beat eggs well until frothy.

Add butter, sugar, vanilla and mahleb. Mix well until thoroughly combined. SEE NOTE

Knead for 10 minutes, until dough is smooth, soft and elastic. Dough should be soft, but not sticky.

Place in a greased bowl and cover with plastic wrap sprayed with non stick spray.

Cover with a kitchen towel and leave to dry in a warm place for about 5 hours, until doubled in volume.

Divide dough into 3 equal portions, each weighing approximately 1 lb. 3 oz.

Roll each portion into a long rope, about 17".

Braid the 3 ropes into one long braid.

Place diagonally on a cookie sheet lined with parchment paper or sprayed with non stick spray. SEE NOTE #2

Cover and let dough rise again for 1 hour.

Brush loaf with egg wash.

Bake for 40-45 minutes until golden and crusty on top.
Notes
Make sure melted butter is cool. If the butter is not, it may cause the eggs to scramble.
Alternately, you can divide the dough in half and make 2 smaller loaves.
Nutrition
Calories:
219
kcal
|
Carbohydrates:
31
g
|
Protein:
7
g
|
Fat:
7
g
|
Saturated Fat:
4
g
|
Cholesterol:
54
mg
|
Sodium:
121
mg
|
Potassium:
85
mg
|
Fiber:
1
g
|
Sugar:
2
g
|
Vitamin A:
221
IU
|
Calcium:
27
mg
|
Iron:
1
mg
Did you try this recipe? Leave a comment below.
Please follow me on Instagram @chefmireille or tag me #chefmireille with your pics! I'd love to share them!
You can also have your breakfast Armenian style – with Choereg, honey, yogurt and a fresh white cheese (Mannouri in the photo below)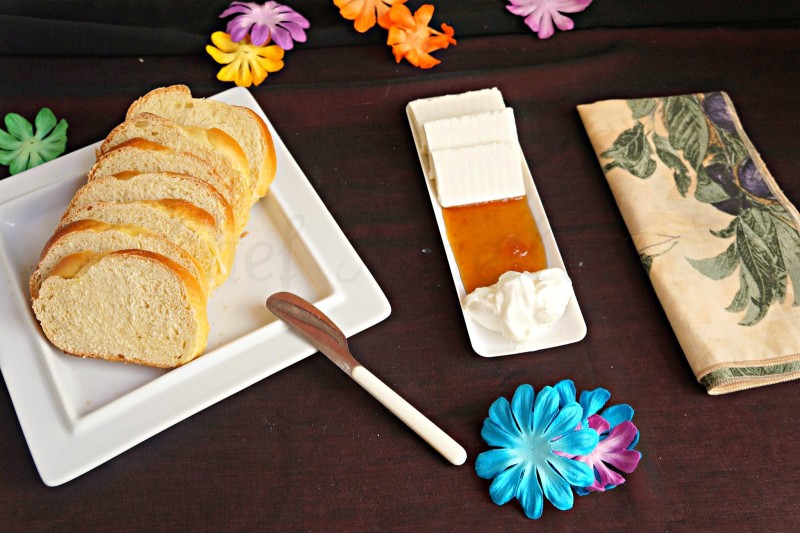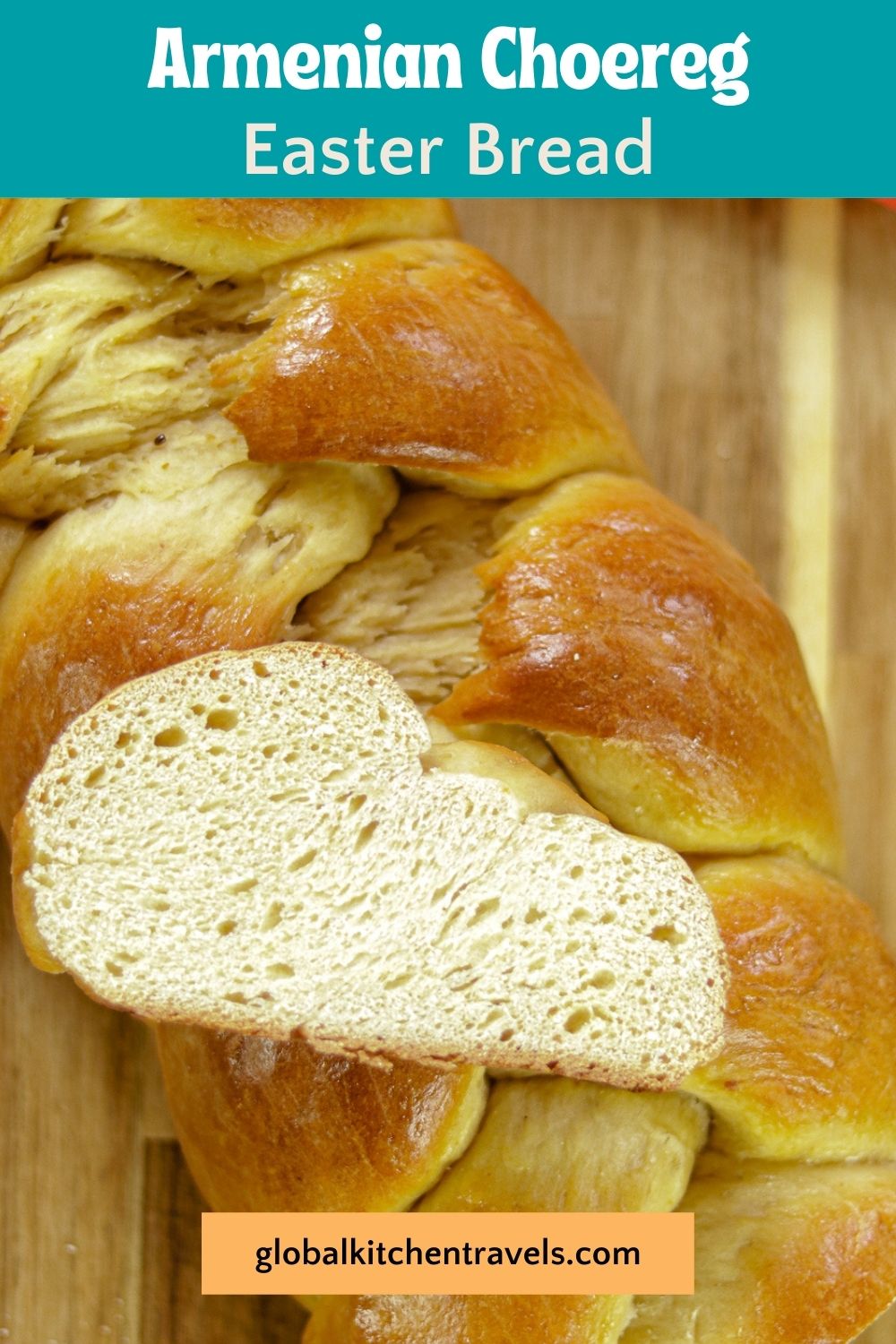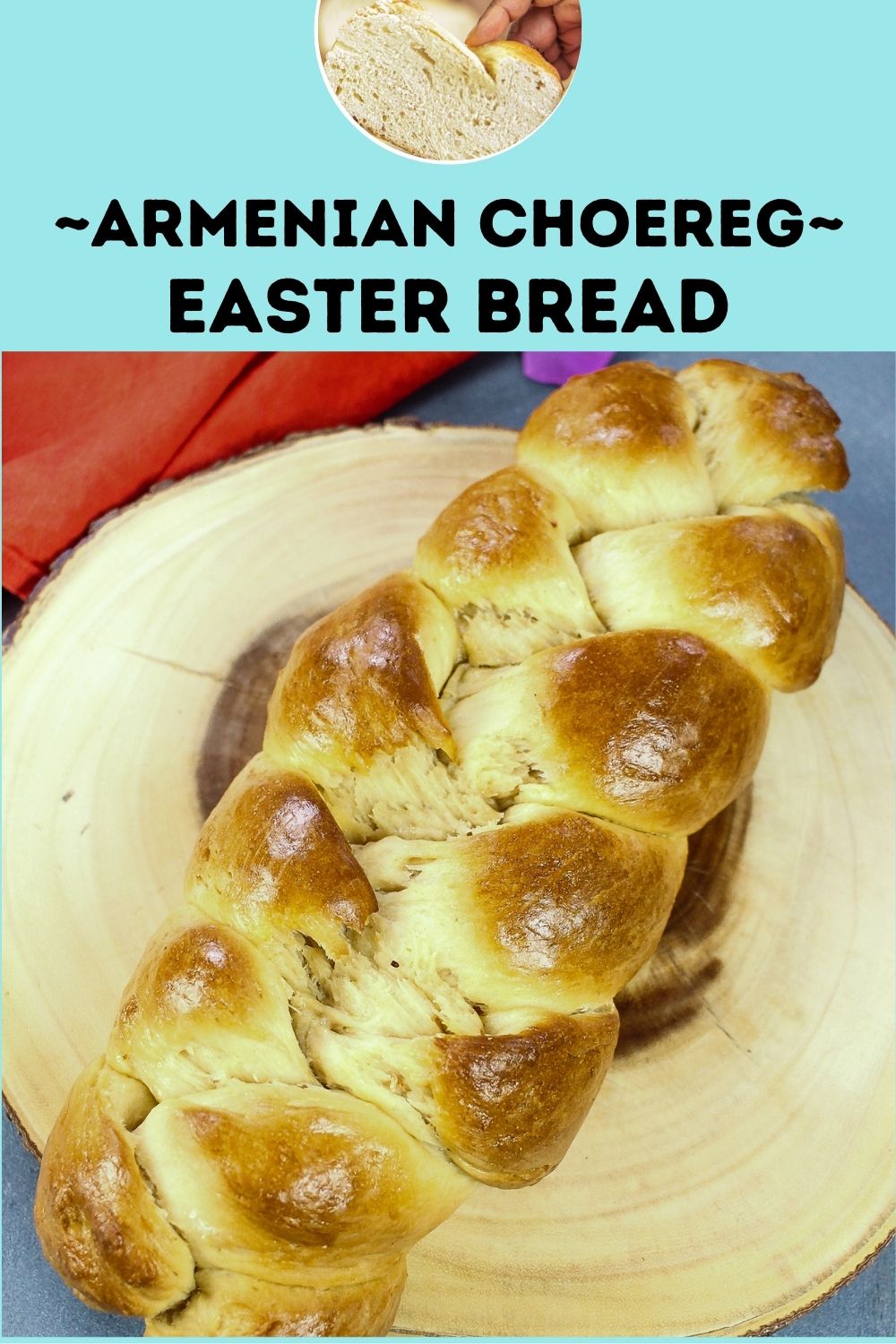 DO YOU YUM? SAVE IT BELOW!
Yum
Don't forget to visit the RECIPE INDEX with over 1000 recipes from around the world including lots of Vegetarian Recipes and Gluten Free Recipes!