Last Updated on April 8, 2020 by Chef Mireille
Choereg
Choereg – Armenian Easter Bread is an egg rich bread similar to challah. Not only for Easter, but maybe you want to switch out the challah and try something new for your Shabbat meal!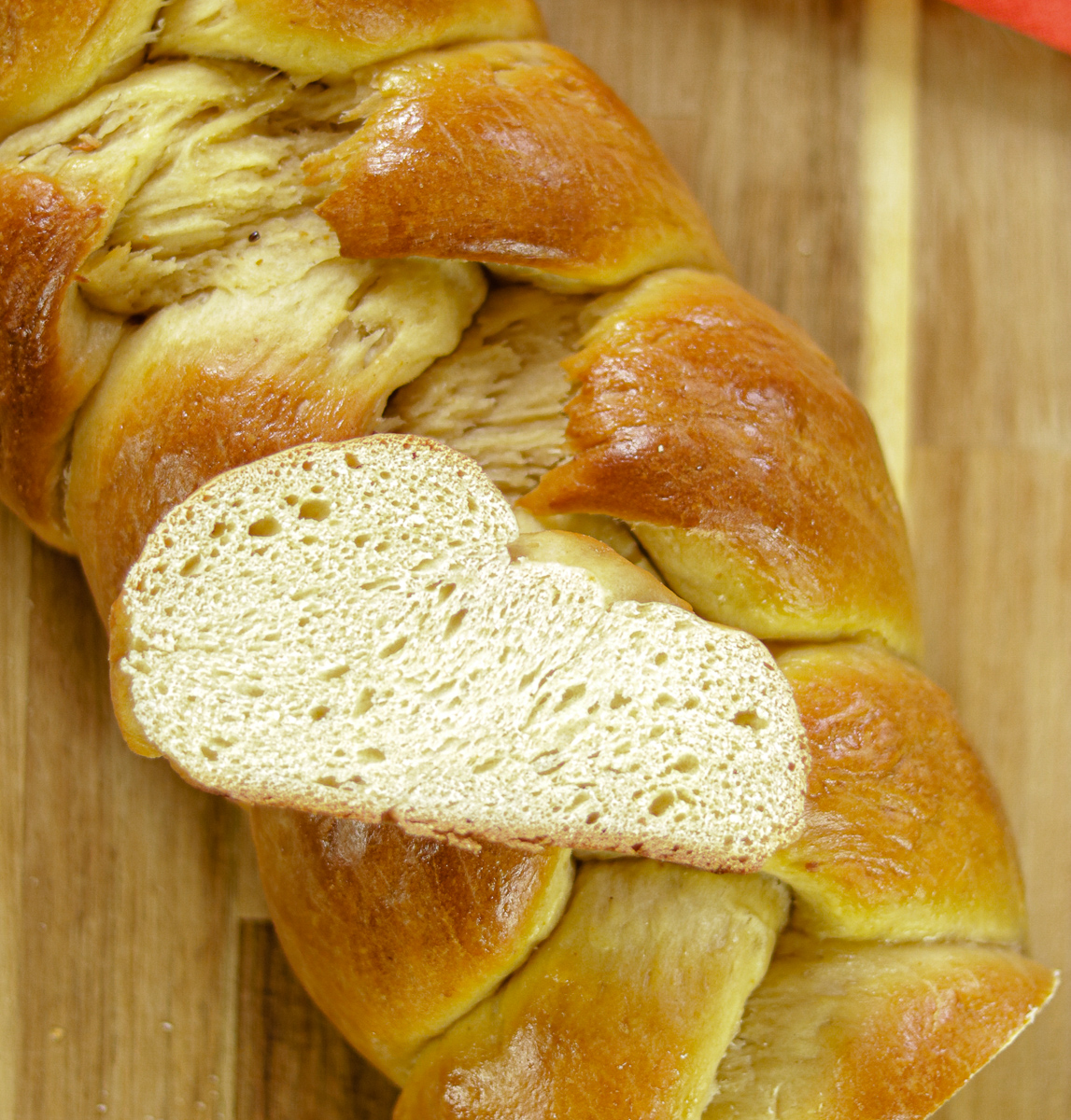 Whether you celebrate Easter or Passover, sweet egg rich breads are part of the Spring season in both Christian and Jewish traditions. Although since this has butter, it will have to be kept as part of a Vegetarian Jewish meal.
Very similar to challah, but with a twist. This bread is flavored with mahleb.
What is mahleb?
Mahleb is a spice used in Near Eastern and Middle Eastern cuisines. Greece, Turkey, Cypress, Iran, Armenia and beyond…
It is made from a local breed of cherries.
Do you ever multi task and then make mistakes? Well the first time I made this bread, I was chatting on the phone while making it and completely forgot to add the butter. Surprisingly, it still came out delicious.
Although it did start to dry out after just 1 day and tasted a tad yeasty, I still enjoyed it. When toasted, the dryness became moot. But I knew I had to update this post for you with the way it is supposed to be made,
So now here is the traditional version rich in butter and eggs and oh so delicious to add to your Easter table this year.
How To Make Choereg – Armenian Easter Bread
Now this bread is an all day affair, with a 5 hour waiting time.
…but I promise you it is so worth the wait when you bite into the sweet, tender, rich bread!
…now divide the dough into 3 equal portions
Braid and Bake!
This bread is so soft and tender, but with a nice golden crust.
It's so easy to slice!
Who can resist?
Now during the 2020 pandemic, a lot of people are doing a lot more bread baking than they normally do, so check out some of these other bread recipes to add to your table.
Bread Recipes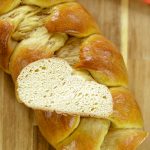 Print Recipe
Choereg – Armenian Easter Bread
Choereg – Armenian Easter Bread is an egg rich bread, similar to challah. However, with a twist flavored with a mahleb, a spice made from cherries.
Ingredients
1

cup

warm milk

115 – 120 F

1

tablespoon

sugar

2 1/4

teaspoons

dry active yeast

5

eggs

1/2

cup

melted butter

3/4

sugar

1

tablespoon

vanilla extract

1 1/2

teaspoons

ground mahleb

1/2

teaspoon

salt

6 1/2

cups

bread flour

egg wash

1 egg beaten with 1 tablespoon water
Instructions
In a shallow bowl, combine milk with the 1 tablespoon of sugar. Mix and sprinkle yeast on top.

Leave to rest for 5-10 minutes, until foamy.

In the bowl of an electric mixer, beat eggs well until frothy.

Add butter, sugar, vanilla and mahleb. Mix well until thoroughly combined. SEE NOTE

Knead for 10 minutes, until dough is smooth, soft and elastic. Dough should be soft, but not sticky.

Place in a greased bowl and cover with plastic wrap sprayed with non stick spray.

Cover with a kitchen towel and leave to dry in a warm place for about 5 hours, until doubled in volume.

Divide dough into 3 equal portions, each weighing approximately 1 lb. 3 oz.

Roll each portion into a long rope, about 17".

Braid the 3 ropes into one long braid.

Place diagonally on a cookie sheet lined with parchment paper or sprayed with non stick spray. SEE NOTE #2

Cover and let dough rise again for 1 hour.

Brush loaf with egg wash.

Bake for 40-45 minutes until golden and crusty on top.
Notes
Make sure melted butter is cool. If the butter is not, it may cause the eggs to scramble.
Alternately, you can divide the dough in half and make 2 smaller loaves.
Nutrition
Calories:
219
kcal
|
Carbohydrates:
31
g
|
Protein:
7
g
|
Fat:
7
g
|
Saturated Fat:
4
g
|
Cholesterol:
54
mg
|
Sodium:
121
mg
|
Potassium:
85
mg
|
Fiber:
1
g
|
Sugar:
2
g
|
Vitamin A:
221
IU
|
Calcium:
27
mg
|
Iron:
1
mg
You can also have your breakfast Armenian style – with Choereg, honey, yogurt and a fresh white cheese (Mannouri in the photo below)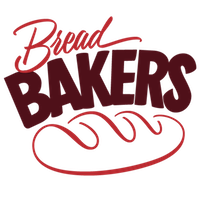 #BreadBakers is a group of bread loving bakers who get together once a month to bake bread with a common ingredient or theme. You can see all our of lovely bread by following our Pinterest board
right here
.
We take turns hosting each month and choosing the theme/ingredient. This month Camilla at
Culinary Adventures with Camilla
has chosen breads from around the world that are traditional for Easter, Passover or Springtime.
If you are a food blogger and would like to join us, just send an email with your blog URL to Stacy at [email protected]
Here's our International Easter/Passover/Spring Bread Basket…
ARE YOU EXCITED TO TRY THIS RECIPE? PLEASE HELP ME CONTINUE TO PROVIDE YOU WITH DELICIOUS RECIPES BY SHARING IT AND SHOPPING FOR YOUR FAVORITE PRODUCTS WITH INCLUDED AFFILIATE LINKS!
PIN IT FOR LATER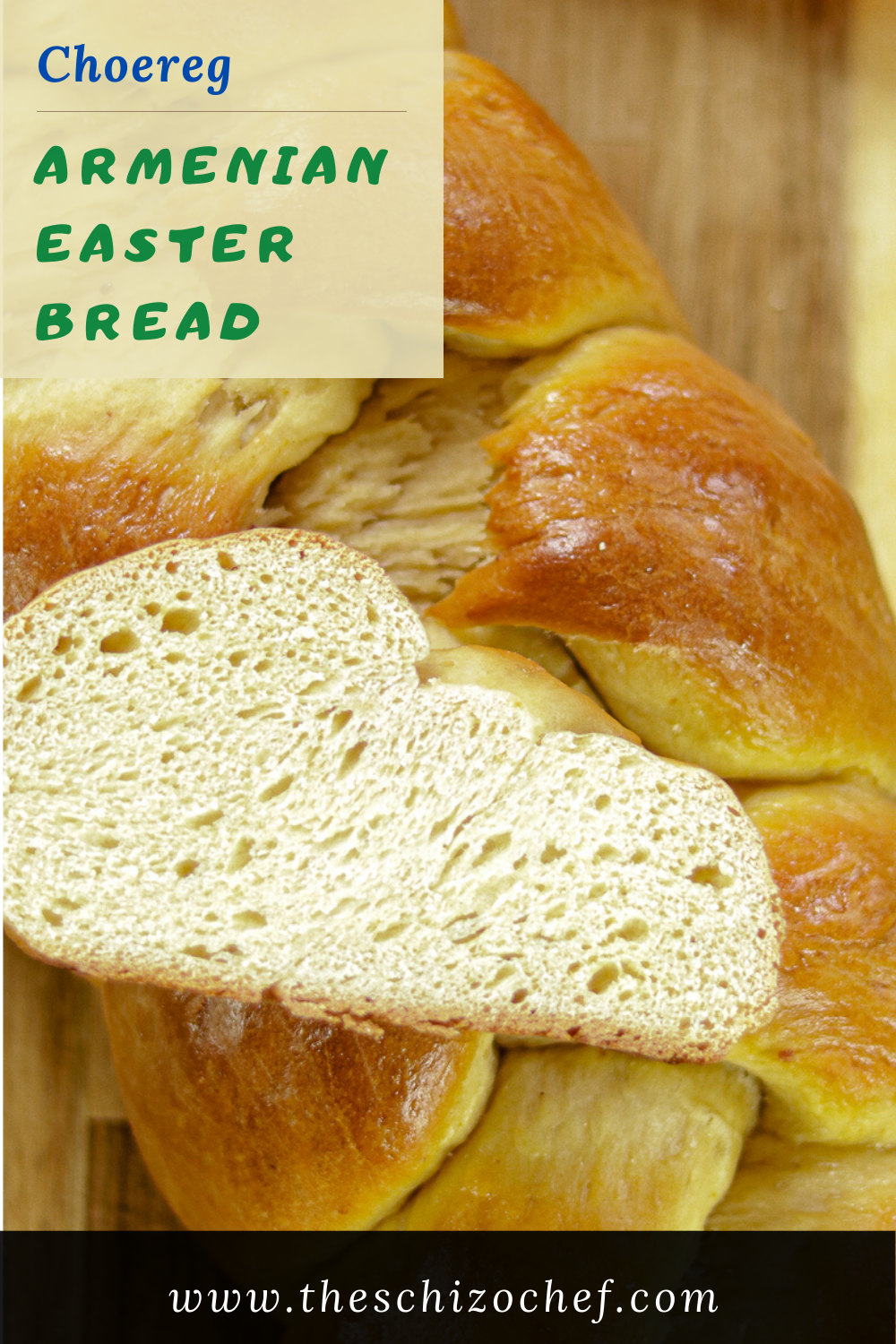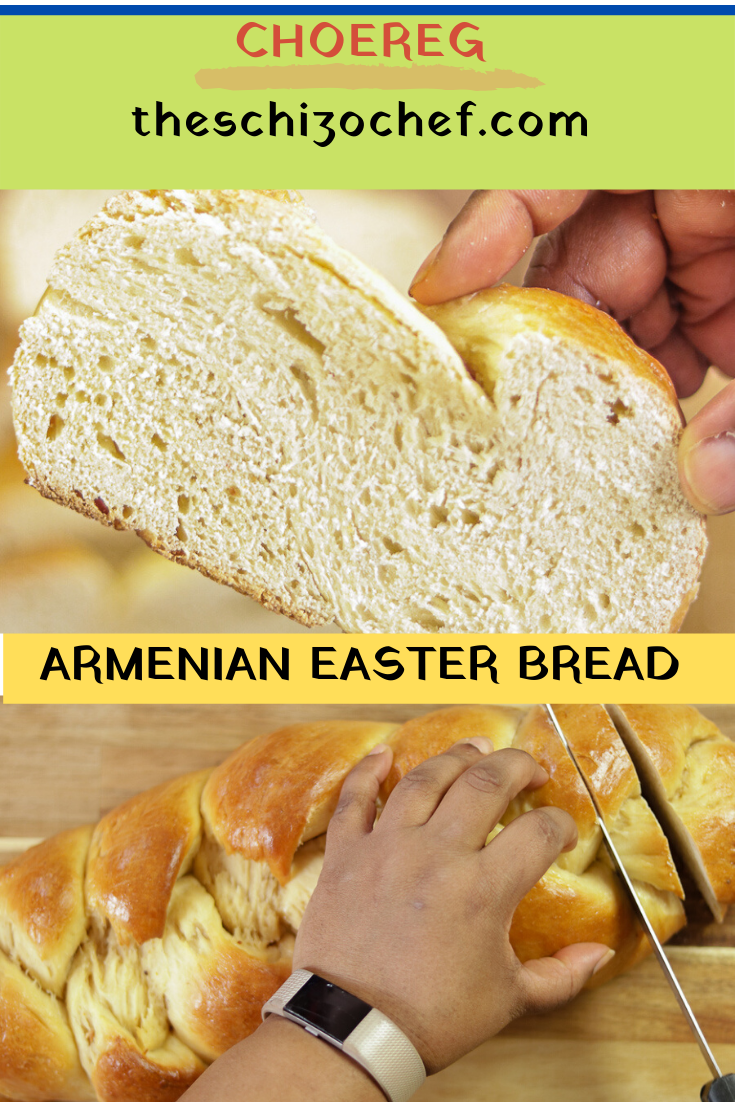 DO YOU YUM? SAVE IT BELOW!
Yum
NEED MORE INSPIRATION? CHECK OUT MY RECIPE INDEX WITH OVER 1000 INTERNATIONAL RECIPES FROM AROUND THE WORLD
….did you forget to subscribe?
DISCLAIMER: This website includes affiliate links. You don't pay a penny more, but I earn a small commission to keep this site going with delicious content!
Sign up for our updates!
Subscribe to get our latest content by email and get your FREE Pantry Cheat Sheet - Learn the basics to cook any International cuisine!