Last Updated on January 10, 2020 by Chef Mireille
Polish Chalka Crumble Bread
This bread traditionally eaten on Easter is a delicious sweet bread that is also great for breakfast!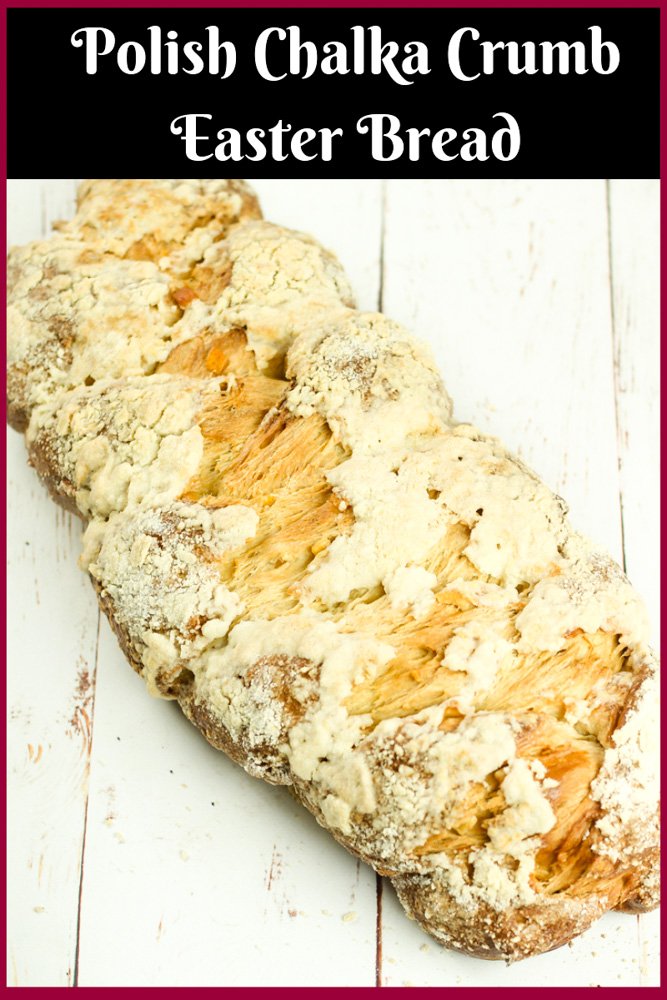 It's that time again – time for Bread Bakers and this month Sonia picked the theme of braided breads. Although it might be hard to see underneath the crumb, this is a braided loaf!
I always feel so blessed to live in one of the most diverse cities in the world. For example, this past weekend I went to Chinatown and there were mangosteen and dragonfruit being sold everywhere and I made a stop at the Chinatown Ice Cream Factory as it was a really warm weekend and had some Black Sesame Ice Cream but they also have durian, green tea, and taro.
I don't think there's another city in America where just with a short train ride you can go from China to Poland and then India or Senegal with another short train ride. Every community has their own little neighborhood where you can get traditional foods whether it be Greek, Russian, Indian, Chinese, Uzbeki, Middle Eastern, Caribbean, African or Korean.
The outer boroughs are the best places in NYC to experience traditional cultural foods. Many Manhattan restaurants placate to tourists and mute the flavors for mass appeal.
Greenpoint
A few weeks ago I found myself in Greenpoint, after not visiting for several years. Greenpoint is the border area between Brooklyn and Queens, but technically in Brooklyn. It also just happens to be the hub of NYC Polish community. Even just visiting the neighborhood supermarket, I was able to find lots of varieties of kasha (buckwheat) and pickles I don't find in my own neighborhood. Look out for some buckwheat recipes COMING SOON!
While there I had lunch at a fabulous little spot called the Polka Dot Cafe where they serve homestyle traditional Polish food. I had some simple sausage, kasha (buckwheat) and cabbage and it was so delicious. My mom had some rice with kale and sauerkraut stuffed pierogies. Am I making you hungry yet? I definitely plan on going back soon to try some more.
If you have a Polish neighborhood in your city, definitely try some of their delicious food. If not, when you come to NYC, don't forget to include a visit to Greenpoint in your itinerary.
Anyway, after experiencing the explosion of flavors of homemade Polish food, when it came time for me to research my breads for this month's theme, I had Poland on my mind.
Chalka is a very popular bread in Poland. Many people make it or buy it weekly. However, it is usually made more festive for Easter by adding the crumb and the dried fruit.
This Polish Chalka Crumble Bread is very traditional for Easter in Poland. It's like Passover without Challah or Jamaicans without Easter Bun for Easter.
The crumb transforms the bread from a simple braid to something spectacular to put onto your holiday table!
Now isn't that a gorgeous bread for the table!!!
The bread is just as delicious for breakfast with my homemade Pumpkin Jam, cheese and fruit!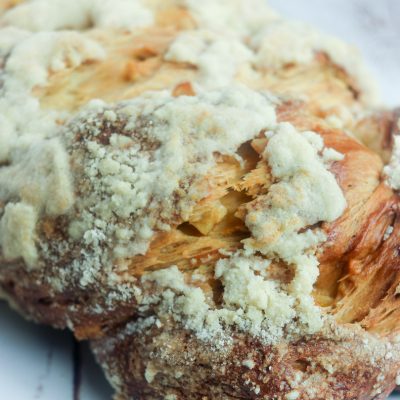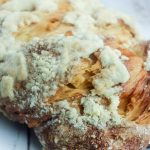 Print Recipe
Polish Chalka Crumble Bread for #BreadBakers
Polish Chalka Crumble Bread is a delicious sweet bread for Easter. Also just as delicious for breakfast with cheese and fruit!
Ingredients
Ingredients:
1

cup

milk

2

teaspoons

sugar

1 ½

teaspoons

instant yeast

3 ½ - 3 ¾

cups

bread flour

a large pinch of salt

¼

cup

+ 2 tablespoons firmly packed brown sugar

2

eggs + 2 egg yolks

2

teaspoons

vanilla extract

5

tablespoons

melted butter

1

cup

candied orange
Crumble Ingredients
1/3

cup

all purpose flour

2

tablespoons

sugar

3

tablespoons

cold butter

cut into small pieces.
Instructions
In a shallow bowl, heat milk to 115 F. Add sugar and whisk to combine.

Sprinkle yeast on top and leave for 5 minutes, until foamy.

In the bowl of an electric mixer, combine 3 ½ cups of the flour, salt and brown sugar.

In a small bowl, whisk 1 of the eggs with the egg yolks and the vanilla.

Add the eggs to the electric mixer with the melted butter.

With the bread hook attachment, whiz the flour for a minute.

Add candied orange and run the mixer for another few seconds.

Add yeast milk and knead for 7-8 minutes, adding additional flour as needed until you have an elastic dough.

Knead for another few minutes by hand.

Place in a lightly greased bowl. Cover with plastic wrap sprayed with non stick spray and a kitchen towel.

Leave to rise until doubled in volume, 2-3 hours.

Divide dough into 3 equal sized portions, each weighing about 12.7 oz. Shape into smooth balls.

Cover loosely with plastic wrap and a kitchen towel. Leave to rest for 15 minutes.

Form each ball into a rope about 13" long.

Take the 3 ropes and form a braid.

Transfer to a parchment paper lined cookie sheet.

Cover loosely with plastic wrap sprayed with non stick spray and a kitchen towel.

Leave to rise until almost doubled in volume, 1 – 1 ½ hours.

Preheat oven to 350 F.

To make the crumble, combine flour, sugar and butter.

With your fingers, mix the crumble, breaking down the butter pieces.

In a small bowl, whisk the remaining egg with 1 tablespoon water.

Brush the top of the loaf with the egg wash.

Pat the crumble on top.

Bake for 50-60 minutes until golden and crusty. The loaf should sound hollow inside when tapped.
Nutrition
Calories:
200.15
kcal
|
Carbohydrates:
30.2
g
|
Protein:
4.86
g
|
Fat:
6.53
g
|
Saturated Fat:
3.72
g
|
Sodium:
35.61
mg
|
Fiber:
1.05
g
|
Sugar:
8.1
g
Ready to make Polish Chalka Crumble Bread? I would love to see your photos! Tag me on Instagram @chefmireille #theschizochef with your pics!
Check out the other Bread Baker Braids!
#BreadBakers is a group of bread loving bakers who get together once a month to bake bread with a common ingredient or theme. Follow our Pinterest board
right here
. Links are also updated each month on this
home page
.
We take turns hosting each month and choosing the theme/ingredient.
Do you know anyone else who likes learning about international recipes, culture, history and travel? Bring them over here to join the party! Don't forget to use those share buttons!
START HERE to find out how the Schizo Chef can help you with your cooking, travel and other needs!If you like this recipe, PLEASE LEAVE A COMMENT & SUBSCRIBE
Sign up for our updates!
Subscribe to get our latest content by email and get your FREE Pantry Cheat Sheet - Learn the basics to cook any International cuisine!