Last Updated on January 11, 2020 by Chef Mireille
Cherry Coconut Sweet Bread is a cherry twist to a Caribbean classic recipe.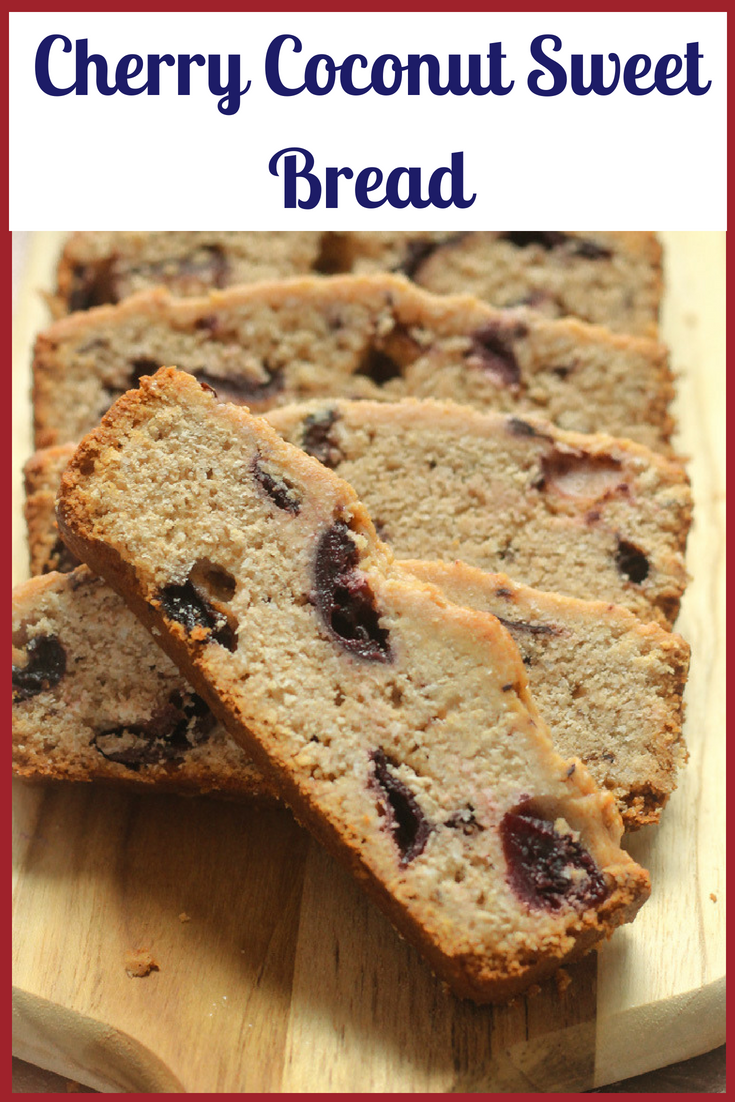 It's cherry season. Cherries are everywhere. Every grocer is selling cherries at cheap prices. From the time I was a child, one of the best things about summer was waiting for the cherries. All of a sudden, every week in the house there were cherries to snack on. My obsession with cherries did not end as a child. As an adult, I still waited for the summer cherries. Even after I was working in an office, I would often go the vendors on the street corner's to buy a bag of cherries and sometimes that was all I had for lunch. Sadly, several years ago, I started noticing that I developed a slight allergy to cherries. I can still eat them, but in small quantities. I have to limit myself to about 15 cherries at a time. One great way to still enjoy those summer cherries is including the fresh cherries into baked goods.
I decided to put a cherry twist to a classic Caribbean recipe. Caribbean Sweet Bread is one of the most common foods eaten throughout the Caribbean islands, although there are slight variations from island to island. It is often eaten with soft butter at tea time. However, it is also standard fare to have sweet bread for breakfast, especially during the holidays. Even though this is a sweet treat and not necessarily the best way to start the day, it is often had for breakfast with cheese. I think the cheese is supposed to add some extra protein so people don't feel so bad as having this sweet for breakfast.

Regardless, I haven't met a kid yet who didn't like cherries and I am sure they would love this version of sweet bread during the summertime. Yet another way to enjoy fresh summer cherries.
Spiced Sugars and Salts
In the last 5 years or so, shops that sell flavored sugars and salts have been popping up everywhere. The range of flavors is mind boggling – everything from Sweet Onion Sugar to Scorpion Salt (made with the Trinidad Scorpion pepper).
When I was in Savannah last summer, I visited two of these shops – The Salt Table and The Spice & Tea Exchange, where I picked up some of these flavored condiments. The Salt Table has the entire ground floor devoted to just flavored salt. Who would have guessed there could be so many flavors right!
For the topping in this sweet bread, I used one of the flavored sugars I picked up at the Spice & Tea Exchange – it is a Mango Habanero Sugar which added a slight kick to this sweet bread. However, you can easily just use plain sugar as well.
I have been seeing these Sugar & Salt places everywhere from here in NYC to Savannah to Philadelphia. Look for one in your city and it's an easy way for adding some extra flavor in your foods.
This is the perfect breakfast or tea time treat with some cheese.
This is the perfect treat for all cherry lovers!
Cherry Coconut Sweet Bread
a cherry variation to a classic Caribbean recipe.
Ingredients
3

cups

all purpose flour

1

tablespoon

baking powder

½

teaspoon

salt

1

teaspoon

ground cinnamon

½

teaspoon

ground ginger

¼

teaspoon

ground cloves

½

cup

softened butter

1

cup

sugar

1

egg

1

teaspoon

almond extract

1

tablespoon

cherry wine

1

cup

evaporated milk

2

cups

dessicated coconut

2 ¼

cups

pitted cherries

Topping Ingredients:

1

tablespoon

mango habanero sugar

1

tablespoon

water
Instructions
Preheat oven to 325 F. Spray two loaf pans with non stick spray.

In a bowl, combine flour, baking powder, salt, cinnamon, ginger and cloves.

In the bowl of an electric mixer, beat butter and sugar until creamy. Add egg, almond essence and cherry wine. Beat until thoroughly incorporated.

Add the flour mix in two batches, beating well after each addition.

Add coconut and mix until thoroughly incorporated.

Add cherries and mix until just combined.

Divide batter into the 2 loaf pans.

Bake for 1 hour.

In a small bowl, mix the topping ingredients.

Brush this on top of the breads.

Put back in the oven for another 2 minutes.

Remove from oven. Let cool in pan for 10 minutes before removing from the pans.

Leave to cool completely before slicing.
Notes
If doing by hand, coarsely chop the cherries to break them up a little.
For the wine in this recipe, I used Manishewitz, which is a Kosher wine. Kosher wine is sweeter than traditional wine.
Did you try this recipe? Leave a comment below.
Please follow me on Instagram @chefmireille or tag me #chefmireille with your pics! I'd love to share them!
Do you know anyone else who likes learning about international food, culture, history and travel? Bring them over here to join the party! Don't forget to use those share buttons!
Start Here to find out how the Schizo Chef can help you with your cooking, travel and other needs!
If you like this recipe, PLEASE LEAVE A COMMENT & SUBSCRIBE!
Sending this to Srivalli's Kid's Delight event, guest hosted by Sowmya themed on Baked Treats.
Check out the Blogging Marathon page for the other Blogging Marathoners doing this BM#91