Last Updated on January 11, 2020 by Chef Mireille
Traditional Madeleine Cookies made the French way with almond meal.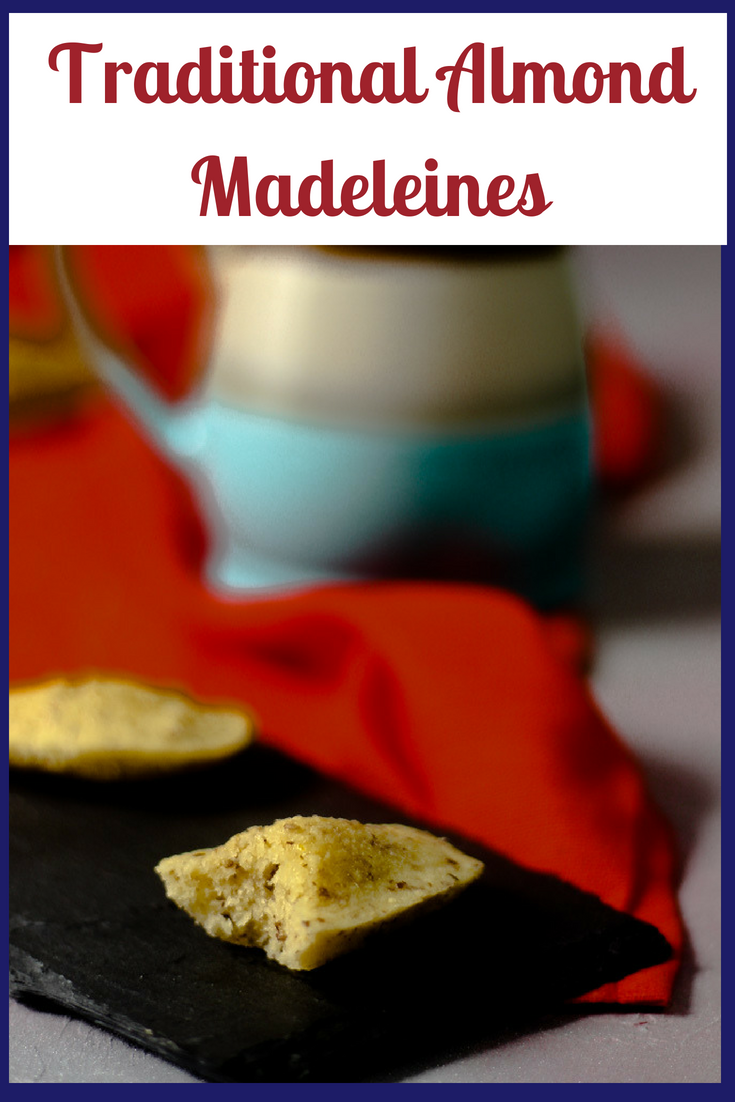 A few years ago when a few blogger friends and I met at fellow blogger Rajani's house for lunch. She was living right in front of a Christmas Tree Shops store. You know after lunch we all took a walk over there. Christmas Tree Shops is a great place to shop for inexpensive props and cooking stuff if you are a food blogger. We all got excited over the Madeleine mold tray which was only about $2-$3 as I recall. Most of us bought the mold. It has been a few years – Rajani isn't even still living there anymore – and my Madeleine mold has been collecting dust on the top of my cabinets.

When I embraced the theme of French food this week, I knew immediately I had to make Madeleine's. Although the mold came with a recipe, I knew it was not the traditional one. Although here in the US, madeleines are often just made with flour, the traditional French ones are actually made with almond meal or ground almonds.

If you've never had a Madeleine, they are more cake than cookie. The batter is more like cake better, so don't think you've done something wrong when you have a very wet batter. Don't have a madeleine mold? Check out these other Madeleine style cookies I made without a mold!
Are you one of those like me that often buy the little packets of madeleine's when you get your Starbucks coffee. It's about the only sweet thing I can tolerate from Starbucks as I find all of their other desserts way too sweet, even with my sweet tooth. Well, these with the almond meal were so delicious, I'm afraid I am always going to be disappointed now when I have a Starbucks madeleine.
These are great to have at tea time with a mug of tea or coffee.
I guarantee you won't be able to have just 1!
Traditional Madeleine Cookies
Traditional French Madeleines made with almond meal.
Ingredients
Instructions
Preheat oven to 350 F.

Spray madeleine mold tray with non stick spray or brush lightly with butter.

In the bowl of an electric mixer, beat eggs and sugar.

Add almond essence and lemon juice. Beat to combine.

In a small bowl, combine flour, almond meal, baking powder and salt.

Add the dry ingredients to the bowl and mix until thoroughly combined.

On low speed, add the melted butter and mix until combined.

Using a tablespoons, fill the molds with the batter.

Bake for 8-10 minutes, until set.
Notes
Unless you have 2 Madeleine mold trays, you will have to bake the cookies in 2 batches.
Did you try this recipe? Leave a comment below.
Please follow me on Instagram @chefmireille or tag me #chefmireille with your pics! I'd love to share them!
Do you know anyone else who likes learning about international food, culture, history and travel? Bring them over here to join the party! Don't forget to use those share buttons!
Start Here to find out how the Schizo Chef can help you with your cooking, travel and other needs!
If you like this recipe, PLEASE LEAVE A COMMENT & SUBSCRIBE!
Check out the Blogging Marathon page for the other Blogging Marathoners doing this BM#91