Last Updated on July 9, 2022 by Chef Mireille
This post may include affiliate links.
Jamaican Easter Bun is one part of the traditional Jamaican Spice Bun and Cheese enjoyed on Easter mornings. Celebrate Easter with this delicious Jamaican spiced bun and cheese recipe. This sweet bread is infused with warm spices and stout beer for a flavor that's simply irresistible.
The sweet of this quick bread with the saltiness of the cheese make a perfect marriage of flavors.
Made with all the spices that permeate Caribbean cuisines and the yeasty flavor achieved from stout beer (like Guinness or Dragon Stout), this quick bread is unlike anything you've ever taste and you're going to love it!
Everyone will thank you for adding this Caribbean flavor to your Easter holiday.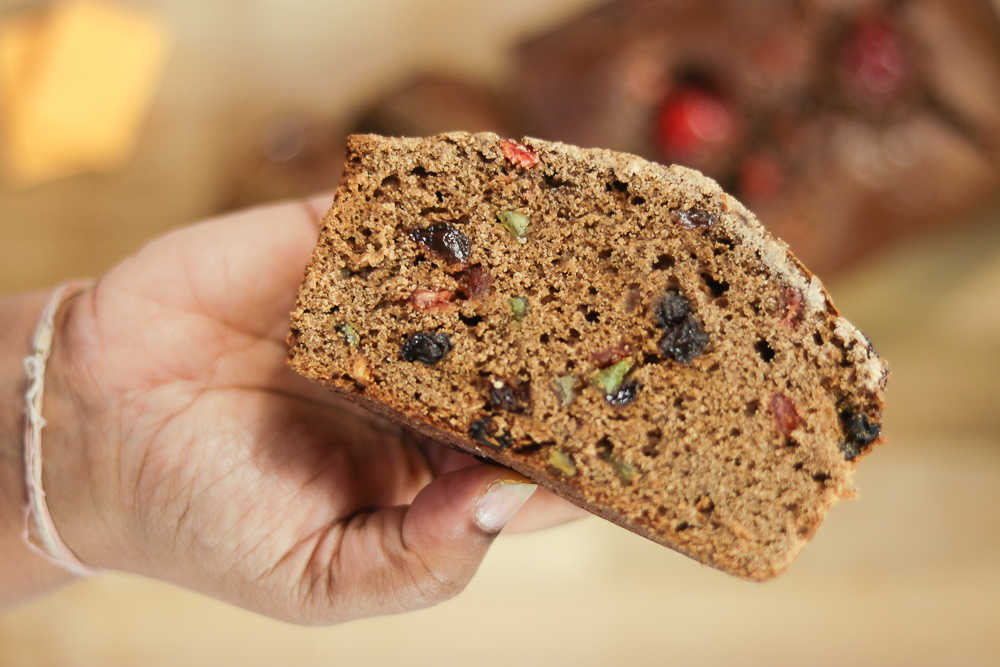 Caribbean people love sweet breads. Every holiday from Christmas to Easter and birthdays – really any kind of celebration and there comes the sweet bread. While this version of Coconut Sweet Bread is ubiquitous throughout the islands, each island also has at least one additional version that is unique to the island. This is why I get so mad when people lump all Caribbean food into the same bucket. We each have our own distinct culture and cuisine, not to mention sometimes different languages as well.
Don't get me started on the after school program I was once teaching and the guide book had the recipe of Jerk Fish for Haiti, when foods seasoned with Jerk seasoning ONLY occurs in Jamaica.
Easter Bun Variations
This Easter Bun is one of these sweets that is uniquely Jamaican. However, there are different variations of bun and cheese eaten on many Caribbean islands with British colonization but there is great variation in the bun. For example, the raisin bun eaten in Antigua is closer to hot cross buns.
There are both yeast versions of Eastern Bun and ones without yeast. When made without yeast, Guinness is used to still provide the same tang of yeast. Most modern versions use the quick bread method made with the Guinness (or Dragon Stout).
So what do we eat our sweet breads with? Bet you can't guess!
Cheese! Don't know why or when this custom developed but sweet bread is eaten with cheese in the Caribbean. Most of the Caribbean uses a generic cheese akin to cheddar cheese. It's usually the only cheese available, except in the Dutch Caribbean (Aruba, Curacao, etc.) where Edam or Gouda is more common. As Dutch colonies, they have a more diverse cheese culture.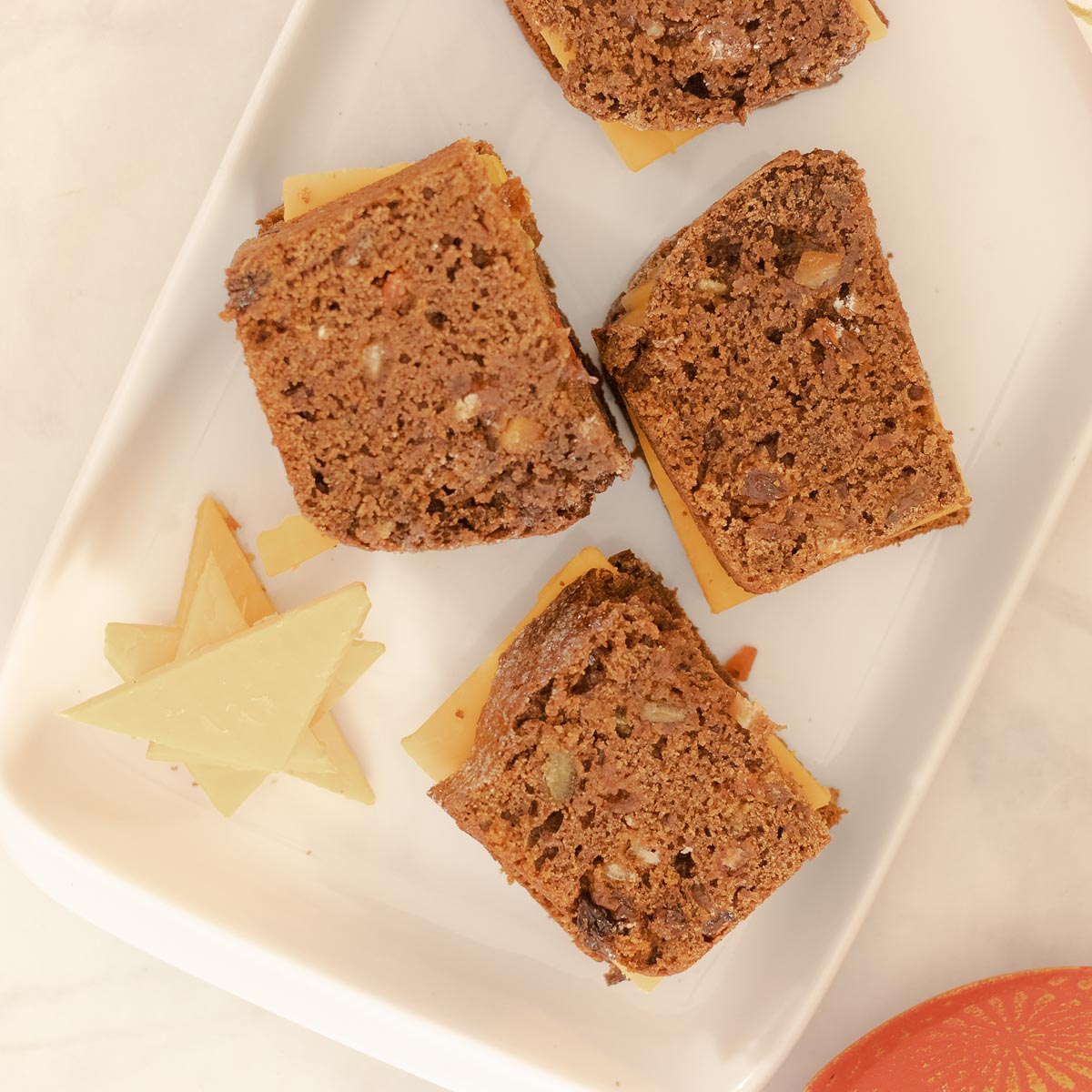 Frequently Asked Questions
Why do Jamaicans eat Bun and Cheese for Easter?
The tradition of Bun and Cheese started in England in the 1600's. Hot cross buns were eaten with the cross symbolizing Jesus dying on the cross. It was actually forbidden in England to eat it at any other time than Good Friday.
When the British colonized Jamaica, this tradition was brought over. However, the Jamaicans put their own twist on hot cross buns and the Jamaican Spiced Bun was born.
What kind of cheese is in bun and cheese?
Traditionally it is a bright orange processed cheddar cheese popular throughout the Caribbean.
How is bun and cheese eaten?
It is usually eaten like a sandwich. with a slice of cheese in between two slices of spiced bun.
Specialty Products
There are some uniquely Caribbean products you are going to need for this Easter Bun recipe.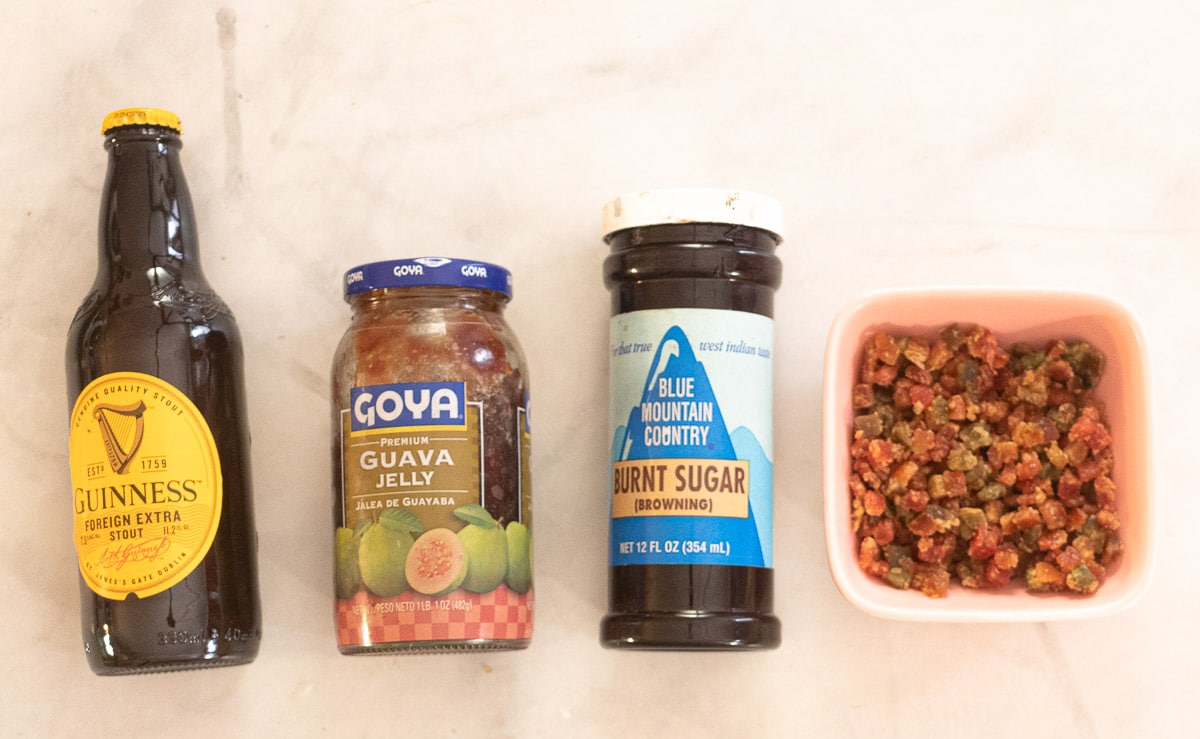 Guava Jam – Guava Jelly/Jam is the most common jam in the Caribbean. It is the most popular filling for cakes and is used in many of our pastries. Any Caribbean supermarket will carry it and it can also be ordered from online sources. However, if it seems a little more trouble than its worth, you can easily substitute with Strawberry Jam.
Browning – Browning is basically burnt sugar. It is a thick liquid ingredient used in both Caribbean sweet and savory foods for both taste and color. The closest substitute would be molasses, although molasses does have a stronger taste. Look for browning at your local Caribbean supermarket. It is also finding its way into many international aisles in standard supermarkets here in America. Of course, like everything else, you can also purchase it from Amazon.
Guinness – Stout beer is very common in the Caribbean and especially in Jamaica. It comes from a history of British colonization. Not only do we drink it, but it finds it's way into many of our sweet foods. It provides that slight tang of a yeasty flavor.
Tutti Frutti used in many sweet breads around the world go by many names like chopped mixed peel or dried citron.
Now let's check the pantry for the rest of the ingredients you will need.
Ingredients for Spice Bun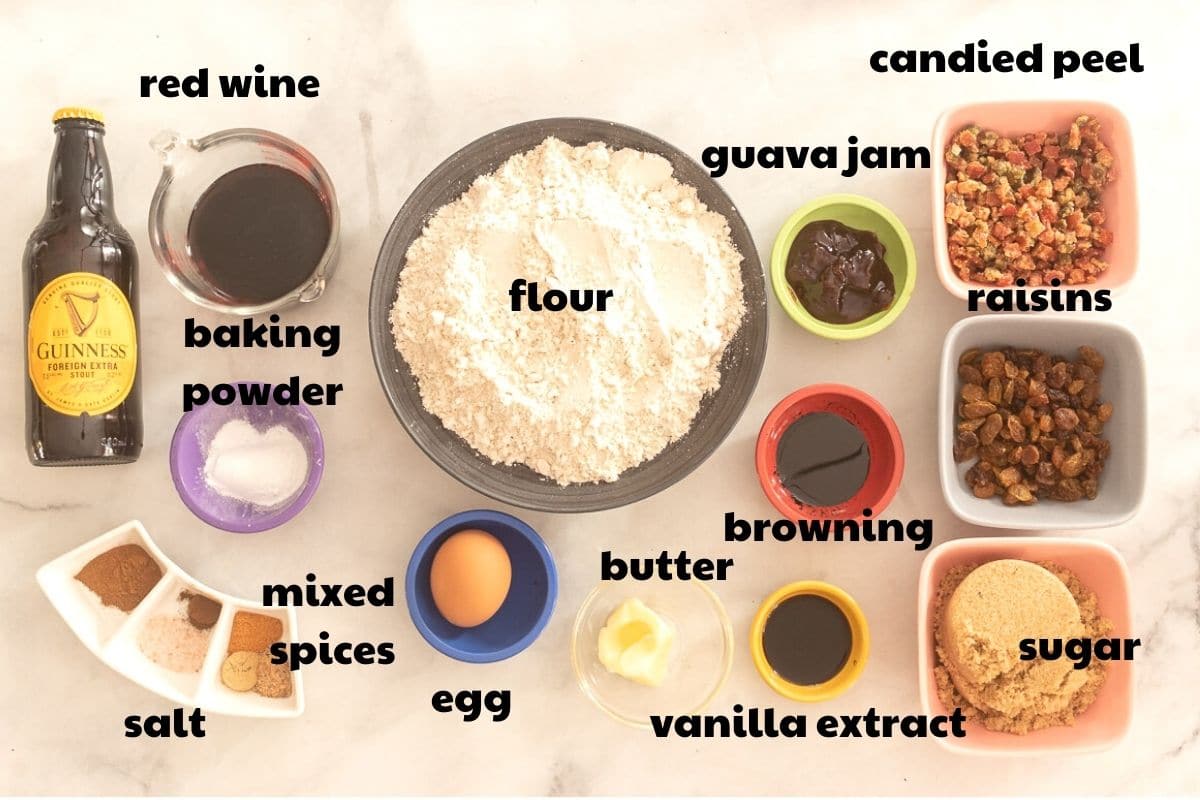 butter
red wine
browning
Guinness (stout beer)
guava jelly
vanilla extract
egg
firmly packed brown sugar
all purpose flour (or whole wheat pastry flour)
ground cinnamon
ground clove
ground mace
ground ginger
freshly grated nutmeg
salt
raisins
mixed peel (tutti frutti)
How to Make Jamaican Easter Bun
Combine all the dry ingredients in a bowl and sift it.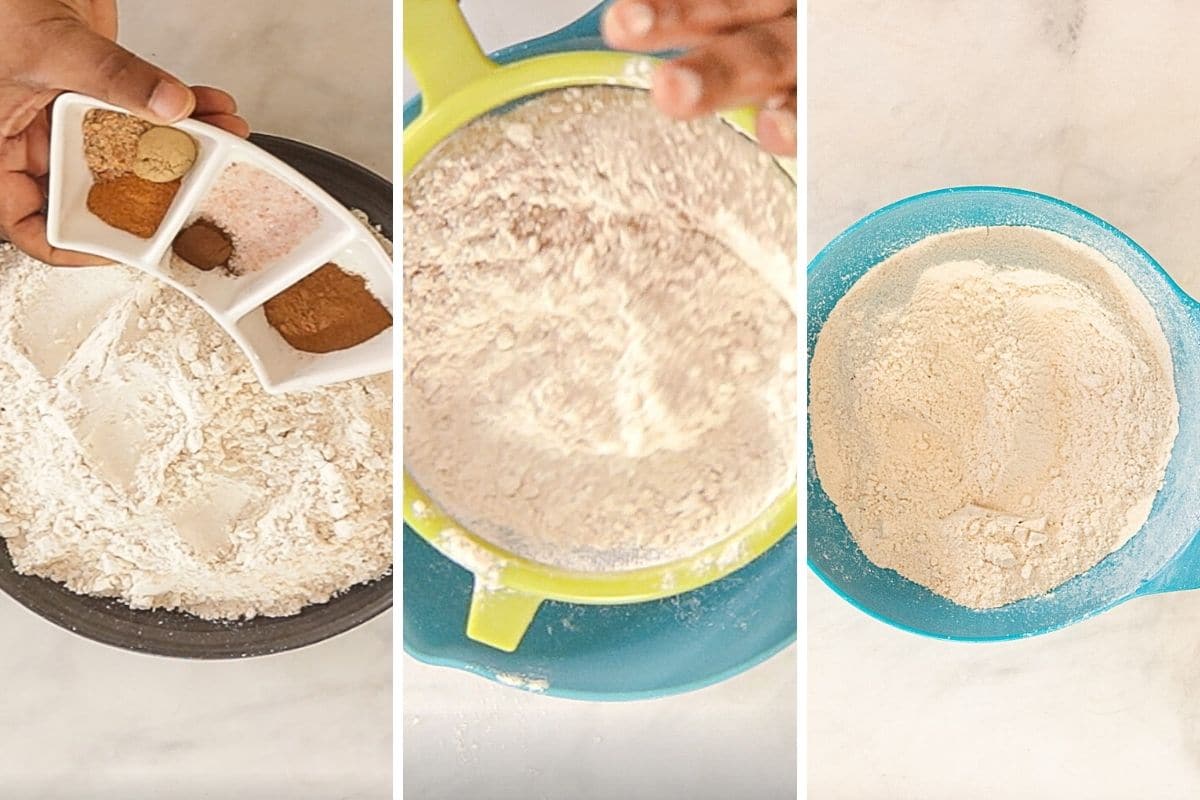 Toss the dried fruit in a little of the flour to avoid it sinking to the bottom during baking.
Combine the butter, Guinness, wine, browning, guava jelly and vanilla in a bowl.
Add egg and brown sugar and mix well.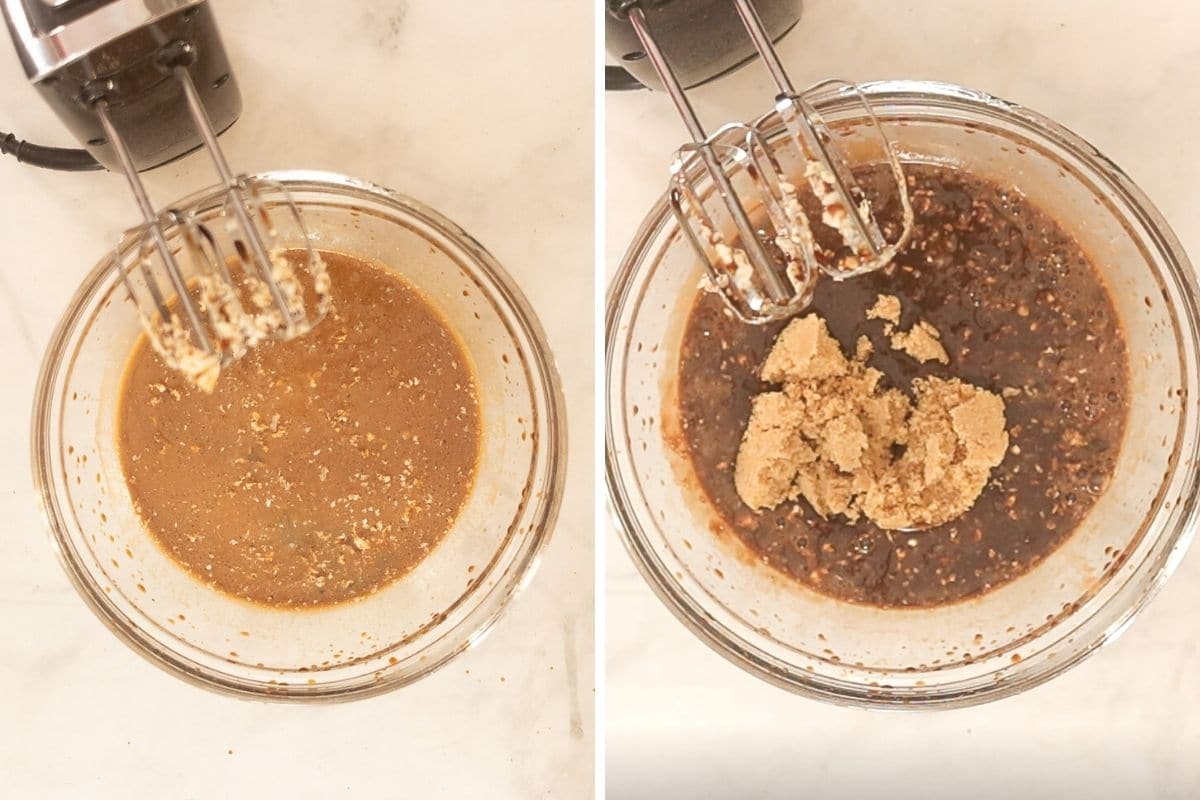 Add the flour in 2 parts.
Fold in the dried fruits tossed in the flour.
Transfer to a loaf pan.
Add glace cherries. Best if done 20 minutes after baking so they don't sink to the bottom.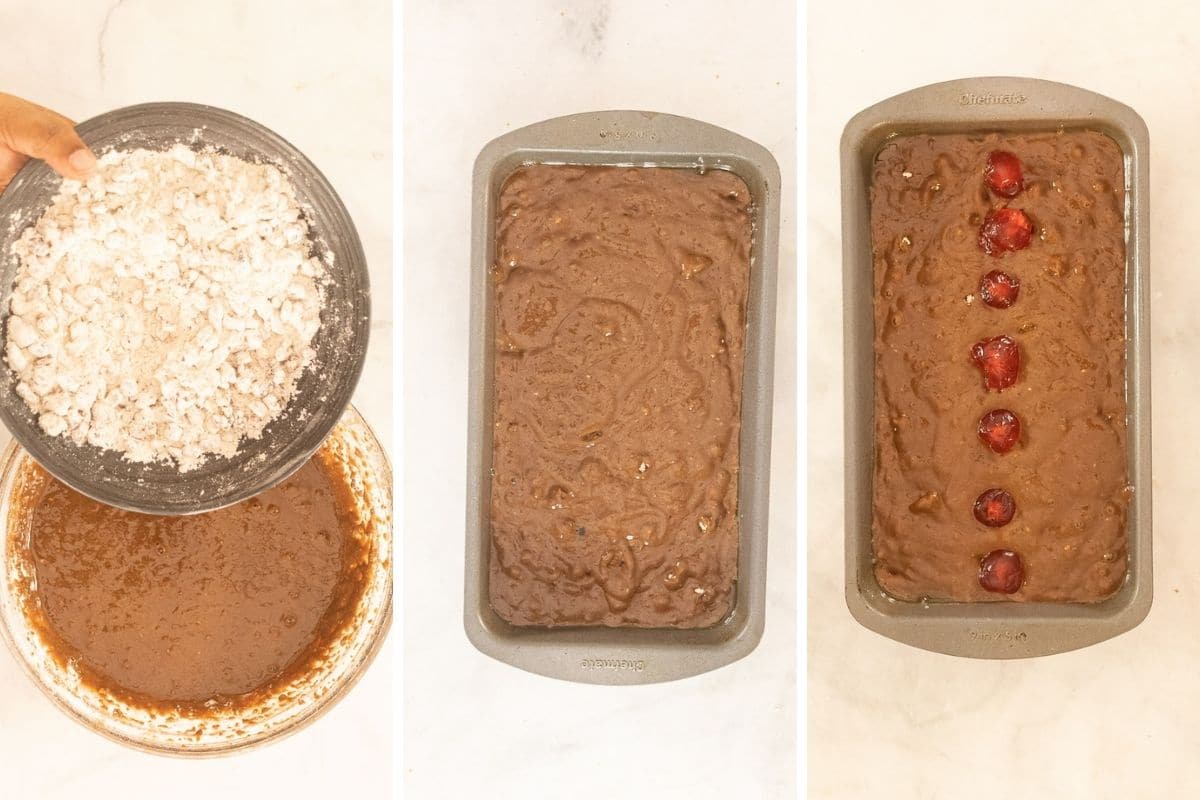 Bake for 1 hour.
Brush the top with sugar water and bake for another 10 minutes.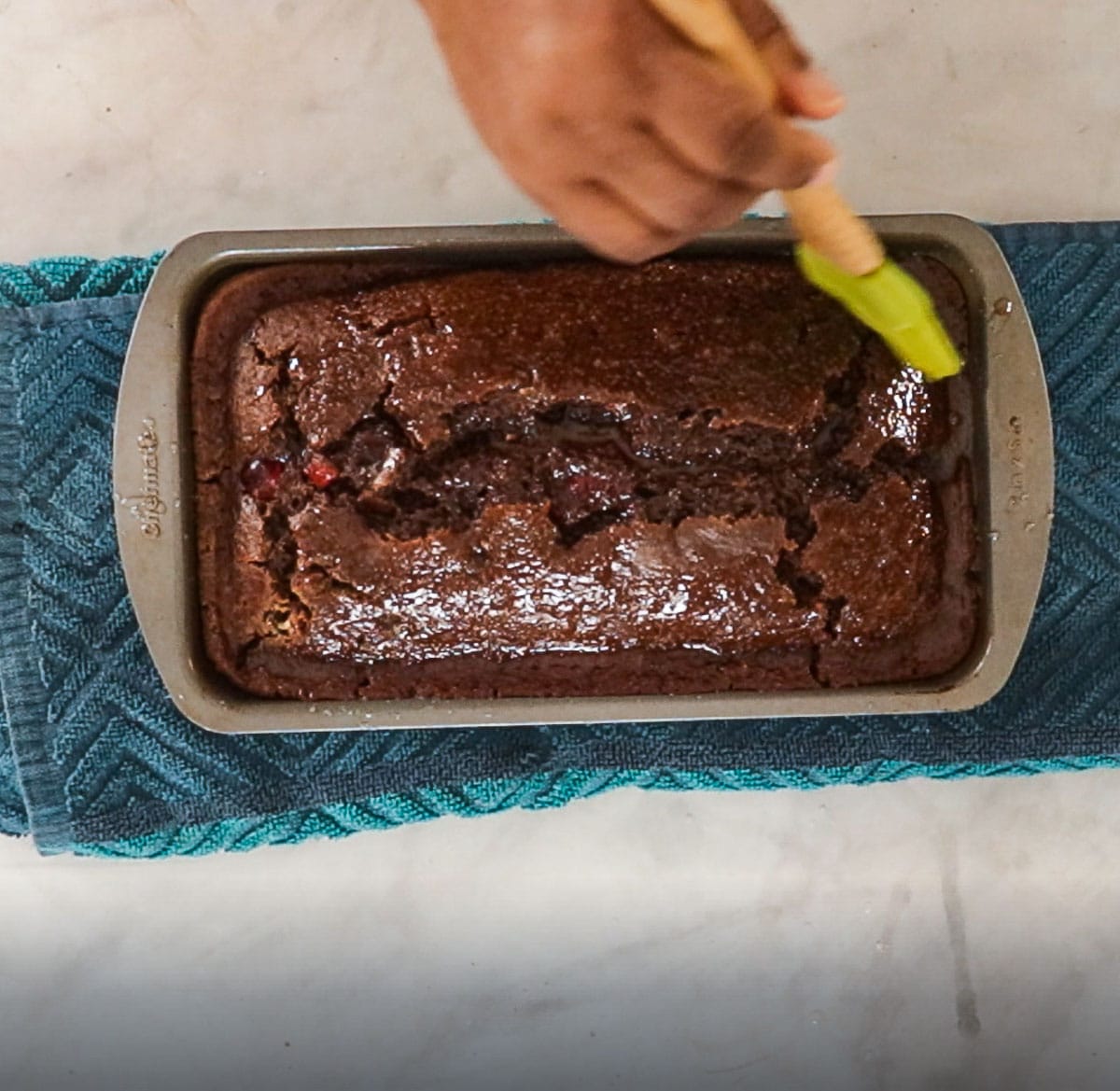 Leave to cool in the pan for 15 minutes before removing.
You can get all of the specialty ingredients via the links below so that you can be all ready to have your Bun & Cheese on Easter Morning!
Are you ready for traditional Easter Bun this year?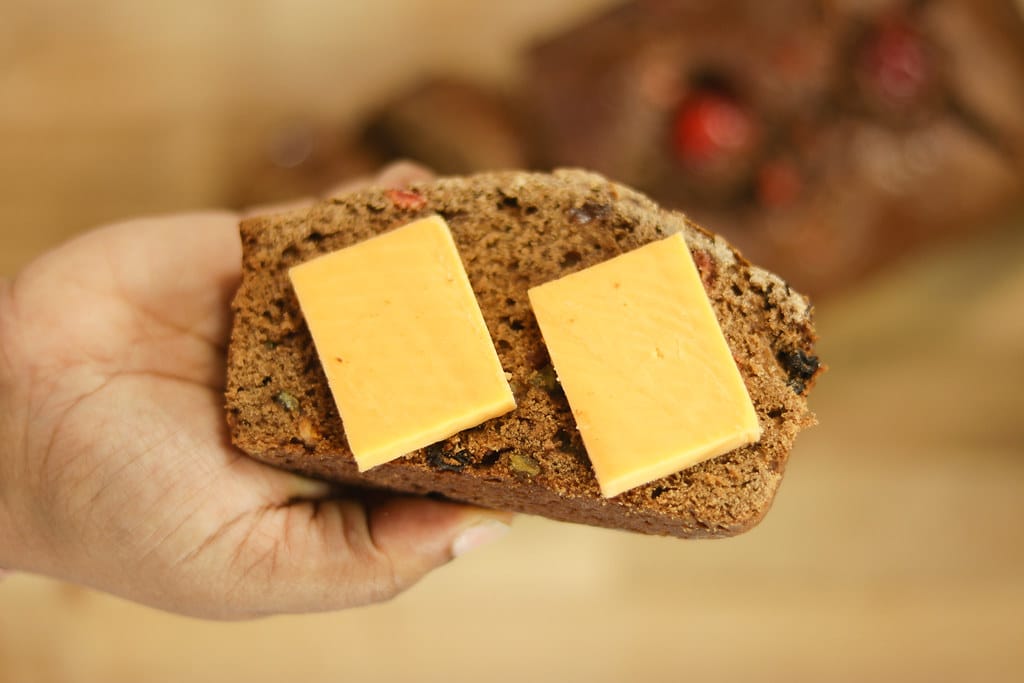 Traditional Jamaican Easter Bun recipe
Jamaican Easter Bun is a sweet bread infused with Guinness, spices and red wine. Start your Easter morning the way they do in Jamaica with this sweet bread, cheese and a cup of
tea
.
Ingredients
2

tablespoons

softened butter

1 ½

cups

Guinness

or stout beer

½

cup

red wine

2

teaspoons

browning

2

tablespoons

guava jelly/ guava jam

2

teaspoons

vanilla extract

1

egg

1

cup

firmly packed brown sugar

3 ½

cups

all purpose flour

or whole wheat pastry flour

½

teaspoon

freshly grated nutmeg

½

teaspoon

ground mace

½

teaspoon

ground ginger

¼

teaspoon

ground clove

½

teaspoon

salt

1

teaspoon

ground cinnamon

1

tablespoon

baking powder

¾

cup

tutti frutti

candied fruit

½

cup

raisins

glace cherries

garnish
Topping Ingredients:
2

tablespoons

sugar

2

tablespoons

water
Instructions
Preheat oven to 350 F. Spray a loaf pan with non stick spray.

In a large bowl, combine flour, nutmeg, mace, ginger, clove, salt, cinnamon and baking powder.

Sift the flour mixture.

Toss the dried fruits in about 1 cup of the flour. This prevents the fruit from sinking to the bottom when baking.

In the bowl of an electric mixer, combine butter, Guinness, wine, browning, guava jelly and vanilla extract.

Beat well.

Add egg and beat until thoroughly combined

Add sugar and beat until well mixed.

Add flour combination in 2 batches, beating well after each addition.

Using a rubber spatula, fold in the tutti frutti and the raisins tossed in the flour.

Transfer the batter to the greased loaf pan.

Decorate the top with the glace cherries.

Bake for 1 hour.

In a small bowl, whisk the sugar and water together.

Using a pastry brush, brush the top with the sugar water.

Bake for another 15 minutes, until a tester inserted comes out clean.

Allow to cool for 10 minutes before removing from pan.
Notes
All of the specialty items can be sourced at Caribbean markets.
To prevent the glace cherries from sinking, wait 20 minutes after being in the oven before adding them on top.
Nutrition
Calories:
261
kcal
|
Carbohydrates:
52
g
|
Protein:
6
g
|
Fat:
3
g
|
Saturated Fat:
1
g
|
Cholesterol:
19
mg
|
Sodium:
129
mg
|
Potassium:
248
mg
|
Fiber:
4
g
|
Sugar:
20
g
|
Vitamin A:
78
IU
|
Vitamin C:
1
mg
|
Calcium:
91
mg
|
Iron:
1
mg
Did you try this recipe? Leave a comment below.
Please follow me on Instagram @chefmireille or tag me #chefmireille with your pics! I'd love to share them!
DO YOU YUM? SAVE IT BELOW!
Yum
Now I know you want to try some more Caribbean food! Check out my collection with over 100 Caribbean Recipes from the Caribbean diaspora!