Last Updated on August 29, 2021 by Chef Mireille
Caribbean Coconut Bread is a classic recipe that is made on practically every Caribbean island, with slight variations from island to island. It's on every table during holiday season and finds it's way on the table at other times of the year for breakfast or tea time. Special occasions are incomplete without sweet bread. This easy quick bread recipe makes a great addition to brunch or holiday breakfast meals.
Whether you call it Sweet Bread or Coconut Bread, just about every island has it's own version of this delicious recipe enjoyed in different ways, with slight variations from island to island.
In fact, some Bajan people I know told me that in Barbados, it is common to eat it with hot sauce. Although it was interesting to find out, I'll stick to enjoying it with butter, cheese and fruit.
What do you think? Would you try it with hot sauce?
I learned how to make this Caribbean staple from my aunt, who was from the dual island nation of Trinidad and Tobago, so that's why my version is a Trinidadian Sweet Bread. So let's visit the island of Trinidad together by making the Best Trinidad Coconut Sweetbread.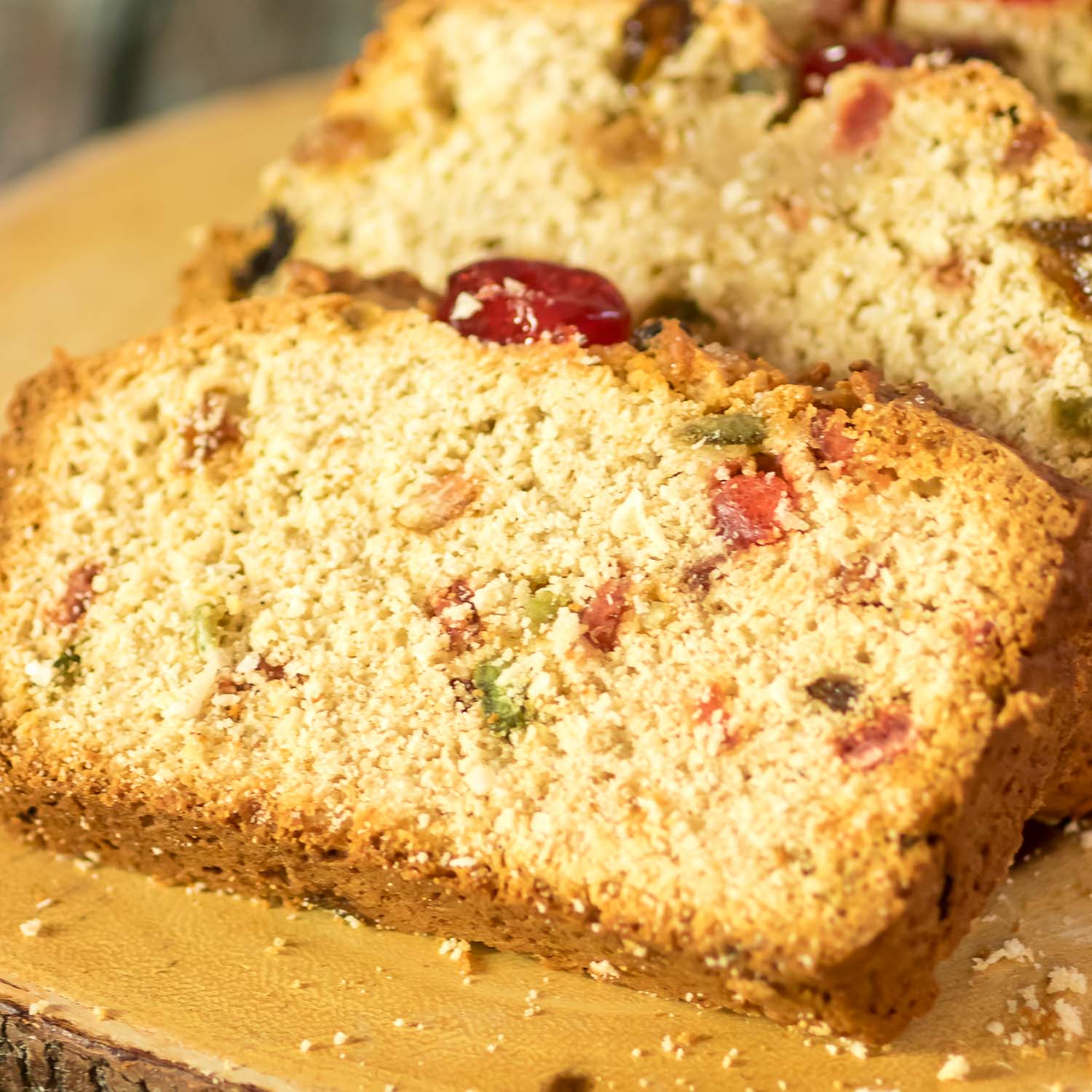 This post may include affiliate links.
The reason this Trinidad Sweet Bread is often called Coconut Bread is because coconut is the main ingredient that can never be substituted.
What type of coconut should you use for Sweet Bread?
This is such an easy quick bread that can be made with either fresh or dessicated coconut.
Traditionally, it would be made with freshly grated coconut. However, my aunt always made it with dessicated coconut, so that's the way I make it. Being in NYC, dessicated coconut was just easier and more convenient than getting a hold of fresh coconuts.
When you purchase the grated coconut, make sure it is dry dessicated coconut with no added sugar. Do not use the flaked sweetened coconut that many people mistakenly refer to as grated coconut. If you use this, your Sweet Bread will become sickeningly sweet and unpalatable.
It will also affect the consistency and this flaked coconut has more moisture than dessicated coconut.
What is Tutti Frutti?
Most of the ingredients are staple ingredients you probably already have in the house. The only thing you may not be sure of is the tutti frutti. This is sold by different names, so I am always unsure what to label it. It is basically a variety of candied peel of various fruit. So it might also be labelled as candied fruit.
If you can't find this bright colorful ones I use here, you can substitute any kind of candied orange peel or citrus peels.
Trinidad Cuisine
Trinidad and Tobago is one of the most diverse islands in the Caribbean. With a large African, Indian and Chinese descended population, it's cuisine represents it's multi cultural society.
Explore Trinidad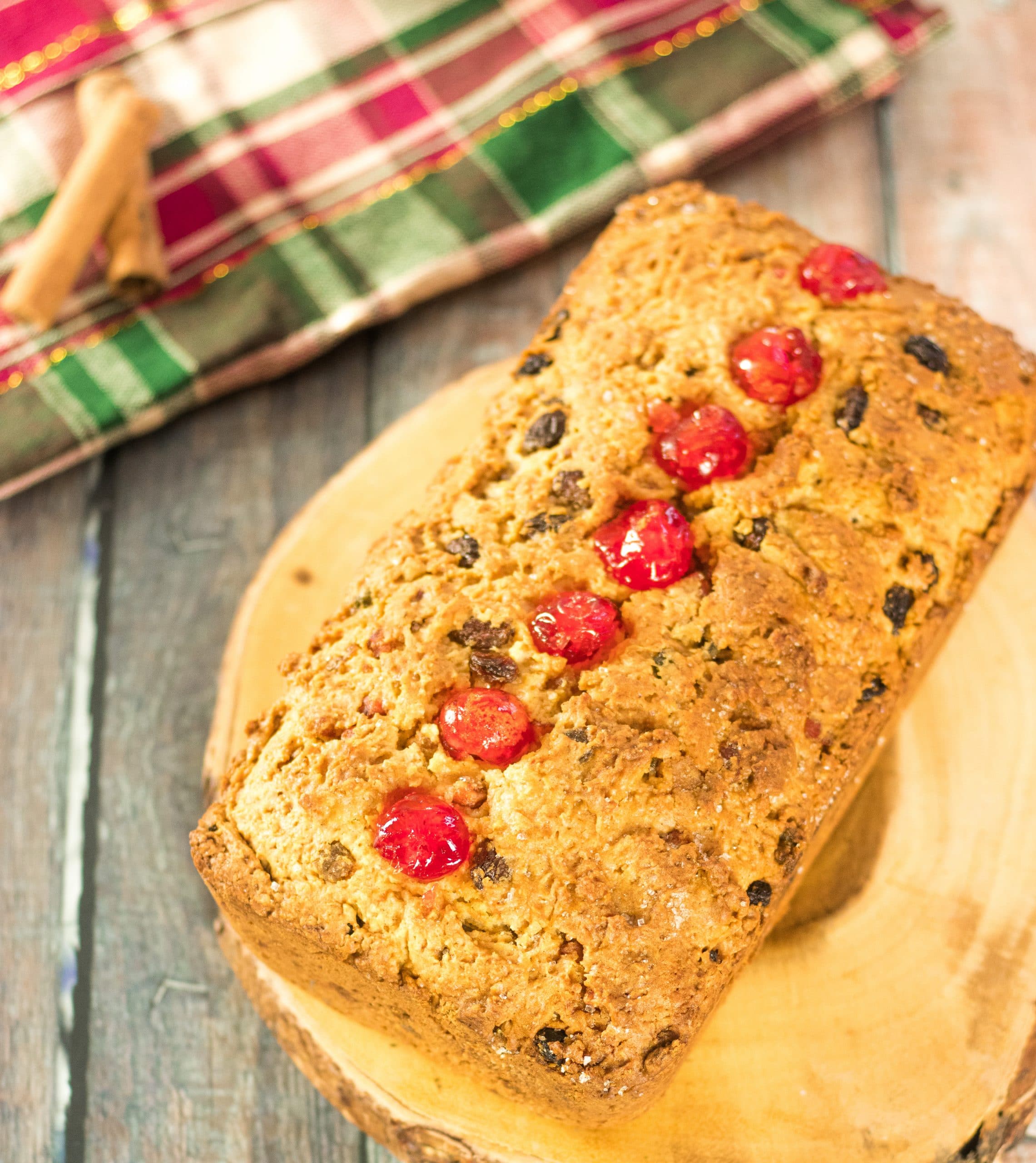 Now let's see what you need to make Trinidadian Sweet Bread!
Ingredients
all purpose flour
baking powder
dessicated coconut/ dry coconut (Make sure it is unsweetened coconut. You don't want to use the flaked sweetened coconut).
sugar (You can use either white sugar or brown sugar. If using brown sugar, it should be granulated. In the Caribbean, Demerara is the most common type of sugar used in most things – whether in recipes or in your morning coffee).
butter
raisins
ground cinnamon
Freshly grated nutmeg
ground cloves
evaporated milk
egg
vanilla extract
glace cherries
Step by Step Instructions – How to make Trinidad Coconut Sweet Bread
Cream your butter and sugar.
Add egg and vanilla essence.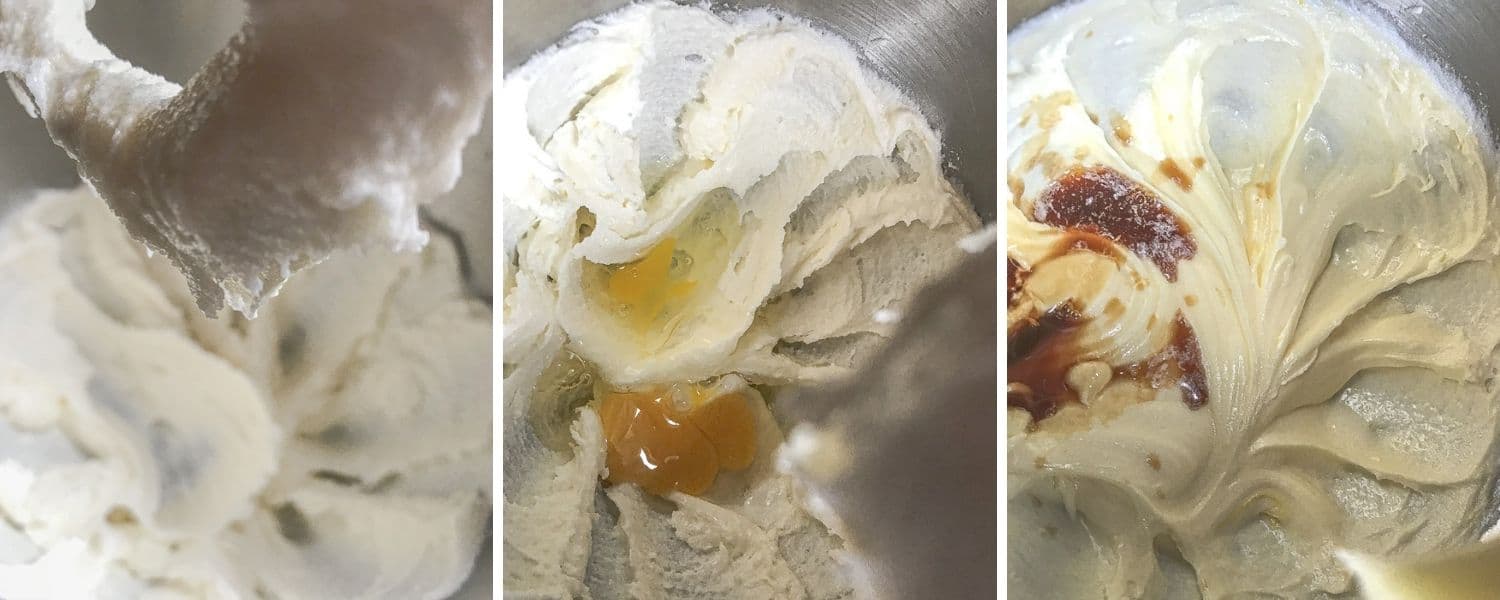 In a medium-size bowl combine the raisins with the flour to make sure they don't sink to the bottom when baking.
Add evaporated milk and mix to combine.
Add flour with the spices.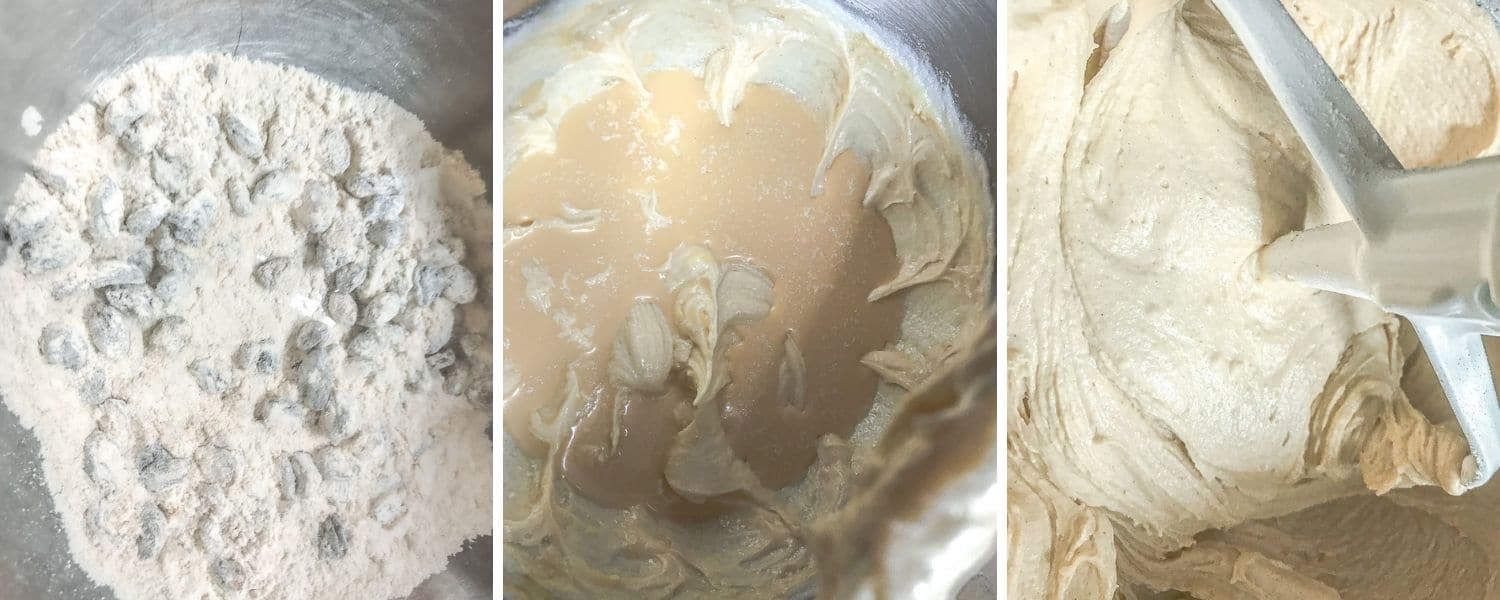 Now we fold in the tutti and frutti and the dried coconut. Mix well.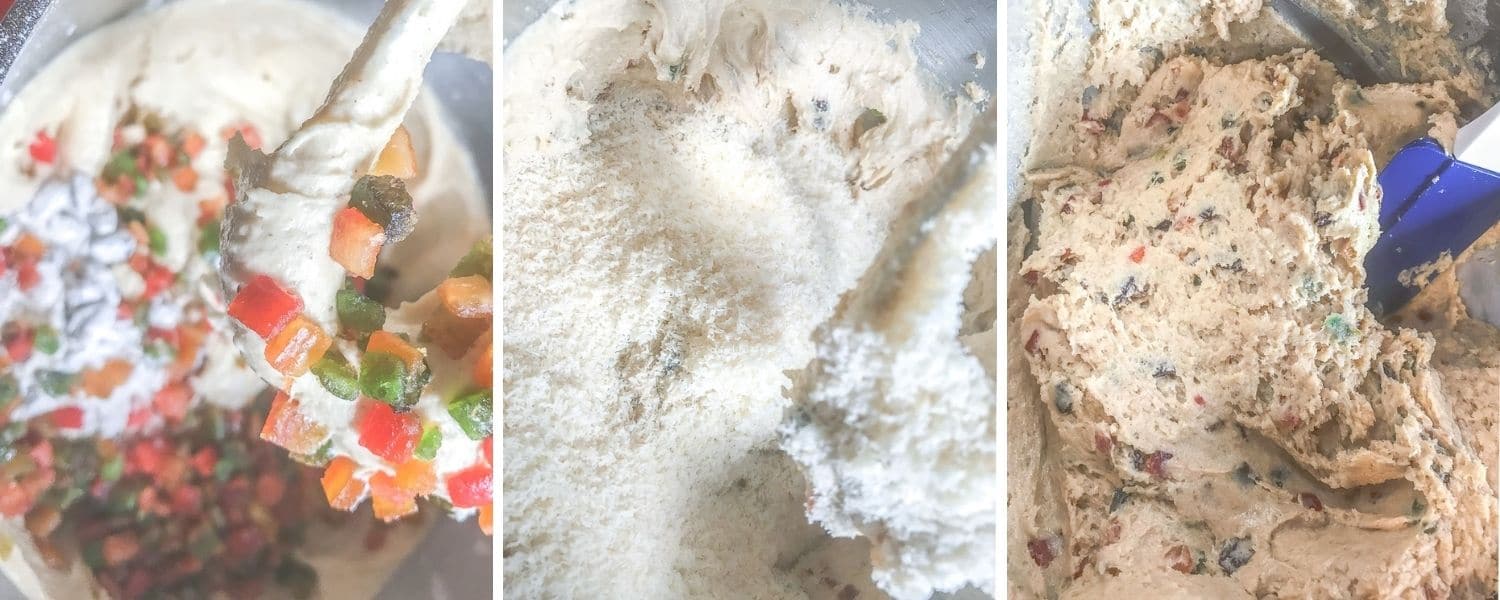 Decorate with glace cherries and bake. Note it is quite a dense heavy batter. Don't be alarmed.
Brush it with a little sugar mixed in with warm water to give it a shine.
This is such a quick and easy quick bread, made with most ingredients you probably already have at home.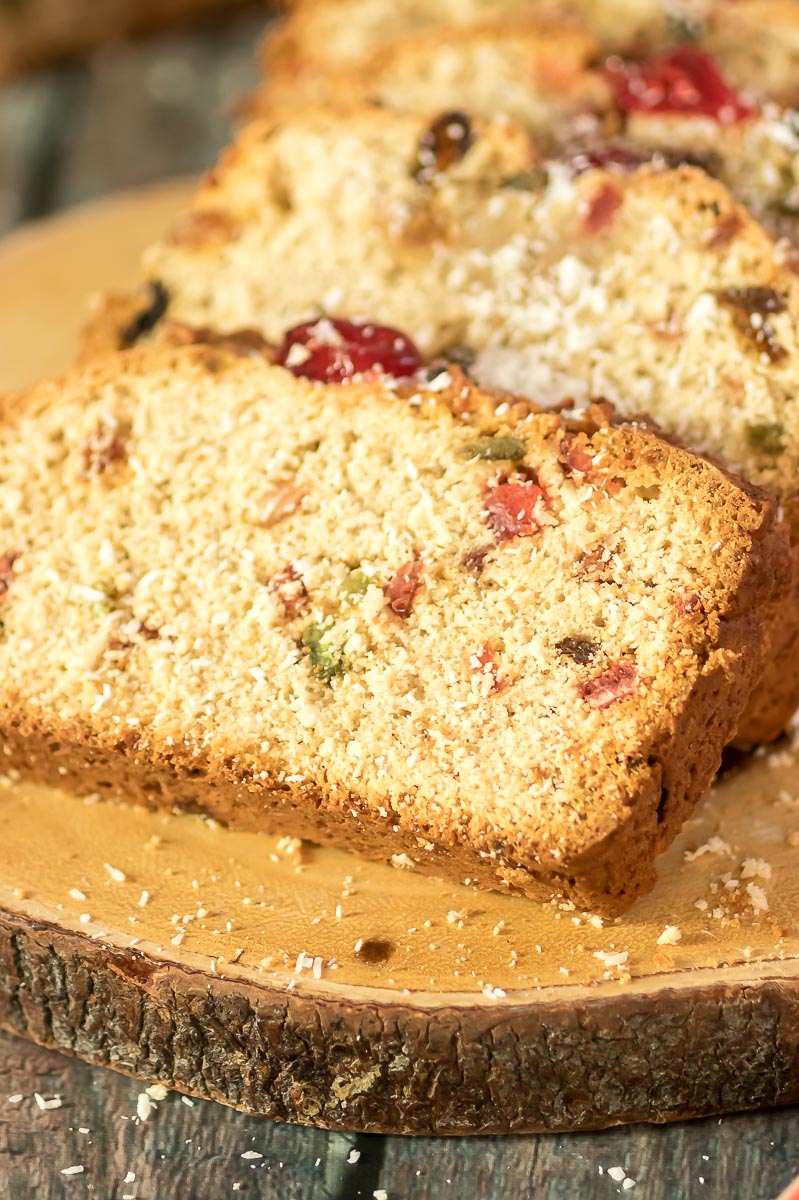 Variations
Some people aren't crazy about tutti frutti, so you reduce the quantity by half if you don't like so much dried food.
Make it Vegan. Use coconut milk instead of evaporated milk and substitute 1 flax egg for the egg.
You can use Pumpkin Pie Spice Mix to add more spiciness to Caribbean Sweet Bread.
You can bake it in 1 pan for larger slices and bake for 1 hour.
This is such a quick and easy quick bread, made with most ingredients you probably already have at home.
Are you excited to try out more delicious recipes from multi cultural Trinidad & Tobago?
Here is a few more you can try!
Trinidadian Recipes
The consistency is difficult to describe – it's not quite a bread and not quite a cake – somewhere halfway in the middle. Sometimes it is eaten with butter like bread, but I prefer it on its own like a slice of cake or with cheese as a balance of sweet and salt. This traditional Coconut Bread is going to make one fabulous addition to your holiday table this year – especially if it is your first time trying it.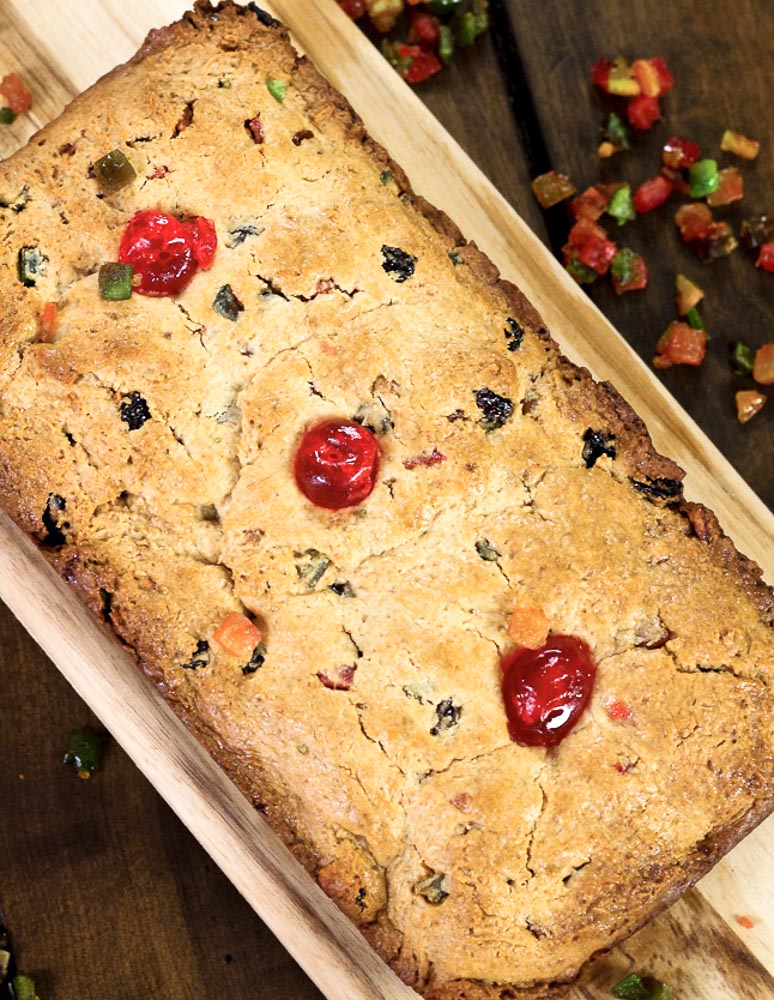 How to Serve Caribbean Sweet Bread
For breakfast, with butter, cheese and fruit.
This may sound weird, but my Mom LOVES it with peanut butter. In the Dutch Caribbean, peanut butter is used more liberally than in other parts of the Caribbean – largely due to the Indonesian influence.
As a snack with coffee/tea or ginger beer.
Required during holidays – usually enjoyed with sorrel or Ponche – a version of this Kremas recipe.
This great recipe is especially popular during the holiday season. At Christmas time and New Year celebrations, this Coconut Sweet Bread is common fare throughout the Caribbean. I am sure you are going to love this fruit bread as much as we do.
Caribbean Sweet Bread
a delicious quick bread full of coconut and dried fruits.
Ingredients
3

cups

all purpose flour

1

tablespoon

baking powder

1/4

teaspoon

salt

1/2

cup

butter

softened

2

cups

dessicated coconut

you can also use fresh coconut and reduce milk by 1/4 cup

1

cup

sugar

1/2

cup

raisins

1

cup

tutti frutti

candied fruit peels

1/2

teaspoon

ground cinnamon

1/2

teaspoon

freshly grated nutmeg

1/2

teaspoon

ground ginger

1/4

teaspoon

ground cloves

1

cup

evaporated milk

1

egg

2

teaspoons

vanilla extract

6

glace cherries

for garnish

1

tablespoon

sugar

1

tablespoon

water
Instructions
Preheat oven to 325 F. Spray two loaf pans with non stick spray.

In a large bowl, sift flour and baking powder with salt, cinnamon, nutmeg, ginger and clove.

Take out a small portion of the flour and toss the raisins and candied fruit in it. This is so that the dried fruit will not sink to the bottom when it is baked.

In the bowl of an electric mixer, beat the butter and sugar until light and creamy.

Add egg and vanilla and mix until thoroughly combined.

Alternately, add flour and the milk in 2 batches, mixing well after each addition.

Now add the dry coconut and mix until thoroughly combined.

Using a rubber spatula, fold in the dried fruit that was tossed in the flour.

Divide the soft dough between the two loaf pans. Decorate the top with the glace cherries.

Bake for 45 minutes, until a toothpick inserted comes out clean.

Mix the tablespoon sugar with the tablespoon water. Brush this on the loaves and return to the oven for another 3 minutes.

Let cool for 10 minutes. Remove from pans. Let cool completely before slicing.
Notes
Make sure to use unsweetened dessicated coconut/ dry coconut and NOT flaked sweetened coconut.
If you would like larger slices, you can also bake it in one pan and bake for 1 hour.
Nutrition
Calories:
414
kcal
|
Carbohydrates:
56
g
|
Protein:
6
g
|
Fat:
19
g
|
Saturated Fat:
14
g
|
Polyunsaturated Fat:
1
g
|
Monounsaturated Fat:
3
g
|
Trans Fat:
1
g
|
Cholesterol:
40
mg
|
Sodium:
153
mg
|
Potassium:
359
mg
|
Fiber:
4
g
|
Sugar:
24
g
|
Vitamin A:
308
IU
|
Vitamin C:
1
mg
|
Calcium:
120
mg
|
Iron:
2
mg
Did you try this recipe? Leave a comment below.
Please follow me on Instagram @chefmireille or tag me #chefmireille with your pics! I'd love to share them!
Now I know you want to try some more Caribbean food! Check out my collection with over 100 Caribbean Recipes from the Caribbean diaspora!