Last Updated on June 22, 2023 by Chef Mireille
Caribbean Curry Chicken
My mom's homestyle Caribbean Curry Chicken is my #1 most popular recipe. This is the old fashioned stove top method. However, you can easily adapt it to a slow cooker or an Instant Pot and I guarantee it will become a family favorite!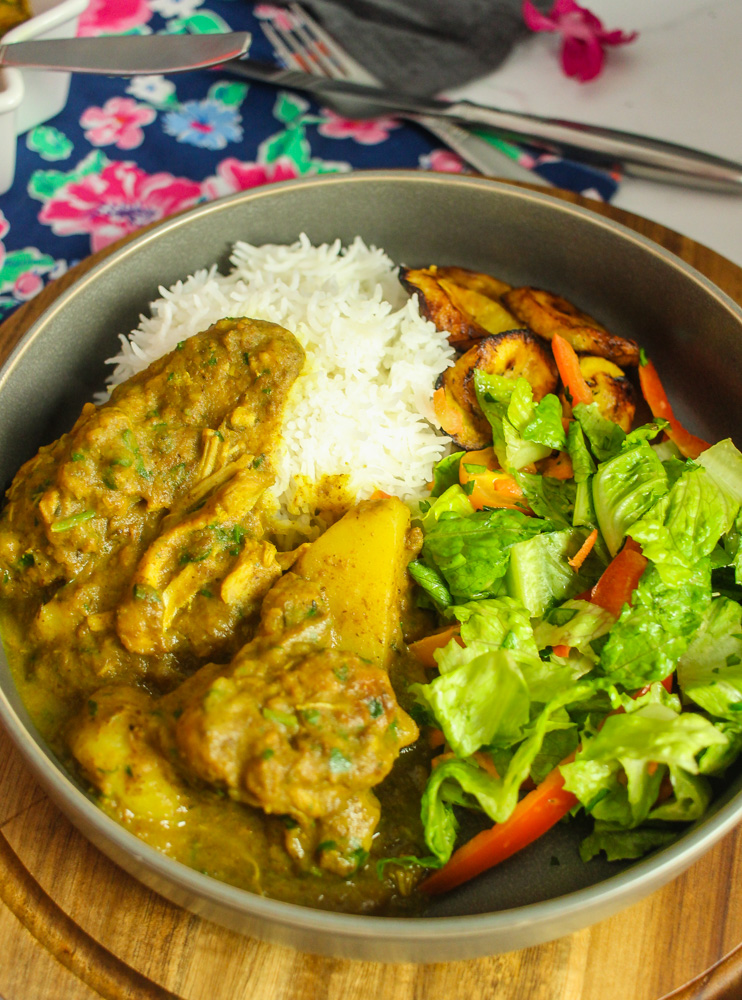 This post may include affiliate links.
So let's talk curry… Do you say Curry Chicken or Chicken Curry? Many British colonized countries like India and Guyana say Chicken Curry. However, most of the Caribbean usually says Curry Chicken.
SUBSCRIBE TO CARIBBEAN RECIPES
Ready to spice up your kitchen with the vibrant flavors of the Caribbean? Sign up for our 10-week email series packed with authentic recipes and handy shopping lists!
It really doesn't matter what you choose to call it as long as you try this delicious recipe. It is my #1 recipe. On Pinterest, I love to look at the photos of everyone else who has tried this recipe. I feel so proud that it is being made in other family repertoire's as well as my own!
So what are you going to learn today?
What is Curry?
Curry means different things to different people. For some, it is a cooking method, while others only think of curry as the spice blend used. Even that has a lot of variation from country to country and even region to region within the same country. The curry powder used to make Jamaican Curry Chicken bears little resemblance to the curry powder used in Malaysia.
In fact, that is one of the cookbook ideas I have rolling around in my head. Would you be interested in learning how to cook many different curries from around the world, all packaged nicely in a neat little book? Let me know in the comments if this is a cookbook you would love to own?
Caribbean Curry Powder
Many of you are probably most familiar with Indian curry recipes. Despite the differences in various regional Indian curries, you will still find a distinct flavor difference between Indian and Caribbean curries.
Whole spices are rarely, if ever, used in Caribbean curries. It is usually only ground curry powder and occasionally someone might start it off with some whole cumin seed.
Caribbean curry powder usually has a higher concentration of sweet spices like cinnamon, nutmeg, clove and cardamom, with a strong cumin flavor.
The two most popular brands of curry powder that Caribbeans use available in the US are Chief & Lalah's Madras Curry Powder, available at Caribbean markets or on Amazon (see links below).
Just as in India, curries vary from state to state. In the Caribbean, curries vary from island to island. In fact, Trini curry is known for having a lot of sauce. My Mom calls it Curry Soup ????
In the French islands of Martinique, Guadeloupe and formerly French Dominica, it is often called Colombo. If you see Chicken Colombo there, it is basically Curry Chicken. There is no relation to Sri Lanka though it has the city name. It is believed curry was introduced to these islands by traders from Bengal so I have no idea how it got its name. Regardless, if you would like to try French Caribbean style Chicken Colombo, you can use this French Caribbean Curry Powder recipe and use the same methodology below.
Caribbean Curry Cooking Methods
In addition to the curry powder, there is two more differences in Caribbean style curries:
One of the main tenets of Caribbean cooking is that we marinate everything. Meat is rarely, if ever cooked without marinating first. Most common is marinating overnight, although you can marinate for less if you are stuck for time. With this long marinating time, the food gets a lot of flavor and very little salt is needed.
Green Seasoning is like the English/French Caribbean version of sofrito. Basically a bunch of green things is mixed together and most Caribbean cooking if nothing else is marinated with some green seasoning. You can try my Green Seasoning Recipe here or use the store bought version.
With Caribbean Chicken Curry being marinated in all those ingredients that goes into Green Seasoning, any wonder why it's my fan favorite recipe!
Complete the meal like we would in the Caribbean with rice, green salad and Fried Sweet Plantain.
This is not a super spicy curry. This is because hot sauce is always served with our food in the Caribbean. In the Dutch Caribbean, we use sambal. You can try this curry with my Starfruit Sambal Recipe, like I did!
Caribbean Curry Chicken
Caribbean Curry Chicken is similar to what you might get in the Dutch Speaking islands or Trinidad.
Ingredients
2

lbs.

chicken pieces with bone

cut into bite size pieces

a few sprigs of fresh or dried thyme

1

Scotch Bonnet Pepper

split in half

6

tablespoons

curry powder

2

tablespoons

green seasoning

3

tablespoons

oil

1

onion

chopped

2

cloves

garlic

finely chopped

1

lb.

potato

cut into bite size pieces

3

cups

water

salt

to taste

2

tablespoons

finely chopped parsley

See Notes
Instructions
Combine chicken, thyme, Scotch Bonnet pepper, green seasoning and 4 tablespoons of the curry powder.

Place in a ziploc bag, seal and shake to coat the chicken well.  Place in refrigerator overnight.

Heat oil.  Add chicken pieces and fry for 3-5 minutes until a little browned.  Remove from pot.

Add onion, garlic and remaining curry powder.  Fry 1-2 minutes, until onions are softened.

Add water and salt and return the chicken pieces to the pot. Make sure you include the Scotch Bonnet from the marination.

Bring to a boil.  Reduce to a simmer and cook for 20 minutes.

Add potatoes and cook another 10-15 minutes, until potatoes are cooked through.

Add parsley and salt, as needed. Stir to combine.

Serve with rice or roti.
Notes
In Trinidad, shadoe beny (culantro/recaito) would be used instead of parsley.
The Scotch Bonnet will continue to infuse into the curry, so if don't want it to get too spicy, you can remove the pepper after cooking the Caribbean Curry Chicken. This is especially recommended if you have leftovers and the chicken is being saved for the day after.
Did you try this recipe? Leave a comment below.
Please follow me on Instagram @chefmireille or tag me #chefmireille with your pics! I'd love to share them!
DO YOU YUM? SAVE IT BELOW!
Yum
Now I know you want to try some more Caribbean food! Check out my collection with over 100 Caribbean Recipes from the Caribbean diaspora!