Last Updated on December 16, 2020 by Chef Mireille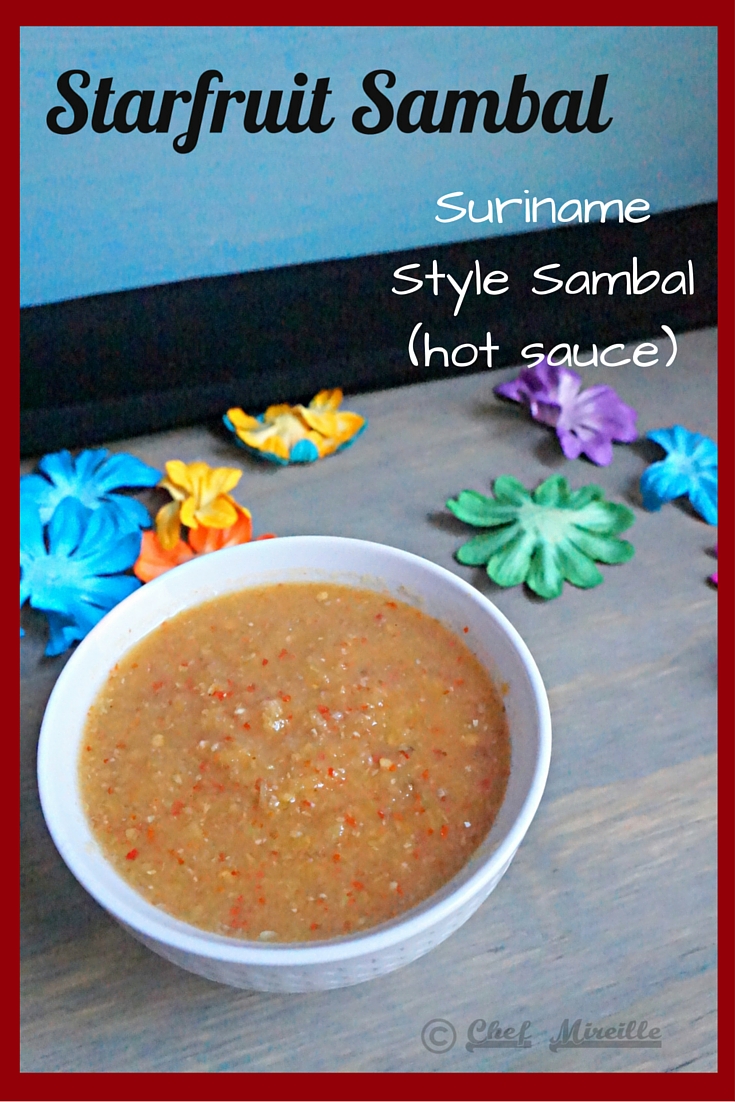 Sambal is a universal, spicy condiment used to accompany foods in many Southeast Asian countries like Malaysia and Indonesia. With a large Indonesian population, it is also commonly used in Suriname, where my grandfather was born and where much of my family still lives.
The base of sambal in Suriname are what is known there as Madame Jeanette peppers, known to most of the rest of the world as Scotch Bonnet or Habanero peppers. Suriname, formerly known as Dutch Guyana is right next door to French Guyana. Maybe a nice lady from there named Jeanette crossed the border to introduce the peppers to Suriname, so we named the pepper Madame Jeanette after her, hence its French name. Of course, this is all a figment of my imagination as I will have to do a bit more research to find out truly why we name the peppers such. Or maybe its a different pepper? Many chile experts say that the Habanero and the Scotch Bonnet are two different peppers, even though I use them interchangeably. However, they look and taste the same so even if they are botanically different, I am sticking to my story!  This can then be combined with a variety of vegetables, fruit or chicken offals (most common chicken livers or chicken gizzards).
Whether you call them Madame Jeanette, Habanero or Scotch Bonnet, they are my favorite chile pepper. Although the heat is more intense than a jalapeno, they have a sweet, smoky flavor that mellows the heat. Jalapenos are more acidic which to me is akin to eating raw onions, which I despise. This spicy sweet chile will become a favorite if you've never tried it, at least if you are a spicy food fan!
I came up with this varietal sambal using starfruit.  With the refreshing taste of starfruit, it was a great balance of flavors with the heat of the hot pepper.
Usually for these mega blogging marathons, my recipes are done in advance. However, this month presented several issues which has made that impossible. Least of all was having a horrible summer flu all last week, so I am having to hustle to get the recipes done in time, while still working. Thank you vinegar for preserving! This recipe has been in my drafts folder for over a year and if truth be told, probably closer to 2. We've all heard that vinegar works as a preservative. Well I've proven that fact as I lost all the photos when I originally made this sambal when my computer had an accident a few months back. However, a little bit of this sambal was still left in my refrigerator, so these new photos were taken just today even though it was made a few years ago. With the vinegar, this sambal will last in your refrigerator for years!
Before we get to the recipe, here are a few photos from multi cultural Suriname. I haven't managed to get there yet, but these are some photos from my Mom's last trip. It is one of the most multi cultural countries in the world. On the same block in Paramaribo, you will find a mosque, synagogue and mandhir. With part of the Amazon located in the country, it is a great excursion for nature and culture lovers!
See here for a Suriname slideshow.
Starfruit Sambal
Yield: approximately 2 cups
3 starfruit
1 shallot
7 Scotch Bonnet peppers/Madame Jeanette/Haberno
1 inch piece of ginger
1 tablespoon vinegar
1 teaspoon sugar
1 teaspoon salt
juice of 1 lime
To prepare the starfruit, trim the brown edges that will be present on the ripe fruit along the ridges.
Trim off the stem end of the fruit.  Quarter the starfruit and remove the core with the seeds.
Transfer to a food processor with all of the ingredients and process well.
Serve, as a condiment to accompany any and all food.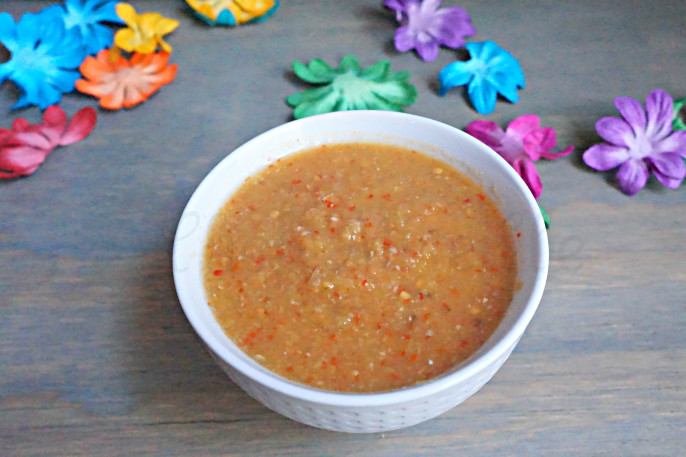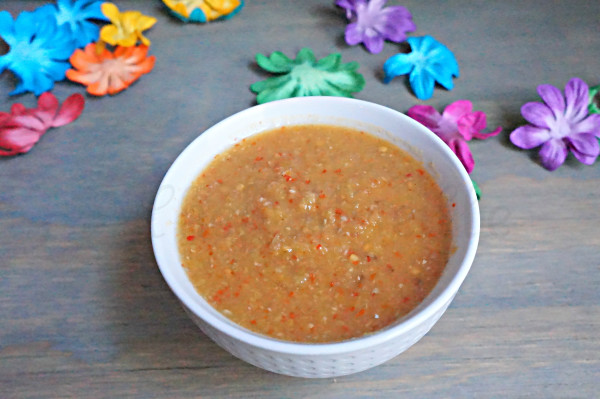 Check out the Blogging Marathon page for the other Blogging Marathoners doing BM# 56
[inlinkz_linkup id=533213 mode=1]