Last Updated on March 5, 2020 by Chef Mireille
Uncle Boon's Restaurant Review
Uncle Boon's opened in NYC in 2013 and in 2016 received it's first Michelin Star. The most important fact however is that it is the most delicious & most traditional Thai food in NYC!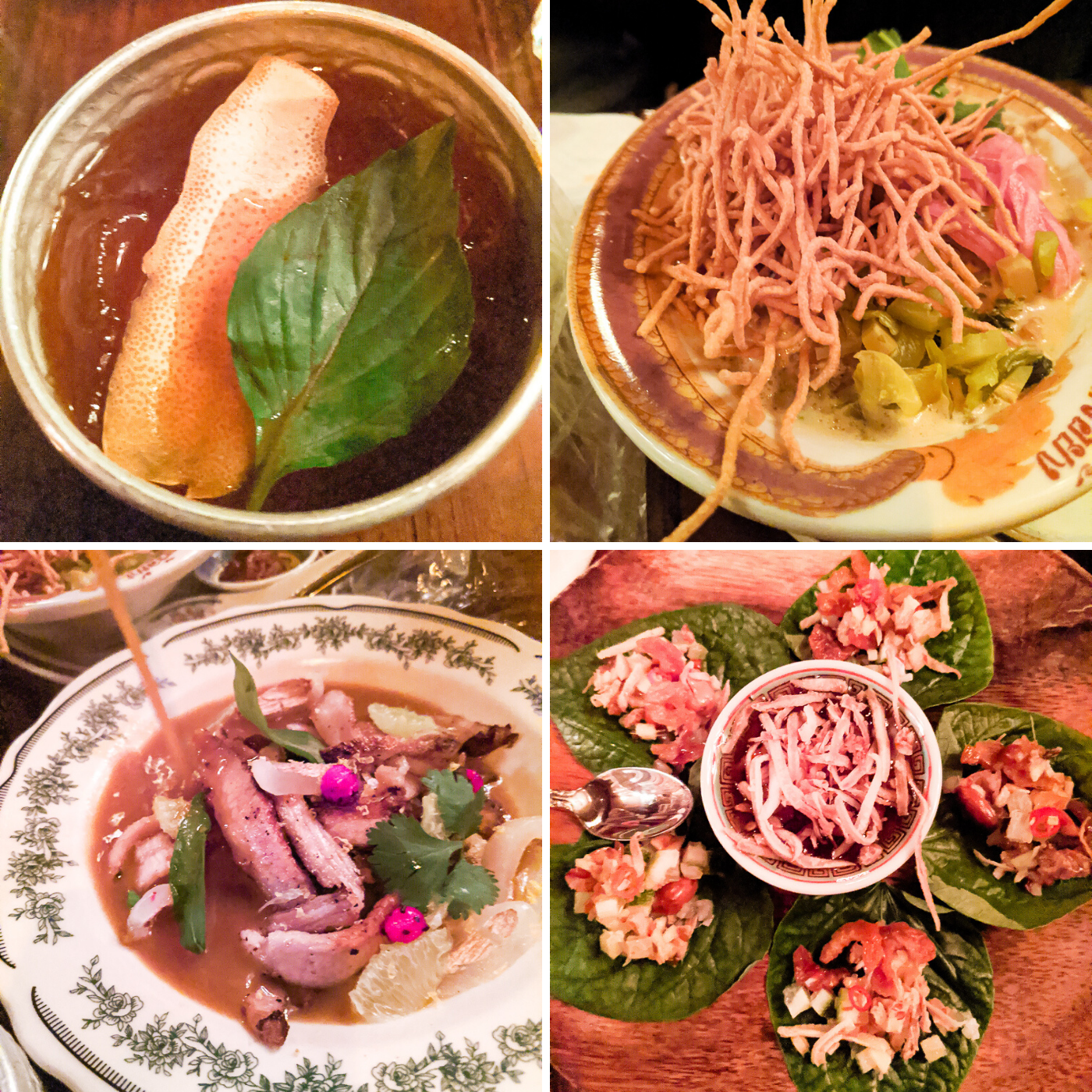 Prepare for every taste bud to be awakened and stimulated at Uncle Boon's! The plates may be served with an un upscale presentation, but the food is the most traditional homestyle Thai food you will find.
However, before we get to the menu, let me give you a little background from this Michelin star restaurant!
So what's so special about a Michelin ⭐️?
Michelin Star
Some of you might wonder what's a Michelin Star and what's so special about it?
Michelin Guides started in 1900 by the car company Michelin as guide books to help motorists on the road when travelling.
Today, their restaurant guides are very prestigious. Michelin stars are mostly given out to restaurants in the fine dining category. However, subsequently, two more categories now exist – Rising Stars and Bib Gourmand.
Rising Stars are those that are almost there and Michelin feels they have the potential to qualify soon.
Bib Gourmand is for economically priced restaurant's whose food quality is Michelin level.
To even receive one Michelin star is the dream of every restauranteur.
Personally, I don't usually pay much attention to these stars. I just look for good food! However, after having dinner at Uncle Boon's, I definitely see why they earned their Michelin Star.
One note – if you prefer a more casual setting and a more economical menu, check out their sister restaurant – Uncle Boon's Sister.
I haven't been there yet, but I am sure with the same owners at the helm, it will be just as delicious!
History of Uncle Boon's
The two owner's met when they were both working at Per Se, a high end NYC restaurant featuring New American cuisine.
Matt Danzer worked the sauce station and when he and Ann Redding started dating, they eventually started making trips to Thailand to meet the half Thai side of her family.
Inspired by her Uncle Boon and her extended Thai family, they decided to open Uncle Boon's in NYC.
Before I get to my impressions and a detailed description of everything I tasted, a few things to know before you go!
Reservations
Uncle Boon's does not accept reservations for parties under 5, however it is an extremely popular restaurant, so if you don't want to spend hours waiting for a table, I suggest getting there as close to opening time as possible.
They open at 5:30pm. My friends and I got there a little after 5pm. By the time the restaurant opened its doors, there were about 20 tables waiting!
When we left about 1 1/2 hours later, we asked the host how long was the wait just out of curiosity as the bar was packed with people waiting for tables. He said it was about a 2 1/2 – 3 hour wait!!!!
GET THERE EARLY!!!
Atmosphere
The restaurant has dark interiors – very old style Asian decor with ceiling lamps. I thought I had walked onto a set of Miss Saigon.
We were immediately brought to a table. Tables are very closely set together. You may end up starting conversations with your neighboring table, as we did.
Although this is considered a fine dining establishment, the staff is very friendly and it has a friendly, casual ambiance.
Now let's get to the most important part…the food and drink!
This is not your typical Thai restaurant of curries & Pad Thai. This is 100% traditional homestyle food, albeit with an upscale presentation!
Before I go into detail, this is a very traditional meat centric menu. Recipes are not adjusted to serve those with dietary restrictions. This is not the Thai restaurant for Vegetarians.
The Menu
The food is served family style, meant for sharing so it is best to come with a few people. I was in a party of 4, celebrating my friend's birthday.
The menu is divided into Small Plates and Large Plates with a few side dishes.
We ordered a few of both size plates that we could all share. Of course, accompanied with lots of sticky rice. They also have Jasmine rice, but we are sticky rice fans.
The Drinks
Let's start with cocktails. They have a variety of inventive cocktails and we each ordered something different. However, everyone ended up loving my drink and by the end of the meal everyone had ordered my drink also. So I suggest getting a pitcher of the Muay Thai Punch – definitely the best drink on the menu!
It is made with Basil Vodka, Thai Tea & Rum served in an ice cold pottery bowl, garnished with orange peel and Holy Basil. The food blogger in me wanted the bowl!
As this was a birthday celebration, we were drinking this night more than we normally do and the menu had so many interesting things we wanted to try. We figured we were eating enough food with it to absorb the alcohol!
Most people have Tequila shots & lime, but these "Thai Street Side Tonics" were so much better. Because I am obsessed with anything made with Butterfly Pea Flower like my Butterfly Pea Flower Rice Pudding Recipe, I tried the Peacock Tears made with Vodka, Butterfly Pea Flower and Thai Basil.
It is served with 2 shots, meant for 2 people, served with salted pineapple. After two of us tried it and loved it, the rest of the table had a repeat performance of Peacock Tears also!
Next time I visit Uncle Boon's, I might try the Golden Tiger made with tequila, chrysanthemum and turmeric.
The Food
I'm not usually a fan of animal parts like ears, tears, snout, etc. So when everyone at my table wanted to order the pig ears, I was not excited about it. To myself, I though that is one dish I will not be tasting.
However, when it came, it looked good and they were all exclaiming about it. Thin strips of deep fried goodness! I couldn't resist and tried them and boy am I glad I did! I was amazed at how delicious this was. The description on the menu does not give justice to this delicious fried delicacy. Move over French Fries! Pig Ears is the bomb!
Do you love spicy food?
The Rotisserie Chicken Banana Blossom Salad is for you then! I think this is one of the spiciest dishes on the menu!
The flavor is awesome but it's not for the faint of heart. Myself and the other Caribbean person at the table ate most of it and even we couldn't finish it. After a while, we had enough of the heat, even with loads of sticky rice to offset the heat!
Next was the Khao Soi! Khao Soi is a famous Chiang Mai Coconut Curry Chicken Noodle Soup which I had for breakfast almost every morning when I was in Thailand.
Uncle Boon's version was the best I had in any restaurant outside of Thailand. Except for making homemade Khao Soi yourself, this is the best version you are going to find this side of the Atlantic.
Frog Legs were another thing I often had for breakfast in Thailand with morning glory (water spinach) and sticky rice. At Uncle Boon's, it is served with glass noodles and an herb salad.
You know when fried foods are just a tad bit over salted, it brings the flavor profile over the top and a whole other level of deliciousness occurs.
That is the case with these frog legs. My friends and I were almost fighting over the last piece!
Gaeng Som was another dish that pleasantly surprised me. Pork jowl is one of those animal parts I would normally shy away from. It comes to the table in a bowl with a few garnishes. Then an amazing broth is poured into the bowl tableside from a large kettle.
First of all, the meat was so tender and lean it practically melted in your mouth. However, the broth was just as fantastic. Since the owner started his career as a saucier, I should not have been surprised with how smooth and well balanced all of the sauces and broths were.
Towards the end of the meal, I was just eating the broth with sticky rice and it was oh so good!
Fusion Cuisine
There are a few fusion dishes on the menu. One of these dushes, Dirty Jasmine Rice, was one of our favorite dishes of the night
Inspired by the popular Cajun dish, Dirty Rice, where rice is cooked with chicken livers, gizzards and ground meat, Uncle Boon's version is so good, full of spices and flavor.
This simple dish was the table favorite!
Duck Breast in a pineapple coconut curry was the other fusion dish in it's presentation and mild flavor.
As I prefer bolder flavors, this was our least favorite dish, although it was still very tasty.
This is the dish to order if you prefer milder flavors that wont hit you in the face.
Although we did not order any of the seafood dishes, if you are a pescatarian, you will definitely have many options at Uncle Boon's from snails and octopus to scallops and fish.
---
We ended the meal with a very traditional street side snack – Betel Leaf with ginger, coconut, dried shrimp, chillies and peanuts.
Cost
The prices are on the high end so as delicious as it is, I wouldn't make Uncle Boon's a weekly event, however, it is the perfect place to celebrate a special occassion.
The large plates range in price from $25-$30 and the small plates are $15-$18.
My Verdict
⭐️ ⭐️ ⭐️ ⭐️
The only reason I am not giving this restaurant 5 stars is because of the necessity to get there early or wait for hours, unless you are a party large enough for reservations!
Visiting NYC and need more ideas for eating out? Check out some of my other Restaurant Reviews.
NYC Restaurants