Last Updated on November 19, 2019 by Chef Mireille
The Best Eats of Ditmas Park (Brooklyn, NY)
With so many choices from Tibetan to Israeli, here's the down low on the best of Ditmas Park eats!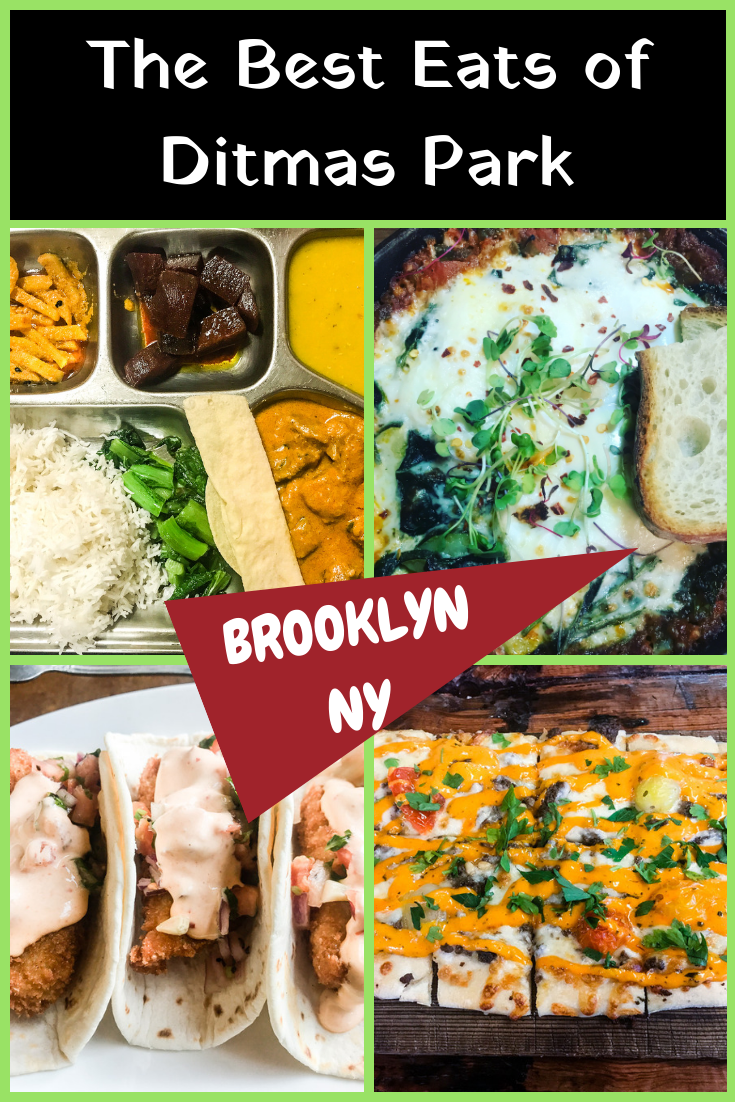 I am a Brooklyn native and have been living in Ditmas Park for about 18 years. In that time, the neighborhood has been transformed into a dynamic, neighborhood with many restaurants and bars to socialize in.
As travelers look for more low cost accommodations in NYC, many people are opting to stay at Air B&B or Couchsurfing in Brooklyn, instead of the high cost Manhattan hotels.
Why Stay in Ditmas Park?
There are lots of great reasons to stay in Ditmas Park – easy subway access, walking distance to everything you need from banks to pharmacies to supermarkets.
Although not quite walking distance, Prospect Park is a super short subway or bus ride away, where you can go ice skating in winter or enjoy free concerts in the summer.
Right across the street is the Brooklyn Botanical Garden where you can walk through one of the largest rose gardens in North America. Read more about it here! Around the corner is also the Brooklyn Museum, which is FREE the first Friday of every month, as is all NYC museums.
It's also a short train ride to Brighton Beach, one of the few beaches within the city limits in the middle of our Russian enclave, as well as Coney Island (one of America's oldest amusement parks with a wooden roller coaster) and the NYC Aquarium.
So now you've decided to stay in Ditmas Park, but there are so many eating options and you might only be here for a few days so you want to make sure you don't miss out on the best right?
I am here to give you a guide on the places you don't want to miss out on, plus a few honorable mentions.
Cortelyou Rd. is the main strip. It's also where the subway stop is. The restaurant/bar section goes from Coney Island Avenue to E. 18th Street.
Where to Eat in Ditmas Park (Brooklyn, NY)
Located right next door to the subway exit, this place is a convenient delicious option. Serving up traditional Tibetan foods like momos, thupka and tsampa, if you've never tried Tibetan food, now is your chance! Read my full review of Cafe Tibet here! If you're really hungry, order one of the Tibetan thali's.
GO TO DISHES – Thupka & Momos
However, make sure you have cash on you as they don't take credit cards, however with their low cost meals, you will need less than $20/pp.
LA PUERTA ROJA
As the title indicates, La Puerta Roja with the red door is located right on the corner. There is outdoor seating out front when the weather is nice. There is also seating inside at tables as well as at the bar.
The bartenders are very nice and can stir a great cocktail. The flavored mojito's during Happy Hour are my favorite. With Latin music playing, it's a great place to have a few drinks.
The menu features food from the entire Latin American diaspora from Puerto Rico to Mexico, with Vegetarian options.
What are my faves?
GO TO DISHES – Fish Tacos & Sopa de Mariscos (Spicy Chipotle Soup jam packed with seafood)
Corthaiyou
Corthaiyou named because it is Thai food on Cortelyou Rd. is my favorite Thai place in the neighborhood.
They have a courtyard in the rear, which is great when the weather is nice. The rustic ambience with wooden furniture and ceiling fans will transport you to Thailand.
They also have a Happy Hour, but if you are going out for drinks, definitely La Puerta Roja is a better option with cocktails. At Corthaiyou, their happy hour drinks includes only beer and wine.
The menu is comprehensive, with both Northern and Southern Thai options, as well as Isan cuisine. Standy by dishes include curries, Khao Soi and noodle dishes. A large variety of Vegetarian and Vegan dishes.
GO TO DISHES – Tum Thai ( Green Papaya Salad) & Coconut Crab Curry
STREET FOOD CARTS
Don't forget the street food options if you are coming home late and just want a quick bite to take back to your Air B&B.
They do change sometimes, but usually you can find a Mexican and a Halal food cart. Sometimes, there is also a Peruvian street food cart.
The food is good, but nothing to rave about!
MILK & HONEY
Located away from Cortelyou Road, Milk & Honey is located on Newkirk Avenue, 3 blocks away.
Milk & Honey is the most delicious option for breakfast, lunch or weekend brunch.
Their Israeli inspired menu offers many egg options, sandwiches, salads and flatbreads.
GO TO DISHES – Three Eggs in Hell (3 eggs baked on top of a tomato stew in a cast iron skillet with zucchini, spinach, harissa and burrata) & Lamb Flatbread
HONORABLE MENTIONS
Qathra – My favorite cafe to go with my laptop and sit in the back garden and get some work done. FREE WIFI.
Ayurvedic Plate – An Indian farm to table restaurant. The food is very fresh and the place is set up for mobile workers. Bring your laptop and enjoy some delicious, non greasy Indian food spiced mildly to appeal to a generic audience.
Pasture Burger – The same owners as Ayurvedic Plate, this farm to table burger joint made with grass fed meat has great burgers, but be prepared to wait. They fill one order at a time, instead of putting several burgers on the grill. Wait time will be about 1/2 hour.
Manchego Koko – A great place for Sangria and Tapas. They make the best Patatas Bravas. They also have a great happy hour!
ICELAND
Oh and by the way, I'll be going to Iceland in a few weeks. Don't forget to follow me on Instagram so you can keep track of my Iceland trip before I get the blog posts ready!
Don't forget to visit the RECIPE INDEX with over 1000 recipes from around the world including lots of Vegetarian Recipes and Gluten Free Recipes!