Last Updated on September 16, 2019 by Chef Mireille
Cafe Tibet – Brooklyn (NYC) – Restaurant Review
Cafe Tibet is worth the trip to Brooklyn for authentic traditional Tibetan fare. This low cost hole in the wall restaurant makes up for the lack of ambience in flavor.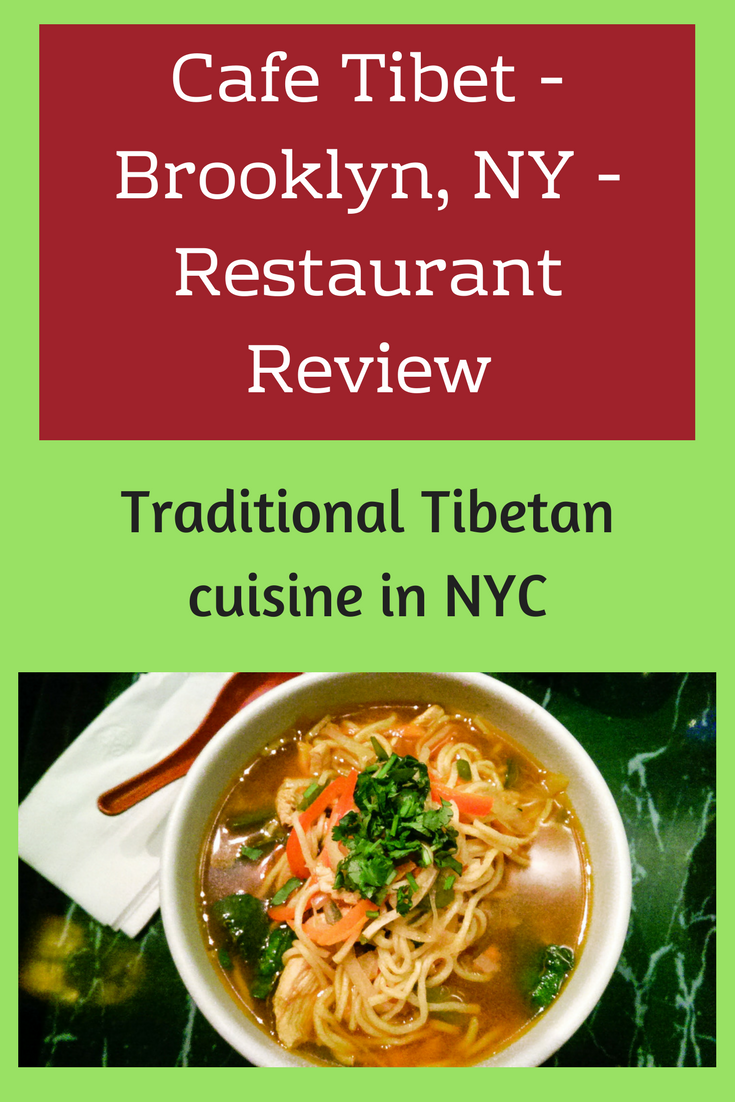 Updating in 2019 and this restaurant is still going strong with its popularity more than ever before. On a Friday or Saturday night, especially in summertime, expect to wait for a table. That's a good sign! People wouldn't stand up in the heat to wait for a table at a mediocre restaurant.
Back in 2011 when I first posted this review, there were only 2 restaurants in the NYC area serving up Tibetan food, this Cafe Tibet in Brooklyn and Himalayan Yak in Jackson Heights (Queens). Now there are many different Tibetan restaurants in Jackson Heights, include a food truck selling Momo's (Tibetan dumplings) and Thupka (Tibetan soup).
I have eaten at Himalayan Yak & Friends Corner in Jackson Heights. While Himalayan Yak definitely has more ambience with live music on the weekends, Cafe Tibet wins the flavor game. The one exception is the Yak Dumplings that aren't available at Cafe Tibet.
Friends Corner is more of a fast food type of establishment with quite an extensive menu. I've eaten there a few times and their Masala Rice or Noodles is definitely my go to dish. But back to Cafe Tibet…
HOW TO GET THERE
Cafe Tibet is so convenient to get to, located right next door to the train station. Exit the train station and walk about 20 steps to your left and you're going to find this little hole in the wall restaurant down a narrow pathway! Q train to Cortelyou Avenue.
AMBIENCE
After many years of having a dark and dreary interior, they FINALLY improved the ambience and now the restaurant is light and bright.
Even though the ambience has improved, I still prefer to utilize the outdoor seating available in front when the weather is nice.
Prices
This is a CASH ONLY restaurant, but the prices are very affordable with the most expensive entree on the menu about $13.
Hours
12pm-10:30 daily, but they do close 4-5pm daily.
The Food
I have been coming here for about 8 years so you would have think I've tried just about everything at this point. However, the menu is very extensive. This online version of the menu is only a fraction of whats available at the restaurant. Besides, I generally stick to my favorites and have only tried about 7 things off of the menu. So what are my favorites?
Before we get to the food, note that your waitress will bring a yellow mustard bottle and red ketchup bottle to your table, but it's not what you think. The yellow bottle is mild hot sauce and the red one is the extra spicy hot sauce.
My Favorite Cafe Tibet Dishes
House Salad – I am not sure what they put in the dressing to make it so magical, but I love their simple salad of cabbage, carrots and bell peppers with specs of black pepper.
Momo – Momos are Tibetan Dumplings. You can order them with your choice of chicken, beef, vegetarian, etc. You can have them either steamed or pan fried. Either way, they are just as delicious.
Shangri-la Biryani – is an Indian style spiced rice. This is one of the spiciest dishes on the menu, as the server always reminds me when I order it. Full of spices and vegetables along with your choice of protein, you will enjoy every delicious bite of this biryani.
Chili Chicken – Instead of strips of chicken in the Indian version, this one is served with delicious chicken meatballs.
Phing-Sha – Curried stew with glass noodles, potatoes and your choice of protein.
Thupka – Tibet's national dish is a flavorful noodle soup with your choice of protein. Whether I am eating at the restaurant or taking it to go, I have Thupka at least 3 times EVERY WINTER…oh and in the winter, I always make sure I get a cup of Masala Chai. The best cup of Chai I have ever had at a restaurant! At many Indian restaurants, it is made at the moment and the flavor of cardamom and ginger is not given enough time to permeate the liquid. Not the case here. The tea is simmered for time, so it is a delicious, spicy cup of perfect chai.
While the food itself is not spicy, everything is served with both a mild and spicy hot sauce that you can add to your thupka or to any of the food served.
Thali – Similar to Indian cuisine, they have Tibetan thali options, which all include rice, dal, beet salad, radish salad & a curry (your choice of various meats or vegetarian).
While not a Vegetarian restaurant per se, it is a Vegetarian friendly restaurant. They are not stingy with meat or vegetables. Biryani's will come with large broccoli florets, spinach, carrots, peas and other vegetables. Spinach and bell peppers are the minimum vegetables served in most dishes and all entrees have Vegetarian options available.
So hop on the Q train for some great, global cuisine – at a fabulous price! Check out my reviews of a few other delicious restaurants in the NYC area!
RESTAURANT REVIEWS
I give Cafe Tibet 4 stars, taking away just one star for lack of ambience.
Cafe Tibet
1510 Cortelyou Avenue
Brooklyn, NY
(718) 941-2725