Last Updated on May 6, 2019 by Chef Mireille
Although Ferragosto is typically celebrated in Italy in August, in the Bronx's Little Italy of New York, it is celebrated the second Sunday of September every year.  Some sources say Ferragosto is one of the most important Catholic holidays, while others have it originating from pagan beliefs in medieval times.  Whatever the origin, it is a good excuse for the merchants to sell good foods on the street at above average prices and it showcases the culinary artisans available on Arthur Avenue.  Regardless of some overpriced food, it is a nice event to bring the family to…if you are in a food lover's family.
At Vincent's Meat Market , fresh meats, a variety of sausages – hot, sweet, fennel, cheese and parsley are all available at reasonable prices. Proscuitto and a variety of cheeses were also available.  I picked up a wonderful Formaggio Ubriacone, also known as the Drunk cheese, from the region of Treviso.  Due to the Ferragosto Festival, you were also able to enjoy the sausages cooked on the grill outside, along with fresh pig roasting on spits outside.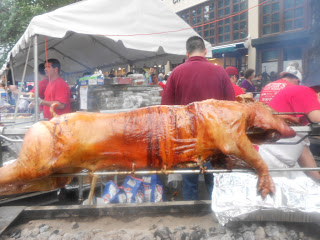 Free wine tastings were available.  If you are a foodie and especially an Italian food aficionado, Ferragosto is a festival not to be missed.  It is more pleasurable than the insanity that is the San Gennaro festival that occurs every year in Manhattan's Little Italy.  Ferragosto has far less people and much better food.
After Ferragosto, I came home and made this simple dinner.  After roast pig and the like, a light dinner was in order.  I used fresh semonlina bread from the bakery on Arthur Avenue, the Formaggio Ubriacone, broccoli and olive oil. Served with sausage also purchased at Vincent's, this was a wonderful way to end the day.
Broccoli Formaggio Sandwich
I didn't measure as I was doing this recipe, so use your judgement.  This is a pretty simple, straightforward recipe that it should be pretty easy to do, without measurements.
Blanche broccoli until cooked but still crisp.  Chop finely and add some olive oil and about 1 teaspoon of dried oregano.  Add a good handful of the cheese, grated. Mix to combine.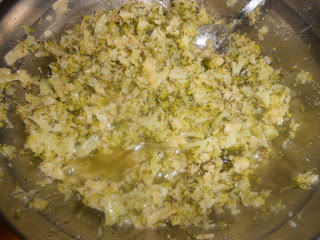 Split the semolina in half and spread this mixture on one side of the bread.  Cover with the other half and wrap tightly in aluminum foil.  Bake in 425 degree oven for 10 minutes.  Cheese will be melted and bread will be crusty.  The salty cheese adds all the flavor – no salt or pepper is needed.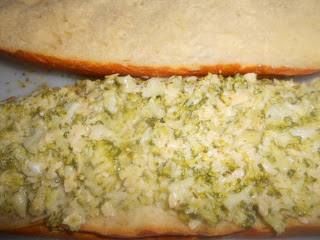 Enjoy with grilled sausages or a simple salad and a glass of wine.  A simple Sunday dinner with just a few ingredients.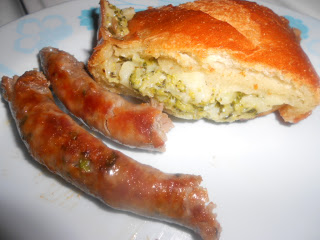 Cheese and Parsley Sausage with Broccoli Formaggio Sandwich