Last Updated on October 1, 2016 by Chef Mireille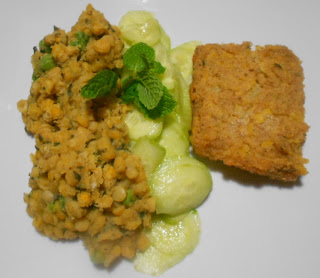 Although I am by no means a vegetarian – (I love my meat!!!), as a culinary professional, it is important to create unique meals for any palate.  In the health conscious world we live in, vegetarianism is a common way to live.
Here is a vegetarian meal I created to satiate the vegetarian palate and intrigue the carnivores to learn to appreciate the vegetarian way of eating, even it may be for just one night.
Stewed Split Peas, Rutabaga Pudding and Pickled Cucumber Salad
Rutabaga Pudding (previously published on this blog)
Cucumber Salad
1 English cucumber, peeled and thinly sliced
1/4 cup apple cider vinegar
1/4 cup sugar
2 teaspoons Kosher salt
In a small bowl, dissolve sugar and salt in vinegar.  Stir to combine.  Add cucumber slices and mix well.  Refrigerate for at least one hour.
While cucumber is in the refrigerator pickling, make the split peas.
Split Peas
1 cup yellow split peas
2 quarts water
1 tablespoon vegetable base (or bouillon cube)
1/4 teaspoon fennel seed
2 tablespoon mint leaves, finely chopped
1/3 cup frozen green peas, defrosted
salt and pepper to taste
In a large pot, bring water to a boil.  Add split peas and vegetable base.  Reduce to a simmer.  Cook until peas are tender, about 30-40 minutes.  Add more water, if necessary.
Add fennel seed, mint and green peas.  Add salt and pepper.  Stir to combine.
For a healthy, light meal that is easy to prepare, try this one for Vegetarian night!!!