Last Updated on December 16, 2020 by Karen Lasta
Anyone who eats Thai food even if you've never step foot in Thailand knows about the famous dessert, Thai Sticky Rice & Mango. It is a common dessert option on most Thai menus.
Well, I just came back a few weeks ago from visiting Chiang Mai & Bangkok. They have a different version there that uses blue rice. You are probably wondering how in the heck do you make blue rice.
It starts with a dried butterfly pea flower. You first make an extract with the flowers and boiling water. This extract can then be used to create a variety of blue-hued food and beverages. You can use it as-is with just a little sweetener as a beverage.
However, it's often used to make blue sticky rice. I brought my package of dried butterfly pea flowers back from Thailand. However, you can purchase them from Amazon here.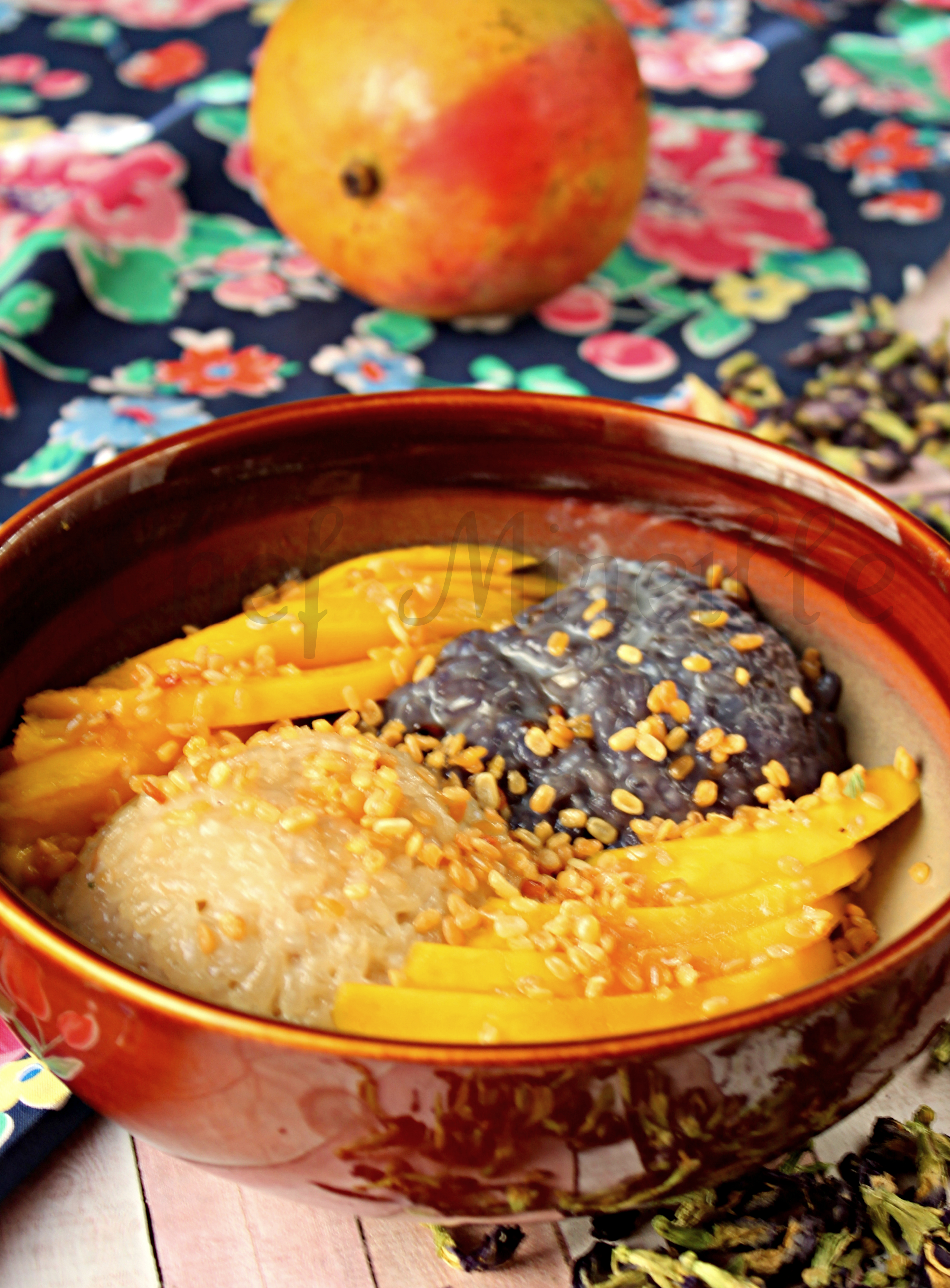 This post may include affiliate links.
My street food experience in Thailand
This week I just wanted to feature street food as I found inspiration from my experience in Thailand. Especially popular in Chiang Mai and the street food outlets there, the popular Thai dessert is served with both white and blue sticky rice.
I purchased my butterfly pea flowers at the Or Tor Kor market in Bangkok. This is a farmer's association market that is a must-visit for any foodie. Things like curry pastes and a variety of food items you might want to take back home can be purchased here.
Additionally, they have a great food court where you can also enjoy lunch. It's also a farmer's market where all varieties of produce are sold. In fact, it's ranked #4 as the world's best fruit market.
So after my trip to Bangkok, I can say I visited one of the best fresh markets in the world and one of the top ten hospitals in the world…but that's a story for another post…
This is where I tasted my first durian and if you get one that's not too ripe, it's actually not as bad as people say. Until you make it to Thailand, you can order the pea flowers here from Amazon.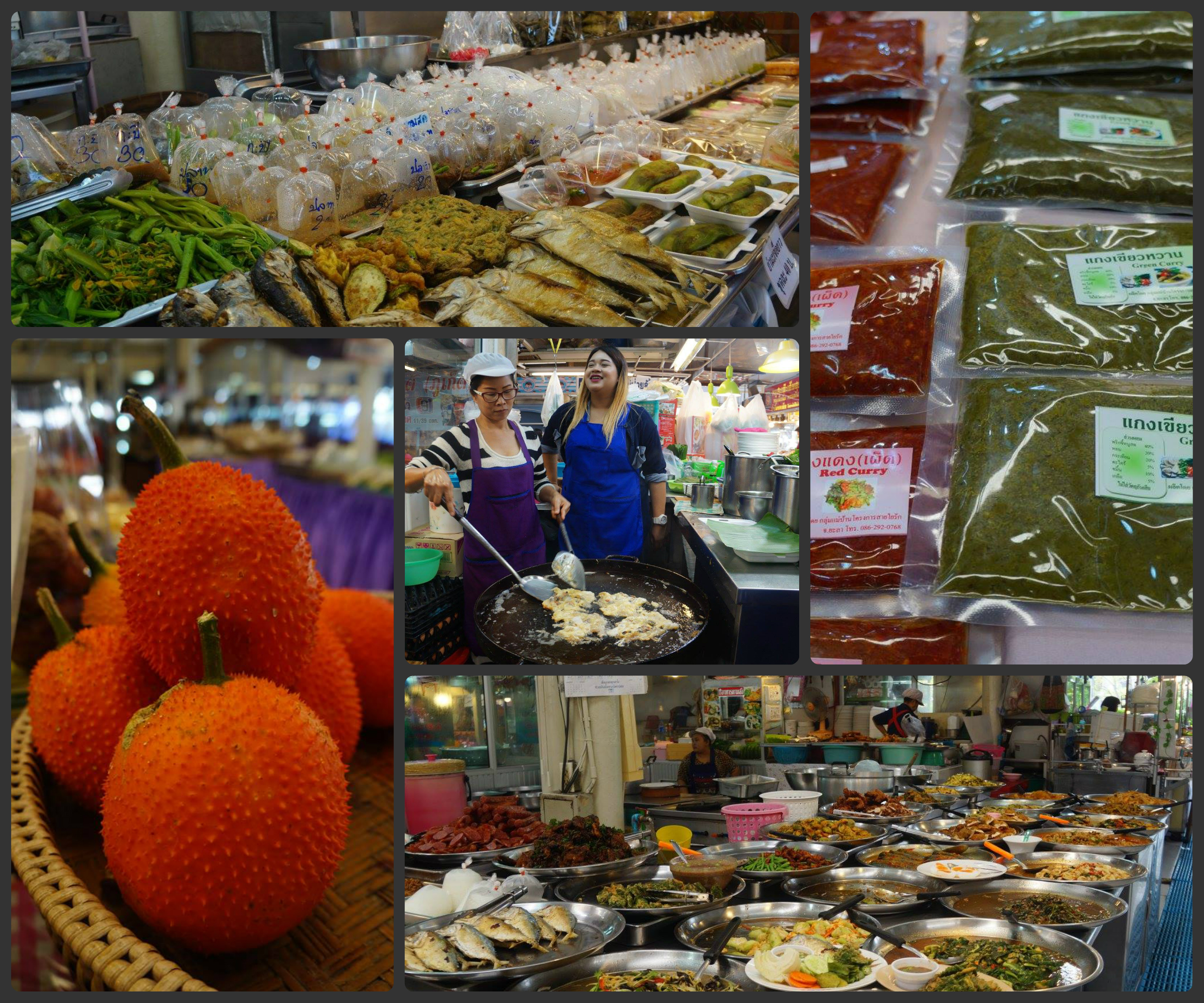 Blue sticky rice in Chiang Mai
Meanwhile, here is a photo of one I purchased from a streetside vendor outside a temple in Chiang Mai. I had it at a few different places in Chiang Mai and they are all garnished with the fried mung beans.
This street food is also served in restaurants. Here is a beautiful presentation at a restaurant in Chiang Mai.
What a great bite—with the crunch of the mung beans balanced with sweet, sticky rice and mango!
Nutrients from blue Thai sticky rice
Sticky rice is rich in fiber, protein, and zinc. It's sometimes called "glutinous" rice, which might make people think it contains gluten, but it really doesn't. The word "glutinous" simply refers to the gluey texture once this type of rice is cooked.
A cup of cooked sticky rice has the following nutrient content:
169 calories
37 grams of total carbohydrates
3.5 grams of protein
5% of the recommended daily value of fiber for men, and 7% for women
6% of the recommended daily value of zinc for men, and 9% for women
Plus, sticky rice also contains some iron. For men, a bowl of sticky rice can already give them 3% of their daily recommended intake. For women, that's 1%.
Benefits of adding butterfly pea flower extract
If you add butterfly pea flower extract and make your sticky rice go blue, you're also getting more antioxidants and vitamins A, C, and E.
More than adding color to your sticky rice, the butterfly pea flower extract itself may be a great add-on to tea.
The ingredients for blue Thai sticky rice
Don't be fooled by how long this list looks. I just grouped the ingredients according to the recipe elements that would come together beautifully in your bowl.
Also, the blue rice and white sticky rice have very similar ingredients.
Blue rice ingredients
dried blue pea flowers aka butterfly pea flowers
boiling water
coconut milk
sticky rice aka glutinous rice
pandan essence
salt
palm sugar
coconut cream
Sticky rice ingredients
coconut milk
sticky rice
pandan essence
salt
palm sugar
coconut cream
Mung bean ingredients
hulled mung beans
oil
sugar
Other ingredients
How to make butterfly pea flower rice
Make the blue flower extract.
Make the mung bean topping.
Cook the sticky rice with the blue flower extract.
Make the white sticky rice.
Serve with mango slices and the mung bean garnish.
Sticky Rice Variations
You don't have to make it blue if you can't find any butterfly pea flower around. The white sticky rice is already super tasty.
Soy, almond, and cashew milks are all potential replacements for coconut milk. However, there's something about coconut milk that makes the sticky rice taste as close to the original Thai recipe as possible.
If you don't have or can't find pandan essence in stores, you could make the extract yourself. You can steep pandan leaves in hot water. Another option is to use vanilla extract instead.
Some alternatives to palm sugar are plain brown sugar or coconut sugar.
Other Thai recipes to try
Want to enjoy a Thai-themed week? Don't forget to check out some of my other Thai sweet treats:
Finally, here's your full and printable butterfly pea flower sticky rice and mango recipe. Enjoy!
Butterfly Pea Flower Sticky Rice & Mango
Ingredients
Blue Rice Ingredients
1/2

cup

dried blue pea flowers

aka butterfly pea flowers

1

cup

boiling water

1

cup

coconut milk

1

cup

sticky rice

aka glutinous rice

1/4

teaspoon

pandan essence

1/4

cup

palm sugar

1/2

cup

coconut cream
Sticky Rice Ingredients
1

cup

coconut milk

1

cup

sticky rice

1/4

teaspoon

pandan essence

1/4

cup

palm sugar

1/2

cup

coconut cream

Mung Bean Ingredients

1

cup

hulled mung beans

1/3

cup

oil

2

teaspoons

sugar
Instructions
Place the dried blue flowers in a bowl and cover with the boiling water. Leave for 1 hour. Drain well to extract all the liquid. A citrus squeezer works best for this.

To make the mung bean topping, soak beans for 1 hour. Spread in an even layer on a cookie sheet. Leave to dry for 20 minutes.

Heat oil in a skillet. Add mung beans and fry 2-3 minutes, tossing frequently. As soon as you can feel that they are getting crispy against the spatula or spoon, remove immediately to a paper towel lined plate to absorb excess oil. Toss with sugar.

Pour the extract into a rice cooker with the coconut milk, sticky rice, pandan and salt. Cook until done. Transfer to a bowl. Add sugar and coconut cream. Stir to combine. Leave to rest for 15 minutes.

To make the white sticky rice, combine coconut milk, rice, pandan, 1 cup water and salt in rice cooker. Cook until done. Transfer to a bowl. Add sugar and coconut cream Stir to combine. Leave to rest for 15 minutes.

Serve with mango slices. and garnish with the mung beans.
Notes
If you put a can of coconut milk in the refrigerator, the thick part that will rise to the top is the coconut cream. You can also buy cans of coconut cream separately in markets that sell Thai products.
Nutrition
Calories:
4003
kcal
|
Carbohydrates:
408
g
|
Protein:
43
g
|
Fat:
256
g
|
Saturated Fat:
165
g
|
Sodium:
251
mg
|
Potassium:
2059
mg
|
Fiber:
16
g
|
Sugar:
60
g
|
Vitamin C:
11
mg
|
Calcium:
148
mg
|
Iron:
26
mg
Did you try this recipe? Leave a comment below.
Please follow me on Instagram @chefmireille or tag me #chefmireille with your pics! I'd love to share them!
Need more culinary inspiration? Check out the Recipe Index with over 1500 Recipes from Around the World with lots of Vegetarian 🥕🍆🍅and Gluten Free Recipes!