Last Updated on December 16, 2020 by Madison Wetherill
Khao Soi
Thai Chicken Noodle Soup is one of the most popular breakfast items in Thailand, especially in Chiang Mai, where the soup originates from.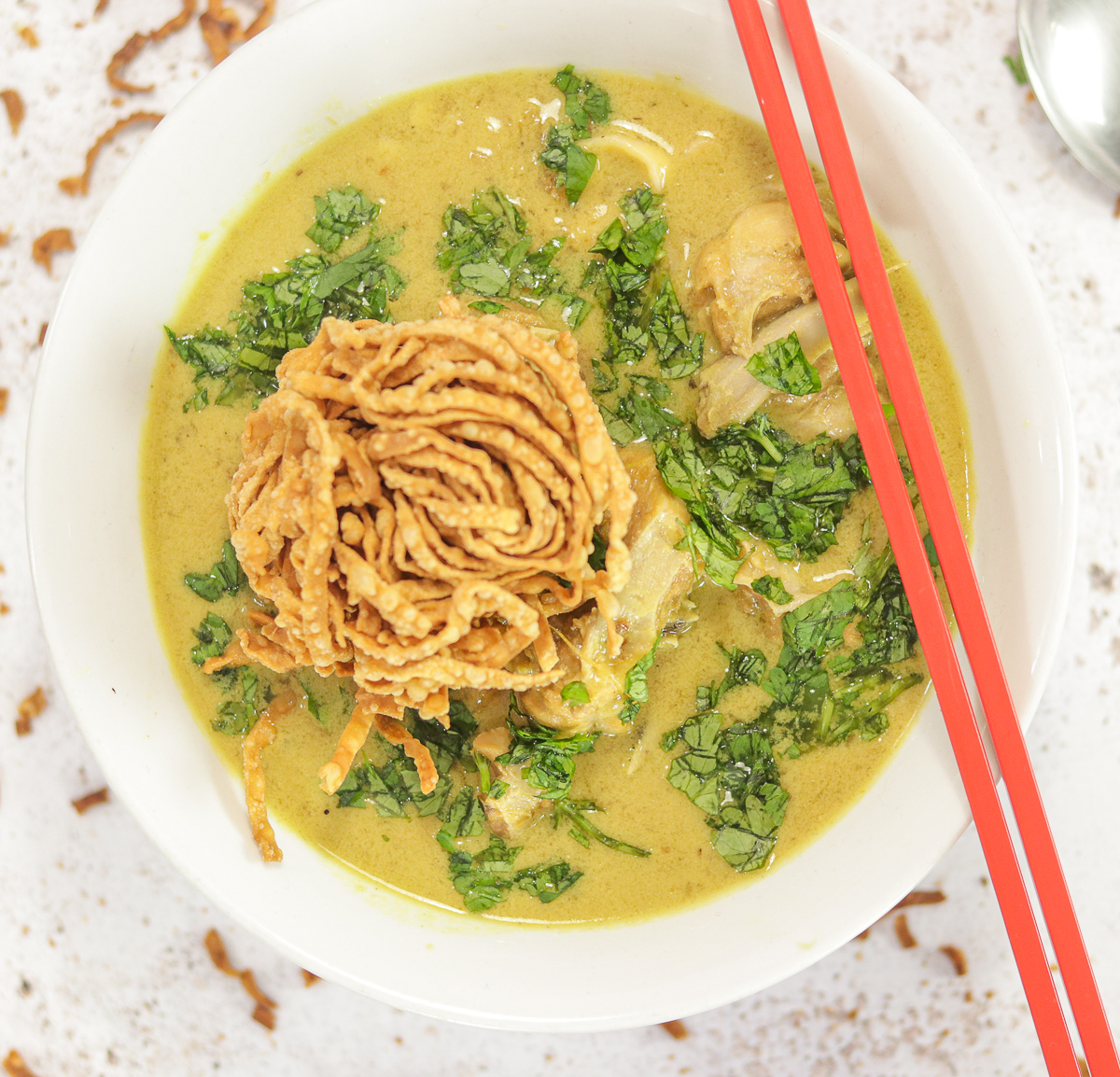 When you travel, do you eat the western foods available at the hotels or do you go in search of local food?
Different people travel for different reasons. For me, I like to learn about different cultures and there is no better representation of a culture, than the cuisine.
When I meet Thai people, they are often stunned when I tell them that my favorite breakfast in Thailand was Khoi Soi and Frog Legs or Morning Glory with fried pork and sticky rice. They exclaim in surprise – "Oh my God, you eat just like a Thai." For me, that is the highest of compliments. If you'd like to learn more about what to expect when you visit Thailand, check out my post where I detail all the different kinds of Breakfast in Thailand.
Thai Food
Most of the Thai food we get here in the US like Pad Thai and Green Chicken Curry comes from Bangkok and the southern regions of Thailand.
The largest city in northern Thailand, Chiang Mai, has an entirely different cuisine. Northern Thai people, known as Thai Lao are very similar culturally and linguistically to Cambodian people, although they are descendants of people from Laos.
The Thai Lao or Lao Isan as they are also known are a culturally distinct group from the central and southern Thai's. In this region, the Isan as well as the Khmer language are commonly spoken.
Isan cuisine is very different from southern Thai food. Less spicy, it is closer to Cambodian cuisine. I definitely see the similarities to when I prepared Laotian Chicken Noodle Soup here.
Grilled meats are common and this curried noodle soup is the signature dish of Chiang Mai. Although originating in Chiang Mai, Khao Soi is found throughout the country. The Chaing Mai version is more rustic using thick noodles and chopped chicken drumstick, where the Bangkok interpretation is usually made with thinner noodles and boneless chicken pieces. I opted for the original rustic version in this recipe.
Khao Soi – Thai Chicken Noodle Soup is one of the most common foods for breakfast in Chiang Mai, available on every street corner and cafe. Malaysia has Laksa and Thailand has Khao Soi.
Once you have the Khao Soi Curry Paste made, this soup is then quick and easy to put together. You can follow my recipe for Khao Soi Paste or purchase a store bought option.
This curried Chicken Noodle Soup with both fresh cooked noodles and deep fried noodles is so good and the textural variety makes it even more interesting.
For something so simple to prepare, there is complexity both in tastes and textures.
How to serve Khao Soi
Place some of the cooked noodles in the bottom of a bowl.
Ladle some of the soup on top.
Add the chopped cilantro.
Garnish with the fried noodle bundle.
It may be a while before I can get back to Thailand, but at least I can get transported back every time I enjoy a delicious bowl of Khao Soi – Thai Chicken Noodle Soup.
Khao Soi – Thai Chicken Noodle Soup
Khao Soi is traditionally eaten for breakfast in Thailand. Once you have the khao soi paste already made, this soup is quick and easy to make.
Ingredients
1

tablespoon

peanut oil

1/2

cup

Khao Soi paste

4

cups

coconut milk

2 1/2-3

lbs.

chicken drumsticks

cut into 3 pieces each

oil

for frying

16

oz.

fresh Chinese noodles

rough chopped cilantro

for garnish
Instructions
In a large wok or pot, heat oil. Add Khao Soi paste. Fry for 2 minutes, until fragrant. add coconut milk and 2 cups water. Bring to a boil.

Add chicken pieces and simmer for 20 minutes, until chicken is cooked through.

Heat enough oil for deep frying. Add 6 oz. of the noodles and fry in 1 oz. bundles until golden brown. Remove from the oil and drain on paper towels.

Place the rest of the noodles in a large bowl. Add boiling water and leave for a few minutes, until the noodles are tender. Drain.

To serve, place cooked noodles in a bowl. Ladle soup over the noodles.

Garnish with fried noodles and chopped cilantro.
Notes
When frying the noodles, use a spider and leave the noodles in the spider in the oil for 1-2 minutes before releasing them so that the noodles stay in bundles.
Nutrition
Calories:
711
kcal
|
Carbohydrates:
39
g
|
Protein:
33
g
|
Fat:
48
g
|
Saturated Fat:
29
g
|
Cholesterol:
130
mg
|
Sodium:
1316
mg
|
Potassium:
666
mg
|
Fiber:
1
g
|
Sugar:
1
g
|
Vitamin A:
72
IU
|
Vitamin C:
1
mg
|
Calcium:
51
mg
|
Iron:
7
mg
Did you try this recipe? Leave a comment below.
Please follow me on Instagram @chefmireille or tag me #chefmireille with your pics! I'd love to share them!
DO YOU YUM? SAVE IT BELOW!
Yum
This post may include affiliate links.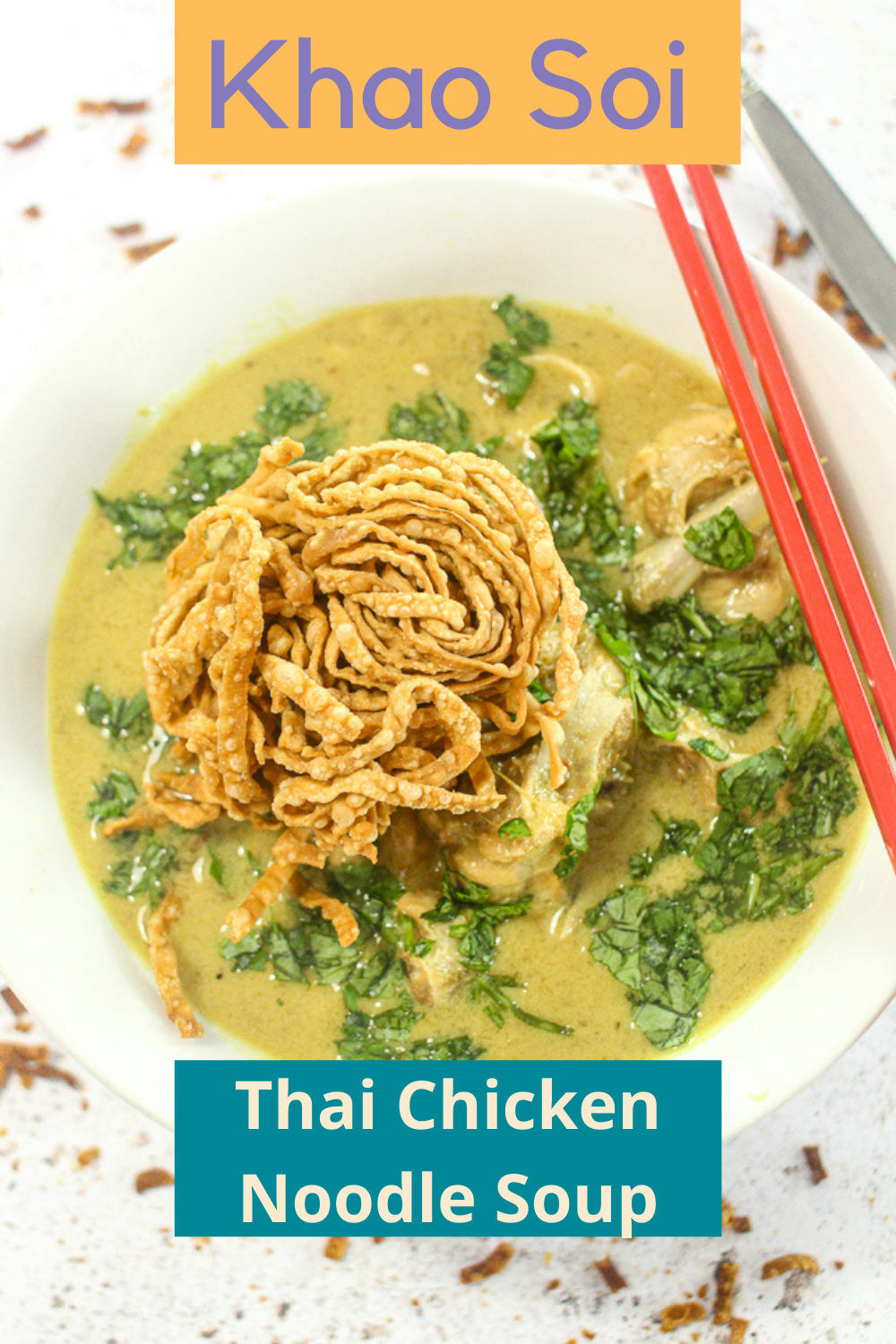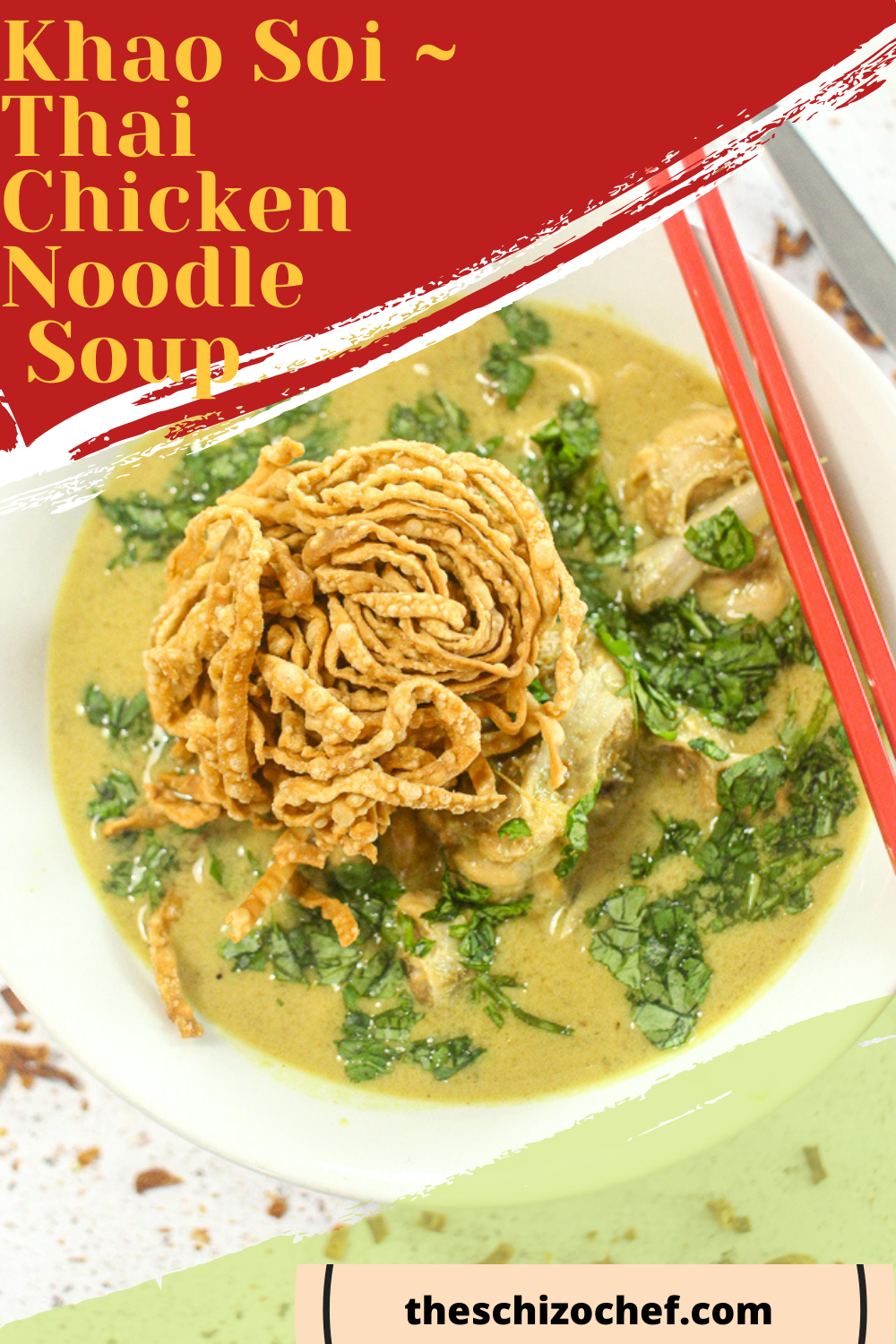 Don't forget to visit the RECIPE INDEX with over 1000 recipes from around the world including lots of Vegetarian Recipes and Gluten Free Recipes!